According to study published in Scientific Reports by the University of Exeter, spending only two hours a week in nature may enhance your mental health. Stargazing in the night sky will make you feel little in the most profound manner conceivable. It will provide you with a fresh viewpoint. One in which you are not always attached to screens, regardless of your level of productivity. You may even be able to create some lasting memories. If you are interested in Wharton State Forest stargazing, continue to read this article. We will share all important details that you need to be aware of it.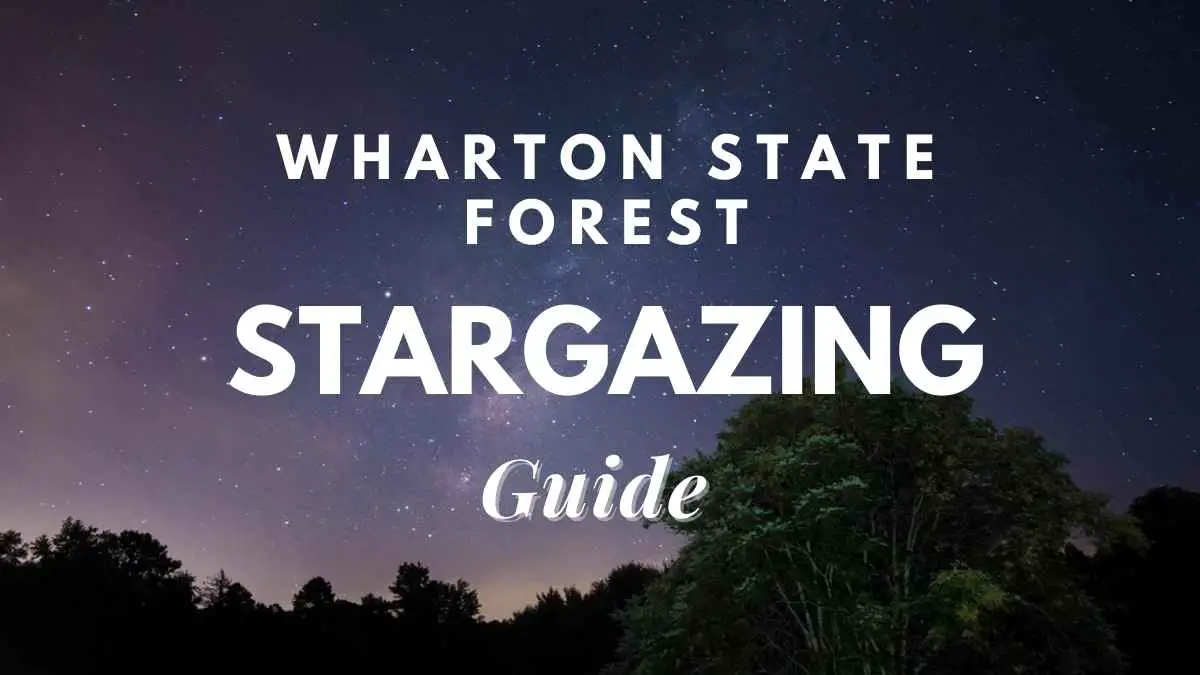 Wharton State Forest is a state forest in the state of Pennsylvania
With almost 100,000 acres of property shared between Burlington, Camden, and Atlantic counties, Wharton State Forest is New Jersey's biggest state forest.
Beautiful views of Wharton's lakes, ponds, and fields provide stargazers in New Jersey with access to the clear, open sky.
Tent camping and cottages are also available for $20 per night for locals and $25 per night for non-residents.
South Jersey became a significant industrial hub due to its abundant natural resources.
More than 30 of Batsto Village's 19th-century structures remain, including the completely furnished Batsto Mansion, which made iron items during the Revolutionary War.
Wharton offers hiking, mountain biking, and horseback riding paths, as well as canoeing, kayaking, and fishing in rivers and lakes.
During the summer, Atsion Lake is open for swimming.
Picnic tables and charcoal grills, two small playgrounds, a short nature walk, a canoe/kayak launch place, restrooms, and changing facilities are also available at the Atsion Recreation Area.
Within the New Jersey State Park System, Wharton State Forest is the biggest single tract of land.
Batsto Village, a historic bog iron and glassmaking industrial hub from 1766 to 1867 that now depicts the agricultural and commercial operations that thrived here throughout the late 19th century, is also located here (open for self-guided tour).
Rivers and streams for canoeing, hiking routes (including a large stretch of the Batona Trail), miles of unpaved roads for mountain biking and horseback riding, and several lakes, ponds, and fields for animal observation may all be found across Wharton.
Read: Is Traveling A Hobby? The Ultimate Guide To An Exciting Way Of Life Learn about the Downsides Of Traveling As A Hobby

In Wharton State Forest, what should you know about stargazing?
In a big city like Philadelphia, it might be difficult to locate areas to stargaze.
If you're patient and informed, combing the night sky for meteors, planets, and constellations may be rewarding when the weather cools and the clouds clear.
Read: Great Basin National Park Stargazing (What To Expect) Learn about Where in Great Basin National Park Can You Go Stargazing?
Where should I go to see the stars?
Light pollution in Philadelphia has made it more difficult to locate black skies where you can view the Milky Way, so plan on driving a little farther out if you want to see the Milky Way.
Wharton State Forest in New Jersey, according to Renee Stein, executive director of the Rittenhouse Astronomical Society, is one of the greatest sites for dark sky.
It contains campsites, so Stein suggests making a reservation, so you aren't asked to leave at dark.
Muddy Run Park, in Lancaster County, is a nice choice, according to Stein, who has been stargazing since 2001.
Because it's in a low-light-polluted region, we have an observatory there.
it advised against going to the Jersey Shore to see the night sky because of the bright lights on the boardwalks, despite the popular idea that looking out over the water would allow you to see more.
It gets really dark if you go into New Jersey and go down [Route] 42 to Route 55, then along Route 55 before turning off to Route 40.
You may simply deviate from the main road and discover a little side road where you can do some sky gazing.
I like doing this since there are many Wawas along the route where I can have a coffee and a pie.
Locations around Wharton State Forest for stargazing
What if I don't have access to one of those locations? Is there somewhere in the city where I may still gaze at the stars?
Finding suitable sites in the city is quite difficult.
The ideal sites, though, are broad regions free of big buildings and trees, where you may get a greater view of the horizon and the sky.
Because you have to travel to parks or college campuses to find such locations, they're hard to come by.
The problem is that if you do this and attempt to schedule time in a park, you will find that most of our parks shut at nightfall.
The Rittenhouse Astronomical Society often visits the houses of friends and family seeking open spaces.
The events of the society are often open to the public (check its website for upcoming events).
On Tuesdays, the Franklin Institute organizes monthly stargazing events (tickets are $10 in advance) during which visitors may see planetarium programs and a live astronomy show, engage in hands-on activities, and gaze into the sky via the museum's telescope.
What should I search for if I wish to discover my own stargazing spot?
Go to your computer and seek for a light-pollution map – lightpollutionmap.info incorporates data from a variety of government organizations as well as World Atlas overlays.
It will assist you in locating areas that are darker than others.
Another influence is the weather: if you go out on a night with low humidity, you'll be able to see more since there will be less clouds.
You also want to look for a broad horizon and you'll definitely want some solitude away from your neighbors, since people don't like telescopes in their backyards when they aren't their own.
Apart from that, you can go searching for a location with a greater elevation since this helps to create a clear horizon.
You want to be able to look above the trees.
If the surrounding lights are pointed downwards, rooftops may be fantastic.
You should also keep an eye out for the direction with the best views.
The best exposure is in the west and south directions since that's where you'll be able to see the most objects and constellations in the sky.
During a stargazing session with the Chester County Astronomical Society at the Bucktoe Creek Preserve in Avondale, Pa., on Sept. 29, 2018, Don Knabb uses an iPad app to get a real-time view at the stars.
Clouds rolled in, bringing the evening to a close early. Continue reading
Is there anything I should bring?
Most astronomers agreed that all you really need is a lawn chair, a pair of binoculars, a star chart (there are numerous online versions you can print off), and a warm blanket to get started.
Those $300 telescopes on Amazon that seem so cool.
They're not as vital as you would believe.
You want to seek for a set of 750 binoculars.
The majority of individuals already have a pair in their home.
While binoculars are useful for staring at a single object, such as a planet or a star, following constellations with only your eyes is far simpler.
Because white light from flashlights and phone displays screws with your night vision, Stein also suggested keeping a red light or a piece of red cellophane on hand.
By taping red cellophane over a flashlight, you can prevent your eyes from switching between day and night vision.
You'll also need scarves, coats, and jackets in the colder months.
You don't want to forget the mosquito spray in the summer.
If you do want a telescope, you don't spend less than $300 on a good one.
However, if you go stargazing with an astronomy organization, many seasoned astronomers will bring their telescopes for you to examine.
Is there anything I need download before going stargazing?
Phone and iPad applications may use location tracking services to tell you what's immediately overhead, which is useful if you're just getting started.
For iPhone and Android users, Pocket Universe ($2.99) and Stellarium ($2.99) are solid options.
SkEye and Sky Map are also available for Android.
The astronomers I talked with also advised SkySafari (free to $19.99) for iOS if you're ready to spend a little money.
On an iPad, the majority of the applications operate properly.
What are some more considerations I should make?
Attending programs hosted by local astronomy organizations is one of the greatest ways to get started in stargazing.
Astronomers are pleased to answer any queries and give equipment suggestions.
When the weather isn't cooperating, the groups normally schedule one or two rain dates.
While you're out gazing at the night sky, there are many methods for you to contribute data to professional astronomers' study.
Globe at Night, in particular, is a website that uses citizen-submitted data to monitor how terrible light pollution is across the globe.
Consider placing motion detectors on any of your outdoor lights to turn them off when no one is around if you want to assist solve the issue of light pollution.
Outside, installing downward-pointing shades on lightbulbs may also assist.