With an elevation of 11,250 feet, Mt. Hood dominates the Portland skyline. It is located to the east of the city and is a year-round outdoor adventurer's paradise. You don't want to miss out on everything Mt. Hood has to offer, whether you live in the Portland metro area or are simply passing through. I'll give you the lowdown on Mt. Hood's greatest treks for discovering and appreciating this Pacific paradise.

All of these paths have been visited by me many times throughout my stay in Portland. And, like a good novel or movie, they seem to offer something fresh every time I trek them. In the winter, the same route is virtually unrecognizable compared to the summer, and an early morning trek evokes a sense of unbridled possibilities, but a late afternoon trip evokes a lazy calm. You're in for some of the greatest hiking Oregon has to offer, no matter what time of day or year you start your trip.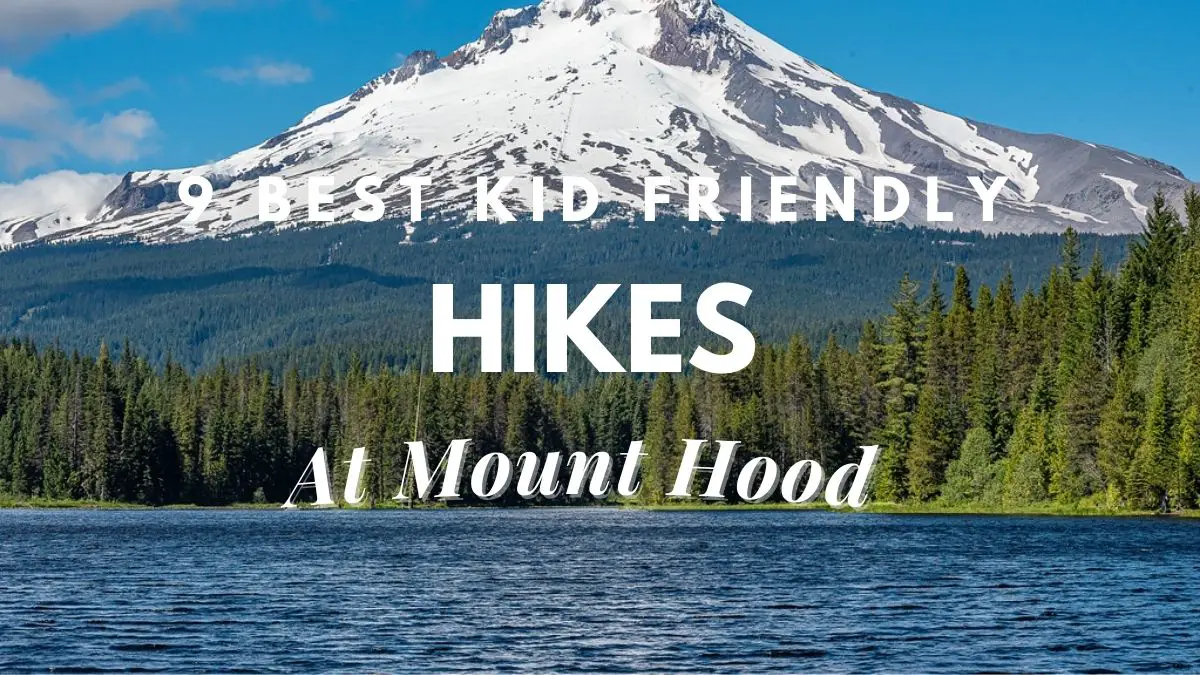 When is the Best Time to Hike Mt. Hood?
Because Mt. Hood is such a massive peak, it receives a lot of snow during the winter and far into the spring.
Many of these walks will be unavailable at this season, however others will make excellent snowshoeing choices.
If in doubt, check the snow level and, if possible, seek for recent trail reports, since conditions can quickly change.
In only a few days, a burst of mild spring weather may remove a route that had been blanketed in snow.
For clean trails, safer stream crossings, and little to no snow, these walks are best done in the summer and early fall.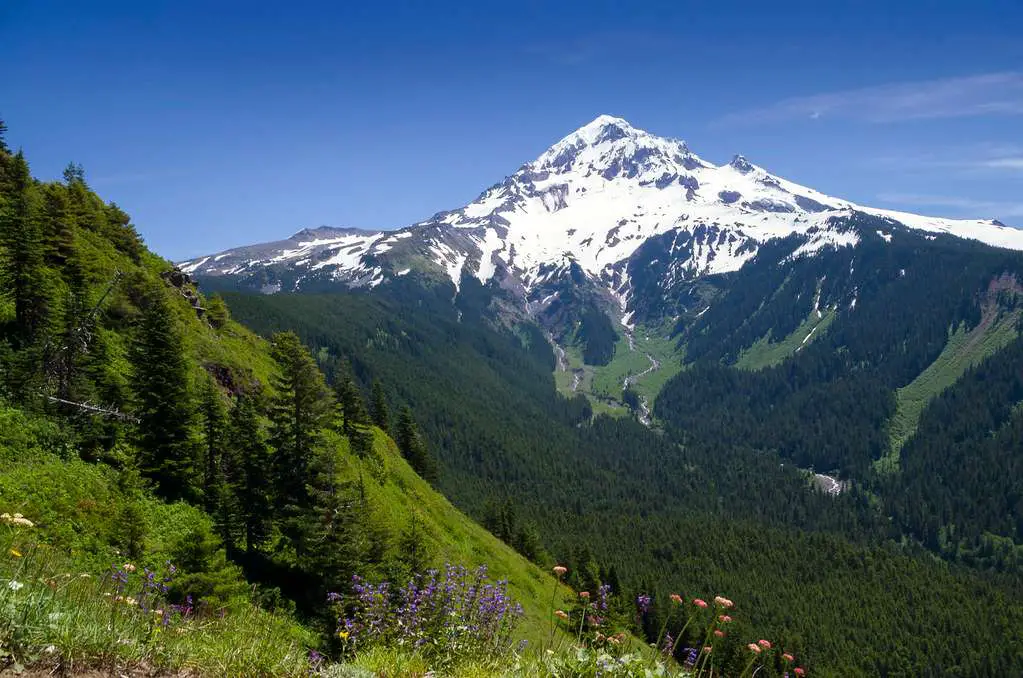 Read: Is Traveling A Hobby? The Ultimate Guide To An Exciting Way Of Life Learn about the Downsides Of Traveling As A Hobby

Hiking Tips at Mt. Hood Parking
To park, many Mt. Hood climbs will require a NW Forest Pass, which isn't always straightforward to get at the trailhead.
To save time and bother, purchase one ahead of time at a shop, ranger station, or online. With a "NWFP" next to it, I've noted which trailheads require a pass.
Even in the heat, it is necessary to wear robust footwear.
Hiking poles are an excellent choice for stream crossings and loose scree on the longer and higher mountain hikes.
Don't underestimate the strength of the light bouncing off the snow on your winter travels — carry sunglasses! Also, don't worry if you don't have a pair of snowshoes (or can't borrow them from a buddy).
They may be rented from a variety of outfitters.
Try Next Adventure or the Mountain Shop in Portland, or Otto's in Sandy.
Crowds: Mt. Hood's closeness to Portland, like the Gorge, makes it a popular hiking destination, especially on weekends.
On a bright day, some of the more popular trailheads that service several routes, such as Mirror Lake, will be packed.
To guarantee a place, arrive early or visit during the week.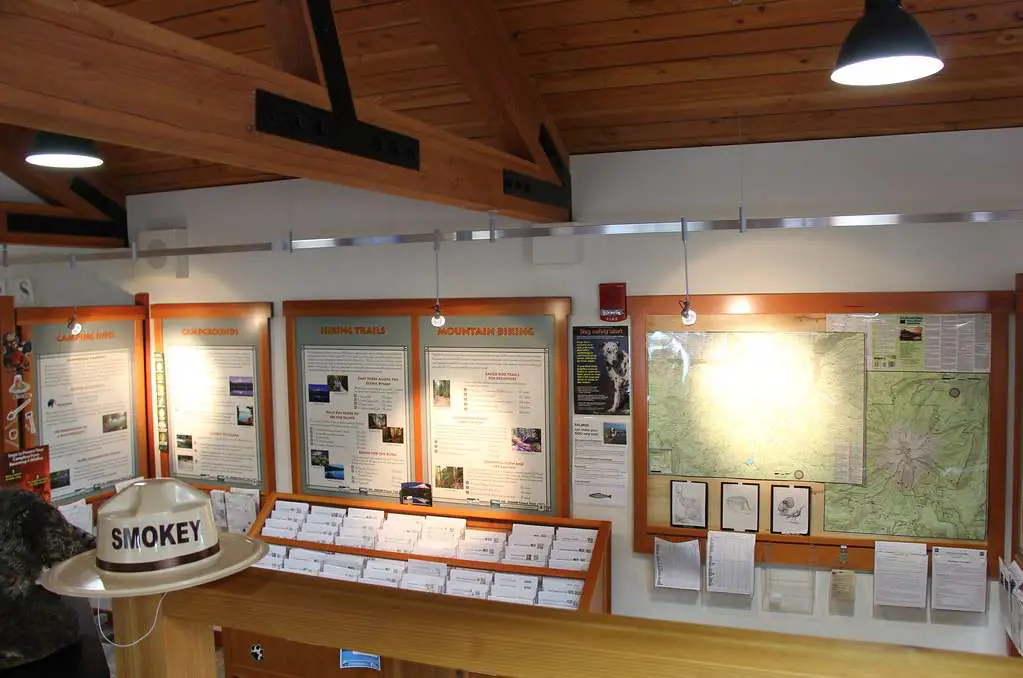 Read: Mt. Moosilauke Winter Hike (What to expect)Learn about the Mount Jim Ridge trail
Best kid-friendly hikes at Mount Hood
Now it's time for the treks! There are 11 fantastic hiking routes around Mt. Hood listed below.
The majority of them are on Hood's south side, which is easily accessible from Portland.
There are a handful on Mt. Hood's eastern slope that are a little further away from Portland.
I included a remark to call out such paths, so you don't end up driving further than you anticipated in order to reach the trailhead.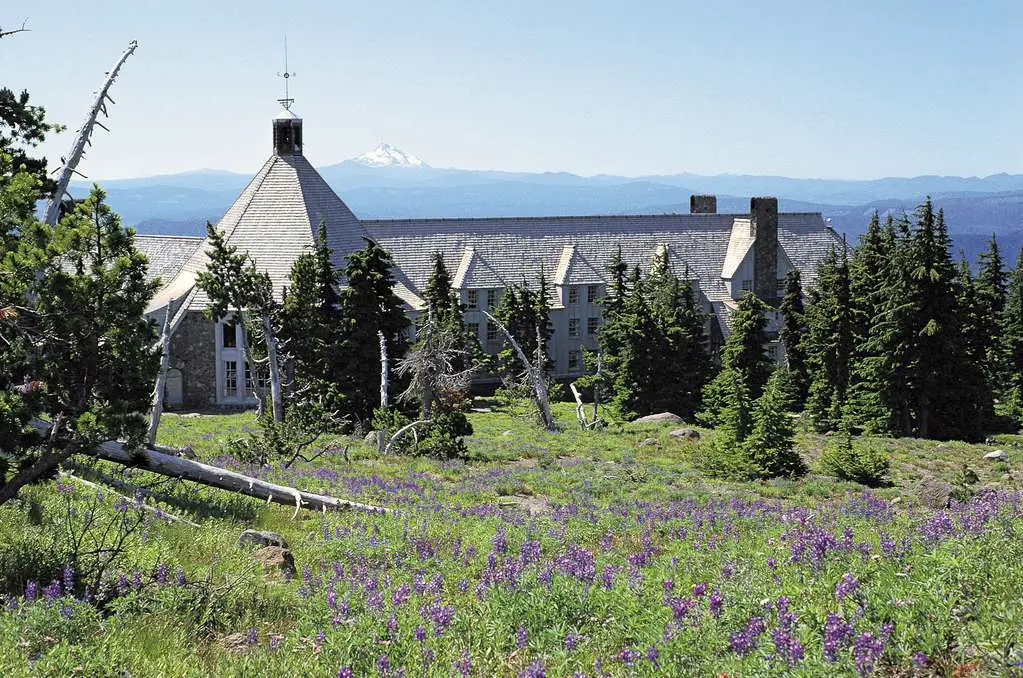 Read: 12 Best Washington Spring Hikes To Try Out In 2023Learn about Hoh Rain Forest Loop trail
1. Ramona Falls
Ramona Falls is so beautiful that you'll think you've landed onto a movie set for a fancy fairy realm.
It's one of the greatest waterfall treks around Mt. Hood, with vistas, wildflowers, and, of course, the 120-foot falls as the grand finish!
Because this hike's highest point is just under 3,500 feet, it blooms earlier in the spring than other routes further up.
However, because of a potentially dangerous river crossing, this trek is best done in the late summer or early fall.
Regarding the river crossing, the path to cross the Sandy River has changed every year since the old bridge washed down in 2014 and the forest service chose not to build a new one.
You can usually cross the river on a log, although you may have to ford the river on foot at times.
It's typically feasible, and you'll be OK for the most part, especially in the summer, but it's not the ideal trek for little children.
Bring trekking poles or a strong stick to assist you in crossing the river without falling.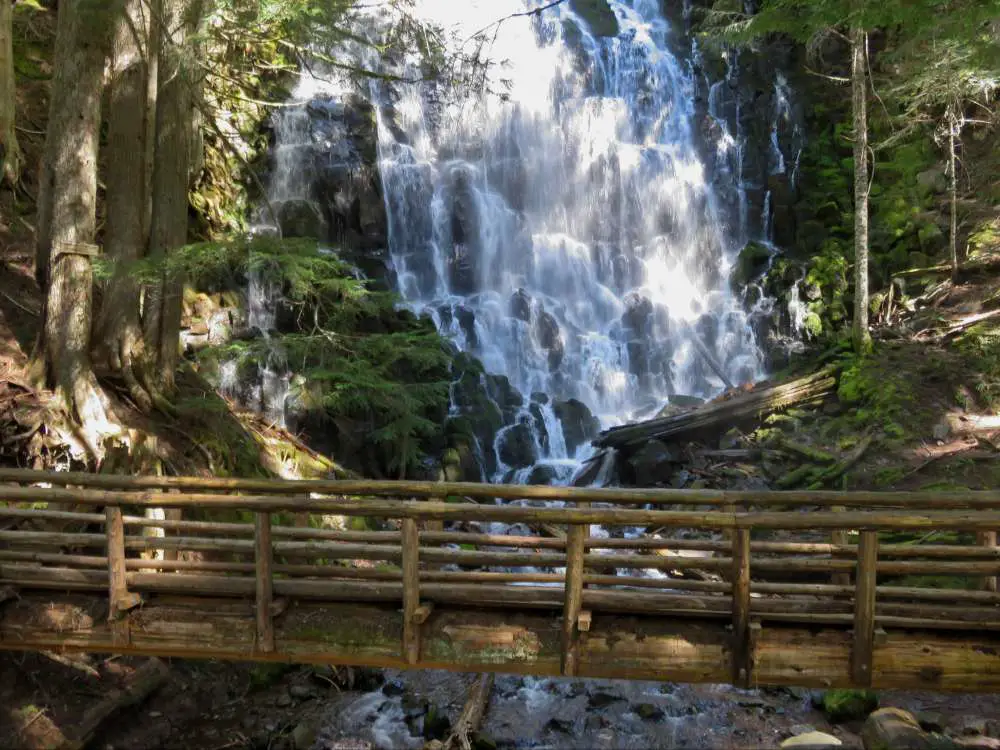 Read: 14 Best Hikes In Denali National Park To Try Out 2023Learn about The Gorge Creek Trail
2. McNeil Point
There are two routes to McNeil Point, but for the spectacular vistas and more time on Bald Mountain, we prefer this 10-miler.
You may start at McGee Creek Trailhead instead of Top Spur Trailhead if you want to cut a couple miles off your hike or if the Top Spur Trailhead is too crowded.
The McGee trailhead is (usually) much less busy, and it also leads to McNeil Point through a scenic path.
This is one of my favorite late-summer day hikes around Mt. Hood because of the varied terrain, alpine vistas, and cool small stone shelter with Hood's towering peak above you.
At the shelter, there's a short "climbers route" that will take you much higher for even greater views, but only if there's no snow and you're sure of your footing.
Even in late July, there may still be snow on the talus slopes on this path, which climbs to nearly 6,000 feet. Wear the appropriate footwear.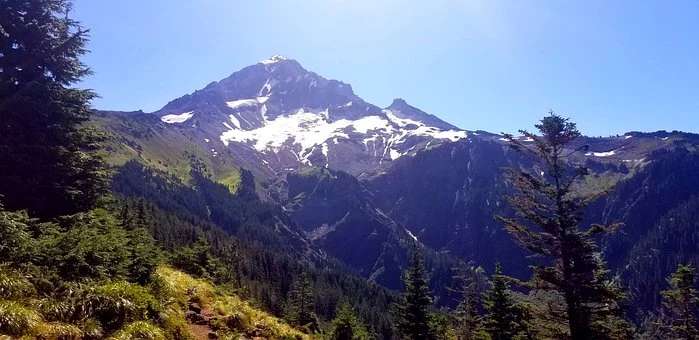 Read: 8 Best Hikes In Saguaro National Park RatedLearn about Valley View Overlook Trail
3. Bald Mountain via Lolo Pass
Because the paths overlap at the Bald Mountain Shelter, if you choose the longer route on the McNeil walk, you'll have already completed a section of this trek.
Bald Mountain is 4,591 feet tall, and I'm constantly surprised by how quiet this trail is and how spectacular the peak is.
It's beautiful, and at the summit, you'll get a fantastic view of Mt. Hood, which is so near that it almost smacks you in the face.
You'll never want to leave if you can arrange your trip to reach the peak in the late afternoon sun.
The route is well-graded and well-maintained throughout, and there is an ancient fire lookout at the summit (rather markers where the lookout used to stand).
You might be disappointed when you reach the top since there's so much tree cover, but don't give up – keep walking a little farther until you find a rocky outcropping that's a great location for lunch.
Enjoy your food while gazing up at Mt. Hood before heading back down the path you came.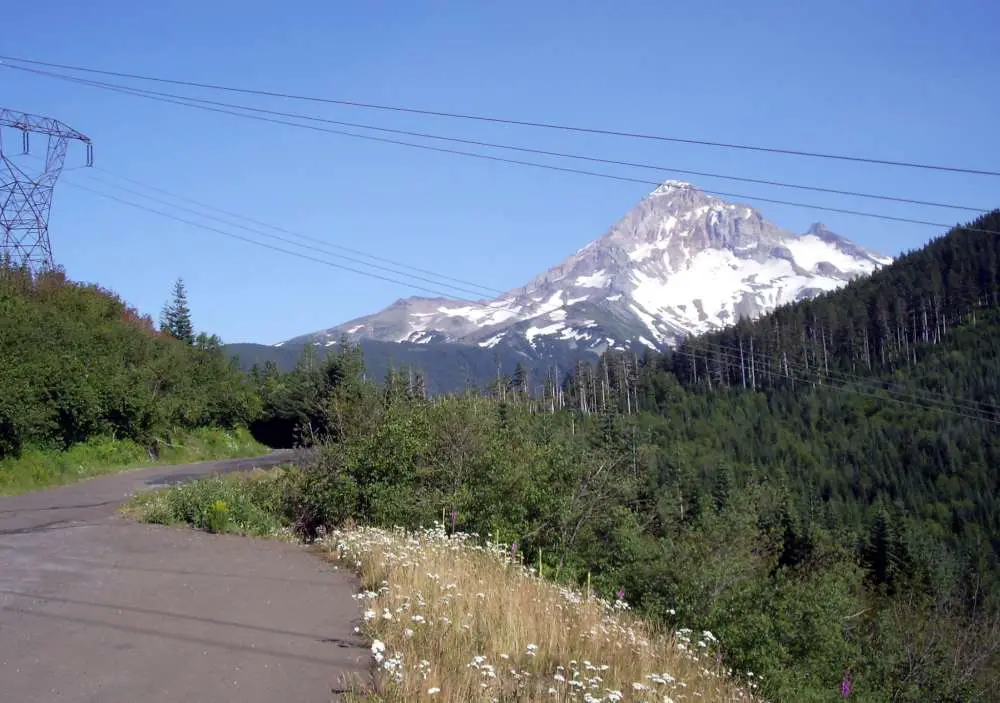 Read: 10 Kid Friendly Hikes In The Red River Gorge ReviewedLearn about Tom McCall Preserve trail
4. Tom, Dick, and Harry Mountain
Although Tom, Dick, and Harry Mountain is a two-mile-long ridge with three notable crags (named Tom, Dick, and Harry), this climb only goes to Harry.
At little over 5,000 feet, Tom is the highest, and there is an unmarked loop option to cover them all, but I haven't tried it yet, so I won't include it here.
This out-and-back trek initially circles you around Mirror Lake before ascending (and seeing fewer people) to the peak for a bird's eye perspective of it.
The vistas are one of my favorite aspects of this trek, aside from its accessible location and value-for-money workout.
Yes, seeing out over the Cascade Range and down onto Mirror Lake is beautiful, but I also enjoy following Route 26 around the mountain and observing places like Government Camp and Timberline Lodge from the top.
It's wonderful to be away from society and surrounded by nature, but it's also intriguing to observe how we people fit into it all.
Due to its proximity and ease of access from Portland, this is one of the greatest climbs around Mt. Hood and always gets a lot of traffic.
This is something to keep in mind while planning your hike.
Mirror Lake is only a few miles away, however on a beautiful weekend, parking can be difficult (if not impossible) due to the large number of families trying to get to the lake.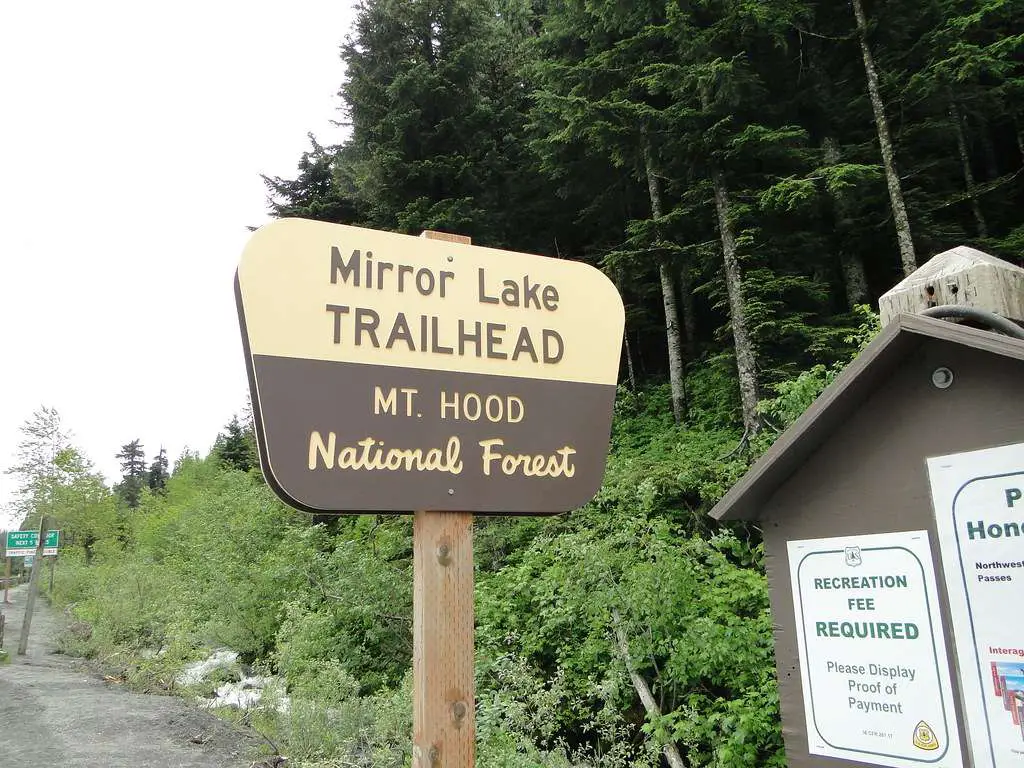 Read: 10 Best Dog-friendly Hikes In Acadia National ParkLearn about Wonderland Trail – 1.6 mile distance
5. Timberline Lodge to Zigzag Overlook
You'll have nothing but spectacular alpine vistas from the start of this short climb, which starts at Timberline Lodge.
The lodge is about 6,000 feet above sea level, and this trek mostly stays at that elevation, skirting the timberline to reach the enormous Zig Zag Canyon.
The Canyon is massive, with views of Mt. Hood and the Zig Zag Glacier.
Because it's only a little over two miles to this point, it's a great way for families to enjoy some beautiful vistas without putting in a lot of effort.
You'll be on the PCT for the most of this walk, and if you feel the urge to put in some extra miles, drop through Zig Zag Canyon for a new perspective on the vista up to the peak.
It's a very steep slope, and you'll lose approximately 500 feet before gaining another 1,000 to reach the top.
If you continue on this path, you'll reach the popular (but much longer and more difficult) Paradise Park trek.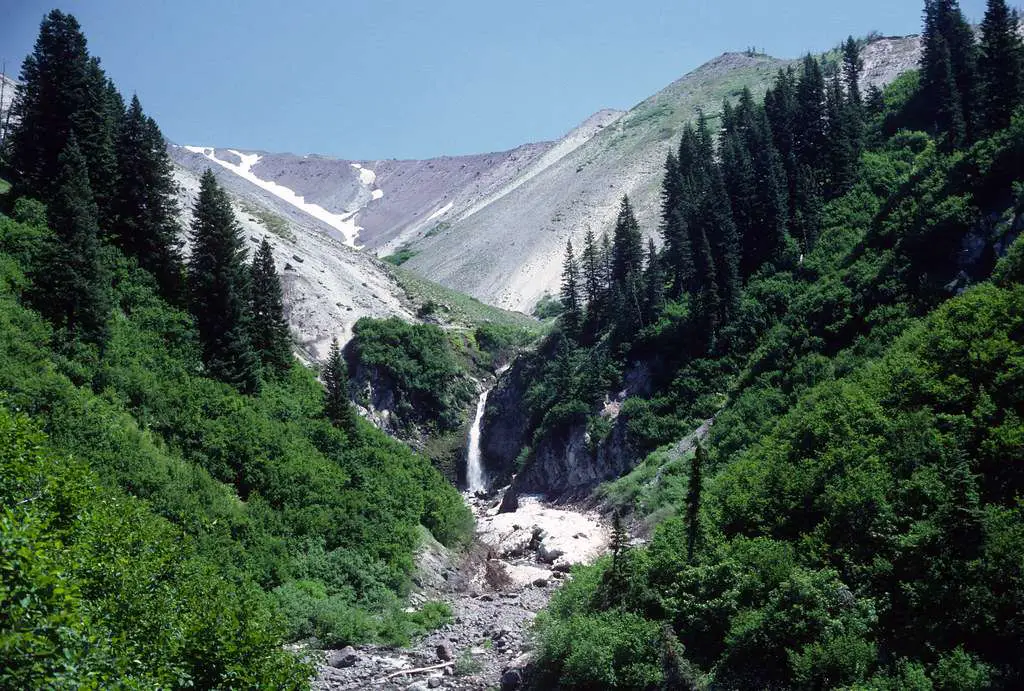 Read: [10 Best] Hikes In Pinnacles National ParkLearn about the Best moderate hikes at the park
6. Laurance Lake
Laurance Lake is a little further from Portland than some of the other walks listed here (around an hour and 45 minutes), but it's worth the extra travel for a great hike with less people than you'll find elsewhere.
This out-and-back trek takes you up switchbacks and out along a ridge, where you'll get some spectacular views of Mt. Hood's north face and nearby glaciers.
When you reach the summit, look down on Laurance Lake, which is framed by Mt. Hood.
Another advantage of this location is that it usually appears to be swarming with bald eagles, so keep a look out.
If you go on a hot summer day, you may walk in the morning and then picnic and swim in the lake for the remainder of the day!
You'll be passing through Parkdale anyhow, so you may as well stop at Solara Brewing on your way home!

Read: [9 Best] Hikes In Everglades National ParkLearn about Pa-hay-okee Overlook
7. The Timberline Trail
We couldn't talk about Mt. Hood treks without mentioning the Timberline Trail, which is the mother of all Mt. Hood hikes.
This is a multi-day backpacking trip that most people do in four days and three nights, but if you're very adventurous, you can do it in three days and two nights (I even had a buddy who did it in two!).
I try to keep my days around 12 miles when I backpack so that I can really rest (sleep) and enjoy the landscape after setting up camp, so four days sounds perfect to me.
Put this baby on your bucket list if you want to truly experience the finest of Mt. Hood hiking.
The Timberline Trail circles the mountain, providing views of Zig Zag Canyon, Ramona Falls, Elk Cove, and the Cooper Spur Shelter, to mention a few.
You'll climb and descend from about 3,000 feet to a peak point of 7,350 feet.
Most people prefer to complete the circle clockwise from Timberline Lodge, which provides handy pauses at Ramona Falls (10 miles), Elk Cove (20 miles), and Gnarl Ridge (30 miles).
Unless it's been an unusually dry year, you won't have to worry about running out of water.
There are several stream crossings, some of which can be extremely dangerous.
Though you should use caution at all of them, the White River Crossing, located at mile 36 (if traveling west from the lodge), is the one that can pose the most problems.
This crossing varies from year to year, and hikers generally set flags or cairns to mark the safest fording spot.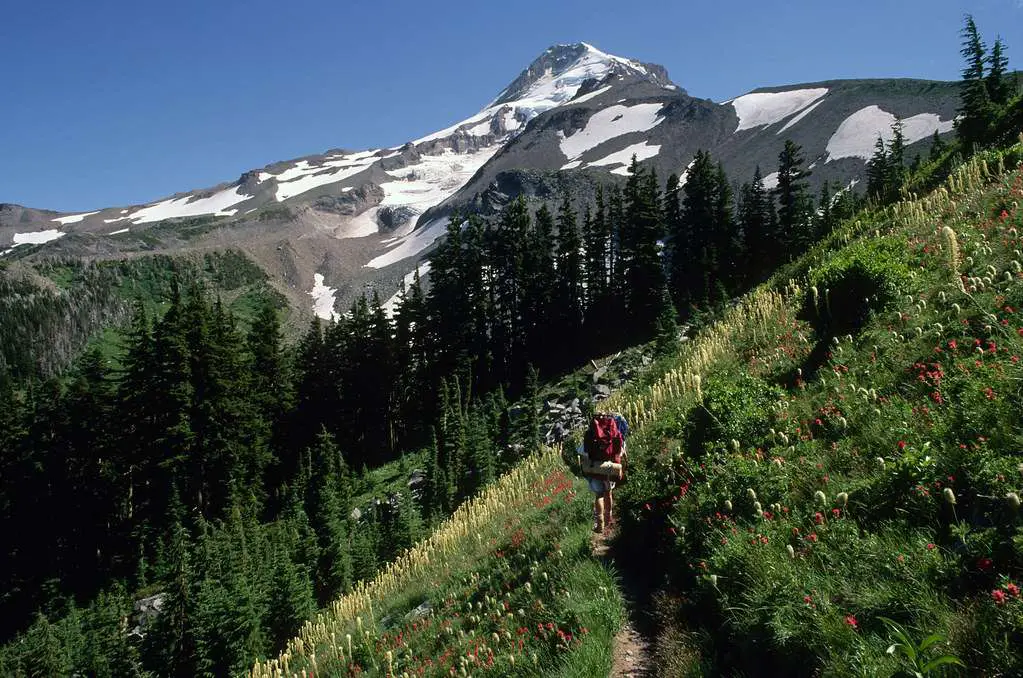 Read: [9 Best] Stroller Friendly Hikes Sedona In (2023))Learn about Devil's Bridge Trail
8. Mirror Lake
If you can, schedule your Mirror Lake trek during a weekday, but if that isn't possible, get there as early as possible on the weekend.
Mirror Lake is difficult to surpass for its accessibility, shorter length, and stunning beauty.
This is one of the finest treks in Mt. Hood for families because it is reasonably level and short.
Mirror Lake is famous for drawing both amateur and professional photographers in search of the ideal reflection of Mt. Hood.
Tripods are frequently erected to capture the brief moment of magic hour when the sunset paints the mountain pink and the sky explodes with color.
In the winter, it's also a fantastic place to go snowshoeing.
The path is well-traveled all year, making it simpler for first-time snowshoers to navigate.
If you get off track, you may generally locate someone else's tracks to follow, even if the signs is absent or covered.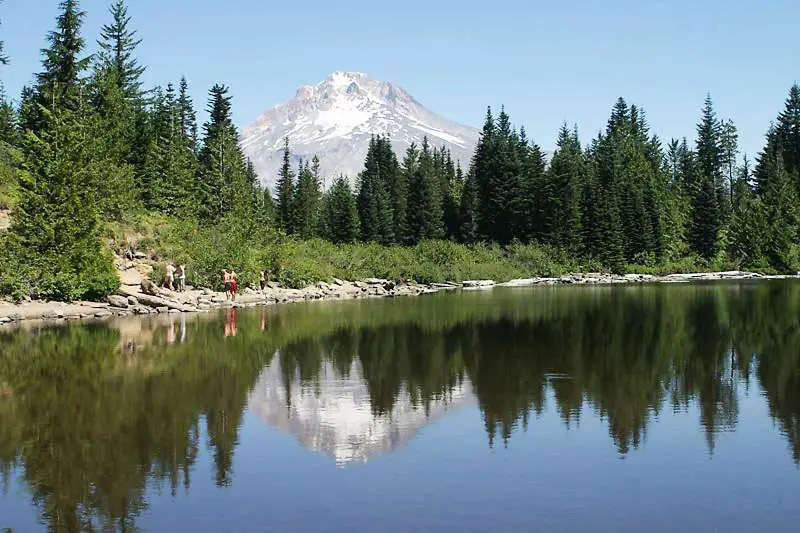 Final Words
All these are kid-friendly hikes that you can see at Mount Hood. It is up to you to pick the best hike out of them and go ahead with your hike. You will fall in love with the experience offered on your way.