Nowhere else compares to Florida. The Sunshine State is a state that is likely best known for its amusement parks, but its attraction extends beyond fantastical settings. For starters, Florida's city-like malls provide fantastic shopping, excellent eating, and a variety of golf courses. The beaches, on the other hand, are the ultimate crowd pleaser. Style, seclusion, and downright exceptional are all options while staying in one of Florida's beachfront rentals. They come in all different varieties as well. Discover some of the greatest locations for them by diving in. If you are looking for the most scenic places for rental homes Florida beach, you may take a look at these.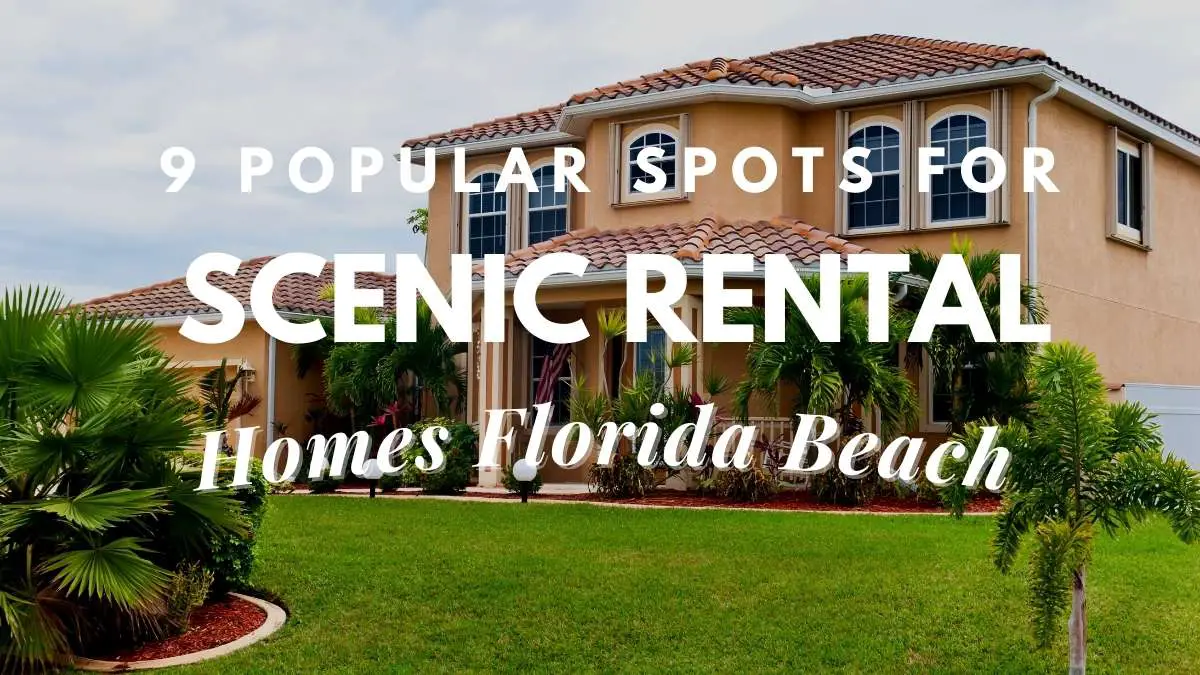 1. St. Augustine
The oldest city in the country may be most renowned for its Spanish colonial architecture, but it has no shortage of breathtaking sand dunes. There are many alternatives for renting a beachfront property in St. Augustine as they start to spring up close to Anastasia State Park and continue to dot the coastline all the way to Crescent Beach. A ride on the Old Town Trolley, a hop-on/hop-off tour that includes the Fountain of Youth and the 17th-century Castillo de San Marcos as well as more whimsical stops like the San Sebastian Winery, might provide a change of scenery when you're not topping off your tan or swimming in and out of the ocean.
History lovers will like exploring the attractions that America's oldest city has to offer. One thing is for sure: boredom is never an option here, what with all the magnificent beaches, quaint cobblestone alleys, and unique shops from the Gilded Age. Despite the city's lower cost of living, the real estate market is nevertheless fiercely competitive, with some houses being snapped up within a day of being on the market. In fact, St. Augustine boasts one of Florida's fastest growing economies, so if you're thinking about moving there, your investment will undoubtedly be profitable.
Read: Is Traveling A Hobby? The Ultimate Guide To An Exciting Way Of Life Learn about the Downsides Of Traveling As A Hobby

2. Miami Beach
Miami Beach is a hot spot for the cool set all year long, making it a fantastic location for Florida winter sun holidays. The obvious option is to get one of the chic South Beach condominiums or apartments that face the beach. This Miami-like neighborhood is known for its ultra-chic Ocean Drive and pastel-hued Art Deco Historic District. There is, of course, a more sedate side to Miami Beach. Beachfront vacation rentals in North Beach are perfect for those who want a laid-back base for their Florida beach holiday but don't want to be too far from the activity.
Miami Beach is the ideal holiday destination and the city's real estate market accurately reflects that. Miami Beach is the most international destination in South Florida and is home to some of the top hotels and resorts, restaurants, beaches, stores, and entertainment in the nation. The city is experiencing a construction boom, with new projects including 57 Ocean Miami Beach, Ten30 South Beach, Monaco Yacht Club & Residences, and Monad Terrace debuting. It's also reasonable to assume that even if you don't wind up spending much time in your new Miami Beach house, it will have lots of rental potential given that the area is bringing in an unprecedented amount of tourists.
3. Naples
Naples, located in southwest Florida along the Gulf of Mexico, has long been a popular holiday spot. Miles of beaches with golden sand and opulent vacation villas sprinkled throughout provide something for people of all ages to enjoy. Alternatively, you may browse the shops and galleries in the quaint old downtown, wander along the city's historic pier that was constructed in the late 1800s, or take a free trolley through thick mangrove woods to Clam Pass Park's isolated beach to see a different side of Naples. The Everglades National Park is another interesting side excursion that is just a short drive from most Naples vacation homes.
Naples welcomes families and provides relaxed elegance, wonderful beaches, and a variety of golf courses. Numerous expensive beachfront villas can be found in the city, which is regarded as one of the most affluent neighborhoods along the Gulf Coast. The Four Seasons hotel and apartments at the storied Naples Beach Club are presently receiving a comprehensive makeover, raising the area's desirability and property value.
4. Florida Keys
Without including the coral cay archipelago of Florida, no list of the greatest beach vacation spots in the state would be complete. Key Largo is the first of the Keys to give tourists the ability to go fishing, kayaking, and swimming with dolphins, sometimes only a few feet from your property. The nation's southernmost location, Key West, offers the same fantastic opportunities to enjoy the ocean, but it is also renowned for its nightly sunset festivities in Mallory Square. Afterward, have a drink at one of the many bars along Duval Street before returning to your oceanfront apartment.
5. South Walton
You've probably heard South Walton referred to by other names, like SoWal and 30A, the latter of which refers to the picturesque roadway of the same name. South Walton is a group of Gulf-facing coastal villages on the Florida Panhandle. Sugar-white beaches and emerald-green seas are easily accessible from 30A rentals, along with a variety of activities to keep you busy while you're taking a break from the beach. Among the 30A rentals, oceanfront vacation homes in Destin are among the most popular, particularly for families and big groups that desire a variety of activities right outside their door.
6. South Beach
Buyers drawn to Palm Beach's affluent and opulent lifestyle enjoy its world-class shopping and unspoiled beaches in a tranquil and refined setting. The city where many of the richest people in the nation have vacation homes is now experiencing a very hot real estate market.
Early in 2021, Palm Beach had an increase in sales of all dwelling categories, marking an all-time high, according to the Palm Beach Daily News. Sales hit $1.2 billion only in the first quarter of 2021 as opposed to $398 million in the same period of 2020. And in one case, a brand-new custom-built complex that had previously sold for $26.16 million was offered again for $45 million, where it did indeed sell quite rapidly.
7. South Florida
Fort Lauderdale, which is referred regarded be South Florida's "boating capital," is the ideal holiday destination for those who prefer to go sailing every day. There are a lot of canals in the city, seven miles of sun-drenched beaches, and a thriving art scene, which is why so many people are seeking for holiday homes here. The average selling price of a single-family house in Fort Lauderdale in July 2021 increased dramatically by a stunning 60% over July 2020. So, if you want to make Fort Lauderdale your permanent holiday destination, be prepared to spend more than the stated price.
8. Pembroke Beach
This once tranquil beach town, which is located just north of Fort Lauderdale, is now a hotspot on the South Florida luxury real estate market. Pompano Beach is a fantastic long-term investment thanks to a new crop of buildings like the beachfront Solemar and its sister property Casamar, which provide apartments with unhindered ocean views at a lesser price than those in Miami or Fort Lauderdale. The city has invested millions in restoring its seafront, including the construction of a new fishing pier and a parking garage with 663 spaces. The new downtown Innovation District for Pompano Beach will be complete by 2025, bringing with it a bustling, pedestrian-friendly, urban, mixed-use downtown district.
9. Tampa
Let's be clear about one thing: Tom Brady didn't just join the Tampa Bay Buccaneers; Tampa was well-liked long before. The city has long been a favored family holiday destination because to its theme parks, including Busch Gardens Tampa Bay and Adventure Island, waterfront entertainment, delectable cuisine, and diversified cultural scene. One of the top 10 U.S. cities with the quickest growth rate in 2020 was Tampa. The Tampa Bay region is now adding $13 billion worth of new construction and renovations. The Residences at the Tampa EDITION, The Ritz-Carlton Residences, and a $400 million renovation of the Westshore Marina District, which includes plans for a number of new condo buildings, townhouses, and restaurants, are among the major projects. This is The Related Group's first-ever collaboration project.
What are the best rentals in the region?
The opportunity to stay at this hidden treasure on Captiva Island is one that nature enthusiasts won't want to pass up. The water sits directly in front of the two-bedroom beach home, and the only creatures that regularly live there are wading birds, crabs, osprey, and snook. It's one of the greatest vacation rentals in Florida for strolling from your front door to the beach, and as there are no concrete roads, just sandy walkways bordered by tropical flora, a golf cart is included as part of your stay. Fishing, shelling, swimming, and wandering the beach are the most popular activities when you're ready to explore. Don't
1. St. Augustine's Ocean Front Private Getaway
This adorable, pink-hued residence in St. Augustine is among the top oceanfront Airbnbs in Florida. The three-story A-frame property is bright and cheerful with a lovely interior and private beach access, sleeping up to 13 people in its four bedrooms. Enjoy the sunlight on the balcony, gather around the fire pit, or go for a walk down the beach. The best part is that the downtown St. Augustine region and its well-known historic sights are just 5–10 minutes away.
2. Retreat for Rejuvenation with Private Beach and Pool
This lovely Ponte Vedra Beach oceanfront A-frame, which can house the entire gang and up to 13 guests, is really charming. The stylish 1970s house has a spacious kitchen and living space, unique décor, and contemporary accents throughout. The outside terrace provides a quiet place to take in the view. You're staying here for the beach access, and the hosts have provided enough of beach gear, so you won't need to bring any of your own. The river is a great place for kayaking, paddle boarding, and fishing, and downtown St. Augustine is just 15 minutes away.
3. Gulf Coast 2-bedroom condo with direct beach access in Holmes Beach
This chic Airbnb is close on the shore and has a Mid-Century ambiance; it was formerly featured in Sarasota Magazine. The cheerful yellow home is close to Lido Beach and downtown Sarasota and has contemporary conveniences like quick Wi-Fi and a flat-screen TV with Apple TV and Netflix. Modern amenities are available in the open-concept modern kitchen, and there is a table and chairs as well as a cozy hammock in the outside garden area. The BBQ grills with room for outdoor eating are surrounded by the thick greenery of palms and tropical plants, while bicycles, surfboards, flippers, and snorkels are available for rent.
4. Beachfront Modern A-Frame
At this opulent VRBO beach house in Melbourne Beach, you can live beachside and be alone because a National Wildlife Refuge borders the property. The one-bedroom apartment's remote location and the kilometers of white sand beach that stretch out in front of it give it the feel of having an almost private beach. From the living room, dining room, and kitchen, take in the spectacular views of the ocean from your own terrace with a hot tub. Then, spend the rest of your time in paradise by going on leisurely walks around the pristine coastline, collecting shells, swimming, fishing, and surfing.
5. North Captiva Seaside Beach House with Private Beach
At this opulent beach property on Captiva Island, you'll think you've fled to your own private island. This two-bedroom holiday home is situated on the northern extremity of the island, positioned on a magnificent white sandy beach overlooking the turquoise waves, only 10 feet from the pristine Gulf of Mexico. You may explore the island without any automobiles, simply lushly adorned sand pathways, and golf carts on four acres of pristine, untamed territory. All ages may take in the sunset and dolphin sightings from the veranda, while enjoying the sound of breaking waves from the dining room table or getting active by exploring miles of uninhabited beaches.
Final words
While looking for the popular spots for scenic rental homes Florida beach, you should pay special attention to the neighborhoods we mentioned. You will have to spend more money to get your property from one of them. However, the experience is totally worth, and you will surely love it.