Ketchikan, the "Salmon Capital of the World," is famed for its fishing, scenic beauty, and rich Native culture. The locals are proud of their past and happy to share it with you, particularly the rangers.

The landscape is breathtaking, with gorgeous woods, waterfalls, lakes, streams, and coasts. Everywhere you look, there is something fresh to see. Regardless of cold climate, you may think about visiting Ketchikan in winter. That's mainly because of the things to do in Ketchikan in winter. Let's take a look at some of the most prominent activities that you will be able to do out of them. Then you will be able to plan your trip and enjoy accordingly.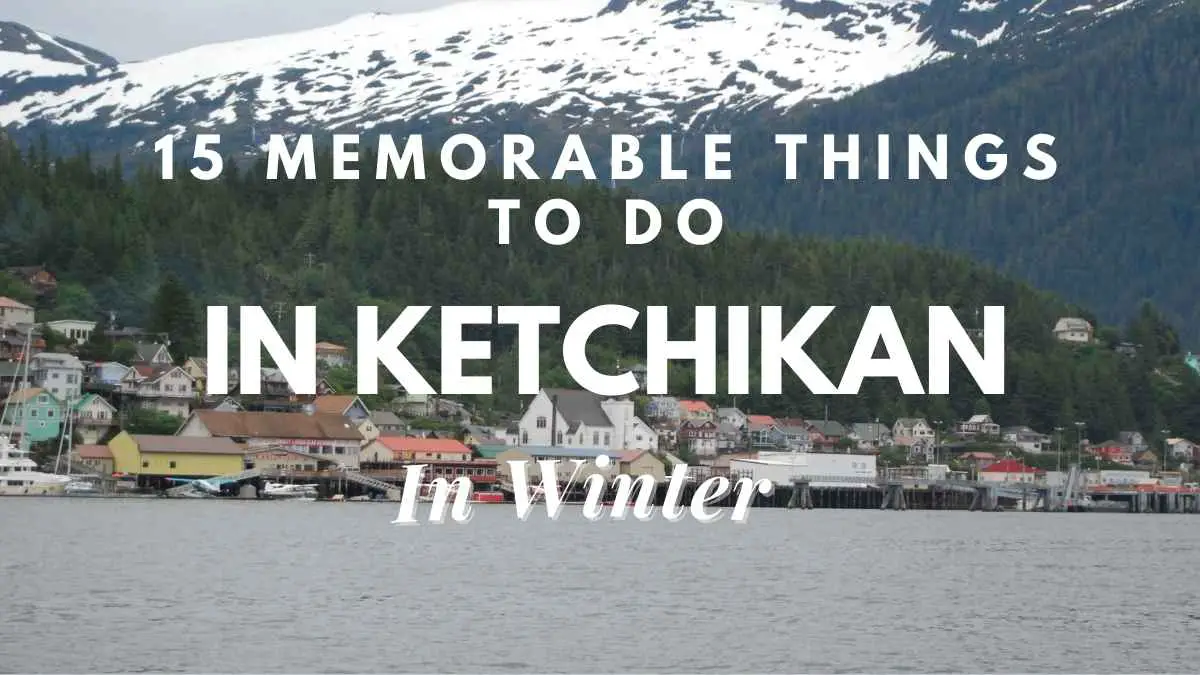 1. Tongass National Park
Plan a walk-in beautiful woodland in any weather.
The Tongass National Forest paths are miles long, thus a ranger or guide is recommended.
This is among the best things to do in Ketchikan in winter that we can recommend to you as of now.
That's because you will be provided with breathtaking views as you enjoy your time in here.
If you get up early enough, you may have the path to yourself.
The forest comprises 17 million acres and is the US's biggest.
You can't get lost here.
There are beavers, otters, moose, and bears here, as well as salmon in the streams and maybe whales on the shore.
You will be able to explore all of them while you spend your time in winter.
Read: Is Traveling A Hobby? The Ultimate Guide To An Exciting Way Of Life Learn about the Downsides Of Traveling As A Hobby

2. Misty Fjords National Monument
These fjords are what Alaska is known for.
Expect stunning blue lakes, snowy peaks, and glacier rainforest valleys.
It's possible to observe the wonderful nature from above by float aircraft or from the ocean by cruise.
You must see this gorgeous scenic spot while visiting Ketchikan.
You may encounter some animals and birds on your trip, but seeing wildlife is not guaranteed.
Visiting here in winter will not be a challenging experience and we encourage you to go there and grab the most experiences offered on your way.
3. SEAK Discovery Centre
This helpful information Centre has all you need to know about Ketchikan and Alaska.
Visiting the Southeast Alaska Discovery Centre near the docks is a must.
Learn about the indigenous people and how the forest is utilized now.
The ecosystem and natural systems at work.
The junior ranger exercises and games promote both learning and fun.
This exploration Centre, located in the heart of Ketchikan, Alaska, is the perfect site to start exploring the Tongass National Forest's millions of acres.
They not only provide a plethora of information for newcomers, but they also offer some classic Ketchikan activities in the forest!
Learn about the surrounding flora and animals as well as how the locals have lived in peace with nature for centuries.
In the summer, join a ranger walk for the complete panhandle.
4. Alaska Canopy Adventure Zipline
A zipline tour is an adventure activity you can schedule in Ketchikan.
Ziplines, sky bridges, and rappels will take you through the jungle.
Don't worry, safety and environment are top priorities, and the surrounding region has been spared as much as possible.
Some of the ziplines are almost 600 feet long, and from the top you can see bears and bald eagles.
5. Park Potlatch
It is located on historic Tlingit Native fishing grounds on the Tongass National Park beach.
Brita Alander's carved wood, homes, totem poles, and panels are shown here.
Totems like the Raven, killer whale, Thunderbird, and wolves are common in Tlingit mythology.
Visit the studio to see live demonstrations of the carving process.
Explore an antique automobile collection and a unique antique guns collection.
6. Kayaking Ketchikan
Kayaking is a terrific way to view Ketchikan and the neighboring islands.
Then kayak with a guide around the coast and streams, taking in the top attractions and gorgeous vistas.
Among things to do in Ketchikan in winter, we can highly recommend this experience.
That's because kayaking is quite different from the experience that you can get during summer months.
Therefore, you will end up with.
7. Deer Mountain
This mountain trek in Ketchikan is typically called one of Alaska's top day hikes.
It's not a short trek, so you should be in decent shape.
This trek is for those who want a challenging yet rewarding day with excellent vistas.
This 6.7-mile out-and-back track is recognized for the gratifying vistas that come at the expense of a few calories–with lots of steep hills throughout, this is a workout in the purest sense.
You won't find a prettier place to work out! Climb to the summit for a panoramic view of Ketchikan.
This terrain is notoriously treacherous after a rain, so dress appropriately for all weather situations.
The peak is at 3001 feet and the walk takes around two and a half hours round trip if you wish to stop at the viewpoint.
Be aware of changeable weather and pack appropriate clothes.
8. Creek Street Ketchikan
This historic red-light district is now a museum and cultural district.
You may join a guided tour or explore on your own with a self-directed map.
Depending on your preference, you may visit the region by boat or on foot.
See salmon swimming upstream and eat freshly fried crab legs.
The walkway is Alaska's most photographed roadway and should not be missed.
9. Saxman Village
Visit the beautifully carved totem poles and the Clan House, which has an impressive sculpture of a Beaver on the exterior.
Many excursions include a native dance display and an explanation of the totems' significance.
Even the customary dancing at the finale may be possible.
View over 25 totems in a glacial rainforest environment.
You may also witness native carvers at work in the carving shed.
10. Dolly's House
Dolly's House is the last preserved former entertainment facility on Creek Street, the ancient red-light area.
Workers, from fishermen to miners, enjoyed the region.
The green dolls home appearance appears like it did in the early days.
24 Creek Street. The museum within tells the story of the women of the night who lived and worked here.
There are several images of Dolly and her history till 1954 when the mansion closed forever.
You can still think about going here in winter.
Then you will be able to get a better overall look at the attraction and what it offers.
No matter what, it can deliver a pleasing overall experience to you, and you will fall in love with the unique experiences that you can grab in the long run.
11. Museum of Tongass
The Tongass Historical Museum covers Ketchikan's entire history.
Inside are intriguing artefacts from the region, old pictures, and information about the town.
From natives to prospectors.
From the pioneers to today's Ketchikan residents.
Exhibits include salmon fishing, gold mining, and logging.
The museum is popular with visitors disembarking from cruise ships into town.
12. Scanlon Gallery & Custom Framing
A fine art gallery in Ketchikan featuring and selling Alaskan art.
Original paintings, handcrafted jeweler, wood carvings, sculptures, and more.
It's a good site to shop and observe how Ketchikan, Tongass, and Alaska influenced local artists.
Of course, the landscape is inspiring, but there's more to discover.
Finally, if you want to take an actual memento home, you may always buy an original work of art.
13. Ketchikan Salmon Market Eleanor Scriven
You will witness fish cooked in unusual ways.
You should go to the salmon market whether you want to purchase fish or simply enjoy the sights and sounds.
It's a great opportunity to learn about local life and how salmon fishing affects the local economy.
This market sells more than just fish.
You may also buy other shellfish, reindeer meat, and jams and jellies.
14. Rotary Beach
Rotary Beach is a terrific area for families with young children to relax and play.
At low tide, explore rock pools for mussels, barnacles, crabs, and fish.
Kids will enjoy exploring the wildlife and beautiful scenery.
You may even see killer whales passing past the shore.
Some people assume that this is not a good location to visit in winter, but it is not.
You will be able to discover numerous great activities to do in here during winter season.
Therefore, you may think about visiting without keeping any second thoughts in your mind.
15. Ketchikan Snorkeling
Snorkeling and dive trips are an exciting opportunity to explore animals along the shore.
Enjoy a full-day excursion with PADI Professional Divemaster and SCUBA Instructors.
The Mountain Point Snorkeling Adventure in Ketchikan is operated by Snorkel Alaska, a recognized tour operator.
Final words
Now you are aware about things to do in Ketchikan in winter. Make sure that you come up with a proper plan to enjoy your time while keeping all these facts in mind. Then you can make sure that you are getting the best possible experiences that you can possibly have while you are enjoying your time.