A dazzling, 60-mile-plus picturesque stream winds through the Cookson Hills of northeastern Oklahoma. The Illinois River flows between steep and rugged cliffs, providing tourists with a stunning view. The river is surrounded by shortleaf pine, red and white oak, hickory, sycamore, dogwood, and redbud trees, which provide shade and animal habitat for deer, foxes, and a variety of bird species, including bald eagles. We are looking forward to sharing all details you need to know about Tahlequah kayaking through this article.

This scenic setting offers several recreational options, particularly along the section of the river that runs along to SH-10 northeast of Tahlequah. The most popular method to see the Illinois River is on a float trip; enjoy a leisurely ride on the calm water and take in all the river has to offer. With so many outfitters and campgrounds along the river, you'll have everything you need. All you have to do now is show up.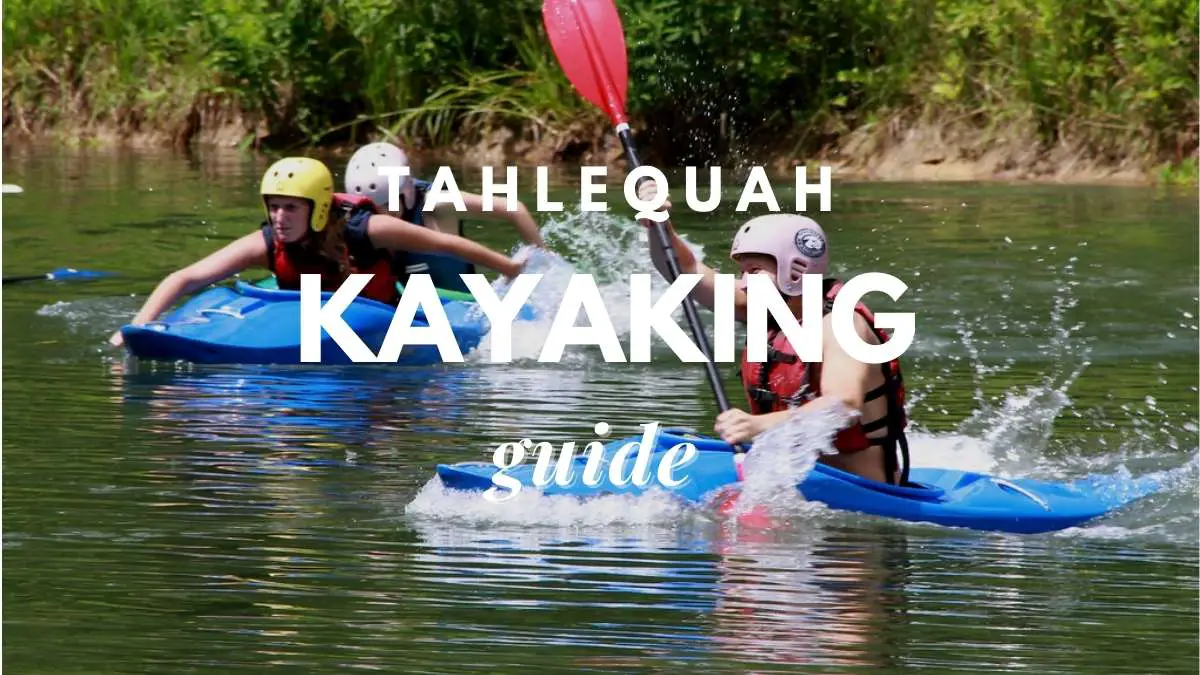 Making Travel Plans
The Illinois River may be floated in a variety of ways, but the three most common are by canoe, kayak, or inflatable raft. Kayaks are more maneuverable and can carry one or two people, although canoes are very simple to operate and can carry three people. Some rafts can hold up to nine people, making them an excellent alternative for families. The river is a Class II stream that flows softly with a moderate current and minimal dangers, making it accessible to both professionals and beginners. There are trips of varying durations available, ranging from six to 70 miles.
The peak season for the Illinois River is from Memorial Day to Labor Day, when families and vacationers go to the river to cool down and escape the summer heat. Many of the Illinois River outfitters along SH-10 are open all year, but with early notice, they can accommodate tourists even during the winter months, allowing you to float the river in peace.
Read: Is Traveling A Hobby? The Ultimate Guide To An Exciting Way Of Life Learn about the Downsides Of Traveling As A Hobby

Begin with a Trustworthy Vessel
Make sure your boat is in excellent operating shape and that you have the proper equipment, such as a spray skirt and a throw bag, if you plan on sailing over strong rapids. The river we rafted has just a few rapids, none of which are more than class 1, therefore the throw bag may be left at home. We just took our spray skirts since we knew it was going to rain.
If your boat breaks down, your vacation might rapidly become a disaster. Capsizing or being stuck on riprap may occur if a boat takes on water or fails to maneuver appropriately. Pay heed to your vessel's weight restriction as well. I don't use manufacturer suggested weights as a deciding factor, but I was around 25 pounds above my advised weight at the time, and that's about as far as I'm ready to go. I was seated rather low.
Choosing the Right Outfitter
When you're ready to go on your float trip, an outfitter can assist you in obtaining all of the necessary equipment, including personal flotation devices. Many outfitters will take riders to a drop-off location, from which they will float back to the camp or to a pick-up location. Most outfitters along the river also provide overnight options, including as campsites, cozy cottages, and low-maintenance bunkhouses, as well as additional facilities like swimming pools.
Floats from all across the United States
Set a camp at All American Floats along the Illinois River. Picnic tables, bathrooms, showers, and a volleyball field are all within a few hundred feet of your tent for a basic camping experience. Choose from four, nine, or thirteen-mile float tours, and go on your adventure in a raft, canoe, kayak, or tube. All American Floats also offers easy access to Highway 62, which leads directly to Tahlequah.
Explore Arrowhead Resort
Arrowhead Resort has you covered whether you're heading to the river for a float excursion or simply a weekend escape. Set out on a tough 58-mile excursion in a canoe or kayak or take a relaxed six- to 12-mile trip. Or, for a six- or 12-mile float, climb aboard a raft with friends or family. If you're with a large group, rest up at the campsites, a cabin, or the group lodge after your river trip.
Explore Diamondhead Resort
Diamondhead Resort offers campers, hotel rooms, and a bunkhouse as lodging choices. Enjoy a nine-hole disc golf course, horseshoe pits, and illuminated basketball and volleyball courts at this full-service campsite. Choose between kayaks, canoes, or rafts to spend a day on the river, and go on a six- or 12-mile journey.
Eagle Bluff Resort allows you to camp by the river in a tent or RV, stay in an air-conditioned cabin, or stay in the group lodge. A snack store, playground, sand volleyball field, and basketball court are just a few of the amenities available. When you're ready to hit the water, select between a relaxing journey in an inner tube or a float excursion in a canoe, kayak, or raft. Arrangements may be arranged for an overnight float excursion for adrenaline seekers.
Explore Peyton's Residence
Peyton's Place, one of the Illinois River's oldest canoe campgrounds, has been a go-to float trip outfitter for decades. For your trip downstream, canoes, rafts, and kayaks are provided, as well as on-site housing units and campsites. You'll find everything you need for your stay, from a group lodge that can accommodate up to 48 people to tent sites with power connections.
Explore War Eagle Resort
Your river adventure starts at War Eagle Resort, where you may pick between a raft, canoe, or kayak float tour. Set out on a peaceful six- or 12-mile hike, then relax in one of the resort's two-bedroom A-frame cabins or the War Eagle hotel when you return. Large parties may stay in one of the bunkhouses, and there are also campsites available. The on-site water slide and swimming pool keep everyone cool as they have a good time.
Sparrow Hawk Camp, Riverside Resort, Hanging Rock Camp, and Falcon Floats, in addition to the Illinois River outfitters listed above, may aid you in your search for the perfect Illinois River experience.
Always keep an eye on the water.
Before you float, check the Illinois River levels at Tahlequah. Why? The river's water levels increase and decrease dependent on current rainfall patterns, and Oklahoma has had a lot of rain this week! By phoning ahead and chatting with your resort river guide, you can get the most up-to-date information on current circumstances and safety measures. In addition, the Tahlequah Daily Press publishes frequent reporting on the Illinois River Basin's circumstances.
Make a strategy to float
If you get separated from your group, have a strategy in place. It might be difficult to reconnect with others depending on the river, particularly if you're in two distinct rafts, canoes, or kayaks. Also, be certain that you arrange a vacation that your group will be able to handle. If you've never floated the river before, the 2- to 4-hour excursion is a good place to start.
Final words
These are the best Tahlequah kayaking tips that we can provide you as of now. To avoid party scenes, start your journey early in the morning or arrange your trip around popular holiday weekends. Preparation is essential for keeping safe throughout Memorial Day weekend and the rest of the summer. Plan ahead, do your research, pack appropriately, and, most importantly, have fun on the water.