The Delta is so unlike from San Francisco—which is just two hours away—that it may as well be on the opposite side of the planet. No Starbucks, no automobile traffic, no high-rise, and no fog. All that is present are pleasant temperatures, river levees, cornfields and grazing cows, tall, wavering reeds, and prickly blackberry bushes, as well as white egrets and red-winged blackbirds. And the wind was blowing nonstop. Continue to read and you can learn more about Sherman Island kiteboarding.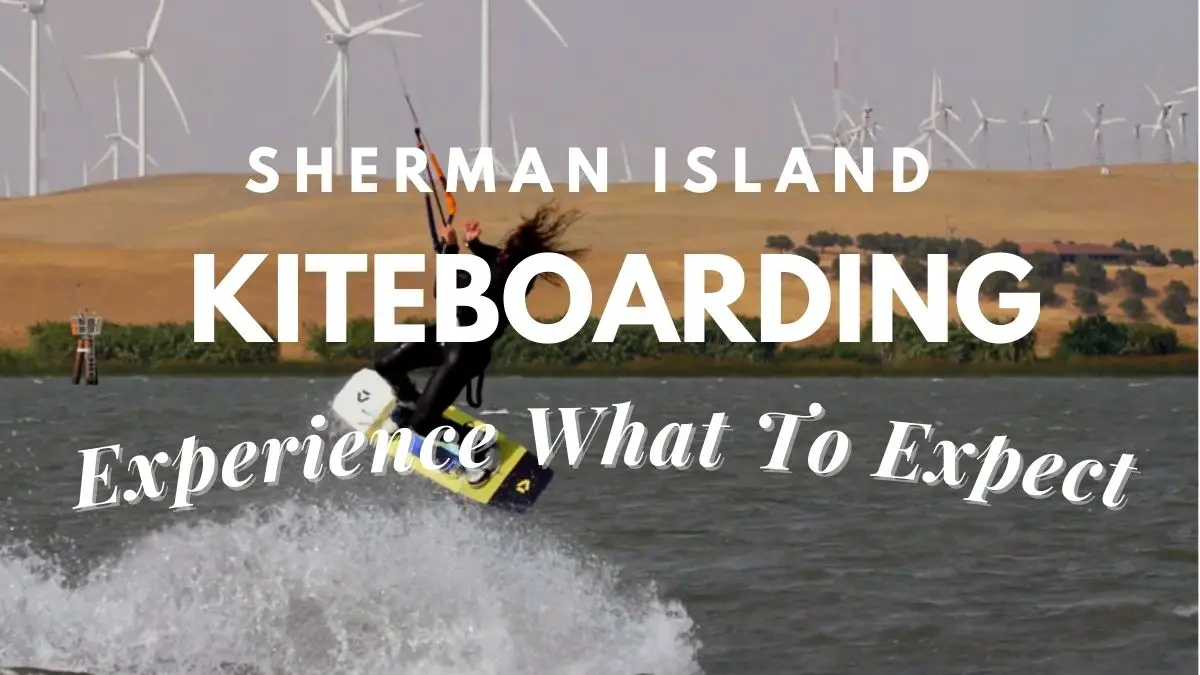 Why the Delta in California?
Due to the significant temperature difference between Sacramento and San Francisco in the summer, the region benefits from continual breeze. Sacramento often experiences temperatures over +100° F. As Sacramento's hot air meets the cold air of the Pacific Ocean, a strong pressure flow from the Golden Gate Bridge spreads across to the Delta. The Sacramento and San Joaquin rivers meet at the Delta, which is halfway between the two cities and is strategically situated for California's finest wind conditions. The wind blows continuously from dawn to night throughout the summer, which makes for ideal sailing conditions at sunrise and sunset.
A part of me wanted to keep this tiny hidden area just that—a secret—so I was hesitant to write about it. However, the Delta has been gaining popularity recently, so the secret has mostly come out. When windsurfing was still the primary wind sport on the water, we first learned about the Delta more than ten years ago. Due to the lack of urban growth, running water, and power, only residents of the San Francisco Bay Area were aware of the area, which led to the emergence of a tiny RV-based community of dedicated windsurfers.
Read: Is Traveling A Hobby? The Ultimate Guide To An Exciting Way Of Life Learn about the Downsides Of Traveling As A Hobby

What about the kiteboarding locations on Sherman Island?
Originally a windsurfing location, both communities now get along rather nicely. The region now has distinct launch places, one beach access for the kites and one for the windsurfers, which keeps everyone in a good mood after the windsurfers first gave the invading kite surfers the cold shoulder. Given that kites are not affected by the high reeds as would be the case for windsurfers, certain places, such as the little islands, are better suited for kiters. Windsurfers mostly utilize the Channel and the Playpen, a tiny sandy beach area near the park's entrance. Both teams must adhere to safe sailing guidelines, refrain from stunts, refrain from leaping within 200 feet (70 meters) of the beach and swimmers, and observe sailing right of way.
The Delta is a location for expert kite surfers because of the tides, shrubs, rocks, and trees, as well as the tiny launch space. You must be able to ride upwind with ease and keep an eye out for the powerful currents and tides. Many people are shocked by these and wind up walking back on the levees after being trapped in flooding conditions and forced into the Channel, which is known as the "walk of shame." Coast guards periodically rescue surfers and riders who have been carried off the island during heavy ebbs. Unless you can arrange a downwind with one of the nearby kite schools, this is not the place to learn.
The Sacramento River Delta has a number of alternatives for starting points, which is fantastic news. Some are more difficult than others, others provide protected sites for takeoff and landing, and some may be paired with housing options.
This is another aspect of the Delta's appeal, since it provides a little piece of paradise for everyone. Launching from Kite Beach, Sherman Island County Park
The bigger sandy Playpen, which is also used by swimmers and picnickers when the winds are low, and the Windsurfer launch are the only two beach access locations that are primarily reserved for windsurfers. Kite surfers may only utilize Team Rio Beach.
Where to have lunch
Either right on the sand on a small, level space that is approximately 30 feet (6 meters) by 60 feet (20 meters) and is tucked in between plants and reeds. The location, which is close to the entry and departure points and only allows one kite to land or launch at a time, is modest and often congested. However, since it keeps the amount of time on land to a minimal, this is a safe technique.
Alternately, you might take off from a larger grassy area beside the parking lot. Even though it is smaller than the beach launch, it is often crowded with kites piled on top of one another, people putting up their equipment, children playing, and dogs roaming about. Downwind to the edge of the launch area, there is a metal picnic terrace at this spot as well. Launching and landing might be challenging due to the wind shadow. Due to its downwind location, it is typical to see a kite that is too powerful take off at launch and crash against that structure. Sometimes the impact has dramatic repercussions and injures kiters (dents on the roof are the remaining proof). However, a lot of people pick this location to launch, traveling back and forth to the beach on two separate pathways, one to enter and one to depart, in order to dodge the one-way directions in each direction.
There is minimal room for error in either situation due to the wind coming from the onshore direction and the nearby tule reeds, trees, and blackberry bushes, so additional care must be used. Once in the water, you must be able to move quickly upwind to avoid striking shallow roots and edge shrubs, which might have dangerous consequences. Some people would rather play it safe and pull their bodies a sufficient distance from the beach before mounting the board.
If there is no wind elsewhere in the Bay Area, busy weekends may see up to 70 to 80 kites on the lake, and perhaps up to 100 over the Fourth of July weekend.
Session at Sunset
When you're on the water, you may either go in the direction of the Channel or the Sherman Island Waterfowl Area. The Sacramento River, often known as The Channel, is the biggest river in California. It has a channel that is approximately 30 feet (9 meters) deep, and 200 feet (61 meters) wide, and massive tankers still utilize it to convey cargo between Sacramento and Oakland.
The Channel is a popular spot for local windsurfers; however, it may be rough and has strong currents and tides. On the opposite side, you can go to the various little islands that make up the Sherman Island Waterfowl Area, which is near the San Joaquim River. Here, you could see red-winged blackbirds, rare sea otters, turtles, as well as weekend boaters and jetski riders. The Sacramento River's powerful tides have less of an effect here since the water is calmer.
Severe tides with strong ebbs, floods, and boulders and dead trees on the levees make for an unfavorable environment for sailing. One to three feet of waves may be seen during an ebb tide, and low ebb will disclose dead trunks, roots, and reeds that will make riding challenging since you must be able to maneuver appropriately to avoid these additional items.
There aren't many places to stay close to the major launch sites, despite the fact that they are fairly accessible from the Bay Area. Many people visit for the day, but many more remain overnight or for an extended period of time throughout the summer. However, there is a small group of dedicated kiters and windsurfers who remain overnight every day of the week or for longer periods of time.
The majority of hotel options in the Delta are basic, including tents, cabins, trailers, and RVs (but some of these RVs are extremely opulent!).
Park in Sherman Island County
Sherman Island County Park, which is run by the County of Sacramento, offers parking for $5 per day or overnight camping for an extra $7.50 per night for a maximum of 14 consecutive nights. A day-use season ticket is also available; rates start at $50 for a car and light trailers up to 20 feet and go up from there for larger vehicles (prices stated as of September 2015). Tents are prohibited.
Indian Bob and his wife Mina are in charge of the park's on-site camp host. Bob enjoys windsurfing a lot and routinely spends more than 250 days on the water annually. Bob handles all park upkeep, while Mina makes sure everything runs well and that everyone pays their fees. Both are always willing to provide newcomers with local information, park restrictions, and wind guidance.
Many people go to bed early in preparation for morning sessions since the gates shut at 9 o'clock. Due to the younger kiteboarding culture, Fridays and Saturdays often seem like parties, complete with late BBQs, sporadic guitar and drum performers, and birthday celebrations. Day users may come in and be on the lake at dawn when it reopens at 6am.