Sure, there are plenty of luxury hotels to stay in throughout New Jersey. But if you are looking for a unique getaway experience, renting a cabin can be a fun option too. Cabins offer a simple and rustic vibe while still keeping you warm, cozy, and comfortable. Add some adventure into your life with one of these cabin rentals in New Jersey! Here are the most popular spots for scenic NJ cabin rentals that you can find as of now.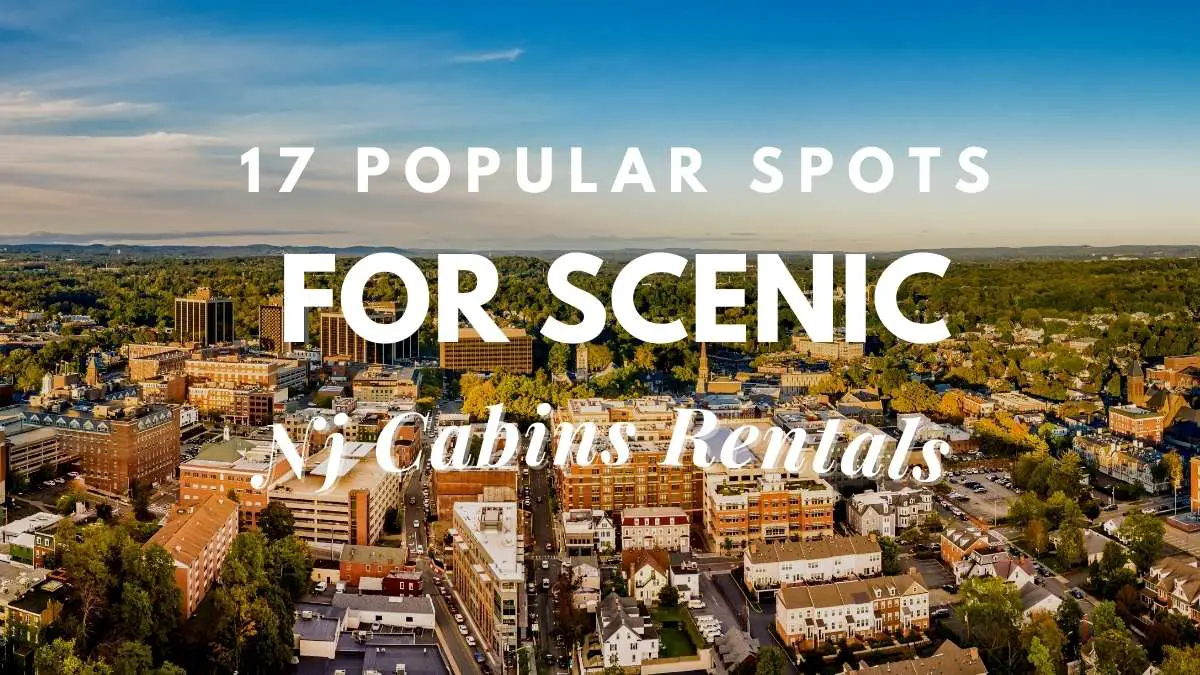 1. Shore Log Cabin, Sea Isle City Beach
Located in a gated community and just a short trip from Sea Isle City Beach, here's a cabin for up to five people in New Jersey. With this cabin rental, you'll have access to a luxury pool, playground, sporting courts, and arcade. There's a bathhouse and laundry room that is shared and available for guests to use. The sleeping arrangements are a queen-size bed, couch, and air mattress. Amenities provided at the cabin include Wi-Fi, a kitchen, a TV with standard cable, and free parking.
Read: Is Traveling A Hobby? The Ultimate Guide To An Exciting Way Of Life Learn about the Downsides Of Traveling As A Hobby

2. Fairytale Log Cabin Near Greenwood Lake
Here's a charming cabin that's close to Greenwood Lake and the Appalachian Trail. It's a rustic spot to relax in and explore the area with outdoor activities, such as kayaking, skiing, and boating. The 1930s log cabin has two bedrooms and a loft. It's on a quiet wooded lot and nicely decorated. The outdoor space has a patio/deck, dining table, hammock, gas grill, and fire pit. This cabin sleeps six people and has a bathroom. It also offers a kitchen, Wi-Fi, TV, air conditioning, and free parking. You'll be in a small community of several log cabins here that have been converted from camping lodges to residences.
3. The Red Door Cabin at Lake Mohawk, Sparta
Up to eight people can stay at this cabin that's just an hour from NYC and a great getaway spot. It is a four-minute walk from a beach and has lots of old-world charm. This is an original Crane house from the 1930s and now equipped with modern amenities. It's a very family-friendly spot with a pack-and-play available, as well as a high chair and safety gate. There's a seven-night minimum during the summer season here. Amenities included are laundry machines, a kitchen, TV, and Wi-Fi. You'll love being in this unique community that is close to multiple beaches and has miles of coastline around the lake for walking and running.
4. Rustic Country Log Cabin at Culver Lake
A VRBO rental cabin worth considering for your New Jersey getaway is this option that sleeps up to six people. It has two bedrooms and one bathroom, and it's nestled in the woods. You'll have a screened-in porch, private dock, canoe, rowboat, and two kayaks available to use. It's not a lakefront cabin but there is lots of recreation nearby. Families with kids love staying here because of all the things available to do in the area, including swimming, water parks, the zoo, and zip-lining.
5. Secluded Cabin with Boats, Great Meadows
This vacation rental cabin has two bedrooms and 2.5 baths and is great for up to eight guests. Jenny Jump State Forest is nearby, as well as Shawnee Mountain Ski Area. The cabin offers laundry machines, an electric car charging station, a private pond, and a secluded waterfront location. You can have lots of space here because it's on 17 acres and has a furnished deck, canoe, paddleboat, gas grill, and outdoor dining table on the patio. Guests will also enjoy the full kitchen, garage for two vehicles, and complimentary toiletries.
6. Yard at Lake Hopatcong Getaway Cabin
Up to four people can stay at this cabin that has two bedrooms, three beds, and one bath. The cabin is near Route 15 and U.S. 80. It has a kitchen with cooking amenities, patio with front porch deck, yard with a fire pit, and is near trails and restaurants. Pets are allowed in this rental cabin, which also has Wi-Fi, a TV, and air conditioning. This is not a secluded cabin like some of the others on this list, but instead, it's in a friendly and active neighborhood that can get busy on weekends.
7. The Historic Waterfall Cabin, Vernon Valley
With this cabin rental, you can wake up to the sounds of birds and the running stream nearby. You'll also have your own private hiking trails and be within five minutes of many attractions, including horseback riding, goat yoga, and the Appalachian Trail. It's a cabin rental for up to four people with two bedrooms and one bath. Pets are allowed here. The amenities at the cabin include fast Fi-Wi, a 65-inch HDTV, free driveway parking, laundry machines, kitchen, and air conditioning. It's fun to explore the historic town here and get back to nature with some adventures and wildlife watching.
8. Lokal A Frame, Maurice River
This unique A-frame cabin is in a secluded and rural setting to help you escape from city life. It's on a 2.5-acre lot with a private "beach" along the Maurice River. There's a wood-fired hot tub here, as well as fire pits and a charcoal grill. Things to do when you stay here include kayaking, fishing, crabbing, boating, and hiking. It's a smart idea to bring your own food and beverages along for when you stay here because it's in a remote location. However, there is a small shop for groceries and takeout about 15 minutes away in case you need something.
9. Little Red Cabin, Andover
You can enjoy some relaxing time near the lake when you book this Airbnb cabin in New Jersey. It has a loft sleeping space for the second of two bedrooms, a large stone fireplace, and an outdoor fire pit. Up to four guests can stay here. Your rental comes with two community beach club passes, and additional passes are $10 each. It's just a five-minute walk to the beach club and trails. Things to check out in the area when you're staying here include the Lakota Wolf Preserve, Tomahawk Lake, and Perona Farms.
10. Log Cabin at Twin Oaks Near LBI, West Creek
Couples and pairs of friends enjoy staying at this log cabin that has a private entrance, screened porch, bathroom, outdoor shower, and light breakfast items provided. It does not have a kitchen, but there is a small fridge inside. You'll be in an authentic 1939 cabin that is attached to the host's home. Overall, it's a relaxing getaway spot in a wooded neighborhood. It has a full-size bed and is just 12 minutes to Long Island Beach by car. You can get here from Philadelphia within an hour.
11. Luxe 10-Guest Cabin, Vernon
For larger groups of up to 10 people, consider this New Jersey cabin rental on VRBO. It has three bedrooms and two baths in an area with lots of outdoor recreation. This is a two-story cabin that does not come with free pool or amenity passes, but you can contact the resort to get access to what the resort has to offer. The cabin itself offers internet, laundry machines, a fireplace, TV, and more.
12. Country log cabin near Culver Lake
At 555 acres (224.6 hectares), Culver Lake is a paradise that's perfect for fishing, boating, and kayaking. And this country log cabin is an ideal place to relax after a day in the sun. With a large screened-in porch that provides lake views, it's suitable for wildlife watching. Indoors, you'll have WiFi and cable TV for enjoyment as well as a fully equipped kitchen and cozy beds for convenient stays. A travel crib is available should you be traveling with your infant.
The property has a private dock on the lake where you can use the water gears that come with the rental. Located just across the lake is a sandy beach with great shore, food, and games for the kids to enjoy. Note that the property is rented out on a weekly basis during summer months with lake rights included. Guests may have to pay an additional 40 USD for lake access badges for bookings of lesser than 7 days.
13. Luxurious cabin boasting a private pond
The trip to the mountains of Great Meadows will be well worth it with a stay at this secluded waterfront cabin nestled in a wooded site. Step out into the furnished deck and you'll be greeted by a breathtaking view of a private pond that's great for paddle boating, fishing, and canoeing. If you're driving an electric car, you'll find the parking lot's charging station highly useful.
A luxurious vacation home, the property's crowning feature is its open-concept living area with a towering stone fireplace, family-sized dining table, and well-equipped kitchen. Its walls are paneled with sizeable windows that let you appreciate the outdoor views when staying in. There's also a game room where the family can huddle for a poker and ping pong game. Indoor living is heightened by the appointed WiFi and three flat-screen TVs. Please note, guests must be 25 years or older to book the property.
14. Well-furnished cabin with private access to lake in Wantage
Make the most of your Wantage holiday by making this modernly furnished lake cabin your home for your vacation. You and three of your loved ones will surely find comfort in this two-bedroom haven with quick access to refreshing waters and lake views. Its interior is picture-perfect and chic with gorgeous hardwood flooring, white walls, and lots of natural light. It also has a terrace where you can enjoy morning coffee or afternoon drinks. The fire pit in the garden is perfect for roasting s'mores or just sharing stories with each other.
15. Elegant townhouse with hot tub and seasonal pool in Greenwich
A masterpiece of Harlow Grey Homes, this breathtaking townhouse is sure to treat your eyes to trendy decor, white walls, floor-to-ceiling windows, exposed beams, brick details, and pale flooring tiles. Instagram-savvy Millenials are going to be excited about this sunny four-bedroom vacation rental that can sleep up to ten guests. It is complete with a kitchen, a living room with leather seating and a fireplace, three baths, a hot tub, and WiFi. Topping it all off with a seasonal pool and a gorgeous lake nearby, providing guests with the best of both worlds.
16. 70-year-old home next to Lake Mohawk
This residence near Lake Mohawk has been there for almost 70 years and is decorated in the manner of an actual Swiss home. Because of this, the location exudes an antique atmosphere yet having a number of contemporary conveniences. The home has three bedrooms that can accommodate six people, a full kitchen for your eating requirements, and a living area with cable television and internet connection. There is a well-kept garden outside, complete with a waterfall pond and benches for relaxing.
Since this residence is a member of Lake Mohawk Country Club, you may take advantage of club services including a kid's activity center to enhance and prolong your trip. Enjoy swimming in the lake's serene waters while you have access to it. For extra entertainment, you may also go to the clubhouse.
17. Highland Lakes charming six-person house with private lake access
This cottage is 1,000 square feet (92.9 square meters) and has three bedrooms, a complete kitchen with a dining area, and a comfortable living room. Families and groups of friends are particularly drawn to this rental since it can accommodate up to six people.
Excellent facilities are also available in the surrounding region. There is a large lakeside balcony in particular, which is the ideal spot to unwind after a hard day while drinking wine and taking in the scenery. Additionally, there is a green backyard where your kids or dogs may play. There is also a private dock on the property, which is great news if you like boating or fishing.
Final words
These are 16 of the most popular spots for scenic NJ cabins rentals. You may go through them in detail, take a look at the photos and book the best cabin rental out of them.