Most visitors come to Yellowstone National Park to witness colorful hot springs, wildlife in its natural environment, active geysers, and waterfalls pouring down rock faces. "Can you swim in Yellowstone Lake" is still a concern on everyone's mind on hot summer days when temperatures soar.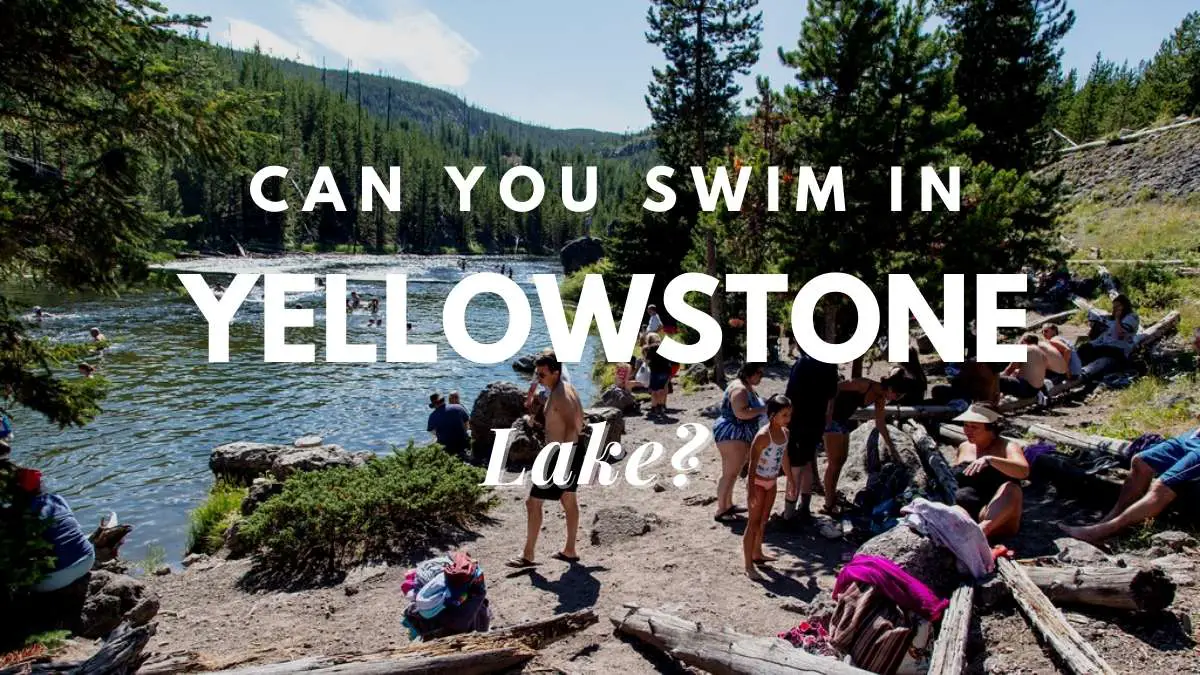 Is Yellowstone National Park swimmable?
Swimming is permitted in Yellowstone, but only in certain sites, such as the Boiling River Swim Area and the Firehole River Swim Area. The park spans 3,468 square miles and is home to canyons, rivers, lakes, and mountain ranges. It's easy to be enticed to swim where it's not permitted.
Some locations in this park that seem to be appealing for a swim are quite hot and hazardous, but if you stick to the approved swimming areas and obey the rules, you'll be alright!
Read: Is Traveling A Hobby? The Ultimate Guide To An Exciting Way Of Life Learn about the Downsides Of Traveling As A Hobby

So, where in Yellowstone National Park can you swim?
The Boiling River is the first popular bathing spot. It's where the Gardner River joins the Mammoth Hot Springs. If you're wondering why, it's called the "Boiling River," it's because it's a bit warmer and more enjoyable to swim and bathe in, similar to a natural outdoor jacuzzi. If you approach Yellowstone National Park from the North Entrance and go towards Mammoth Hot Springs, you'll quickly discover Boiling River.
The optimum time to visit this portion of the river is:
summer's end (July through early September)
September to November
December through March is the winter season.
The river swells and currents might become too hazardous for swimming during the spring (April–May) and early summer (June) months. Because the Boiling River is only available during the day, no swimming is allowed after dark for safety concerns.
Swimming in the Firehole River
This is Firehole River Swim Area, which may be reached through the park's West Entrance. A waterfall is nearby, offering you the ideal chance to feed your Instagram while relaxing in the water. It's also surrounded by lush woodland and plenty of foliage, so if it becomes too hot, you can retire to the shade. A small beach close to the river is also available, albeit it is only accessible during the summer and fall months and may become crowded.
The water is warm enough to swim in even in the winter, with river temperatures reaching up to 70 degrees Fahrenheit, and there are a few short treks nearby if you want to learn more about this part of the park. It's worth mentioning that on bright days, Firehole River Swim Area may become busy, so go there early if you want to have the spot to yourself.
Are There Any Swimming Restrictions in Yellowstone?
You'll be wondering whether there are any regulations that prohibit you from swimming in either of the rivers at this point. Yes, it is correct. You won't be able to swim if the river is too high when you arrive. You're okay to go if the water is calm and flowing regularly. There are a few additional things to think about to avoid getting into problems with park rangers.
In the swimming areas, no food, alcohol, drink cans, plastic bottles, or containers are permitted. Because the park's animals must be safeguarded, anything that pollutes the water unnaturally might damage them. This also implies that no shampoo or soap of any type is allowed in swim areas, even if they are biodegradable.
Two last points to consider. Because there are no lifeguards on duty at the Boiling River or Firehole River Swim Areas, diving, jumping, or climbing on the surrounding rocks or trees is not permitted. Pool noodles, water inflatables, and rafts are also prohibited in the swimming areas, while inflatable armbands and life jackets are permitted. Simply said, if you simply want to relax and swim in the river with your friends or family, and you don't leave any trash behind, you'll have a fantastic day!
Can I swim at Yellowstone National Park's Hot Springs?
So, you've been staying in Yellowstone National Park for a few days and have seen a lot of lakes, hot springs, and pools that you'd want to swim in. Should you go ahead and take the risk? The answer is emphatically no. Every other body of water in Yellowstone is off limits, except for the Boiling River and Firehole River Swim Area (illegal).
Why? Well, as wonderful and tranquil as certain pools, springs, and lakes may seem, they may also be quite deadly. Many of Yellowstone's springs are very hot and falling into or leaping into one may result in severe burns or even death.
Grand Prismatic Spring, for example, is one of the park's most visually appealing hot springs due to its distinctive hues, yet it may reach temperatures of up to 160 degrees Fahrenheit. Because the temperature of Old Faithful Geyser during an eruption may reach 300 degrees Fahrenheit or more, it's advised to remain far away and enjoy from afar.
When visiting geothermal regions, it's best to stay on the boardwalks and stay away from the approved swimming areas. They are not suited for soaking, floating, swimming, or even hanging your feet in, no matter how attractive they seem. In summary, swimming anyplace other than the Firehole River Swim Area and the Boiling River should be avoided at all costs, regardless of how beautiful it may seem.
In Yellowstone National Park, what else can I see and do?
You'll want to know what else there is to see and do in Yellowstone National Park now that you know where you can swim. Yellowstone is home to some of the world's greatest active geysers and most magnificent hot springs, with Old Faithful Geyser and Grand Prismatic Hot Spring being the most well-known.
You may be wondering where the rainbow colors in the hot spring come from. They're made up of a variety of heat-loving microorganisms and bacteria that survive at various temperatures. When the springs respond to light, they provide the brilliant shifting colors that may be seen today.
 From the boardwalk, you may take fantastic images for your social media profiles and to create your own unique memories of your Yellowstone visit.
1. Hiking
Hike along some of the park's most popular paths if you want to go out into the great outdoors and reconnect with nature. Yellowstone National Park has 1300 miles of hiking routes that take you through waterfalls, over towering mountain peaks, and to the park's stunning Grand Canyon.
2. Yellowstone National Park Wildlife
It's important to realize that you're in the middle of nowhere while visiting Yellowstone National Park. The park's wildlife roams freely, and you're sure to see a variety of species throughout your stay.
Wild horses run over fields, while grizzly bears, bison, wolves, and moose all roam the park. It's crucial not to feed any wildlife since straying into their domain might make them unpredictable.
3. Yellowstone National Park Camping
"Can you go camping in Yellowstone?" is another often asked topic. Yellowstone is a great place to camp. You may bring an RV or a tent and enjoy life in the great outdoors with family and friends at one of the park's 12 campsites.
Final words
Yellowstone National Park provides a distinct abundance of attractions no matter when you decide to visit this spectacular region of the United States. The park is large and stunningly gorgeous, and exploring it may take several days or more, but if you follow ranger recommendations, you'll have a great time.