Beech Mountain is a community in the Blue Ridge Mountains of North Carolina, at an elevation of 1,678 meters (5,506 ft). It is known as Eastern America's Highest Town and welcomes visitors throughout the year. There are all-season paths, bike getaways, and panoramic vistas to enjoy among lots of other activities for all age groups, from chilly summer to breezy spring to snowy winter. In this article, we will share the best things to do in Beech Mountain and get the most out of your stay.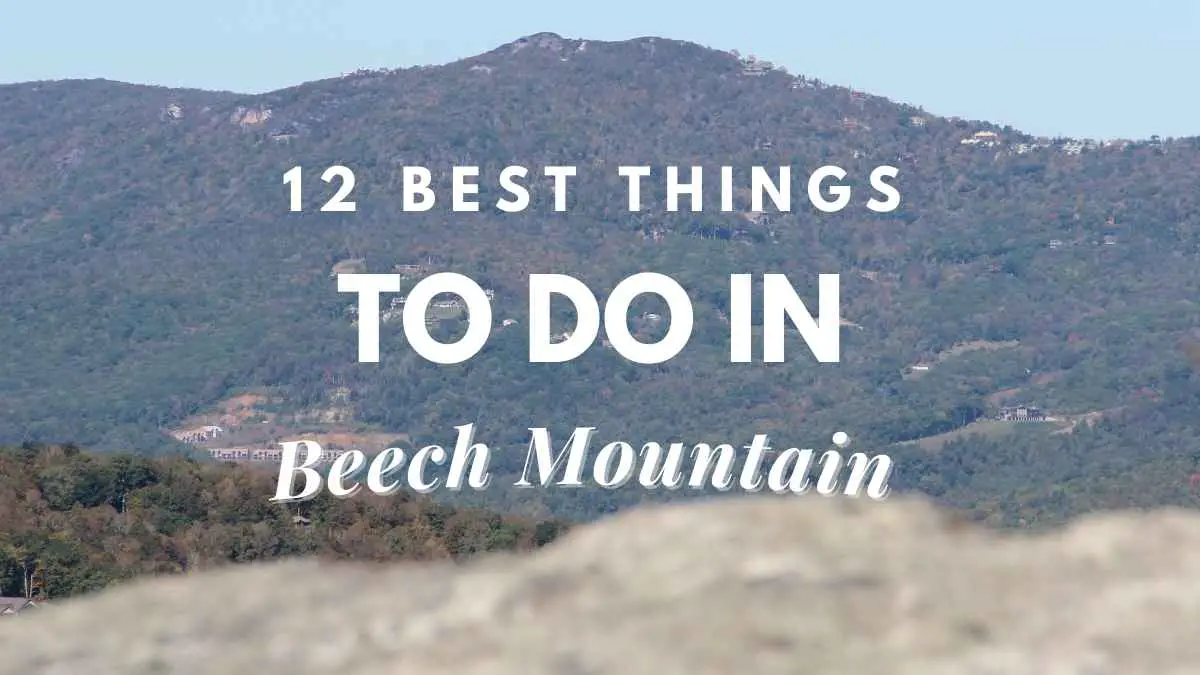 1. Lake Coffey
Beech Mountain is an excellent place to go fishing whether you like it or would want to try your hand at it.
Lake Coffey, one of the lakes fed with fish by the Wildlife Resources Commission each year, is one of the top fishing places in the area.
The lake is ideal for catching trout later in the season, especially brown, rainbow, and brook trout.
A friendly reminder to those who wish to fish in Lake Coffee: you must first purchase a standard inland fishing license!
Read: Is Traveling A Hobby? The Ultimate Guide To An Exciting Way Of Life Learn about the Downsides Of Traveling As A Hobby

2. Beech Mountain Brewing
Beech Mountain Brewing Company is the place to go in this skiing town whether you just want to relax and talk with friends or conclude a day of skiing with some good ol' drinking.
It's positioned exactly smack in the heart of Beech Mountain Resort's town and is a popular hangout location for local skiers, but it's accessible to everyone!
Their flagship lager, the Beech Blonde, and the First Chair Coffee Blonde are their finest year-round beers.
Of course, these superb beers are best enjoyed with traditional fare such as chicken tenders, loaded fries, and more!
3. Perry Park
Perry Park is a wonderful place to be for those who prefer the hidden jewels of this region!
Beech Mountain is a well-known location for hiking and other outdoor activities, but for those who prefer the hidden beauties of this area, Beech Mountain is a nice place to be!
The park is part of the well-known Upper Pond Creek and is a great place to enjoy a picnic in a peaceful environment.
It is named after former Public Works Director Joe Perry.
Hiking routes and picnic areas are available at this site. A little waterfall may also be seen here!
4. Rascals Bar and Grille
Rascals Bar & Grille serves classic American fare prepared with fresh ingredients and distinctive taste.
Local favorites include a stuffed North Carolina fish and chips basket, Bloody Mary drinks, and tempura coconut shrimp over jasmine rice at this informal eatery.
If you're in Beech Mountain for a special occasion, stop by this restaurant for a slice (or more!) of their delectable German chocolate cake.
Rascals Bar & Grille's innovative spins on comfort cuisine are sure to please!
5. Beech Mountain Dog Park
We must not overlook the delight and excitement of our four-legged companions!
Bring them to Beech Mountain Dog Park, which is open 24/7!
This fenced-in attraction, officially known as Beech Mountain Bark Park, enables off-leash (but well-behaved) dogs to play and socialize with other canines.
Not just for our beloved companions, but also for residents and visitors, the park offers a secure atmosphere.
Dogs may enjoy two play areas, watering stations, trash stations, and picnic cabins at Bark Park.
Of course, the park regulations must be followed at all times.
6. The Buckeye Recreational Center.
Are you a sports fan who is unsure what to do in Beech Mountain?
The Buckeye Recreation Center has a fantastic indoor facility dedicated to meeting the recreational needs of residents and visitors alike, including a full-size gymnasium, indoor tennis, meeting rooms, a fitness area with cutting-edge equipment, a kid's playroom, a living room area, and an indoor walking track.
Tennis, a walking track, ball fields, hiking paths, picnic shelters, fishing, boating, a campfire area, and picnic sites are all available at Buckeye Lake Park.
On Beech Mountain, Beech Mountain Parks & Recreation manages various parks and more than 20 miles (32 kilometers) of hiking and bike trails, including the Beech Mountain Bark Park.
7. Emerald Outback Hiking and Biking
Are you looking for the greatest outdoor activities in Beech Mountain? Hikers, trail runners, and mountain bikers flock to the Emerald Outback all year.
The Emerald Outback is home to approximately 7 miles (11.3 kilometers) of stunning and demanding trails.
It is open every day of the year and is free to use.
The emerald green forest, which is home to gnarled Beech trees, thick undergrowth, and little streams, is a favorite destination for nature lovers and adventure seekers.
From June to September, the chairlift at Beech Mountain Resort provides lift access to the Emerald Outback on Fridays and Sundays (for a charge).
Mountain bikes are transported to the peak through trays on the resort's lift, with riders following closely after in a standard lift chair.
Hikers may also use the lift.
8. Skiing at Beech Mountain Resort
This resort is located in western North Carolina atop Beech Mountain, which has a base height of 5,505 feet (1,678 meters), making it the highest ski resort in eastern North America.
During the summer, this is a great place to go mountain biking, disc golf, scenic lift rides, and outdoor yoga, but in the winter, you can enjoy skiing, snowboarding, tubing, ice skating, and more on any of the 15 slopes.
You may relax at the brewery, terrain park, Village Bakery, Sky Bar, or any of the multi-cuisine restaurants in addition to the activities.
9. Grandfather Mountain
Grandfather Mountain, at 5,946 feet (1,812 meters), is the highest peak on the eastern escarpment of the Blue Ridge Mountains, one of the Appalachian Mountains' main ranges.
Apart from the peak, the Grandmother Gap, Mile High Swinging Bridge, the Linville River running east, and the Watauga River flowing west are also notable sights in the area.
The mountain's 11 paths range in complexity from easy strolls through the woods to some of the most severe and demanding trekking in the Eastern United States.
The Grandfather Mountain Highland Games, one of North America's biggest Highland Games with a traditional Scottish ancestry, are hosted here every year, attracting tourists from all over the globe.
10. The Wizard of Oz
There was a time when Oz was a bustling metropolis.
It didn't require roller coasters since it was an anti-theme park designed to provide guests with a one-of-a-kind emotional experience.
Live performances were held in an ambience that resembled the sets of the original MGM film.
From the time it was first launched in 1970 until the 1980s, it was completely functioning.
The park had to shut due to unforeseen circumstances.
This Beech Mountain attraction was reopened to the public for a few days each month in the 1990s, and it has gently found its way back into people's hearts.
You should go on Fridays in June for "Dorothy Tours" and in September for "Autumn at Oz," the area's greatest event.
11. Tweetsie Railroad (#11)
Tweetsie Railroad is a railroad that runs through Tweetsie.
This Railroad is a family-friendly Wild West theme park in North Carolina, situated between Boone and Blowing Rock.
The park's highlight is a 3-mile (4.8-kilometer) train ride powered by a Tweetsie Railroad antique narrow-gauge steam engine.
A range of amusement rides, live performances, a zoo, and other activities oriented at families with children are also available in the park.
Throughout the year, the park organizes a number of unique events.
12. Hawksnest Zip Line and Snow Tubing
Hawksnest is the biggest snow tubing resort on the East Coast.
This is without a doubt the ideal way to spend time with family and friends in Beech Mountain throughout the long winter months.
It features four separate regions with over 30 professionally illuminated snow tubing courses ranging from 400 to 1,000 feet (122 m – 305 m) in length, as well as two moving carpet lifts to get you back to the top.
At the site, there are also two zip line trips that provide beautiful views of the valleys, forest rivers, wild animals, and, of course, the park.
The Hawk tour has 11 cables and is 1.5 miles (2.4 km) long, while the Eagle tour has 9 cables and is 3 miles (4.8 km) long.
Final words
Now you are aware about the best things to do in Beech Mountain. Beech mountain is a destination that offers something for everyone. Therefore, you don't have to worry too much about anything before you come up with the plan. All you have to do is to make sure that you get the most out of your travel experiences. Hence, make sure that you come to the Beech Mountain at the right time of the year, and along with right gear. This is an excellent family friendly destination and you will be able to have a cherishing time with the most loved members of your family.