With Big Sky Resort and Bridger Bowl so nearby, it's reasonable to assume that many people go to Bozeman for its world-class skiing. But if you don't ski or snowboard, what can you do? a lot, in fact. No matter how long you stay, whether it's a day, a week, or a month, there is always something fresh to do. Here is a list of things to do in Bozeman Mt in winter, so that you can get a perfect experience in here.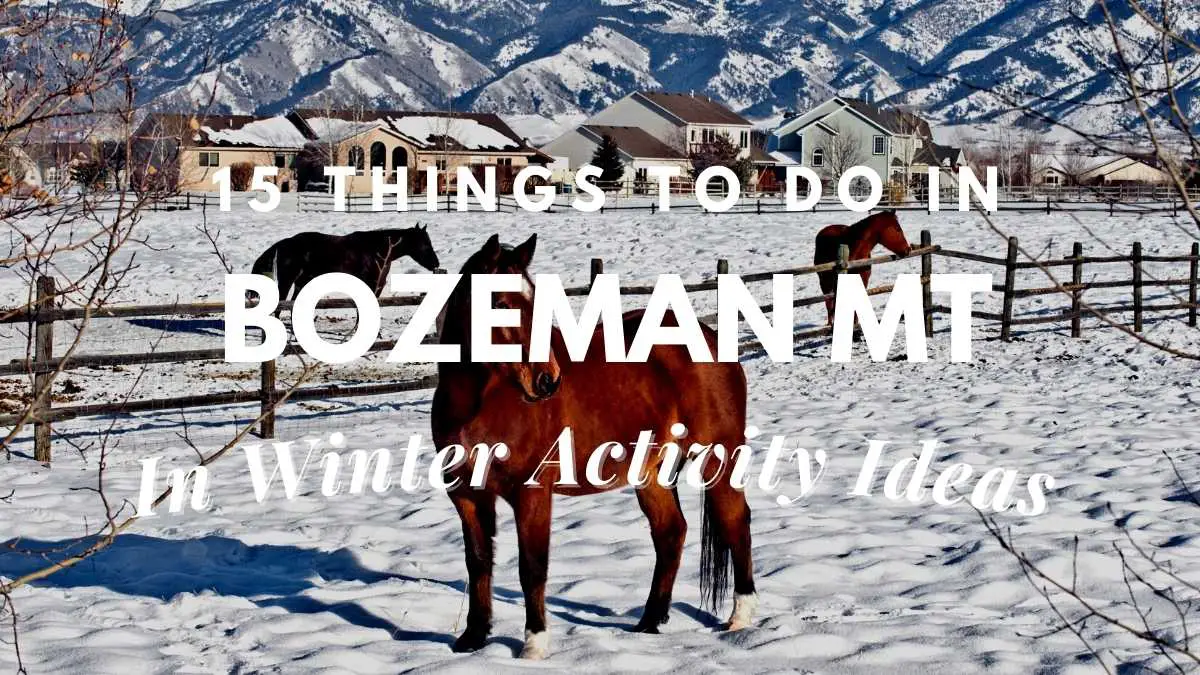 1. Take up snowshoeing
Imagine going for a stroll in a forest of snow-covered trees while hearing the crunch of your feet on the snow. Without prior expertise, snowshoeing in Bozeman is a fantastic opportunity to take in the great outdoors and some breathtaking sights. It will also show you some fresh and intriguing locations that you may not otherwise be able to visit and is a terrific way to remain in shape throughout the winter. Choose a snowshoe track and set off after asking at the neighborhood ski shops about renting snowshoes for the day.
Read: Is Traveling A Hobby? The Ultimate Guide To An Exciting Way Of Life Learn about the Downsides Of Traveling As A Hobby

2. Take a dip in a nearby hot spring
Imagine yourself unwinding under a sky filled with stars while bathing in naturally warm mineral waters. Nothing compares to relaxing in a natural hot spring during the winter. The geothermally heated waters were found by early settlers and have been enjoyed by residents and visitors for more than a century. Drive to Chico Hot Springs, Yellowstone Hot Springs, or Norris Hot Springs in the east or west, respectively. Bozeman Hot Springs boasts gorgeous outdoor pools and excellent music if you choose to remain in the city.
3. Visit nearby distilleries and breweries
Some of the best grains in the country are grown in Montana, where there is a long agricultural history. We are surrounded by the Golden Triangle, where barley is grown and used to make superb domestic and artisan beers throughout the nation. The Golden Triangle is located just outside the Rocky Mountains. Brewers in Montana take pleasure in working with local farmers and producers to manufacture their beer from grain that is produced in Montana. During the coldest months, searching for a comforting porter or stout? After that, you'll feel quite at home at a brewery in Bozeman. Do you need a little bit more potent to warm you from the inside out? For locally produced whiskey, huckleberry vodka, and botanical-forward gin, visit one of Bozeman's distilleries.
4. Check out a museum
Are you seeking a more educational experience or are you interested in taking a tour through Bozeman's past? Visit one of Bozeman's top museums to learn about anything from the growth of technology to the antiquity of the dinosaurs. A sizable fossil collection including some of the only known dinosaur nests and eggs may be found at the Museum of the Rockies. Enter the Gallatin History Museum to discover the struggles that the first settlers had to through while establishing themselves in Gallatin County. Visit the American Computer and Robotics Museum right now to explore a world of antiquated clocks, office supplies, video game consoles, and computers that take up a full room. The Montana Science Center's engaging, hands-on exhibits are perfect for the smallest explorers.
5. Attend a Show
There is something to watch almost every night of the week in Bozeman thanks to the city's expanding roster of performance and music venues. Watch a comedy show at Last Best Comedy Club, a foreign movie at the Ellen Theatre, your favorite band at the ELM, or a symphonic concert at Wilson Auditorium.
6. Grab A Bite
What other landlocked communities provide fresh sushi, tacos made of bison, and fish tacos all on the same dinner plate? Breakfast may be a painting of freshly picked food from local co-ops and farmers' markets. You'll feel fulfilled, just as during a nice dinner party. You can't go wrong if you check out some of Bozeman's newest eateries and add them to your list.
7. Shopping
Bozeman offers a variety of shopping options, from the Gallatin Valley Mall and big-name stores like Athleta and lululemon to the charming Main Street, which is dotted with boutiques, eateries, and coffee shops. Check out some of the incredible artwork at one of Bozeman's numerous galleries or browse through locally made crafts.
8. Enroll at a university in Montana Game  
It's a lot of fun to support the Montana State University Bobcats. There are many outstanding athletes that compete for MSU since it is one of the top universities in the Big Sky Conference. Watch out for volleyball, skiing, basketball, and track & field. To find more about future matches and activities, visit their website.
9. Spend a day at the spa.
One thing Bozemanites are particularly good at is relaxing, and what better way to accomplish that than to spend the day being completely pampered? Take a deep breath, relax in a hot mineral bath, and then have a facial with mint juleps to help you forget about your concerns. Unwind at a spa in Bozeman and experience total relaxation.
10. Skating on ice
Ice skating has been a popular winter pastime for anybody brave enough to tie blades to the sole of their boots and glide across a huge sheet of ice since it began almost 4,000 years ago in Finland. Get everyone dressed warmly and for a fun day on the ice at one of Bozeman's ice rinks.
11. Take part in an ice climbing course
If you're attempting ice climbing for the first time, it might become pricey! It not only needs extremely specialized equipment, but also quite a deal of information about good technique, safety, and other factors. We advise going ice climbing with a guide for this reason. The top guiding company in the region for all sorts of mountain experiences is Montana Alpine Guides. Pick a tour from their selection that suits your level of experience.
MAG is your one-stop shop for an unforgettable winter adventure in Bozeman, offering everything from beginning courses (they give all the gear!) through intermediate climbs and even classes for kids. Not yet prepared for ice climbing. Go see the experts in action! Visit Grotto Falls, Palisades Falls, and other Hyalite Canyon snowshoe routes to take in the scenery and find inspiration.
12. Travel by snowshoe in the hyalite canyon.
Don't simply abandon your favorite Hyalite trails over the summer. It's a totally different and stunning view in the winter, with snow-covered trees and distant, snow-covered mountain peaks. Greatest of all, there aren't many people on some of the best Bozeman snowshoeing paths, which boast winter amenities like frozen lakes and freezing waterfalls.
Our favorite snowshoeing routes close to Bozeman include the brief path to Palisade Falls, the Hyalite Creek Trail, which offers views of many waterfalls, and Hyalite Reservoir, where you can stroll beside the lake and watch ice fishermen at work.
Is this your first time using snowshoes? Snowshoers and cross-country skiers, often known as Nordic skiers, frequently use the same path. Watch attention for others along the route since it is polite to avoid leaving footprints on the designated ski trails.
13. Cut your own Christmas tree
Want to make your winter vacation to Bozeman a bit more festive? Make a day out of it with the family to go get your own Christmas tree! You may get a permit from nearby companies in Bozeman starting on November 15 so that you can go and chop down your very own live tree from the Custer Gallatin National Forest. Follow these recommendations to chop the tree properly and protect the forest for years to come. Tree cutting permits cost about $5.00!
14. Hot springs in Bozeman
The nearest hot springs to the city are Bozeman Hot Springs, which are at Four Corners, Montana, west of the city. From town, it's just a 15-minute trip to the west! During the winter, hours change daily, so be sure to check their calendar for current opening times. While you bathe in these historic Bozeman Hot Springs, they sometimes feature local musicians for live music.
Bozeman Hot Springs is renowned for its idyllic outdoor setting, which includes its outdoor pools, vibrant lights, and beautifully designed outside area. There is a suitable pool for every guest with twelve pools to select from (both indoor and outdoor), all varied in temperature. Additionally, there are both wet and dry saunas, a fitness facility, and even a campsite! Adults pay $10 to enter.
15. Visit Norris Springs
About 45 minutes west of Bozeman in Norris, Montana, are the Norris Hot Springs. This naturally occurring hot spring is just off Montana State Route 84 and dates back to the 1860s. Local miners first utilized the pool as a personal temporary refuge, lining its surface with fir boards to create the 4-foot-deep pool that still exists today.
Norris Hot Springs are well-known among residents and skiers for its laid-back, uncomplicated atmosphere. The water is often 120 degrees at the source, but it cools to a pleasant 100 degrees in the summer and 106 degrees in the winter. If you start to feel too warm, you may also constantly spray cold water from hoses to cool you down.
Final words
These are the best things to do in Bozeman Mt in winter. The greatest approach to learn about a town and its people is to take advantage of all it has to offer. Bozeman offers much more than just top-notch skiing. With these 10 wintertime activities in Bozeman, you may have fun and learn something new all season long.