Leavenworth is one of the best locations available out there for you to go ahead with tubing adventures. You will fall in love with the tubing experiences that come on your way. That's because these adventures offer something for everyone. Before you go ahead with Leavenworth tubing, make sure to read this article. We will share additional information with you on how to get the most out of your tubing experiences in Leavenworth.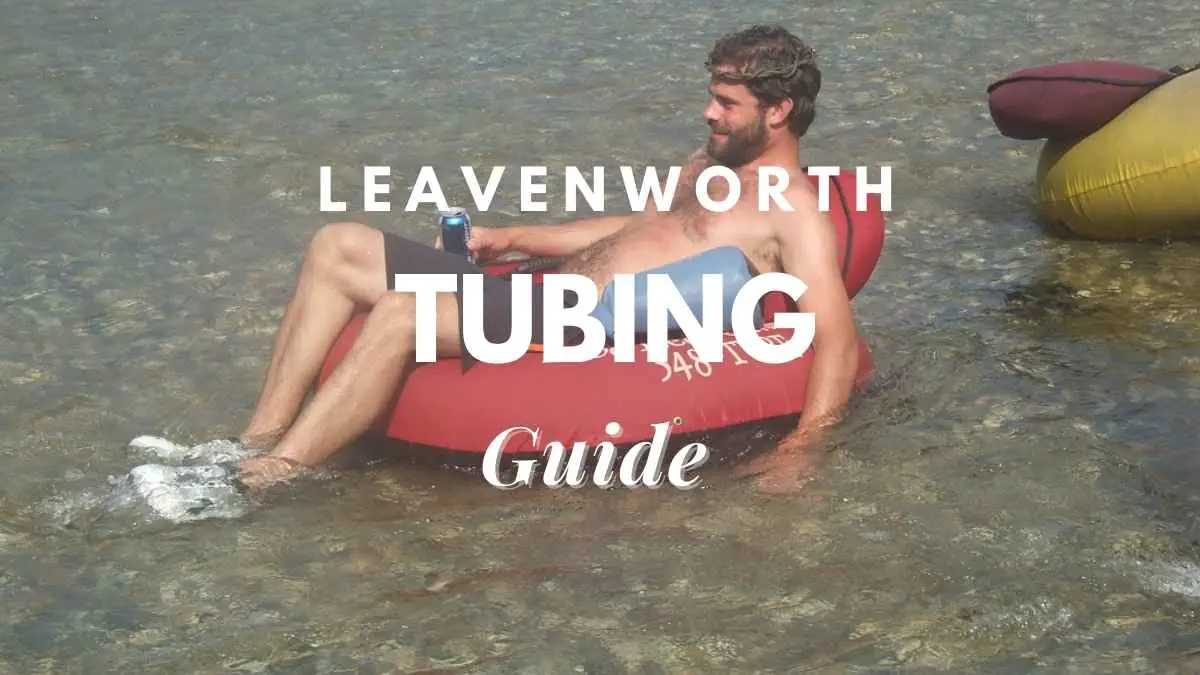 Visiting Leavenworth
We are asked a lot about what to do in Leavenworth, Washington, since it's a mystery to visitors. Enjoy the cool summers in the mountains, the lovely winter season along the Wenatchee River, and Oktoberfest in the autumn. There's always something to do in each season, but this is the ONLY handbook you'll ever need.
Seattleites and visitors to the Pacific Northwest flock to Leavenworth. We'll help you locate one that matches your or your family's travel style. There's something for everyone in Leavenworth!
Read: Is Traveling A Hobby? The Ultimate Guide To An Exciting Way Of Life Learn about the Downsides Of Traveling As A Hobby

Leavenworth tubing experience
Relaxation is guaranteed when floating on the Wenatchee River, soaking in the gorgeous landscape, seeing animals, and spending time with loved ones.
Take a river tube ride through the golf course and downtown Leavenworth. Great for kids of all ages. Get your own tube and clip together in small groups or go alone. All equipment is provided. We also have dog and freight tubes.
The river here is calm and simple to traverse. Some deep, some shallow, no rapids. The park has beautiful islands and beaches to rest, play, and picnic. You may even body float or dive for golf balls. Early season voyages feature cooler water and quicker current, while late summer trips have hotter water, reduced visibility, and bottoming out conditions.
Tubing is popular and fills up quickly. Make bookings, even same day. Choose your activity and then your date. Reservations demand full payment. Cancellations with a full refund are allowed up to 6pm the day before.
Leavenworth's History
Cute. It's cute. It's made. Huh? Yep! The modest Bavarian community at the foot of the Cascade Mountains has a remarkable tale.
Leavenworth, WA was formerly a failed timber town. As employment departed and the economy tanked, the town recruited a PR agency to rescue it. Together, they refaced most of the buildings, added delightful character touches, modified numerous business practices, and established a new destination: Little Bavaria. Amazing. If you didn't know better, you'd assume it was a real Bavarian town.
However, in recent years, the town has completely embraced its position and does an excellent job of transporting travelers to a different time and place. And it's enjoyable. A railroad station was nearby, and Washington's Highway 2 passed directly through town. Boom! To promote the new-found Bavarian hospitality in Leavenworth. What's more? It was a success. After 30 years without a railway station, the town has re-established service!
Leavenworth is now a fascinating destination with a Bavarian flair and its own culture and activities. An unemployed town has become a haven of outdoor activity and the gateway to Washington wine region.
The length of your stay depends on several things. Drift time is the time it takes to float the route. Another element is arriving to the starting location and getting ready. There are also beach stops and washing off. We choose a launch location depending on the flow, date, and time. Drift time is usually 1-3 hours + an hour for anything else. At check-in, we'll have the current drift timings and trip choices listed.
Where is Leavenworth?
Leavenworth is situated on the east side of the Cascade Mountains, on Highway 2. It's roughly 2 hours and 20 minutes from Seattle via I-90 and 97 or I-5 and 2. Since Blewett Pass (Highway 97) is closed in the winter, we always travel Highway 2. Continuing east on Highway 2 to the 97, you'll reach Lake Chelan, another popular family destination.
The Empire Builder Amtrak route to Chicago through Glacier National Park stops at the Icicle Train Station. You should be able to acquire a shuttle easily when it isn't snowing. Transport to and from the station is cheap with Leavenworth Shuttle & Taxi. Reservations are essential for the station since the train arrives quite early and they need to schedule your pick up the night before.
Safety tips to keep in mind before you go Leavenworth tubing
Nothing screams "summer vacation" like a pontoon boat! You don't want to be standing between a Benny owner and their boat once the weather warms up. But, in the excitement to go out on the water, don't forget the safety considerations. Keep your family safe and happy this summer with these 10 water tubing safety precautions.
Make sure everyone has a lifejacket
A pile of lifejackets won't aid you or your passengers in an emergency. Fit yourself and your passengers with the right flotation device for their size and weight.
Tow ropes, tie-on points and other relevant components should be checked for security and adequate operating condition at the start of each season.
Safety starts at the wheel
As captain, you must secure your passengers' safety. Know your passengers, don't drink and drive, and know the laws and regulations of the water body in which you want to boat.
 Before launching your boat, make sure your water tube rider is ready and secure. Examine the boat, water tube, and towline for blockages. Set up a strategy with the rider in case they fall out of the tube so they know what to do.
The driver's primary duty is to safely return the passenger to shore. This entails keeping an eye out for objects in the water, other boats, and wakes.
The driver must be extra cautious while pulling many water tubes. Slower speeds and fewer curves help avoid crashes and catastrophic injuries.
Having additional eyes is not only handy, but also responsible. The spotter can keep an eye on the passengers while the driver navigates the water safely.
Not all bikers are equal.
We all have that feisty 12-year-old who is constantly striving to keep up with the bigger kids. Remember to establish restrictions depending on each rider's safety. Lessen the speed of the elder cyclists so that the younger riders are not pushed to their limits.
Remember to apply sunscreen
Swimming exposes individuals to more sun than sitting on the beach throughout the summer. Keep applying sunscreen all day and watching for symptoms of sunburn.
Most individuals don't consider keeping hydrated after a long day in the water. Remind passengers that the hot heat and wind might dehydrate them far quicker than normal.
Read: 11 Rainbow River Tubing Tips You Should Know
How is Leavenworth's weather?
Before you go ahead with Leavenworth tubing, you need to be aware of how the weather is like. Visiting Seattle in the summer likely resulted in rain. Twice. What's fantastic about the two-hour drive to Leavenworth? In two hours, you'll go from wet Western Washington to dry, hot, and lovely Eastern Washington. In Leavenworth, it'll be 85 degrees and sunny. Swim trunks and shades Amazing.
What else is cool if you believe that is? In the winter, while Seattle is 50 degrees and rainy, Leavenworth is 20 degrees and snowing. Snuggly winter gear. Yes! Best of both worlds. Having a place like this makes experiencing the seasons simple and exciting, plus Leavenworth has so much to offer!
Read: A Complete Guide To Caddo River Tubing
Stay in Leavenworth
There are various possibilities, both in and outside of town. We like camping up Icicle Road, by the river, or at Lake Wenatchee. There are several hotels in Leavenworth, WA. There is a vast variety of Bavarian chalets and tourism brands.
Summer Activities in Leavenworth
Leavenworth's activities are endless because to the great weather and varied topography. We usually go in the summer since we love camping and hiking, but we've lately learned that this little village is amazing in the winter!
Leavenworth Wine Tasting
From Leavenworth, it's simple to visit Cashmere for wine and cider, Wenatchee and Chelan for additional wine sampling… then on to Yakima and Walla Walla for more wine sampling… Yes, you could easily spend one whole week in Eastern Washington wine tasting. If you're only passing through, there are various alternatives within walking distance of downtown.
Leavenworth Festivals
Leavenworth features several events throughout the year, from music festivals to beer festivals and various art festivities. Depending on when you arrive, you may get caught up in unknown fun. For the most up-to-date event information, visit Leavenworth.
Leavenworth Microbrews
One of the nicest things to do in Leavenworth is to sample some of Washington's finest beers. If you don't like wine, you may now enjoy microbrews!
Bushell & Bee Taproom on Highway 2 serves beers from all across the Pacific Northwest. Bushell & Bee features the finest of Washington's apple region for beer and cider!
Icicle Brewing Company is located in Leavenworth. This place is amazing, with award-winning microbrews, wonderful cuisine, and tours for curious beer aficionados. Like the Dark Persuasion, which is practically German Chocolate Cake in a pint glass, except it's made with genuine chocolate and coconut. They have real beer. Beer. It's microbrew paradise, like we said about Icicle Brewing Company.
Blewett Brewing is a great visit. It's a block down Commercial Street from Icicle, so it's not as busy, but it's still fantastic. A flight of beer and some woodfired pizza from Blewett Brewing completes the night.
Eat Bratwursts (meat and veggie!)
Enjoying bratwursts in Leavenworth is a year-round pleasure. Munchen Haus and Sausage Garten are two excellent selections that are adjacent. Both have sausages/wursts and mustards galore. Both are 100% outdoor eating in the summer and winter. They're both covered and heated when it's chilly outside.
It may be argued that bratwurst is there to serve as a vehicle for mustard and sauerkraut, not the other way around. If you're in Leavenworth for more than one day, get many sausages to test different mustards. Washington State takes pleasure in producing its own beer and brats. "Beer From Here" says Icicle Brewing. Munchen Haus also has a beer counter… Enjoy the localness that is occurring in Leavenworth.
There are more fantastic eateries, both Bavarian and not. Andreas Keller or King Ludwig's are excellent for German food; Andreas Keller has superb Weintraub. South and Pavz Tacos, both on Front Street, provide superb Pacific Northwest Mexican food. It also has a Danish and pretzel bakery, as well as additional sausages.
Experiencing Christmas as you go ahead with tubing
Christmas enthusiasm can be found even when it's 90 degrees outdoors thanks to the Leavenworth Nutcracker Museum and the Gingerbread Factory. The greatest, must-see shop is Kris Kringl. Our family can window shop for Christmas decorations for hours.
While Christmas isn't only a Bavarian festival, several stores keep the seasonal décor (or section) and atmosphere year-round, adding to the town's charm. Even in the summer, the Christmas lights downtown provide the right glow. It's one of the coolest things to do in Leavenworth!
Ride a Sleigh
This is the exercise for when you're stuck for ideas. It's a great way to get some exercise and visit the city's outskirts (or even downtown). Sleigh rides are only available in the winter. Rides in a hay wagon or a carriage may occur at any Check with your hotel to see if they provide a transportation or arrange one via an independent tour operator. This is a fun family trip! Kids get to meet horses and have fun doing something new. Que n'est-ce It's also one of the finest winter activities in Leavenworth since you're not in the snow, but on it.
Final words
Leavenworth is a great place to visit whether you're in Seattle or on a cross-country excursion. Do you know another fantastic tiny town we should visit? Leave a remark and a suggestion! If you are looking forward to going ahead with Leavenworth tubing, you are about to make one of the best decisions in your life. That's because the tubing experience can bring lots of fun and enthusiasm, which you will love to experience.