Isle Royale National Park is one of the lesser known yet intriguing national parks in the United States, located in Lake Superior between Michigan and Minnesota, close to the Canadian border. The 45-mile-long, 9-mile-wide island has beautiful forest scenery, herds of moose, kayaking options, and some of the most secluded campsites in the nation.

Because Isle Royale is so far out in the lake, getting there may be difficult. Because you can only reach there by air or boat, and ferries might be booked months in advance, substantial preparation is usually necessary.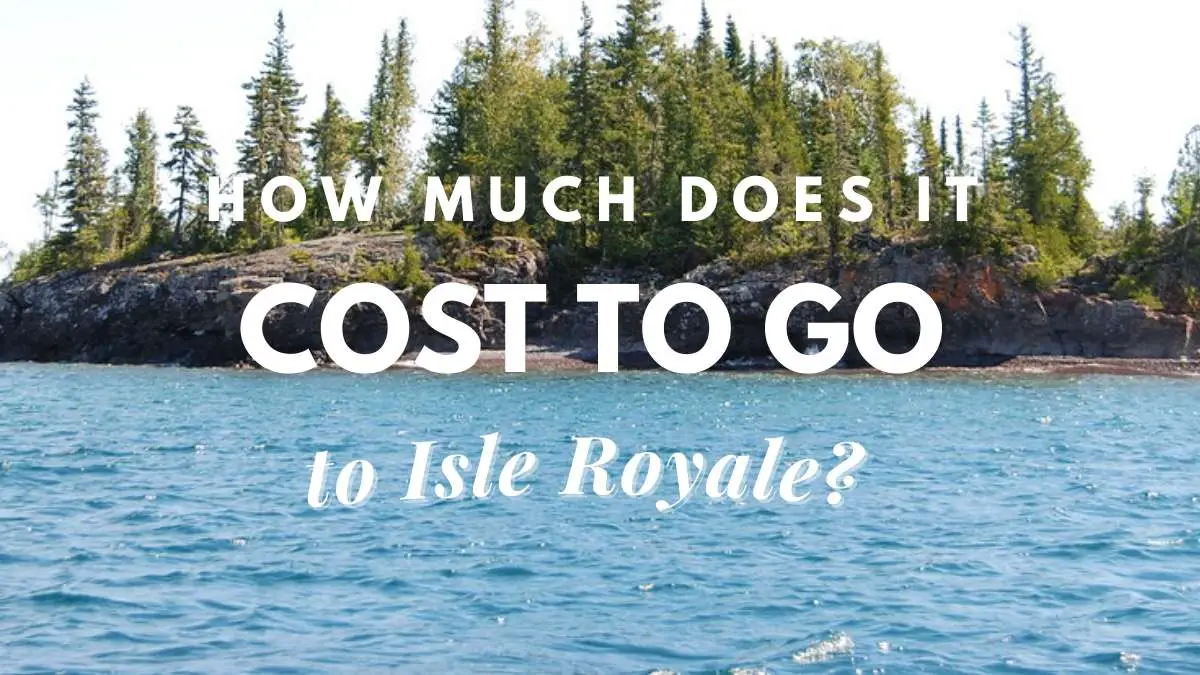 Visitor's Guide to the Isle Royale National Park
What are the options for ferries and how much do they cost?
Where on Isle Royale can you find the greatest hiking routes and campgrounds?
How do you go about securing a camping spot?
Is food available for purchase? Is it still home to the fabled wolves?
What are some of the most popular activities in Isle Royale? What kind of hiking and trail maps are there?
It's the only national park that closes down fully in the winter. From November 1 to April 15, the island is fully shut off. (If you're travelling through in the winter and want to have your national parks passport stamped, the visitor Centre in Houghton, Michigan is open year-round on weekdays.)
It ranks fourth on the list of America's least-visited national parks, behind only three distant Alaska parks, with around 28,000 visits each year.
Isle Royale, Michigan has a lot of pine trees.
There are various ridges on the island, the greatest of which, Greenstone Ridge, is roughly 1000 feet high. Much of the terrain on the island is made up of volcanic and sedimentary rocks.
In the 1800s, Isle Royale was widely mined for copper, and several of the mine openings may still be seen on the island today. The island was also deforested by loggers, but these operations halted when it was designated as a national park in 1940.
Read: Is Traveling A Hobby? The Ultimate Guide To An Exciting Way Of Life Learn about the Downsides Of Traveling As A Hobby

Lake Superior's Isle Royale Hiking Trail
You'll most likely arrive in Rock Harbor or Windigo.
These are the park's two visitor centers.
The National Park Service charges $7 per person, each day to visit Isle Royale.
This charge is payable at the tourist Centre upon arrival and is not included in your ferry fare.
The charge must be paid for each day you will be on the island, including your arrival and departure days.
What are some of the activities available in Isle Royale National Park? Hiking, camping, and canoeing or kayaking are all obvious options.
We'll go through some of the 36 campsites in the park, as well as some popular hiking paths, later in the post.
Activities include canoeing and kayaking.
At Rock Harbor campsite, canoes and kayaks may be rented.
Some cruises allow you to bring your own for an extra charge.
This is a fantastic way to view the park and visit some of the lesser-known areas, such as the little islands in the Rock Harbor region.
The cost of renting a canoe was somewhat exorbitant, approximately $20 for a half-day rental.
A half-day hire of a Kayak cost more than $30.
Just be cautious not to travel too far down the harbour, since paddling back against the wind might be difficult.
The person at the rental shop said that paddling a canoe was simpler than paddling a kayak, however this was not the case.
The enormous canoe was just too difficult to control, and I never felt secure paddling very far since I was constantly afraid of tipping over.
Viewing historic mine entrances is one among the things to do.
Hikes and brief strolls around the island might reveal some of the island's abandoned copper mines.
See some of the mine sites on the official NPS park map, including Wendigo and Island on the west, Pittsburg, and Minong on the north, and Siskowit and Smithwick on the east.
Surprisingly, new evidence reveals that Native Americans mined for copper on the island as early as 6000 years ago.
Other activities include fishing and scuba diving.
In the park, fishing is permitted.
Anyone who wants to fish in Lake Superior must first get a fishing license from the state of Michigan.
The Department of Natural Resources has an online store where you may purchase a license.
If you're just going to fish the interior lakes, you won't need a license. Scuba diving is also allowed, although it might be difficult.
The water is chilly, and visibility might be limited.
If you're interested, there are various shipwrecks to investigate.
How much does it cost to visit Isle Royale?
You'll be travelling one of four ferries to Isle Royale unless you're one of the few guests who arrive by private boat (congrats) or floatplane (very pricey).
Make your reservations early since the ferries tend to sell out during the warmer months.
You'll need to determine which portion of Isle Royale you want to visit and where you want to leave from since the boats depart from various towns and land on different areas of the island.
Here are your choices:
Ranger III is the third instalment in the Ranger series (Houghton, Michigan)
The Ranger III may be boarded from Houghton, which is situated in the middle of Michigan's Upper Peninsula.
This ship transports 128 people to Rock Harbor on Isle Royale's eastern side.
It is open from late May through the beginning of September.
Ranger III prices for adults will be $140 ($70 each way) during peak season (July 6 through August 28) and $110 ($55 each way) before and after high season in 2021.
Children under the age of one year travel for $35 each way, while newborns under the age of one year travel for free.
The ferry leaves Houghton at 9 a.m. twice a week (Tuesday and Friday) for Rock Harbor and returns at 9 a.m. (Wednesday and Saturday.)
The National Park Service runs it, and it provides free parking in Houghton.
Note: Some trips and services (such as the ferry café) are not available this season owing to the present health condition.
Normal services are likely to resume in 2022, if the nation has completely reopened by then.
Copper Harbor is a small village on the tip of Michigan's Upper Peninsula.
The Queen IV, which also arrives at Rock Harbor on Isle Royale's eastern side, may be boarded from here.
It is open from early May through the end of September.
The Queen IV is one of the few ships that can take you to Isle Royale for a day excursion.
Take the early boat and return in the afternoon, allowing you 3.5 hours in the park.
Of course, you are welcome to remain for many days.
The cost is $136 round-trip between July 20 and August 20 in 2021, and $124 during off-peak days, with a travel time of around 3 hours.
The round-trip fare for children under the age of 15 is $100.
Kayaks, canoes, and bicycles cost an additional $60.
Between late July and early September, the Queen IV travels every day.
For the most of July, service is provided six days a week, while for the majority of June, service is provided five days a week.
The ship only cruises on Mondays and Fridays throughout May and September.
Specific trip dates may be found on the Queen IV website.
It's worth noting that you'll need to spend the night at Copper Harbor in order to be at the pier for the Queen IV's 8 a.m. departure.
Unless you tent camp in Fort Wilkins State Park, lodging in Copper Harbor may be extremely pricey.
You'll also need a place to park your automobile.
In the ferry's private lot, parking is $10 per night per car.
Seahunter III and Voyageur II
Grand Portage, Minnesota, is another option for getting to Isle Royale, since it is just six miles from the Canadian border.
Passengers on the boat may park for $4 per day.
Both the Voyageur and the Seahunter make many stops on Isle Royale, so you may plan a trip with them to view various parts of the park.
You may take the ship from Minnesota to the Windigo Visitor Center on the island's western border, then take the ship from Windigo to the Rock Harbor Visitor Center on the island's eastern end a few days later.
On these ships, the round-trip ticket from Grand Portage, Minnesota to the park is around $152, however rates vary depending on where on Isle Royale you'll be getting off.
The park's only real housing is Rock Harbor Lodge, which offers 60 four-person rooms and 20 cottages.
The majority of visitors to Isle Royale will camp in tents.
The most essential thing to remember about camping in Isle Royale is that tent sites are not reservable (unless you have a party of seven or more people, in which case you should make a group camping reservation).
Check in at the tourist office when you arrive on the island and pay your daily visit costs.
You also tell the rangers which campsites you'll be staying at throughout your stay on the island at that time.
Because most of Isle Royale's campgrounds only offer 3-6 individual tent sites, it's probable that when you inform the ranger your planned schedule, you'll be requested to make alterations if your prefered campsites are already taken.
Make sure you have a back-up strategy.
Wooden shelters are also offered for campers at several campsites.
Get in line early at the tourist Centre if you want to offer yourself the greatest chance of acquiring the campsites you actually want.
When your boat arrives, you will be required to stop and listen to a lecture given by an NPS ranger.
So, while that's going on, keep your luggage close to hand and be ready to dash inside the visitor Centre as soon as she finishes speaking.
The majority of campsites, particularly those near tourist centers, have tight time limitations on how long you may remain.
For others, the time restriction is just one or two days.
That means that if you intend to spend a week on Isle Royale, you'll need to plan on trekking and transferring between places.
The distance between campgrounds might range from 2 to 10 kilometers.
Campgrounds on the Isle Royale
Outhouses and a water supply are available at all campsites (though the water is not drinkable.)
Because all rubbish on the island must be collected by ship, there are no garbage cans in campsites.
As a result, campers are responsible for removing all of their rubbish.
I slept at Rock Harbor campsite for two nights and Three Mile campground for two nights, both of which are close to the lake and have nice views.
Because I had overloaded my bag, the 2.7-mile walk between campsites was a little difficult.
If you carry as little weight as possible, you'll thank yourself afterwards.
Campground in Rock Harbor
Because most campsites do not allow fires, you should arrange your meals properly.
I packed a variety of uncomplicated things that could be eaten at room temperature for my four days on the island, such as granola bars, apples, beef jerky, and tiny carrots.
The use of camp stoves is permitted.
The National Park Service's Greenstone Newspaper offers a list of campsites that presently allow fires – click here to view the most recent issue.
Rock Harbor has a tiny camp shop that offers snacks and basic meal items if you need them.
A shop on the Windigo side sells cold sandwiches and snacks.
Hiking on the Rock Harbor Trail
Pick purchase a guide like the National Geographic Illustrated Trails Map if you're serious about hiking here.
That will provide you with all of the information you want to become an expert vagabond on the Isle Royale.
With rocks and tree roots on the route, walking might be difficult in certain areas.
Because some paths aren't well-marked, they might be difficult to find.
I walked north from Three Mile Campground to Mount Franklin, but I didn't make it all the way.
During the whole trip, I only saw one other person – the inner areas of the island may afford a lot of seclusion.
Final Words
Now you know a lot about visiting the Isle Royale. Keep these facts in mind and go ahead, so that you can get a perfect experience during the time you spend.