One of the most popular national parks for kayaking in the United States is Pictured Rocks National Lakeshore. From the river, you can view most of the rock formations, waterfalls, and sandstone cliffs. A kayaking tour can be the perfect option for you if you like outdoor activities and want to be close to nature. The focus of this article is to tell you how to kayak Pictured Rocks without a guide.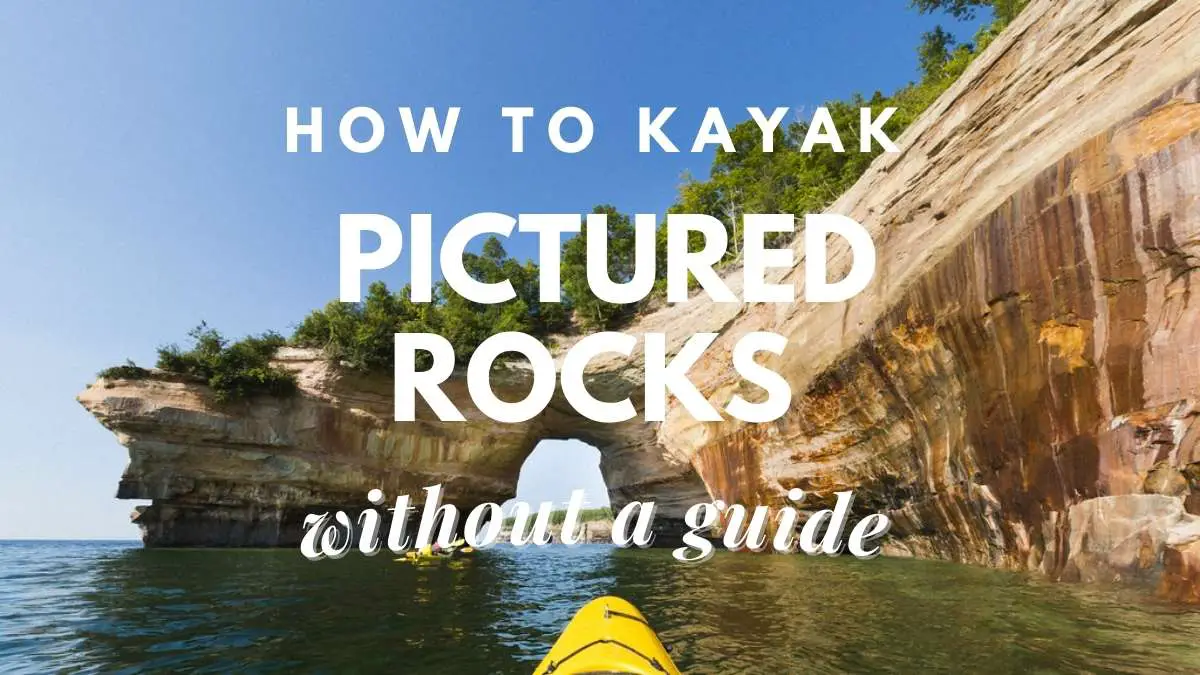 Should you go kayaking at Pictured Rocks National Lakeshore?
While you cannot hire a kayak at Pictured Rocks, you may pick from a variety of excursion packages. You may explore Lake Superior without taking a trip if you have your own kayak; however, be sure you have the necessary equipment and skills. The weather in this location is unpredictable, making kayaking perilous.
Read: Is Traveling A Hobby? The Ultimate Guide To An Exciting Way Of Life Learn about the Downsides Of Traveling As A Hobby

When is the best time to kayak at Pictured Rocks?
Pictured Rocks National Lakeshore offers guided kayak cruises from May 15th until late September. The weather is usually pleasant at this season, making it ideal for kayaking. Even so, the weather on Lake Superior is prone to quick and unexpected fluctuations.
Only go kayaking alone if you have a lot of experience. To safeguard their own safety, beginners should arrange a guided tour. Before going out on Lake Superior, always check the weather forecast and have proper clothing.
In general, the weather is cooler in May and early June, so dress warmly if you're going on a kayaking excursion at this period. In August and September, the wind picks up, which means trips are regularly canceled due to bad weather. According to tour providers, the greatest time to go kayaking is between June 15th and August 20th, when the weather is most likely to be pleasant.
Even if it rains, you may go on a guided kayaking excursion as long as there are no thunderstorms. Kayakers are significantly more vulnerable to severe winds and waves. Kayaking is normally not suggested outside of the peak season (May to September). Before going kayaking, be sure to check the National Weather Service's webpage.
When is the ideal time to go kayaking in Pictured Rocks?
Kayak trips are provided at various times throughout the day, often from 9:00 a.m. to 3:00 p.m. Mornings are often calmer, since there are less boats and kayakers on the river. Keep in mind that it is normally a little cooler at this time of day while choosing a kayaking excursion to visit the Pictured Rocks.
The afternoon is a popular time for visits since the sun sets at an angle that accentuates and enhances the beauty of the cliffs. If you want to snap a lot of photographs, this is the preferable tour choice. However, there are more flies in the afternoons, which may be irritating. Additionally, there will be more boats on Lake Superior, making the trip less peaceful.
Is it possible to rent a kayak at Pictured Rocks?
Some tour firms used to hire kayaks without including a guided trip. This is no longer viable because to the perils of Lake Superior and the many cases of kayakers needing to be rescued by boat or aircraft. Lake Superior, as previously said, may be quite hazardous even when the weather seems to be calm.
Kayaks may still be rented on Grand Island, but you must remain inside a restricted region and never go more than 100 feet from the coast. You may either bring your own kayak or join a guided excursion to visit the Pictured Rocks by kayak.
This aspect was a little more difficult to study; the bulk of the sites I could locate said that kayak rentals were no longer available, but I did come across several pages that stated differently. The NPS website indicates it is not feasible, therefore I opted to go with that>>
Joining kayak trips
At Pictured Rocks, there are many kayaking trips companies to choose from. Paddling Michigan, Paddle Pictured Rocks, and Pictured Rocks Kayak are three of the most popular. They all provide identical services, so which one you select is a matter of personal taste. Tours typically last 2-8 hours and cost roughly 110 dollars per person.
Paddle Pictured Rocks, for example, offers trips where kayakers are escorted by a boat, which might be a fantastic alternative for novices who aren't sure whether they're up to the effort. Professional kayaks and equipment, as well as qualified guides, are provided on all trip selections. Before you begin your trip, you will get a brief training session. In most situations, you'll be visiting Pictured Rocks with a companion in a tandem kayak. You will be issued one if you are going alone.
Kayak trips leave from Munising or Miners Beach and go along Lake Superior's shoreline to visit the most stunning areas of Pictured Rocks.
Is it necessary for me to hire a guide to kayak in Pictured Rocks?
You may bring your own kayak and explore Lake Superior that way if you are an experienced kayaker. Always have the necessary equipment on hand, such as a wetsuit, weather radio, and personal flotation device. For additional information, see the National Park Service website. Only go out on Lake Superior in a sea kayak. Pictured Rocks should not be seen from a recreational kayak or canoe.
If you don't have your own kayak or are unfamiliar with paddling, a guided kayak excursion to visit the Pictured Rocks is strongly recommended. Professional guides will be able to give you fascinating facts about the region and assist you in fully appreciating its beauty. You may safely explore Lake Superior with the guidance of a guide and uncover secret areas that you wouldn't locate on your own.
Should you go kayaking at Great Lakes?
Kayaking on the Great Lakes is a wonderful experience, but it can also be hazardous. Conditions may change quickly whether you're kayaking at Pictured Rocks or elsewhere. If you had an emergency on Lake Superior, help might arrive in hours.
At Pictured Rocks National Lakeshore, we've rescued several kayakers who were either unprepared or misinformed. Even when kayakers are well equipped, Lake Superior may still overwhelm them. We urge anybody thinking about kayaking Lake Superior to think about the hazards and prepare adequately before going. The lake has overwhelmed even the most seasoned kayakers.
What kind of boat do you intend to use?
A sea kayak is a long, narrow watercraft built for paddling along the shore. It normally measures between 14.5 and 18 feet long and 18 to 24 inches broad. Except for a tiny aperture (cockpit) where the person sits, the deck (top) covers the entire boat. A high lip around the cockpit enables the paddler to use a spray skirt to assist keep water out of the boat. Bulkheads are also used on sea kayaks to keep water from flooding the whole vessel. The only form of kayak that should be used on Lake Superior is a sea kayak.
A recreational or general purpose kayak is designed for use on calm rivers, ponds, or small lakes by the casual paddler. It is less than 14 feet long and has a bigger hole in which the paddler may sit. Because of the bigger entrance, water may easily enter the boat, making these kayaks prone to swamping. Because of their smaller size, they are more susceptible to being moved about by the wind and waves. On Lake Superior or on windy days, recreational kayaks should not be utilized.
Final words
Now you know how to kayak Pictured Rocks in the right way. Keep this guide in your mind, and you will be able to end up with getting a bunch of great experiences.