Stowe is a lovely Vermont town nestled between the majestic Mount Mansfield and many other Green Mountain peaks to the west and the towering Worcester Range to the east in a lush valley. The village is bisected by the Little River, which is traversed by lovely, ancient covered bridges. Stowe, Vermont is known for its winter skiing and summer family adventures. The finest things to do in Stowe, Vermont are listed below. Certain attractions may be closed temporarily or need reservations in advance. Currently, some eateries only provide pickup. It's possible that the hours and availability have changed.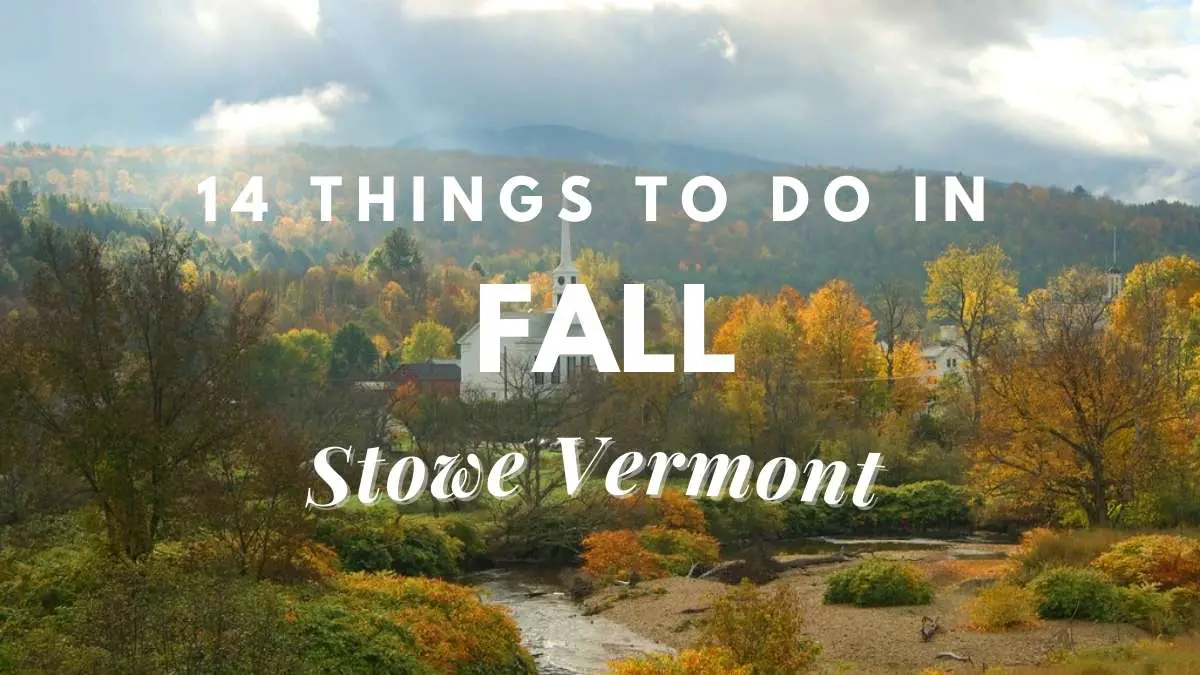 1. Mount Mansfield
Mount Mansfield is Vermont's tallest mountain, with a peak elevation of 4,393 feet. It is popular with hikers in the summer and skiers in the winter. It resembles a human profile when seen from the west or east, with the chin standing out the most. A variety of hiking paths go through the mountain. The popular Long Trail follows the major ridgeline of the mountain.
The Stowe Mountain Resort uses the east side for skiing in the winter. Mount Mansfield's top features around 200 acres of true alpine tundra that has survived the Ice Age, making it one of just three places in Vermont where this has happened. The transmitter towers for various local radio and television stations are located near "The Nose."
Close-by day trip ideas, weekend activities, tiny towns, and the greatest weekend getaways: California vacations, East Coast beaches, a fast journey to North Carolina, and romantic weekend getaways
Read: Is Traveling A Hobby? The Ultimate Guide To An Exciting Way Of Life Learn about the Downsides Of Traveling As A Hobby

2. The Recreation Path in Stowe
Walking around Stowe village on the Stowe Recreation Path, or 'Rec Path,' is a terrific opportunity to stretch your legs and take in the sights. This paved 5.5-mile one-way public trail is largely flat and suitable for people of all ages and fitness levels. If you choose not to stroll, you may cycle, ski, or snowshoe in the winter. The beautiful trail will lead you over a wonderful stone bridge, through seats and picnic tables, and along swimming holes.
The trail is easily accessible from numerous locations within the town and provides stunning views of Stowe from a variety of vantage points. The Rec Path is linked at various spots by the 1.8-mile Quiet Path, which has a natural surface and great views of the Little River and is designated for runners and walkers.
3. Smugglers Notch State Park
Smugglers' Notch is a tiny pass through the Green Mountains flanked by 1,000-foot high cliffs, approximately six miles from Stowe, with a twisting route that is inaccessible in the winter. The Notch is known for being utilized for a variety of criminal operations, including moving livestock and merchandise from British areas to Canada in the nineteenth century, smuggling escaped slaves, and subsequently smuggling illegal whisky from Canada to the United States during prohibition.
Smugglers' Notch State Park is available for enjoyment all year, although snowmobiles and skis are the only ways to get there in the winter. The campgrounds off Route 108 include twenty campsites and fourteen lean-to shelters. The Smugglers Notch park serves as a trailhead for various hiking routes that go into Mount Mansfield State Forest.
4. Auto Toll Road on Stowe Mountain
The 150-year-old Mt. Mansfield Auto Road, commonly known as the Stowe Toll Road, snakes up 4.5 miles to the peak of Mt. Mansfield. It reaches a height of 3,850 feet and provides breathtaking views of the Adirondack Mountains and Lake Champlain Valley.
The Stowe Toll Road shuts in the middle of December and reopens in the middle of July. It is feasible to ski down it during the winter when automobiles are not allowed. The Stowe Mountain Resort collects the toll for Mt. Mansfield Auto Road. Motorcycles and bicycles are not allowed. While the trip is beautiful in and of itself, there are a number of popular hiking paths that begin at the top of the hill.
5. Sterling Falls Gorge in Vermont's Stowe
Sterling Falls Gorge, Stowe, Vermont Sterling Falls Gorge, Stowe, Vermont Sterling Falls Gorge, Stowe, Vermont Sterling Falls Gorge
The Vermont Green Mountains in Stowe are home to the Sterling Falls Gorge Natural Area. It was sculpted by the relentless effort of boulders and sand transported by Sterling Brook over 10,000 years, resulting in a beautiful canyon and a sequence of cascades, falls, and pools. The gorge walls are 11 to 50 feet high, with lush hemlock trees, bushes, and ferns around them.
A thicket of rich, green mosses covers the gorge's walls, adding to its beauty. A picturesque route follows the canyon and goes near to the gorge walls at times, revealing thousands of years of geological history via the layers of exposed rocks. It takes around 45 minutes to walk to the trail's conclusion and return.
Read: Best Waterfalls In Vermont You Should See In 2023Learn about the Hamilton Falls
6. Vermont's Emily's Covered Bridge
Emily's Bridge, also known as Gold Brook Covered Bridge, is a tiny covered wooden bridge that spans Gold Brook in Stowe, Vermont. It is on the National Register of Historic Places and was constructed in 1844. According to folklore, the bridge is haunted by the spirit of Emily, a young woman who, according to one version of the tale, hanged herself from the bridge rafters when her boyfriend, who was scheduled to meet her there, failed to appear.
Although there is no proof that Emily ever existed, anecdotes concerning her looks and sounds are routinely told by those crossing the bridge. Teenagers partying beneath the bridge, who are often driven away by the police, are most likely to blame for the sounds.
7. Sleigh and carriage rides with the Gentle Giants
A gorgeous, old-fashioned carriage or sleigh carried by strong, but kind Belgian and Percheron horses Mack, Justin, Donny, Tom, and Bret is the best way to experience the lovely roads and views of the quaint community of Stowe. Choose from romantic carriages and sleighs for two or big, candy-apple red Santa-style carriages that can accommodate up to 12 people.
If it's not raining, you may leave the top down and enjoy the fresh air, or you can put it up if it's raining. In comfort, nestled beneath a blanket in the cold during the day or under the stars in the evening, you will ride through gorgeous winding roads, past the town and deep forests, pass ancient covered bridges, and enjoy spectacular views of Mt. Mansfield. Each ride is exclusive to you.
8. Stowe Mountain Resort
Stowe Mountain Resort in Vermont provides superb skiing on not one, but two mountains: Spruce Peak and Mount Mansfield, which have a 2,360-foot vertical drop and 333-inch average annual snowfall. Mount Mansfield has 39 miles of ski terrain and Spruce Peak has 116 routes.
When the snow melts and you're no longer able to ski or snowboard, there's great hiking over the mountain, superb golfing, mountain biking, rock climbing, zip line, or leisurely drives on the Toll Road with postcard-worthy views. You may go exploring while the kids are enjoying their own fun at the resort's excellent childcare facilities. Vermont's Other Attractions
9. The Sculpture Garden and West Branch Gallery
In a tranquil rural location, the West Branch Gallery and Sculpture Garden presents world-class contemporary art. The gallery's lofty ceilings, superb lighting, and nooks and crannies allow for a meandering tour of the gallery's unique art treasures. A sculpture park with stone and metal works, the finest of contemporary sculpture, and a picturesque mountain backdrop is set amid rolling grass, trees, and a river.
A walk runs down to the river, and there are plenty of excellent spots for picnicking and admiring the sculptures. The gallery specializes on emerging and mid-career artists and provides art advice and acquisition services.
10. Umiak Outdoor Outfitters
Umiak Outdoor Outfitters is a tour business and a retail shop. The retail business offers new and used boats, skis, snowshoes, apparel, sleds, vehicle racks, and crampons, as well as anything else needed for outdoor experiences in New England. It provides trips all year, whether you want to go sledding in the winter or kayaking in the summer.
Kayak trips of the Winooski River allow tourists to get up up and personal with wildlife, including deer, otters, moose, great blue herons, and kingfishers. With its slow-moving waters, the Lamouille River canoeing excursion is suitable for novices. Craft brewery tours are available, and in the winter, guides lead groups on snowshoeing, cross-country skiing, or a stunning dogsled trip.
11. Wiessner Woods
The Stowe Land Trust manages Wiessner Woods, a 79-acre conservation area. The wooded terrain has been transformed for pedestrian use, in line with the desires of its late owners, Fritz and Muriel Wiessner, and hiking, cross-country skiing, dog walking, and snowshoeing are permitted on the vast path networks that meander through the woods.
The routes are well-marked and well-maintained, and bicycle and snowmobile traffic is prohibited. The trees are a combination of softwoods and hardwoods, with the majority being white pine, but there are also exquisite maple trees, white birch, hemlock, spruce, and beech trees. Several tiny brooks run through the property, and pedestrian footbridges have been constructed across them. It's a nice spot with mild hills that's perfect for a leisurely stroll. There is plenty of parking.
12. Buy chocolates from the Laughing Moon
Laughing Moon Chocolates Laughing Moon Chocolates Laughing Moon Chocolates Laughing Moon Chocolates Laughing Moon Chocolates Laughing Moon Chocolate
Laughing Moon Chocolates, located in downtown Stowe, creates fudge, truffles, chocolate-covered caramel apples, barks, and clusters, as well as selling its own brand of sugar-free and vegan chocolates. It's a shop dedicated to environmentally responsible techniques, social responsibility, and locally sourced goods.
Its packaging is all biodegradable, it donates to numerous local organizations, and it gets all of its ingredients from Vermont. As a consequence, delectable chocolate items are created that are excellent for snacking, presents, and wedding favors. Daily chocolate dipping demonstrations are offered, and family seminars on how to make chocolate at home are held on a regular basis. There are also private chocolate-making workshops offered.
13. Cady Hill Forest
Cady Hill Forest was formerly cleared by early settlers for use as farmland around the end of the 1700s. The farms have been abandoned for a long time, and the forest has organically regrown. The forest now covers 258 acres, with 23 of them classified as wetlands. It's a deer wintering region, and portions of the park are closed in the winter for the deer's protection.
Mountain bikers come to appreciate the high gradient of the hill and its numerous switchbacks; therefore, the eleven miles of trails are largely utilized by them. Hikers and dog walkers frequent the woodland, which is also utilized for cross-country skiing and snowshoeing in the winter. The forest is mostly made up of white pine and hardwood trees, with the preponderance of red maple, sugar maple, and hemlock trees.
14. Museum of Vermont Skiing and Snowboarding
The Vermont Ski and Snowboarding Museum is dedicated to the history of skiing and snowboarding in Vermont, with a concentration on the late 1800s to the present. Visitors may see a documentary video on the history of skiing in the United States, as well as appreciate and learn about displays about ski fashion, chair lifts and their technology, Nordic skiing, and the 10th Mountain Division, a US Army infantry regiment.
This modest museum features a gift shop, a hall of fame devoted to commemorating athletes and pioneers of Vermont skiing, exhibitions of ski-related fine art, and historical materials. It is housed in a converted church.
Final words
As you read, there are lots of different things available for you to do while you are exploring Stowe Vermont. It is up to you to go through all those different activities and pick the best ones out of them. Then you can simply proceed with enjoying those activities and securing the best experiences that come on your way. You will fall in love with the returns that you can get in the long run as well.