Kitty Hawk, located just north of Kill Devil Hills, is noted for its beautiful beaches and gentler pace than its southern neighbors. Visit Kitty Hawk Pier or stroll along the beach road to see a selection of eateries with ocean views. The village exemplifies the Outer Banks at its best, being close to all of the main Outer Banks attractions and home to the Wright Brothers. Even during the slower winter months, many companies stay open. Below is a list of some of free things to do in Kitty Hawk NC during your stay.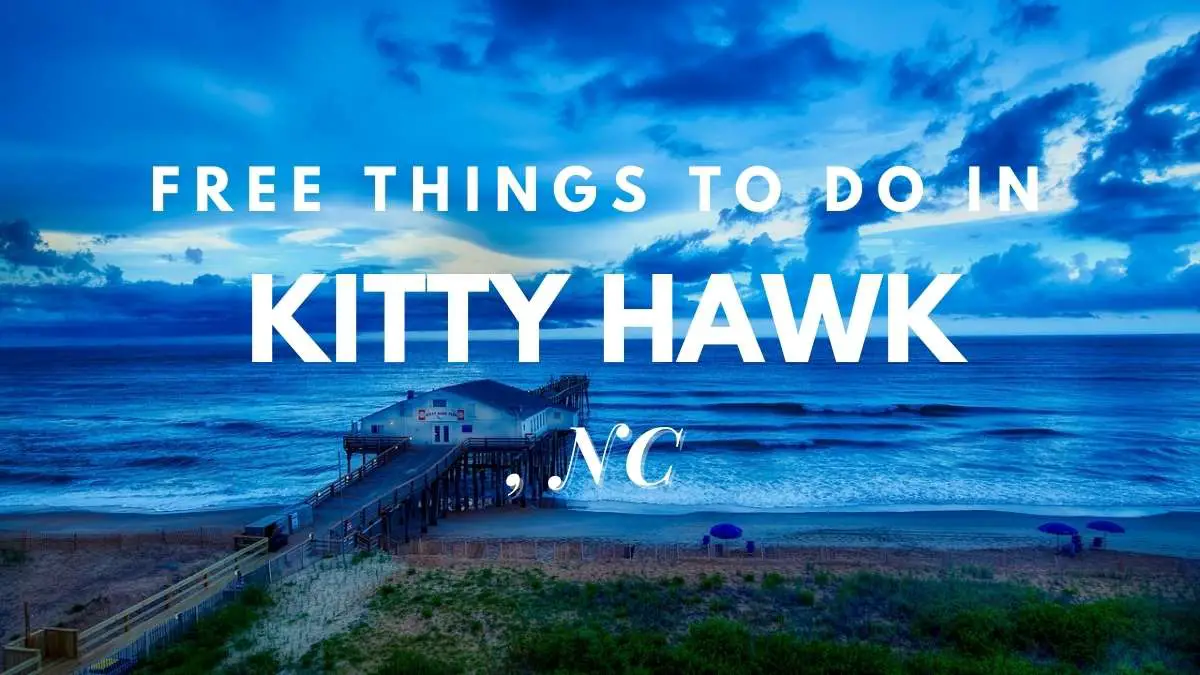 1. The Wright Brothers Memorial in Kill Devil Hills
The Wright Brothers Memorial is an obvious landmark on the Outer Banks region and may be seen as a monolith granite building towering over the surrounding environment at any time of day or night. The 60-foot-tall monument was dedicated commemorating mankind's first flight in 1932, and millions of people have visited it since then to appreciate it. The list of prior visitors to the Wright Brothers Memorial is impressive, including former presidents, Hollywood stars, and celebrities from all walks of life.
Visitors to the site can make the deceptively difficult trek to the base of the monument and explore the multiple museums on site, including the "Century of Flight" museum, which opened to national acclaim in 2003, on the 100th anniversary of the Wright Brothers' historic and world-changing first flight. This monument is undoubtedly the highest and most frequented landmark in the Kitty Hawk and Kill Devil Hills area, and is a must see for aviation enthusiasts and history aficionados of all kinds.
Read: Is Traveling A Hobby? The Ultimate Guide To An Exciting Way Of Life Learn about the Downsides Of Traveling As A Hobby

2. Kitty Hawk Woods Trail
Despite their shared reputations as two of the most developed towns on the Outer Banks, Kitty Hawk and Kill Devil Hill have a vast array of tranquil landscapes and natural paradises to explore, starting with the Kitty Hawk Woods Coastal Reserve. This vast tract of mostly Albemarle Soundside terrain is crammed with one of the biggest examples of natural, undisturbed maritime forest in the Outer Banks, and offers tremendous recreational options for anybody who enjoys being outside.
Paddlers and boaters will want to explore the rocky sound side coastline on the open seas of the Albemarle Sound, while nature lovers will enjoy winding through the miles of hiking paths that diverge from the deep forests to the sound and back. Several local tour companies use the Kitty Hawk Coastal Reserve as their "home base" for kayaking eco tours that wind through brackish canals deep within the reserve, and virtually anyone traveling along the Kitty Hawk sound side can find an access point or a trailhead for a quick but informative look at this wholly unique Outer Banks landscape.
3. The Seaside
The beach is, of course, the primary reason why most summer tourists travel to the Outer Banks, and Kitty Hawk and Kill Devil Hills do not disappoint, with miles of beachfront to pick from. There are hundreds of public beach access spots in the two towns, many of which provide beachside parking and seasonal summer lifeguards. In fact, the two towns have more lifeguard posts and roving lifeguard patrols than almost any place else on the Outer Banks, making the area a family-friendly and typically safe place to swim.
Surf fishing and shelling are also good along these beaches, and oceanfront tourists will literally be yards away from the beach, since the location has a lot of beachfront residences that are as near to the beach as the Outer Banks gets. In Kitty Hawk and Kill Devil Hills, the dune line is also quite short, making a walk to the beach reasonably accessible for anybody living on or off the beach. Overall, the facilities and amenities of these two cities combine to make the beach a fantastic attraction that makes every trip to the beach a breeze.
4. Avalon Fishing Pier
The Avalon Fishing Pier in Kill Devil Hills is a local monument that predates many Outer Banks landmarks and continues to be regarded as one of the top fishing piers in the country. The modest 700-foot-long pier was built in 1958 (with lots of hurricane-related repairs and modifications along the way) and now welcomes tourists with an excellent bait and gear store, a snack bar, and all the small extras a dedicated fisherman needs for a perfect day of fishing.
Anglers may expect to pull in a real buffet of fantastic catches when the fishing is strong at the pier, including pompano, mackerel, mullet, sea trout, croaker, flounder, bluefish, and even cobia. Locals say that the autumn and spring months are the ideal times to strike it big, as the seasonal drum runs generate dozens of 20 pound, 30 pounds, and even 40 pound catches on a near-daily basis. People looking for a fantastic view may also take a leisurely evening walk down the pier to check what's biting and take in the amazing seaside vistas that cover miles of Kill Devil Hills and Kitty Hawk shorelines.
5. Arboretum and Teaching Garden on the Outer Banks
The Outer Banks Arboretum and Teaching Garden, a must-see for garden enthusiasts, is a peacefully isolated site that is ideal for newcomers to learn about the flora and animals that make this part of the Eastern Seaboard so unique. This monument is mostly desolate and undiscovered, yet it is nonetheless amazing for its wide assortment of trees, flowers, and indigenous creatures that embellish the huge and beautiful environment.
The garden is typically crowded with local butterflies that take advantage of the warm weather flowers in late spring, making it a perfect time to visit. The Outer Banks Arboretum and Teaching Garden is open to the public every day of the year and is a terrific place for nature enthusiasts to get their feet wet in the natural Outer Banks landscape, which is only yards away from the big name beach attractions.
6. Fine Dining and Beach Bites
Kill Devil Hills and Kitty Hawk boast one of the highest concentrations of local eateries on the Outer Banks, making them a foodie's dream come true. Visitors to this part of the Outer Banks will want to pack a strong appetite since many of the local restaurants are regionally and even nationally recognized icons.
Others, like the Ocean Boulevard Bistro or the Kill Devil Grill, are just recognized for fantastic meals in a sophisticated yet entirely beachy ambiance. There are lots of BBQ establishments and seafood shacks for a more informal quick snack, as well as a large number of nationally recognized chain and fast food restaurants. On the Outer Banks, the twin communities of Kitty Hawk and Kill Devil Hills are hard to beat for a wonderful supper that may easily vary from salty hot dogs and fries to excellent coastal cuisine.
7. Purchasing
For many central Outer Banks visitors, Kitty Hawk and Kill Devil Hills are the locations to go for amazing bargains and all the beach requirements an active family need for a fantastic beach vacation. Several big national chains, including the Outer Banks' lone Wal-Mart, Belk's, Home Depot, and Lowe's, as well as a slew of beachside stores that specialize in inexpensive but sufficient beach gear for a long day on the sand, can be found in the area.
Small shopping plazas, which can be located near the Wright Memorial Brighe and along the beach road, include a multitude of surf shops, art galleries, and gift stores that specialize in all things distinctly Outer Banks, for avid shoppers looking for something a bit more unusual. With so many accessible and diverse shopping choices, travelers to Kitty Hawk and Kill Devil Hills will have no problem discovering some excellent deals and unique little gifts to take home.
8. Golfing
With an abundance of shade, natural landscaping, and distant sound side scenery that can be viewed from the greens, the peaceful sound side parts of Kitty Hawk serve as a golfer's heaven. In Kitty Hawk, there are two distinct courses to select from: the exclusive Duck Woods County Club, which has 18 holes and over 6589 yards of play, and the Sea Scape Golf Links, which has 18 holes and over 6131 yards of play. Both courses make the most of the natural surroundings, offering demanding but calm courses that are a far cry from the crowded beachside hotspots only a golf ball's throw away. Recent retirees who like golf and privacy should investigate the golf course communities near Kitty Hawk, as the mix of forested, serene surroundings and languid days on the courses is almost enticing.
Final words
You don't have to spend even a penny to engage with these free things in Kitty Hawk NC. We just encourage you to plan your stay, so that you can get maximum out of time spent.