A vacation is a time to unwind, to celebrate, to rejuvenate, to see new places and try new things. But it can also make you very uneasy about eating — if, for example, you are trying to eat healthy and maintain or lose weight. Here are some of the most useful tips that you can follow in order to keep yourself healthy as you go on a vacation.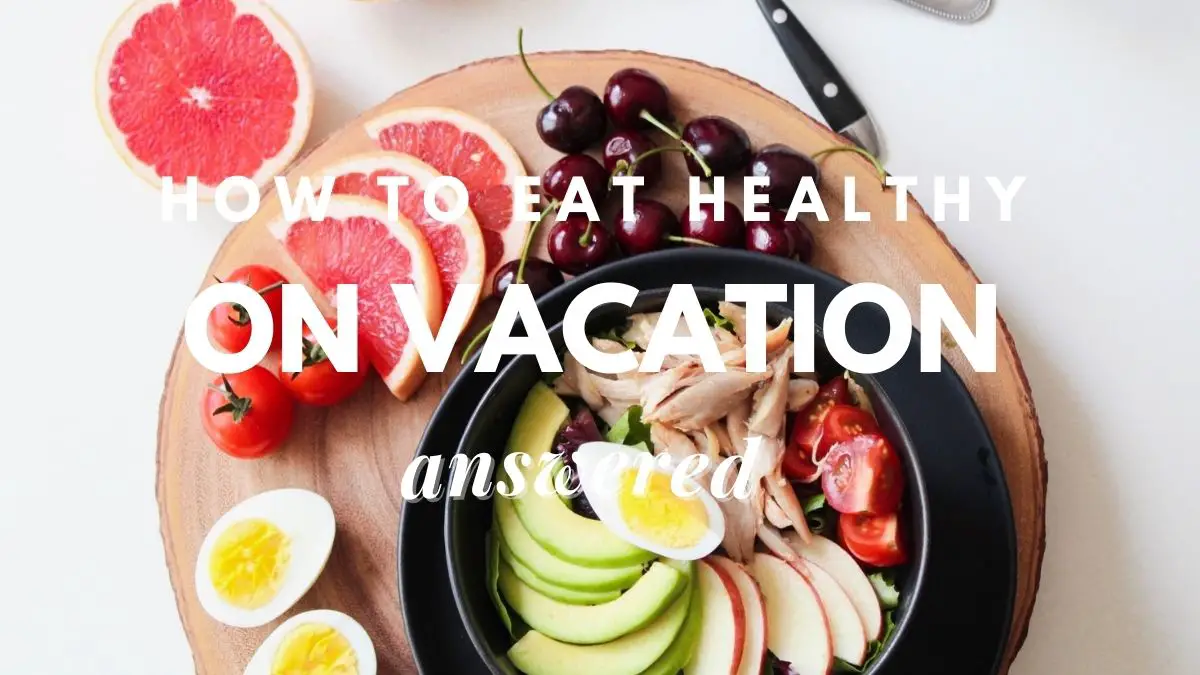 Overcome the need to splurge
According to a study led by Linda H. Clemens EdD, RD, of the Consumer Science and Education Department at the University of Memphis, women tend to splurge when they eat out, then eat normal amounts during their other meals that day. This means they end up with an abundance of calories and fat that day — much more than the body needs!
Clemens believes we should no longer think of eating out as a special treat and thus give ourselves carte blanche to overindulge. Most people assume that they don't usually eat out. This is one of the main reasons on why they splurge. In reality, we do that quite often.
What has happened to women nutritionally because of this trend? In a study published in the Journal of the American Dietetic Association in 1999, Clemens and other researchers found that the more often women ate out, the higher the total calories, grams of fat, and milligrams of sodium their diets contained.
Read: Plane VS Cruise Ship On Vacation – What Is The Best Option?Learn about which one is better?
There are probably three main factors that contribute to this overabundance of calories and fat coming from restaurant meals:
We tend to splurge by choosing higher-fat and higher-calorie menu selections,
Restaurants are serving us large portions,
And we are eating it — all of it.
According to a recent survey by the American Institute for Cancer Research, 67% of Americans say they finish their entrees always or most of the time. Sometimes, it isn't what you are eating as much as how much you eat that gets you into nutritional trouble.
Have meals on your preferred way
When it comes to table-service restaurants, customers are asking to have it their way more and more, according to a recent National Restaurant Association report. Some 80% of restaurants with meals averaging $25 or higher per person, and 70% of restaurants with meals averaging under $25 per person, say customers are more interested in customized menu items now than even two years ago.
What, in particular, are customers asking for? They often want menu items prepared or dressed a different way than is listed on the menu. People also like to have a range of portion sizes to choose from, and many diners are asking to have part of their meal "doggy-bagged."
Enjoy your views while having food
You are on vacation, for heaven's sake. It doesn't make sense to deprive yourself of an enjoyable food; the trick is carrying "moderation" in your back pocket. Sample these delectable foods, instead of feasting on them.
Read: Why Are Vacations Important?Learn about vacations that can help you with stress management
Walk as much as you can
I personally never deny myself any foods I want when I travel, and I rarely put on extra weight. I'm usually sightseeing, which means I'm walking all day, every day, and this seems to offset any extra calories I might consume. So go ahead and take that stroll after dinner, swim in that beautiful hotel pool, take your kids up on that early morning hike!
Have a treat day
How do you pass up strawberry crepes with cream if you are in Paris? How do you manage to vacation in Hawaii without tasting pineapple cheesecake? How can you resist stopping at Dairy Queen with the kids and having a chocolate-dipped Frosty?
The answer is: you don't. Just try to keep your treats to one a day. After that, opt for a healthy choice instead.
See healthy options on the menu
Make healthful choices that appeal to you at fast food and restaurants whenever possible. Why is it important to order more healthful choices only if they appeal to you? Because if they don't, you're going to feel like you are depriving yourself and resent it.
Sometimes you can make a fast food or restaurant choice instantly better just by ordering it with a different condiment or sauce.
Read: Why are vacations so stressful?Learn about assuming that travel will help you solve all your problems
Don't open the mini-bar
You know that little refrigerator that comes with your hotel room that is filled with all sorts of beverages and candy? Hide the key, it can only lead to no good — physically and financially.
Drink water as much as possible
Keep all systems going by drinking your daily water requirement. Traveling can dehydrate you, and so can being out in the sun more than your body is used to. If you can, stock your car, backpack, or hotel room with ice-cold bottles of water. Bring water everywhere you go.
Read: Is Traveling A Hobby? The Ultimate Guide To An Exciting Way Of Life Learn about the Downsides Of Traveling As A Hobby

Take fiver servings of fruits and vegetables
Now, more than ever, make an effort to get five servings of fruits and vegetables a day. It will make meals seem more filling and satisfying. It will provide enough fiber in your diet and keep your intestines regular. And it will keep your levels of antioxidants and important vitamins high, so you are less likely to get sick.
Eat When You're Hungry and Stop When You're Comfortable
It sounds simple, but many of us have gotten out of the habit of paying attention to whether we're truly, physically hungry. Eating opportunities and celebrations are all around us when we are vacationing, and we're in the "I'm on VACATION!" mindset. That's when we will be the most vulnerable to eating even if we aren't hungry and not stopping when we are comfortable.
Read: [20 tips] Staying With Friends And Family On VacationLearn about involve everyone in the planning
Have a healthy meal plan even before you leave
Incorporating good eating habits early will help you and your family keep to healthy eating habits when you are away from home. Plan out your meals for the duration of your holiday even before you start a shopping list. You may be more likely to eat nutritious meals when away from home if you have a meal plan in place. It may be as easy as putting two or three healthful meals on a regular rotation that you consume at home.
For example, for supper one night, you could grill chicken breast on kabobs and prepare enough to have leftovers. You might make a salad or wrap with the leftover grilled veggies and chicken the next day. Fajitas, chicken and rice bowls, turkey burgers, and spaghetti with veggie sauce are some more dinner options. These meals allow you to keep your favorite protein throughout your trip while adding a range of veggies and spices to make the dish more interesting. Including these meals in your healthy eating plan rotation can help you save money and time on your trip by reducing waste and making meal preparation less stressful.
Create a list of healthy food and groceries to buy
After you've developed a healthy eating plan, look for local grocery stores in the region you'll be traveling. You won't have to worry about keeping your food cold or hot during the travel if you can purchase when you get at your destination. Always prepare a shopping list before going to the supermarket to minimize impulse purchases and to avoid forgetting things that would necessitate a second trip to the store.
Keep healthy foods ready before you leave
Consider dehydrating your foods or keeping them safe in an insulated cooler with ice or ice packs if you're going on vacation and need to prepare your meals ahead of time. Also, think about how far you'll be going and how long you'll need to keep your food cold or hot to avoid foodborne illness.
Read: Plane vs rental car on vacation – (pro's and cons)Learn about the what experiences matter the most?
Plan for nutrition in every meal
Make a nutritious breakfast and dinner, as well as snacks in between. Breakfast might be the most straightforward and nutrient-dense meal of the day. Planning a healthy and substantial breakfast in the morning will ensure that you and your family are fueled and ready for whatever the day has in store. Breakfast cereal or Greek yogurt with fresh fruit are two quick breakfast options. Snacks, according to Ansel, are essential for staying energized throughout the day.
Experts recommend packing snacks like carrots, peppers, apples, oats, or nuts to help limit your hunger and minimize the desire to eat unhealthy foods. She also advises bringing sandwiches on everyday outings. If you're going somewhere that doesn't allow outside food, do some research before you arrive to ensure that you and your family stick to a healthy eating plan. To keep on track with your healthy eating regimen, finish the day with one of your planned meals.
Combine your meals
Stay with us because we're getting someplace with this concept: Vacations are meant to be about unwinding, having fun, and sleeping in if you're a night owl. Rest and stress reduction are important aspects of healthy life. So, rather of getting up at the crack of dawn to eat before the hotel or cruise ship breakfast service ends, get some beauty rest and head to brunch later!
Book a room with a kitchenette.
Many accommodation choices include anything from microwave ovens to full-sized refrigerators and stoves in their rooms. Making one homecooked meal each day might help you lose weight. You'll have more control over not just the contents and methods of preparation (sautéed rather than deep-fried, olive oil rather than butter, whole fruit rather than juice), but also portion proportions, resulting in healthier (and less expensive) meals than if you ordered room service or fast food.
Drink plenty of water to stay hydrated.
Water is essential for keeping healthy and staying properly hydrated is even more vital while spending time outside in hot weather. When it's hot outside, it's easy to become dehydrated, so bring a bottle of water with you on your trip. Karen Ansel recommends filling up reusable bottles on the move to conserve space when traveling and decrease the waste of throwaway plastic bottles.
Read: How to go on vacation when you're brokeLearn about to travel during the off peak season
Share your meal with others traveling with you
Have you ever gone to a restaurant and just wanted to eat half of your meal? The amount of food you consume at one time has a significant impact on your weight management. Rather than forcing yourself to complete a meal, share it with your travel companion. This simple strategy can help you and your fellow road warriors eat more healthily and save calories and even money. Hence, all people who are looking for ways to eat healthy on vacations should focus on this.
Take some healthy snacks along with you
Make it a habit to bring your own food no matter where or how you travel this summer. When you travel with your own snacks, you can choose what, when, and how much you and your family consume.
Some of the healthiest snacks that you can take along with you include freeze-dried vegetables, whole or dried fruits, whole grain pretzels, nut butters, trail mix, and healthy snack bars that don't offer excessive sugar.
Have a good time and indulge when you believe it's appropriate.
It's all about having a good time and building memories with your friends and family on your vacation. While following a healthy eating plan is vital, indulging once in a while is also necessary, according to Ansel. Spend some time with your family and enjoy a small treat together. Everyone will remember these moments for years to come, so make the most of them and enjoy your time together.
Read: Paddleboards VS Kayaks – What Is The Best Choice For Your Next Vacation? Learn about the level of control
Final words
These are some of the most useful tips that you can follow to eat healthily as you travel. Always keep these tips in mind and make sure that you adhere to them. Then you will not encounter any health problems when you are traveling. These tips can help you to enjoy your travel adventures as well.