Exploring the parks is one of the most intriguing things to do on Marco Island. Marco Island is plenty of sun and fun, but every now and then you'll want to go away from the beach and discover another outdoor activity for the family. Fortunately, this region offers eight fantastic parks to visit, each with its own distinct features and all conveniently located near our magnificent vacation apartments. Continue to read and we will share more details about the best recreational parks in Marco Island with you.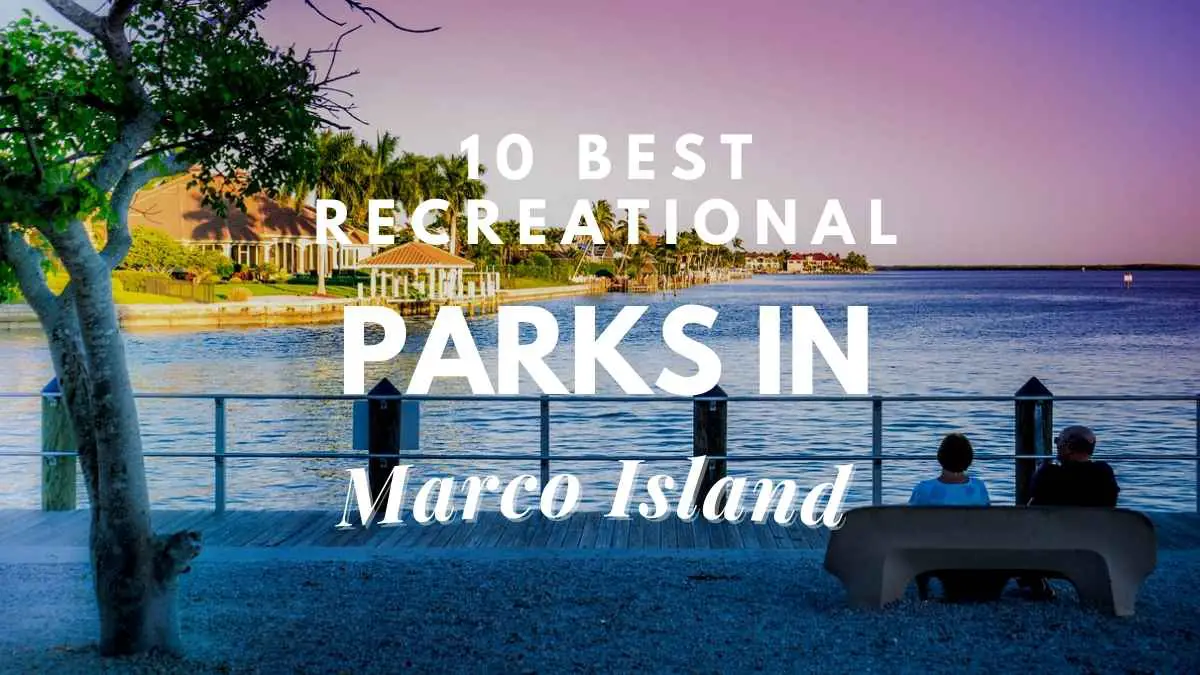 1. Founders Memorial Park
Founder Memorial Park is conveniently situated near some of Marco Island's greatest beaches, making it an ideal spot for a day trip. Beautiful wildlife can be found here, as well as big open areas where you can soak up the sun or run with your kids and dogs. This family park is a terrific place to start your day before heading into town to do some more exploring.
Read: Is Traveling A Hobby? The Ultimate Guide To An Exciting Way Of Life Learn about the Downsides Of Traveling As A Hobby

2. Jane Hittler Park
Jane Hittler Park is one of the area's most charming places, situated on N. Collier Boulevard. It includes some fantastic fishing and a walking route where you can get close to nature. Bring a picnic basket and a table for an afternoon meal, then stroll around the grounds or soak up some sunshine. If you feel like going for a swim, it's also near to Tigertail Beach. Please be informed that there is no parking accessible at this location.
3. The Marco Island Racquet Center
The Marco Island Racquet Center is located at the corner of Heathwood and San Marco Roads. Come play racquetball, pickleball, or tennis to get some workout. You may rent equipment at the facility if you don't have your own. You may play a fast, casual game or sign up for a more formal social gathering. There are also individual and group classes offered.
Read: 3 Best Amelia Island Kayak Excursions
4. Veterans' Community Park
Veterans' Community Park attracts residents and visitors alike for a variety of events throughout the year, but even if nothing exceptional is going on, it's still a lovely spot to spend a day. If you're coming between November and April, don't miss the Farmers' Market on Wednesdays! 901 Park Avenue is the address of the park.
901 Park Ave. is the address for Marco's Veterans Community Park. This park was built to serve as a public meeting place for events and other gatherings. This park offers a variety of sitting choices as well as a walking path.
Read: Day Trip To North Captiva Island Itinerary
5. Leigh Plummer Park
Leigh Plummer Park, located at 400 N. Barfield Drive, is a popular fishing site. There's plenty of room for the kids to run about, and there are plenty of walking routes if you're bringing your pet along. Please keep in mind that there are no restrooms in this location, so prepare accordingly.
Read: Perfect Day Trip To Ocracoke Island Itinerary
6. Mackle Park
Frank E. Mackle Park, situated at 1361 Andalusia Terrace, is one of Marco Island's nicest parks. This popular park caters to all members of the family, regardless of age or interest. The playground and vast grassy area will appeal to younger children, while the teen center and sports courts will appeal to older children. Everyone is welcome to bring a picnic lunch, run through the water spray park, or stroll around the walkways.
On Marco Island, Frank E. Mackle Community Park is situated at 1361 Andalusia Terrace Road. The Mackle Brothers– Robert, Elliott, and Frank Jr.– were Marco's visionaries, and this park was dedicated for them in 1987. This park has two huge playgrounds open to the public, Canine Cove Dog Park, a soccer field, and a large lake with a walking path.
Read: Can You Drive To Captiva Island?
7. Calusa Park
Calusa Park, located on Winterberry Drive, is particularly interesting to nature lovers. The butterfly garden, where you can get up and personal with the beautiful natural animals, is the park's greatest feature. There's also a walking route where you may go for a walk, and a handy picnic place where you can have your lunch or snack.
8. Winterberry Park
Winterberry Park, a prominent sports venue, is also situated along Winterberry Drive. The baseball and softball grounds are popular gathering locations for residents and tourists alike, and you can even play soccer or football. There is a restroom and picnic area on site, and many guests have reported seeing eagles!
On Marco Island, Winterberry Park is situated at 1400 Winterberry Dr. Winterberry has an open field where baseball/softball and soccer/football may be played. Winterberry also offers a variety of parking and seating choices. This park is available to the public and is a wonderful location to wander.
Read: How To Get To Coronado Island (3 Easy Options)
9. Otter Mound Preserve
Otter Mound, at 1831 Addison Ct on Marco Island, is a historical nature walk. In the 1940s, a settler called Ernest Otter settled upon the shell mound, and the preserve was established in 2004. The route is located on a 2.45-acre property with a modest parking area and a few sitting choices for everyone. Otter Mound is a nice walking track with a great view, since the trail is lined with big trees and other lovely surroundings.
Read: Dauphin Island Visitors Guide
10. Public Beach Access on Marco Island
On Marco Island, the South Beach Public Parking is situated at 930 Swallow Ave. The Beach Access is situated at 870 County Rd 951, just across the street. This beach is available to everyone and is open 24 hours a day. South Beach gives a fantastic and long walking path with a beautiful view.
Read: 9 Best South Padre Island Vacation Rentals
Things to do in Marco Island
Now you are aware about the best parks in Marco Island. Along with that, you should also be aware about the things that you should possibly do while spending your time in here.
Read: 12 Fun Things To Do In Dauphin Island 2023
Get on a kayak to travel the Thousand Islands
Between Cape Romano and the mouth of Lostman's River lies the Ten Thousand Islands, a network of tiny islets and mangrove islands rising up from oyster beds. Marco Island is the biggest barrier island among the Ten Thousand Islands.
If visiting the Everglades is on your Florida bucket list — and it should be — kayaking across the Ten Thousand Islands and the Everglades from Marco Island is a dream come true. There are distant and desolate barrier islands to explore, as well as unique native animals and some of Southwest Florida's most gorgeous beaches.
There are various Everglades kayak trip companies to choose from. Many companies will lead and narrate your paddle with skilled Florida naturalists and biologists.
Read: Anna Maria Island VS Siesta Key- What's The Difference?
Visit Tigertail Beach
Tigertail Beach and Sand Dollar Island are without a doubt among the nicest beaches in southwest Florida, and each one is distinct. Tigertail was a nickname given to the native Florida Seminole chieftain by US Army troops because of the long strip of panther skin that hung around his waist, according to folklore.
A tide-driven lagoon separates Tigertail Beach from the rest of the beach. The quiet lagoon on the inner beach is where you may swim or hire beach shelters, SUP boards, and kayaks. The small lagoon is ideal for children, and fishing is excellent at low tide. Mullet may be seen leaping out of the water by the hundreds. Wading across a shallow stretch of the lagoon (3-5 feet deep at high tide) and trekking a short distance through coastal scrub to Sand Dollar Island leads to the outer beach.
On this side of the shore, there is a robust observation tower that provides a panoramic view of the region and is perfect for birdwatchers. There is parking, a snack bar offering lunch, cold beverages, and snacks, as well as picnic tables, grills, a playground, and bathrooms on the inner beach.
Sand Dollar Island, also known as Sand Dollar Spit, is the major feature of Tigertail Beach and is regarded one of Marco Island's most stunning natural places. The narrow island provides a home for egrets, herons, sandpipers, plovers, terns, and osprey, among other birds, and is ideal for shelling. This is, in our opinion, the most beautiful beach on Marco Island, and it is seldom crowded during the off-season.
Read: Best Time To Visit Sea Island Georgia
Go fishing
Marco Island has some of the greatest inshore and offshore sport fishing in the world all year long. Marco is ideal for serious fishing due to its proximity to the Gulf of Mexico and the Ten Thousand Islands. Anglers may target tarpon, snook, sea trout, and redfish in the shallows at various times of the year.
If you like deep-sea fishing, an experienced captain can take you to some of the best areas offshore in the Gulf of Mexico to catch grouper, snapper, cobia, tuna, and king mackerel. Around Marco Island, something is always in season. A private cruise for a family of four may cost up to $500, or you can reserve space on a charter or party boat for significantly less per person. There's nothing like a feast of fresh Gulf seafood, no matter what time of year it is.
Read: How To Get To Ocracoke Island
Final words
There are Marco Island vacation rentals are close to all of these beautiful parks, so you can immediately return to your private, luxury space when the day is done. Contact them now for more information about our vacation accommodations and the parks on Marco Island!