Just a short drive from Washington, D.C., Southern Maryland is a stunning area with 1,000 miles of coastline along the Patuxent and Potomac rivers and Chesapeake Bay, the biggest estuary in the nation. Calvert, Charles, and St. Mary's counties make up Southern Maryland, which is home to a variety of historical sites such World War I ships, fossils of extinct animals, and a plantation that is listed on the National Register of Historic Places. Sand beaches, marine museums, lighthouses, stunning state, and national parks, and much more are all nearby for you to explore. In this article, we will share a list of fun things to do in Southern Maryland this weekend.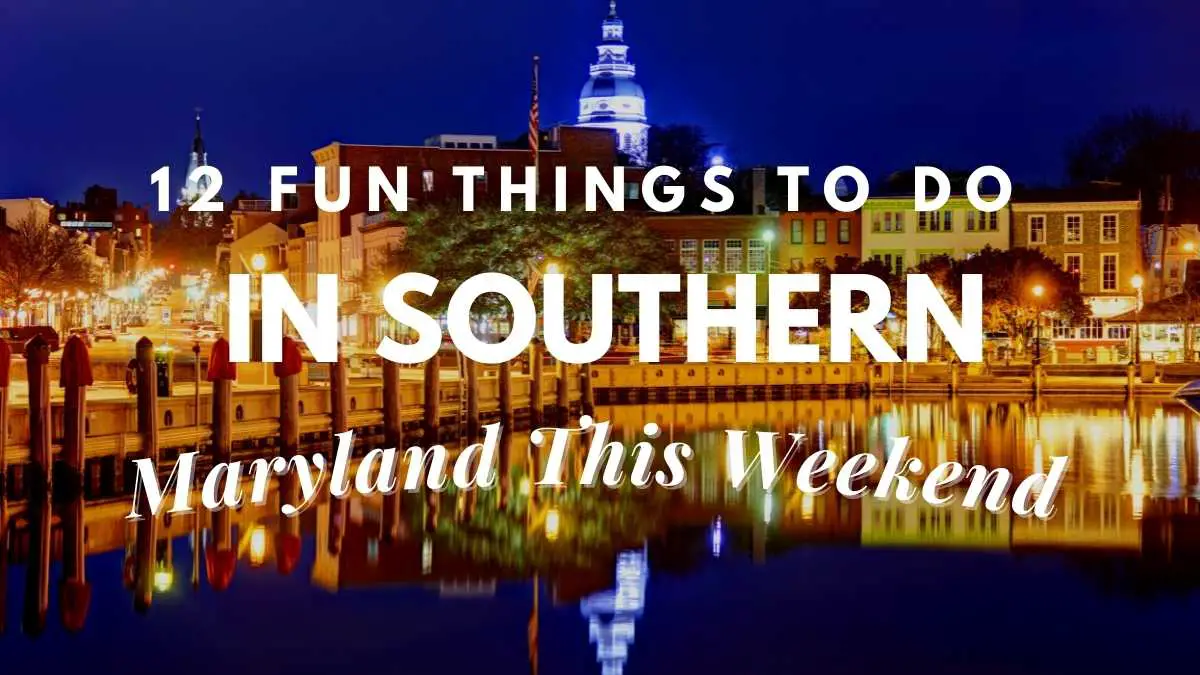 1. Go fishing
Fishing has a long history in Crisfield, which is the southernmost town in Maryland and is located directly on the Chesapeake Bay. The city, which still calls itself the Seafood Capital of the World, was established as a fishing village in the 19th century. You may go out searching for oysters and rockfish, but the blue crab is by far the most significant creature to Marylanders.
The season for recreational crabbing normally starts in April and lasts until December, but before you set out to sea, you'll need to apply for a license and familiarize yourself with the rules. Grab your net or your line to partake in this beloved activity since blue crabs are a delicacy in Maryland and crab-catching is a favored hobby for the locals.
2. Explore Historic St. Mary's City
On the site of the state's earliest settlement and first capital, Historic St. Mary's City outdoor living history museum is the most well-known destination in southern Maryland. A tall ship, a Woodland Indian Hamlet that depicts Yaocomaco life, a tobacco plantation with cattle, and the Town Center, where guests can view a rebuilt inn, shop, and other buildings, are just a few of the exhibit locations. Visitors may book a choice of guided tours and participate in hands-on activities taught by costumed interpreters about colonial life.
3. Explore Chesapeake Bay
The Patuxent River's left and right banks are home to some of the top vineyards on the Eastern Seaboard, even though Maryland may not be the first location that springs to mind when you think of wine country. They are largely concentrated in the counties of Calvert and St. Mary's, where Tuscany-like conditions exist in terms of temperature and soil composition. With spectacular views of the surrounding Chesapeake Bay and vineyards, several of the wineries have even been styled to resemble a Tuscan villa.
Although Chardonnay, Vidal Blanc, and Cabernet Franc grapes are the region's specialty, the best wineries in the area provide tastings of all varieties of wine. Cove Point Winery near Lusby or Running Hare Vineyard west of Prince Frederick are a few of the best-rated ones on the Patuxent Wine Trail.
4. Follow the path of Lincoln's assassin plaque
You certainly already know that John Wilkes Booth murdered President Abraham Lincoln at the Ford's Theatre in Washington, D.C., but you may not be aware that Booth managed to flee the scene and spend two weeks on the run in southern Maryland before being apprehended and put to death. First, he visited Mary Surratt's house, a Confederate sympathizer who had taken in Booth in the days after the murder. The Surratt House Museum, which is presently located in her home, is where you can learn everything about the first woman to be put to death by the American government as well as this turbulent time in the country's history.
5. Visit Calvert Cliffs State Park
For nearly 24 miles in Calvert County, the Chesapeake Bay coastline is dominated by the enormous cliffs of Calvert Cliffs State Park in Lusby, which were formed about 10 million years ago. The cliffs are explored by tourists who look for unusual fossils and the remnants of extinct animals including whales, sharks, rays, and seabirds. Additionally, the park has a sandy beach, more than 10 miles of hiking paths, picnic spaces, and a playground made out of recycled tires.
6. Calvert Marine Museum
Three themes—regional paleontology, the estuarine life of the tidal Patuxent River and the nearby Chesapeake Bay, and the maritime history of the area—are used by the family-friendly Solomons Island Museum to highlight the cultural and natural history of Southern Maryland. Models, paintings, expertly crafted woodcarvings, aquariums, fossils, and boats are among the indoor exhibitions on display. The outdoor displays consist of a boat basin, a river otter habitat, and a reconstructed salt marsh.
The Drum Point Lighthouse, a magnificently restored landmark with early 20th-century furnishings and year-round guided tours, is housed at the museum.
7. Take a tour of the Patuxent River Naval Air Museum
Since World War II, Patuxent River Naval Air Station has studied and improved the Navy's aircraft and flying systems. The museum, which is devoted to naval aviation research, development, testing, and evaluation, is situated in Southern Maryland's Lexington Park. Enjoy flight simulators and exhibitions that include weapons systems, naval aviation in space, an engine and propulsion demonstration, a gallery of art and photography, and more. More than 20 naval aircraft are on exhibit at an outdoor aircraft park. For gifts with an aviation or military theme, visit the Flightline Gift Shop.
8. Visit Mallows Bay Park
Mallows Bay Park, a National Marine Sanctuary and historic marvel in Nanjemoy, is a unique location for fishing, trekking, and animal watching. The largest ship graveyard in the Northern Hemisphere, the World War I Ghost Fleet, is located in the waters of the Potomac River near Mallows Bay. More than 200 known ships from the Revolutionary War and World War I are included in this varied collection of shipwrecks. Atlantic Canoe & Kayak can provide kayak excursions of the wreckage.
9. Visit Annmarie Garden 
The 30-acre sculpture park, which is on Solomons Island, has over 30 pieces from the Smithsonian Institution and the National Gallery of Art along a quarter-mile walking route. When Darkness Falls: Night Explorations and an ornament show and sale featuring hand-crafted ornaments by over 20 local artists are just a few of the displays that can be seen at the arts Building. Also available to visitors are a gift store and a café. There are several yearly festivals, family events, and community initiatives to choose from.
10. Look at a Former Plantation
The only Tidewater plantation now standing in Maryland that is fully interpreted and accessible to the general public is Historic Satterley, which is listed on the National Register of Historic Places. The property, which is situated in Hollywood, has close to 100 acres of open fields, gardens, and beaches, and it looks out over the picturesque Patuxent River. A 19th-century schoolhouse, a smokehouse, and an ancient slave cottage from the 1830s are among the site's outbuildings. There are both Speciality tours and guided tours of the 1703 Manor House available.
11. State Park at Point Lookout
The park in Scotland provides recreational activities including swimming, fishing, boating, and camping at the 143 forested campsites or six cottages accessible due to its position near the Chesapeake Bay and the Potomac River. Seasonal public activities and demonstrations commemorating the history and natural surroundings of Point Lookout, where more than 52,000 Confederate troops were imprisoned during the Civil War, are offered by the nearby Civil War Museum and Marshland Nature Center.
12. View Piney Point Lighthouse
The Piney Point Lighthouse, the oldest on the Potomac River, was built in 1836. A pier, kayak launch, boardwalk, picnic area, and sandy beach may be found at the six-acre Piney Point Lighthouse Museum & Historic Park (not for swimming or fishing). The state's first Historic Shipwreck Dive Preserve is located offshore and exhibits items from the German submarine U-1105 Black Panther during World War II. Historical wooden boats from the Chesapeake Bay are on display in a maritime exhibit.
Final words
All these are fun things to do in Maryland this weekend. You will not be able to visit all these attractions. Therefore, we encourage you to plan your visit accordingly and get the best experience possible.