You don't have to spend a fortune to go on a vacation. Even if you are broke, you can plan to go on a vacation and experience the positive effects coming on your way with it. Do you ever find yourself daydreaming about exotic locations, amazing photos, and life-changing adventures while reading through your social media feed?

Then you check your money balance when you wake up. Traveling on a budget may be intimidating for many people, and it might prevent some would-be travelers from seeing this amazing world. Here are 45 brilliant travel hacks for when you're broke as hell to help you make the most of your trip.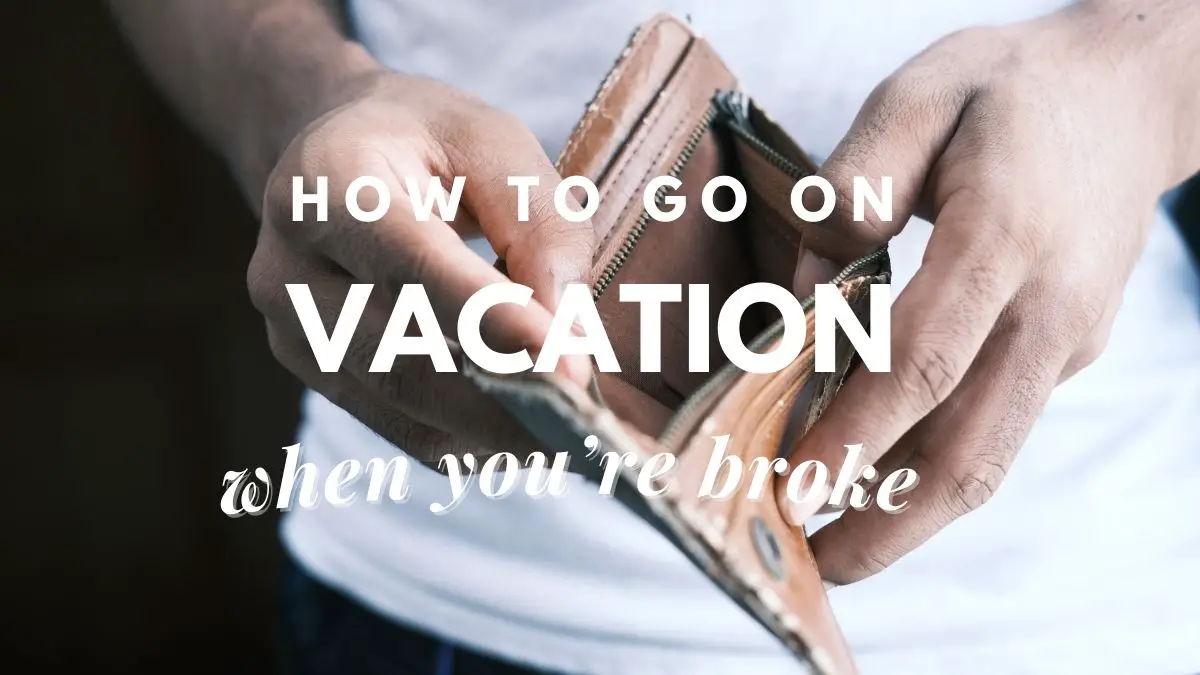 Try to travel during the off peak season
Keep in mind that travel is seasonal. In one nation, what is termed "off-peak" may not be in another. Various visitor seasons apply to different places, so do your homework. You can plan around price rises and tourist crowds with a little forethought!
Travel to countries with a lower standard of living than ours or during their off-season. Although the flights may be more expensive, lodging and activities throughout Southeast Asia, Eastern Europe, Africa, and even Latin America are reasonably priced. Furthermore, there are less visitors, allowing you to experience a variety of activities and scenery.
Read: Why Are Vacations Important?Learn about vacations that can help you with stress management
Stay at a hostel
This one should go without saying, but it cannot be emphasized how much more budget-friendly hostels are when compared to hotels, resorts, and rental houses. You'll not only save money (some hostel beds are as little as a few of dollars per night), but you'll also receive a real backpacking experience and lifelong memories.
Hostels come in all shapes and sizes: party hostels, peaceful hostels, exotic hostels, rural hostels, and so on. Some of its benefits include the fact that they generally have common spaces where people congregate, so you could wind up meeting someone with whom you can share transportation, supper, or day trips. These may be rented at the front desk.
The Hostelworld app is the most popular among travelers since it allows you to search for and book the lowest and best-rated lodging in the nation you desire to visit.
Join free classes for gathering new experiences
Many hostels throughout the world provide free lessons to its visitors. Yoga, learning to cook local food, and even taking a complimentary surf lesson may all help you relax. It's very simple to figure out which hostels provide the greatest free lessons for travelers with a little research.
Read: Is Traveling A Hobby? The Ultimate Guide To An Exciting Way Of Life Learn about the Downsides Of Traveling As A Hobby

Look for hostels that offer free meals
Although it may seem self-evident, many hostels provide complimentary meals. Of course, breakfast is usually included, but hostels all over the world provide baked goods, BBQ, pizza evenings, and much more. Get some free food to take with you while you're out exploring for the day! Some hostel foods are far more delectable than you may expect.
Pick the best route to save money
Tourist traps may be a complete financial nightmare. Sure, they're popular for a reason, but no matter where you go, there will be so many great things to see, people to meet, and cuisine to sample that you won't have to pay a fortune or wait in line for hours just to get nearby! Even places that appear to be a bit off-the-beaten-path are gaining popularity among travelers as their hidden charms are unearthed.
Read: Why are vacations so stressful?Learn about assuming that travel will help you solve all your problems
Value experiences above anything
Souvenirs are a waste of money. Seriously! Instead of taking back a bag full of tourist trinkets, why not concentrate on gathering memories and experiences rather than tangible items? It makes your travels a lot more enjoyable, your luggage a lot lighter, and your pocketbook a whole lot fatter.
Work for a hostel
Working in hostels might help you save even more money on your lodging. The majority of hostels require cleaners and receptionists, and many offer job exchange programs in which you spend a few hours each day in return for free lodging.
The same is true for several shipping firms, who will transport you to your destination for free if you offer a hand.
Reduce visa expenses as much as possible
Some countries do not require visas for short-term visitors, while others charge a fee for the privilege. Be mindful of what you're getting yourself into since you may arrange your trip around visa-free places.
Make a reservation ahead of time
Another thing to keep in mind is that costs typically rise as you approach closer to your vacation. Booking train tickets, hostel beds, and, of course, air travel ahead of time ensures you won't be forced to pay more for a nicer accommodation or a last-minute price hike.
Use private browsing for bookings
When looking for flights, make careful to erase your browser cookies and even utilize a private/incognito window. Websites have a strange way of remembering what rates you've been offered in the past, so be sure you're shopping on the quiet!
Read: How To Eat Healthy On Vacation [Answered]Learn about the healthy meal plan even before you leave
Use VPNs to secure the best deals
Prices vary based on where you make your reservation. You may make it appear as if you're booking from another location by installing a basic VPN on your computer. It's definitely worth giving it a shot and shopping around for the best discounts!
Look for loyalty points
It's likely that your travels will take you far enough away that you'll need to fly at some time. Joining a frequent flyer program and accruing miles/points is absolutely worthwhile. They pile up over time and might help you earn cheap flights and upgrades!
Get the most out of sales events
Skip directly to the flight sites and Hostelworld during the Black Friday and Boxing Day Sales, when people are stocking up on new TVs and iPads. Your pocketbook will be grateful!
Don't pack too much
By simply bringing carry-on luggage and avoiding checked luggage costs, you may save even more money when travelling.
Check out our packing recommendations for hostels to make sure you don't bring more than you need. Check the terms and conditions ahead of time to ensure you don't incur any airline fees. They're all right here for you to make things simple!
Rent a bike
Rent a bicycle when you need to go a little further. It not only allows you to move about on a budget, but it also keeps you in shape!
Read: Plane vs rental car on vacation – (pro's and cons)Learn about the what experiences matter the most?
Look for an alternative airport
It's all about switching things up! A journey from London to New York may appear to be costly, but if the outward and return flights depart from separate airports in the two cities, you may save a significant amount of money. Furthermore, some countries and airlines may give discounts simply for stopping in their country for a stopover. If you stop in Iceland, for example, the travel from NYC to LDN becomes much more manageable.
Another suggestion is to fly out of nearby airports. If you wish to visit Laos or Burma, for example, the best choice is to travel to Bangkok (you do not need a visa to enter Thailand) and then seek for flights from local firms to your ultimate destination. Many times, there is also the alternative of taking the bus, which is significantly less expensive. Traveling to Australia or New Zealand from Southeast Asia may be surprisingly inexpensive. It just takes a few hours to figure out the finest combos. The same is true whether we wish to visit the Caribbean from the United States or go around Europe.
Be flexible with your travel plans
This may be one of the most significant characteristics for a budget-conscious traveler. Being able to change plans and cancel them at the last minute will allow you to take advantage of last-minute bargains and chances when traveling. Don't get too caught up in your plans.
There are two sorts of individuals in the world: those who can take their vacations whenever they choose throughout the year, and those who must leave in August. The first group has it easy: search for flights and fly on the cheapest. The second group may acquire cheap trips by traveling to locations that are in low season.
Do your homework before traveling
It's a no-brainer. Rushing into plans is one of the costliest mistakes a budget traveler can make. It may be tempting, and taking your time might be inconvenient at times, but take some time to read some inspiring and informative blog articles, shop about, chat to other travelers, read reviews, and so on.
Have contacts with other travelers
Experience, and who better to ask than genuine travelers, is perhaps the finest source of money-saving wisdom. Talk to anybody you know who has gone backpacking, and read real forums and articles written by individuals who have already done it.
Hostels offer the benefit of having communal spaces where people may mingle, so you can wind up meeting someone to share transportation, supper, or adventures with. Some of them may be rented directly from the front desk.
Read: [20 tips] Staying With Friends And Family On VacationLearn about involve everyone in the planning
Buy goods from the nearby markets
Consume seasonal and regional foods. Closer inspection of the local market's pricing and offerings is recommended. The cheaper option is what you can locate most readily.
Try new things
We all have long bucket lists, but don't let them rule your life! Some of the world's most incredible places aren't yet on your radar, but they're well worth the journey. They are frequently also less expensive. This year, a slew of previously unknown places have emerged as backpacker hotspots, owing in part to the fact that they are less expensive than the typical hotspots while still packing a punch.
Take food along with you
Prepare your pockets for the journey! Bring food from home, shop at supermarkets rather than restaurants, and so forth. It may not be as glamorous as dining in posh cafés and restaurants, but it is a money saver.
Use public transportation when traveling at night
When planning a country's itinerary, it's helpful to see what airlines are available and what their internal flight rates are. These are sometimes comparable to other modes of transportation; thus, they are cost-effective, especially if you are short on time. If flying is prohibitively expensive, taking public transportation is one of the most cost-effective methods to explore a nation. Because the distances might be rather vast at times, it is preferable to go at night.
There are a lot of bus beds in Asia, but you may also find them on trains in India and Europe. Not only is time saved, but also the night of lodging is saved. Another alternative is to set the auto-stop feature. Before you take off, check to verify if the location you'll be visiting is safe. This technique is common in New Zealand, where it is relatively easy to find a car.
Read: Paddleboards VS Kayaks – What Is The Best Choice For Your Next Vacation? Learn about the level of control
Walk as much as possible
Walking tours are one of the most enjoyable methods to learn about a new city. They're frequently free and guided by knowledgeable locals. You will become a walker as a result of your travels. It's incredible to see vast swaths of countryside on a moped or via bus, but whenever you can (particularly if you're in a city), stretch those legs and go for a walk! You'll burn some calories, save some money, and gain a better understanding of the nooks and crannies of your selected city.
Visit free art galleries and museums
Free museums abound in places like London and Berlin, with vast collections of art and history available for public inspection. Other cities charge a modest price for museum admission, although even those locations regularly offer discounts and even free days. Look it up on the internet!
Master the art of bartering
Bargaining a price lower than the asking price is common in many cultures. It may not feel good, but it's quite natural. But you must also know when to call it a day and pay a reasonable amount.
Final words
Now you know how to go ahead with your vacations without spending a fortune. Focus on these tips and you will find a way to enjoy your vacations, even if you are broke.