Ashland is a cultural center in Southern Oregon's Rogue Valley, surrounded by beautiful natural landscapes. World-famous Shakespeare performances and 100-acre municipal parks are only two of the city's many attractions. Indulging in the region's native agriculture and spending the day shopping and eating in a gorgeous downtown center are among popular activities. If you wonder what to do in Ashland Oregon, you may continue to read this.

The most people come to Ashland during the famed Oregon Shakespeare Festival. This long-running show runs from February to October and has nearly 700 performances. The Elizabethan Theatre's and theatrical actors' enthusiasm spreads throughout Ashland, creating a distinct aura seen in few other cities in the nation. The adjacent Oregon Cabaret Theatre provides distinct meal menus with each play for additional theatrical showings.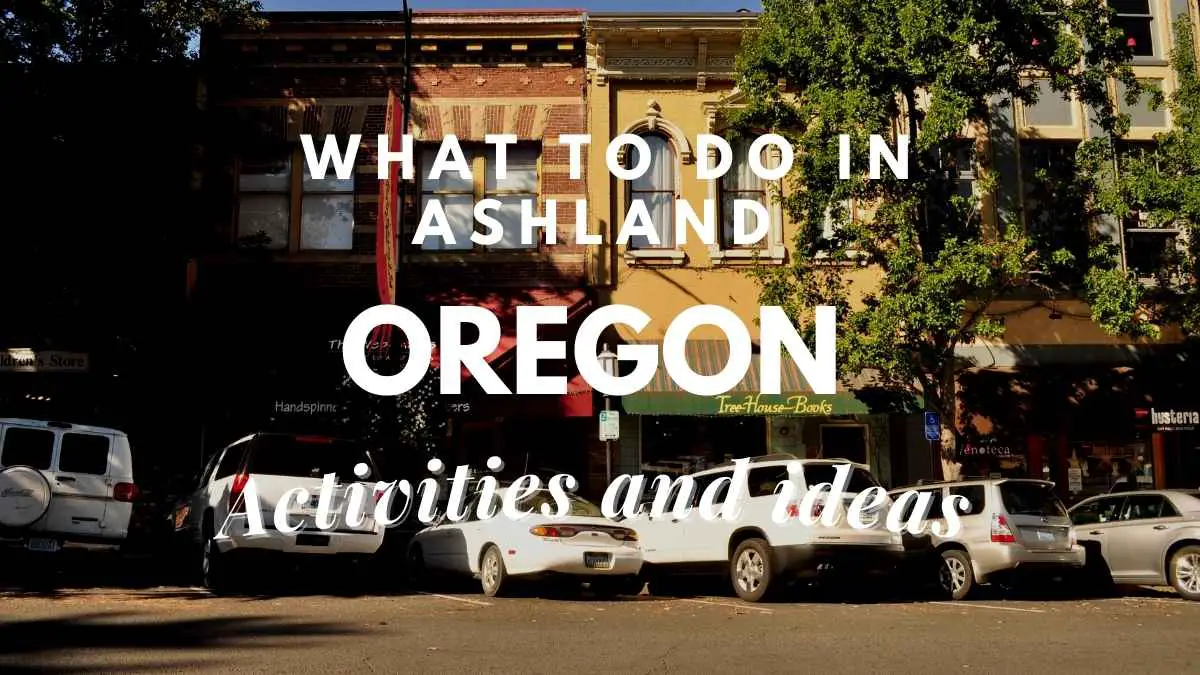 1. Shakespeare Festival in Oregon
The Oregon Shakespeare Festival is Ashland's most well-known attraction. It's one of the country's oldest and biggest non-profit theaters, commemorating over 80 years of Shakespeare productions and attracting worldwide attention with over 700 performances each year.
In downtown Ashland, the Oregon Shakespeare Festival takes place on three stages. The season usually runs from February through October, with 11 distinct acts being performed many times. The neighboring downtown sector is alive with the enthusiasm of theatergoers making their way to their seats on any given day of a production. This vigor infuses the town with an infectious sense of anticipation, making parking a struggle.
While the Angus Bowmer Theatre and the Thomas Theatre put on fantastic performances, the Allen Elizabethan Theatre offers the most realistic Shakespeare experience. Attending a play at the Allen Elizabethan Theatre is a one-of-a-kind experience in Oregon, with an outdoor stage and two decks of seats.
Pre-show entertainment is free and takes place in the Green Show Courtyard and Stage, which features live music from local and regional artists. Additionally, prior reservations are required for unique behind-the-scenes tours of the various theaters. For a leg stretch before or after the play, Lithia Park has a plethora of hiking routes and gorgeous picnic sites.
Read: Is Traveling A Hobby? The Ultimate Guide To An Exciting Way Of Life Learn about the Downsides Of Traveling As A Hobby

2. Lithia Park
Lithia Park is Ashland's crown gem natural environment. This linear park, which stretches south from downtown and follows the winding banks of Ashland Creek for nearly 100 acres, uncovers hidden jewels and distinctive park facilities at every turn. This is a place that we highly recommend to people who wonder what to do in Ashland Oregon.
With a short stroll, you may find a Japanese Garden, gorgeous bandshell, and artistic fountain at Lithia Park, which also has picnic places and meeting areas. The sheer number of things to do at Lithia Park might be overwhelming while exploring the public area, but the park's linear layout and popularity make it difficult to get lost.
The Oregon Shakespeare Festival's public activities and overflow take place in Lithia Park's north end. This part of the park also has a number of downtown eateries, providing excellent outside sitting with views of the manicured environs.
3. Ashland's downtown
Downtown Ashland is lined with local eateries, interesting businesses, and a lot of personality. This attractive retail and eating district is anchored by a historic downtown plaza with an odiferous mineral water fountain. With garden-lined paths and vibrant storefronts, walking through the heart of this downtown area is reminiscent of European street markets.
The closeness of the Oregon Shakespeare Festival's stages to downtown adds to the European feel. Expect throngs of people to line the streets before and after a performance. The large Lithia Park's northern edge links to downtown, providing a convenient escape from any throngs that may form.
Oberon's Restaurant serves fragrant meals such Shepard's pie and beef stew, as well as Shakespearean-themed cuisine and décor. Greenleaf is another renowned downtown eatery that serves fresh food at all hours of the day. Other Shakespearean souvenirs may be found in the Tudor Guild Shop, and Bloomsbury Books is Ashland's archetypal neighborhood bookshop.
Throughout the year, a variety of events take place in downtown Ashland, including the Ashland Saturday Market, which has fresh fruits, flowers, and vegetables. Once a month, a block party-style First Friday Artwalk takes place downtown.
4. Rogue River
From its headwaters in Crater Lake to the beach at Gold Beach, the Rogue River carves a path through the terrain and creates a thriving community on both sides. The river's banks and the Rogue Valley that follows are surrounded by a plethora of recreational, scenic, and tasty attractions, including lots of water activities.
The Wild and Scenic Lower Rogue River, with lodge-to-lodge rafting excursions and world-renowned white water, is one of the top paddling adventures in the country. Paddlers come from all over the nation to paddle the Lower Rogue during the season, which runs from April through October. Putting a boat on the water requires the acquisition of a permit.
Rogue Jet Boat Adventures, located a half-hour north of Ashland and leaving from the gorgeous and historic Table Rock Area, offers a fast-paced and guided trip on the lake. The guided tour, which includes spectacular views of both Upper and Lower Table Rock, explores the history of the nearby Rogue Valley, with a focus on the region's original people. TouVelle Park, where jet boat riders congregate, is also a nice spot for a picnic or a brief plunge in the river.
The Natural Bridge of the Rogue River, located north of Crater Lake and the river's headwaters, exemplifies the unique beauty seen along the river's banks. The route to this unusual natural structure, which was formed when the river abruptly turned sideways creating a 250-foot lava tube, is paved and easily accessible. Salmon fishing and hiking the Rogue River National Recreation Trail are two more popular activities on the Rogue River.
5. Emigrant Lake County Park
Within a thirty-minute drive of Ashland, the wide-reaching shores of Emigrant Lake attract all forms of summer activities. Boating, swimming, and spending the night near the water are all popular pastimes. Because of its closeness, it is a popular weekend and after-work destination.
The impoundment of the Rogue River created this 800-acre reservoir. It has two campsites that cater only to tents or RVs, respectively. At Emigrant Lake, there are also group campsites.
6. Lake Crater
Crater Lake is one of the greatest natural wonders of the American West, yet it's just about an hour's drive from Ashland. An old caldera was built by a major volcanic explosion over 7,000 years ago, resulting in this spectacular natural scenery. It is presently the deepest natural lake in the United States, filled with crystal blue snowmelt and precipitation.
Traveling along the Rim Trail and gazing in amazement at the magnificence below is the most popular thing to do in Crater Lake. The Rim Trail is also one of the greatest day walks on the Pacific Crest Trail, and the park's Mazama Campground's hiker/biker sites are often packed with thru hikers staying the night. With approximately 200 sites available, the campsite can accommodate tents and RVs.
Hikers may take a boat across Crater Lake to reach the jutting Wizard Island for further activities. In the winter, the Rim Road is unplowed and ideal for cross-country skiing and snowshoeing.
7. Cabaret Theatre of Oregon
The Oregon Cabaret Theatre in Ashland provides supper and a performance as an added theatrical attraction. The present performance venue was converted from an ancient church in the area, giving each performance a dramatic feel.
The Oregon Cabaret Theatre hosts a range of performances, including season-long productions and one-night-only events. Before each show, guests may enjoy appetizers, supper, and informal conversation, with each play having its own menu.
8. Ashland Ski Area
Mt. Ashland Ski Resort Mount Ashland is one of the region's most popular winter ski resorts. It surrounds the city's highest peak in the Siskiyou Mountains to the south, and it's about an hour's drive from Ashland. On snowy weekends throughout the winter, this closeness tends to crowd the slopes.
Mount Ashland is 200 acres in size and has 23 named routes, so there's plenty of area to stretch out. Some of the routes approach Mount Ashland's major mountain terrain and are only for experienced skiers and snowboarders.
Because of its affordability, the mountain is also a local favorite. During peak season, lift tickets are roughly $60, with special specials and reductions available. The mountain also attracts visitors with annual winter events such as the Midwinter Jam Series and the Dummy Downhill.
9. ScienceWorks Interactive Museum
Since 2002, ScienceWorks Hands-On Museum has been engaging youngsters in the Rogue Valley with a variety of interactive displays geared at inspiring creativity. A Wild Music multimedia display and a dedicated Discovery Island for children aged five and under are popular exhibits at this children's museum.
Science Camps at the museum are popular with both parents and children, and regular seminars and activities provide entertainment for the whole family. On the first Sunday of each month, the museum offers discounted entry.
Final words
Now you have answers to the question what to do in Ashland Oregon. Pay attention to all these facts and make sure that you plan your tour accordingly to get the best experience.