Charleston is the place to go if you want to see exquisite pastel-colored houses and brave bay waves. Charleston's downtown parks, beaches, and even the locations of the opening shots of the American Civil War are available to the public to recreate the historic occasion. It is, nonetheless, known for its gloomy heavy downpours. These are the best things to do in Charleston when it rains.

So, what do you do if you've planned a day of exploration and it suddenly begins raining? Will you cancel, reschedule, or stay at the hotel for the day? Certainly not! We've compiled a list of the best 10 indoor fun things in Charleston for you, ranging from discovering marine life underwater to dancing your heart out. The best activities to do inside in Charleston, South Carolina, while it rains are listed below.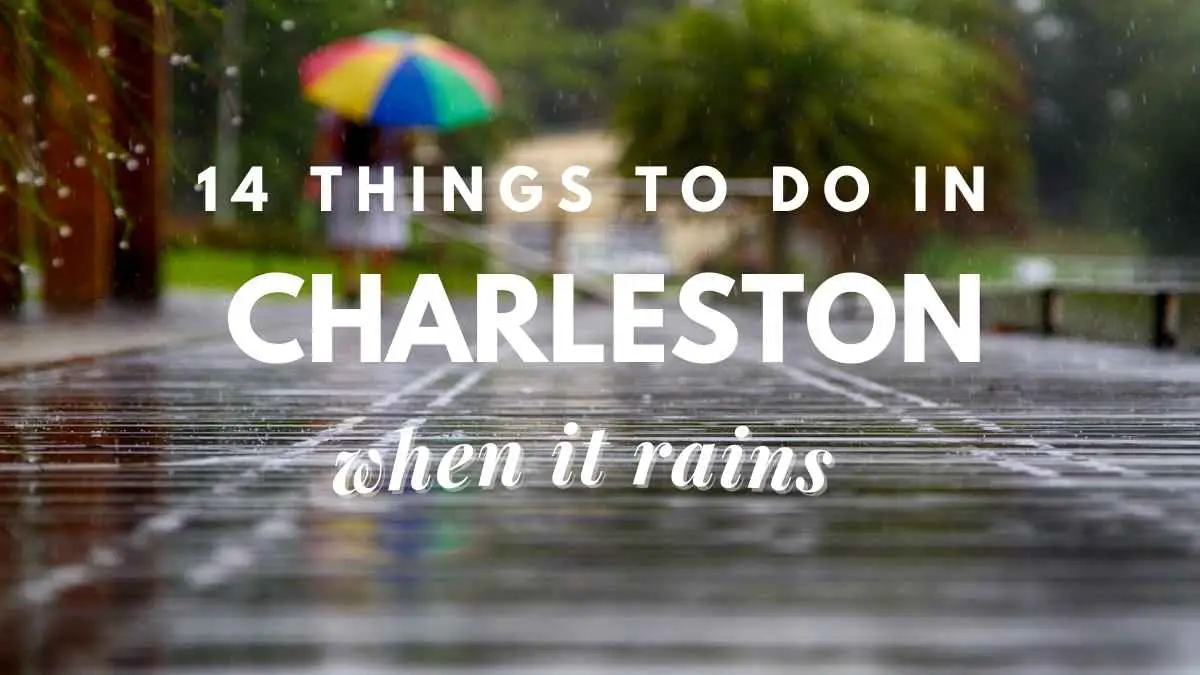 1. Visit Candlefish and try your hand at manufacturing candles.
Enter Candlefish's candle-making class, where exotic scents such as citrus and gourmand permeate the air. You may check their calendar online in advance to make time for this unique experience, since seminars are held every week by their professional chandlers. As you learn the subtleties of this age-old candle-making art, "Be Your Own Boss." All of the glassware you'll need for the workshop is provided, and their knowledgeable chandlers will walk you through each step.
Mix and blend your favorite smells or use your customized candle to take the finest selfie in the library. The candle you build is yours to take home and relight, bringing back memories of the workshop when the rain falls outside your window.
Read: Is Traveling A Hobby? The Ultimate Guide To An Exciting Way Of Life Learn about the Downsides Of Traveling As A Hobby

2. Take your kids to the Lowcountry Children's Museum.
Showers that come unexpectedly might make youngsters grumpy. The Lowcountry Children's Museum is the perfect location to lighten up. Your children will explore, learn, and develop without losing out on any outdoor enjoyment for a nominal entry price. This Children's Museum is available to children of all ages and is designed to help them develop problem-solving and spatial awareness skills via play.
3. Sky Zone Charleston Trampoline Park will bring out your inner kid.
At the Sky Zone Charleston Trampoline Park, you can burn off those excess calories while having fun with your kids. Spend your time inside indulging in nonstop aerial action such as dodgeball and a never-before-seen version of Wipeout. Why should you? Time does not stop here, so why should you? When the sun sets, the trampoline park transforms into a chaotic bouncing dance party complete with lasers, music, and blacklight.
4. Laugh out loud at Theatre 99 with comedians.
Theatre 99 is a one-stop shop for comedy with a dash of sarcasm. This internationally acclaimed theater group promotes stand-up comedy, music, and even cabaret. Kill the dullness of rainy days by joining the riot of improv comedy at Theatre 99. Your stay here will be an unscripted experience, with tickets beginning at $5 USD.
5. See an IMAX film at Citadel Mall Stadium 16
On a rainy day, what could be better than a 3D movie, buttery popcorn, and your partner? To avoid the weather, choose your favorite film and travel to Citadel Mall Stadium 16 with IMAX. Depending on the genre or age group, you may pick from a variety of categories. The House of Screams is a must-see for horror movie fans, while those who like alternative cinema can check out some independent films.
6. Complete the riddles at Escape in 60 minutes.
Have you ever wondered how Sherlock manages to complete everything in under 60 seconds? Escape 60 is the solution. This real-life adventure game is for small groups and is meant to activate nerve cells and keep you thinking on your feet. Use the tips and clues scattered across the area to find your way out of the escape rooms. Depending on your agility and experience, choose your own journey. During this 60-minute adrenaline rush, crack ciphers while creating a bond with your spouse or family.
7. Visit the Citadel Mall and shop till you drop.
What are you going to do when it's raining outside? The most apparent option is to shop till you drop. Citadel Mall is the ideal shopping destination for everyone. While you may not be the only one seeking shelter here on a wet day, the mall's 1,138,527 square feet (105,773 square meters) of space allows for a wide range of entertainment and shopping alternatives. You'll be spoiled for choice with more than 100 retailers, including world-famous brands like Bath & Body Works, Victoria's Secret, Belk, LOFT, Target, and more. At VKSI Salon, you may have sesame burgers or boost your oomph factor. The Citadel Mall also features a play area for the youngsters to keep them occupied while you relax.
8. At the Music Farm LESLIE – CD Release Show, make eye contact with your favorite performer!
The Music Farm hosts around 200 events every year, so it's not uncommon to see your favorite performer there. Rock, hip hop, EDM, bluegrass, country, jam, and alternative rock artists are all invited to perform and get much-deserved attention from the local audience. Stay indoors and find some new tracks to add to your jukebox while it rains outside.
9. Pay a visit to the Gibbes Museum of Art
Although not everyone understands painting, everyone appreciates vibrant color splashed on a blank canvas. Whether you like modern art or not, a visit to the Gibbes Museum of Art will not only inspire you but also make you want to see more. The Gibbes possesses one of the most prominent American portrait miniature collections in the nation, having housed the first-ever American miniatures. These paintings are the sole source of information on the private lives of American people and families before the advent of cameras to record events.
10. Go to the South Carolina Aquarium to learn about aquatic life.
Hold your breath and delve into the realm of sea horses, crabs, and tiger sharks as it rains outside. The South Carolina Aquarium, which houses over 5,000 animal species, will astonish you with the rarest of the rare varieties of fish, ranging from brook trout to Spanish hogfish and herons to puffer fish. At the Touch Tank, you can not only touch but also feel purple urchins, Atlantic stingrays, hermit crabs, whelks, and starfish. Another fascinating experience is seeing all of your favorite marine animals in their natural environment via the Great Ocean Tank, a two-story glass tank with a capacity of 385,000 gallons.
11. Calhoun Mansion
The colorful historic mansions in Charleston are well-known. We've all seen the classic photos of Rainbow Row, after all. But, if the weather isn't cooperating, which home tour should you take? A tour to Calhoun Mansion, in my opinion, is a fantastic way to spend a wet day in Charleston.
While other home tours involve wandering the grounds and outdoors, the tour of the Calhoun Mansion keeps you completely dry inside. The tours run around one hour. Calhoun Mansion hasn't been restored to its former glory as it was in the late 1800s. If you're seeking for historical authenticity, this isn't the place to go.
Instead, the Calhoun Mansion's numerous magnificent antiques transport you to the excessively extravagant Glided Age. A visit to the Calhoun Mansion is also like taking a great tour of the globe. Pieces from all across the world are included in the collection.
12. At Pounce Cafe, you may cuddle with cats.
Pounce Cafe is a female-owned establishment that accepts cats from the Charleston Animal Society. These cats are up for adoption, so on a gloomy day, you could meet your new best friend. Even if you are unable to adopt, you are assisting with the socialization of the cats, which is a wonderful cause.
First, conduct some research on the top restaurants in Charleston. Choose a cluster that is near to one another, then visit the bars and taste appetizers at each location. Shrimp and grits, banana coconut cream pie, and BBQ ribs are all excellent cures for the rainy-day blues in Charleston. It's possible that your clothes sizes may grow, but it'll be worth it.
13. The Charleston Museum
Another fantastic way to remain engaged in the weather is to visit the Charleston Museum. In addition, Charleston features a number of tiny museums that would be ideal for a rainy-day visit. Make sure to bring a good guidebook with you so you can learn about the top museums in this ancient city.
The Charleston Museum will teach you all you need to know about the port city's complicated and often terrible past. There include displays on Native Americans, colonial settlers, slaves, and other topics. Charleston's participation in the Civil War is commemorated in a separate space. While looking at the many relics on exhibit, history aficionados will find enough to read. In addition, the Charleston Museum features an entire floor devoted to natural history. You'll even come upon a mummy!
14. Visit Dock Street Theatre for a performance
Are you as enthusiastic about theater as I am? Then you're in luck in Charleston, since it features one of the most interesting theaters I've ever seen on my travels. The historic French Quarter of Charleston is home to the Dock Street Theatre. Set aside time on a wet night to catch a performance at this historic theater.
Because there are over 100 shows each season, you'll almost certainly be able to watch one no matter when you visit Charleston. The theater is also rather large, so you should have no trouble finding a seat that fits within your vacation budget. The decor is stunning, and Charleston is home to a slew of local talent that would be grateful for your assistance.
Final words
These are the best things to do in Charleston when it rains. Keep these activities in mind and you will never hate rainy days in Charleston.