Taking a fantastic trip is arguably the best way to decompress. However, many people find that vacation preparation may be a source of additional stress. Vacations are meant to be relaxing, but the planning for them is rarely so. When planning the details of your trip, questions like where to go, what to do, and how to get there will certainly arise.

When arranging a vacation, there are several alternatives to consider. To alleviate some of the burden associated with planning a vacation, some families and individuals use a travel agency or other travel service. A cruise holiday provides the tourist with numerous advantages, including a range of alternatives in one area. This is one of the reasons why cruises are becoming a more popular option for people and families looking to make the most of their holiday.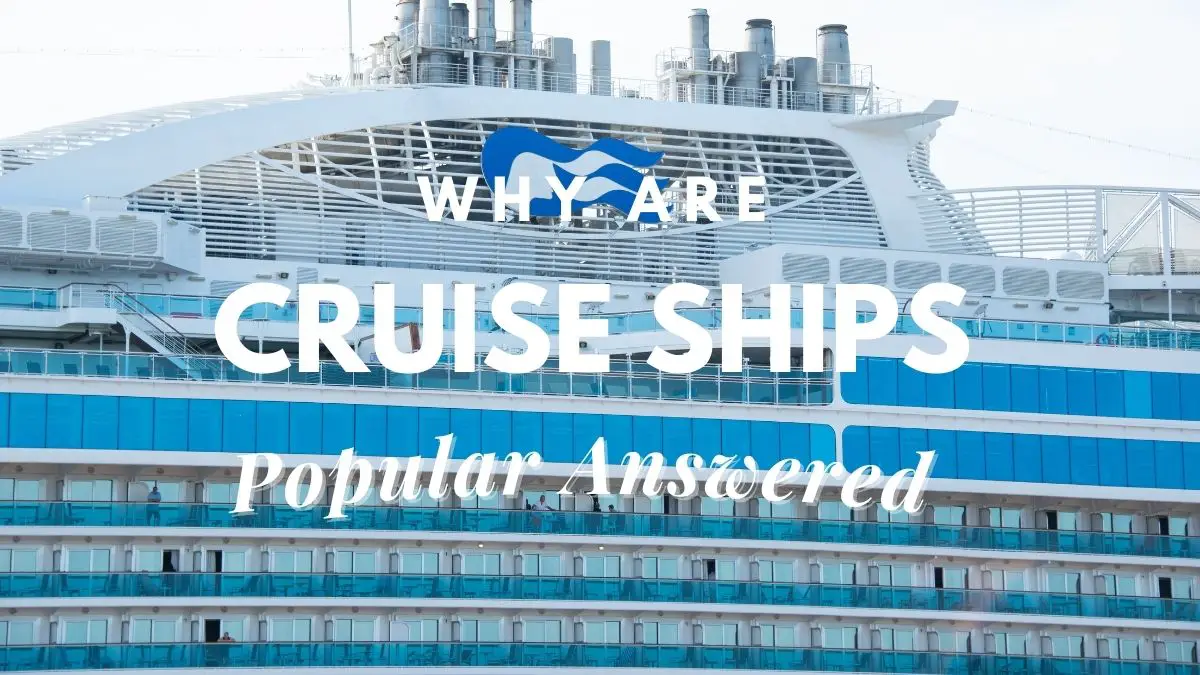 Reasons on why cruise ships are so popular
The number of cruise lines and cruise alternatives has increased in recent years, which is symptomatic of a broader trend in the tourism industry. For visitors wanting a distinct brand of fun and relaxation, themed cruises such as family cruises, singles cruises, and golf cruises are offered. Cruises are popular for a variety of reasons.  Let's take a look at the most prominent reasons out of them.
Read: Why Are Cruise Ships So Expensive [Answered]Learn about the crew's size and pay
1. Cruise ships are worth the amount you spend
For the budget traveler, cruises are a fantastic option. Because everything is available as part of a package, the bulk of your and your family's needs, such as transportation and varied lodgings, are covered. Many packages also include airfare. Even a short vacation may become pricey when you include in airfare, hotel accommodations, a rental vehicle, and food. Taking a cruise solves this difficulty by combining all of these expenditures into one convenient bundle.
2. You can get a comprehensive vacation on a cruise ship
There aren't many vacation choices that provide the same all-encompassing experience as a cruise trip. You may visit various places while on a cruise without having to change accommodations or continuously load and unpack your stuff. A cruise trip allows you to choose from a variety of entertainment and excellent dining alternatives, many of which are within walking distance of your accommodation.
The majority of cruise ships have evening entertainment, which may include comedians, live bands, and other live performances. They also have dancing, casinos, and other children's entertainment alternatives. Sunbathing, swimming, shuffleboard, and other outdoor activities are available on the deck. All of this may be experienced while on your way to your next destination. When the ship docks, passengers may visit the various places and enjoy the local culture. There's no need to go through the phone book or maps to find eateries because they're all there aboard the ship.
Read: Why are cruise ships called floating hotels?Learn about concierges and front desk workers work at hotels. Is it the same for ships?
3. Cruises offer great food
When it comes to cuisine, most cruise ships employ top-notch chefs and cooks in their kitchens. Many of these chefs have completed their education at top culinary schools and come highly recommended. For example, Carnival Cruise Lines has appointed Georges Blanc, a world-renowned master chef from France, as its trademark chef.
Most cruise ships include a variety of dining options and eateries. Families will like the cruise experience because there are menu selections to suit everyone's tastes. Family eating is made more pleasurable by the availability of kid-friendly cuisine as well as sophisticated dining options.
4. It is a perfect choice for a family vacation
Family holidays aboard cruises allow families to stay together while taking different vacations. Many cruises cater to the entire family, including daycare facilities where children may participate in activities planned just for them. Parents may have some adult time at the same time. For families that wish to spend more time together, several cruises provide family-friendly entertainment. Families can spend a week or more together on a cruise without interfering with each other's plans. Everyone can go their own way before gathering as a family for meals and other activities.
Read: Plane VS Cruise Ship On Vacation – What Is The Best Option?Learn about which one is better?
5. You can pamper yourself during the cruise ship travel
The pampering possibilities onboard a cruise ship make it an obvious choice for the weary traveler because rest and renewal are typically the ultimate aim of any holiday. Massages, sunbathing, complimentary babysitting, spa treatments, and hot tubs are just a few of the amenities available on a cruise ship.
On a cruise, both parents and children are indulged. Parents may enjoy a peaceful afternoon of massages, hot tubs, and sunbathing while their children run, jump, swim, and play while being watched after by competent personnel just down the deck from their parents. Later in the evening, the family may gather for some great dining and leisure. Finally, everyone may retire to their cabins for a restful night's sleep before embarking on another day of pampering and enjoyment.
6. You can witness changing ocean views
When you stay at a resort, you have one and only one view for the duration of your stay. On a trip, your perspective will continually change, whether you are traveling through the Inside Passage, Glacier Bay, Norway's fjords, or the Caribbean islands.
Read: [18 Reasons] to stay at a hotel instead of airbnbLearn about that you can switch suites or rooms as needed
7. It is a convenient option to visit multiple locations
Cruising allows you to visit multiple locations while only unpacking once. There will be no checking in and out of multiple hotels, nor will there be any unpacking or packing at each location you visit. Unpack on the day of departure and you're ready to go for the duration of your trip. It doesn't get much more straightforward than that.
8. You will not waste time by driving in between locations
Waiting at airports when you fly from one city or island to another will squander your valuable vacation time. One of the primary advantages of taking a cruise is that no time is wasted commuting between destinations. You may have supper, see a Broadway or comedy play, or even get a spa treatment while traveling from one location to another. It doesn't get any better than that when it comes to travel.
9. You get the opportunity to experience different foods
Are you afraid of ordering something in a restaurant that you've never tried before and then having to pay for something you didn't like? One of my favorite aspects about sailing is the ability to sample different food at no additional cost. This has given me the opportunity to taste frog legs, alligator, escargot, and a range of other dishes.
Read: [16 Reasons] To Stay At An Airbnb Instead Of A HotelLearn about the exclusive Airbnb discounts
10. You can get a worthy experience for the amount you spend
A cruise's value is unrivaled among the various types of holidays available. Cruises typically start at approximately $50-70 per person per day for an inside cabin (but I have seen them as low as $30). This covers all of your meals, accommodation, entertainment, and transportation between ports.
11. Broadway-style shows at no extra charge
Broadway-style shows are provided free of charge on cruise ships. From CATS on Oasis of the Seas to Witches of Paris on MSC Divina, you may enjoy a fantastic show for no additional cost.
12. Sunrises and sunsets at sea
Sunrises and sunsets at sea are breathtaking. Every day of your vacation on a cruise, you get to experience both. On a cruise, there are no poor sights since you get a 360-degree view of the sea.
13. Cruising brings out the best in people
Cruising brings out a side of people that you wouldn't see on land. Grandmas and grandpas dancing on the pool deck like they're 60 years younger never gets old for me. Is it the sea's motion or the salty air? Whatever it is, I pray it never comes to an end.
Read: Biggest Lakes In Texas [Top 20]

Learn about the largest natural lake in Texas
14. It's more addictive than any previous trip
Anyone who has taken a cruise can attest to how addictive they can be. "If you are not on a cruise, you are either planning or dreaming about your next one," goes the saying. What is it about them that makes them so addictive? Because a cruise is the most enjoyable form of vacation.
15. You can have fun during the travel time
The more enigmatic the location, the more difficult it is to reach it. On land, this frequently entails long, dull trips or, even worse, airport layovers that aren't quite long enough to get anywhere but are too long to wait. You will not be wasting your time like that with the cruise adventures. That's because you are provided the chance to have fun as you travel. This is something that you will fall in love with.
16. You can plan without getting stressed
When you don't have to worry about the practicalities of your trip, it's such a relief! A cruise is a handy method to explore several locations while avoiding the stress of dealing with local hotels, restaurants, and transportation. There will be no more searching for a hotel in the middle of the night, no more following maps, and no more worrying about finding a nice restaurant.
Read: Why Are Vacations Important?Learn about vacations that can help you with stress management
17. There's something for everyone onboard
Whatever your age or level of activity, you'll find plenty of onboard choices to keep you occupied, or not, as the choice is entirely yours. Every evening, a Freestyle Daily newsletter will be brought to your cabin, detailing the activities for the following day, allowing you to plan your day according to your preferences. There are pools and a spa on board, as well as shops, a casino, and Broadway-style entertainment. Are you concerned about your children's safety? Norwegian Cruise Line offers a free children program for ages 3 to 17, as well as a nursery for babies aged 6 months to under 3 on select ships.
Read: Is Traveling A Hobby? The Ultimate Guide To An Exciting Way Of Life Learn about the Downsides Of Traveling As A Hobby

18. You can find numerous options to select
Today's cruise experience may be tailored to meet your specific needs, with a wide range of activities available both on board and ashore. You have total control over your voyage: you choose the cruise location that includes the ports of call you want to see. You may then pick shore excursions based on your interests, and you won't have to deal with the hassles of not understanding a foreign language or figuring out foreign currency conversion rates. Norwegian Cruise Line is always introducing new ports to their itineraries, giving you even more options for your next cruise.
19.You can easily explore multiple destinations
More significantly, unlike when visiting numerous places, a cruise holiday allows you to unpack and settle into your cabin without the stress of having to transfer your stuff. Nothing irritates me more than checking into a hotel and then having to pack everything up again in order to move to the next location.
Read: How to go on vacation when you're brokeLearn about to travel during the off peak season
20. Cruise vacations benefit your health
Taking a cruise, according to CLIA, may be advantageous to your health! A cruise experience includes sunlight, fresh ocean air, and the advantages of salt water, whether in the ship's pool or on a tropical beach, in addition to alternatives for healthy food, down time/activities, relaxation, and socializing. Did I mention that you'll be pampered? Nothing is more beneficial to your health than happiness.
21. There are affordable cruise options
A cruise is a holiday that gives you a lot of bang for your buck! You'll pay one flat cost, allowing you to stretch your holiday money farther, and a cruise includes meals and top-notch onboard entertainment. You may also pay in advance for any shore excursions, allowing you to keep to your holiday budget. Norwegian Trip Line has a number of fantastic deals to take advantage of, including their renowned Free at Sea program, which allows you to select value-added features such as free Wi-Fi or an endless open bar depending on when you book your cruise.
Read: Why are vacations so stressful?Learn about assuming that travel will help you solve all your problems
Final words
Because of the value, cuisine, pampering, and family-friendly, all-in-one ambiance, many people select cruises for their holidays. Romance, diversity, reunions, new experiences, and simplicity are just a few of the reasons why people choose to go on a cruise holiday. A cruise is a fantastic value for money, giving relaxation and pleasure in a family-friendly environment with superb cuisine and entertainment all in one convenient place.