Many would seize the opportunity to discard all of their contemporary sensibilities and enjoy the simple life of the cowboy in the fast-paced and chaotic tech-driven age. Even though a lot has changed since their heyday, Montana's dude ranches nevertheless manage to retain some of the old west's allure.

These locations will take you back in time to a simpler era and provide a rustic journey of riding horses through the bush and handling livestock. Continue to read and you will be able to figure out the best dude ranch vacations Montana available out there.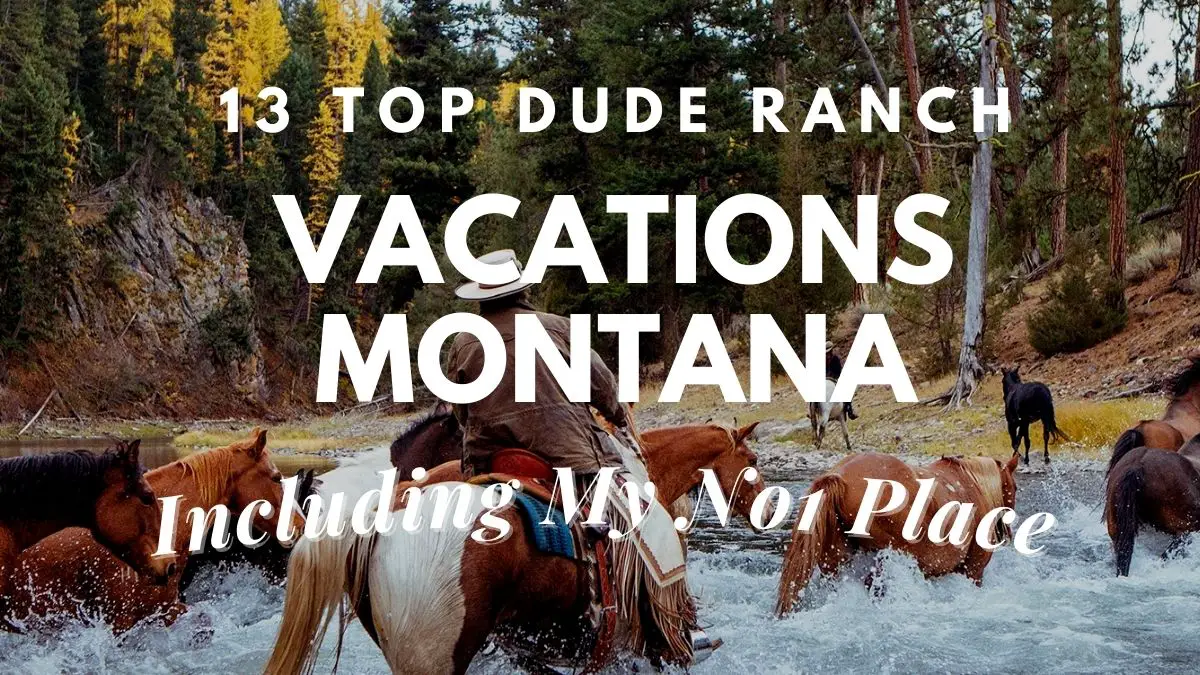 What exactly is a dude ranch?
A typical farm or ranch is not the same as a dude ranch. Since the early 1900s, horseback riding and western culture have been an integral component of vacations that call for a taste of the old west. However, most dude ranches also provide very soothing, if not renewing, experiences for many guests, so it's not only about horseback riding and poking cattle. Since many dude ranches provide all-inclusive packages, everything is taken care of, including food plans and entertainment plans.
Read: Is Traveling A Hobby? The Ultimate Guide To An Exciting Way Of Life Learn about the Downsides Of Traveling As A Hobby

1. Elkhorn Ranch and Gallatin Gateway
Since 1922, generations have been running this traditional dude ranch. The Elkhorn Ranch welcomes visitors of all ages. Little has changed in the 100 years since it first opened; family and the great outdoors are still very much the emphasis. Among the offered activities include horseback riding across Montana's untamed mountain ranges, fly-fishing on world-class fishing streams, and experiencing Yellowstone itself (only a mile down the road).
You'll stay in a basic log cabin on the ranch. These cottages, constructed in the 1930s, are intended to transport you to a bygone era. Thankfully, they nevertheless have a number of facilities from the twenty-first century, making your stay both comfortable and rustic.
The National Forest's large trees provide shade for the cabins, which are located intentionally to provide visitors with the greatest possible feeling of solitude and picturesque vistas. Although the lodges are private, the ranch has a strong feeling of community. In the lodgepole dining room, people assemble for enjoyable and humorous meals.
2. Martinsdale's Bonanza Creek Guest Ranch Bonanza Creek Guest Ranch
The functioning ranch of Bonanza Creek is a refuge in nature away from the dizzying lights of the city and the never-ending hustle of contemporary life.
Of all the ranches on this list, this one has the lowest capacity. With a controllable amount, the team can design unique, individualized experiences. The kind of vacation you have at Bonanza Creek depends on your riding skills and preferences. At the ranch, head-to-tail riding is not permitted; instead, each excursion into the wild is a real experience that involves riding a horse that has been hand-selected to meet your requirements while exploring Montana's untamed backcountry.
It's truly the closest you can come to living the life of a cowboy on the Old West's open plains. The most real, hands-on ranch experience is provided by Bonanza Creek. Being a functioning ranch, you may assist with the routine tasks of maintaining the establishment, such as herding cattle. When it comes to Montana dude ranches, coming here is one of the most unique and genuine experiences!
3. Whitefish's Bar W Guest Ranch, Bar W Guest Ranch
The Bar W Guest Ranch is located at the foot of Spencer Mountain and is surrounded on all sides by a thick pine forest. It is situated against the gorgeous Whitefish landscape. Only 30 kilometers separate you from the magnificent Glacier National Park.
The whole western experience is available at Bar W. You may participate in activities like skeet shooting, fly fishing, roping, archery, cattle drives, rodeo games, wagon rides, and square dancing in addition to riding a horse across hundreds of acres. You may anticipate ending the day with cookouts and campfires after a full day of activity.
At Bar W, visitors are made to feel like family right away. The dude ranch experience is only made possible by the helpful staff and supportive community. The main lodge, cottages, and glamping are available as lodging choices at the ranch.
4. Emigrant Mountain Sky Guest Ranch, Mountain Sky Guest Ranch
The opulent Mountain Sky Guest Ranch is the ideal option for anyone seeking to combine the dude ranch experience with a bit extra luxury. The dude ranch, located adjacent to Yellowstone, first welcomed guests in 1929.
A world-class golf course, a health center, and fine cuisine and gourmet chefs are just a few examples of the additional luxuries offered. It's an opulent resort that combines Montana's untamed wilderness with the sophistication of upscale lodging.
A trip to the ranch is a once-in-a-lifetime excursion. During your visit, go whitewater rafting, cow roping, and see the legendary Yellowstone National Park. The Mountain Sky Guest Ranch can accommodate all of your needs, whether you're looking for a Western adventure or a restful recovery stay.
5. Big Sky's Lone Mountain Ranch
The Lone Mountain Ranch, which is close to the Big Sky ski resort and is just 18 miles from Yellowstone National Park, was built for exploration.
80 miles of top-notch Nordic tracks are available for skiing and snowboarding in the winter. Ax throwing, kayaking, and horseback riding are among the summertime activities available. Live western music and farm-to-table fare help to make the long summer nights special. One of the few dude ranches in Montana with year-round activity is this one.
The Horn & Cantle restaurant, one of the best eating establishments in Big Sky, is part of the ranch's reputation for great food. The Lone Mountain Ranch has a hint of elegance, and the cottages are designed to seem both rustic and stylish. It is the ideal family ranch, as shown by the fact that it was named the "Best Family Ranch" by the Top 50 Ranches.
6. Triple Creek Ranch, Triple Creek Ranch, Darby
In western Montana's Bitterroot Mountain Range, on the southern slope of Trapper Peak, is where you'll find the acclaimed alpine resort. While the typical western activities are offered, Triple Creek Ranch stands out for its focus on luxury at the highest level. A top-notch restaurant with gourmet food and wine, 5-star service offered throughout the ranch, and cottages where even the tiniest details are paid care to.
The lush surroundings of the alpine forest and rocky peaks combine to create one of the top hotels in the world. It's the whole package. The Triple Creek Ranch is the most romantic retreat on our list, in large part because it is an adult-only resort. Take a break with your special someone in the tranquil countryside, far from it all.
7. Augusta's Triple J Wilderness Ranch
Between Yellowstone and Glacier National Parks in Montana's Rocky Mountain Front, Triple J Wilderness is a genuine, family-run dude ranch. The ranch offers a great children's program, outdoor trips, and the chance to stay during weeks reserved for adults.
It's the best option for anyone looking for a trip that is customized to their preferences. You may design your own unique western trip at the ranch since there are fewer visitors, which results in a more intimate encounter.
If you'd rather keep your feet on the ground, try fly-fishing, hiking, or one of the many other available outdoor activities. The crew offers spectacular horseback riding excursions that go far into Montana's unexplored wilderness and accommodate riders of all skill levels, even the most inexperienced equestrian. You are given the same horse for the duration of your stay, which adds to the unique experience and enables you to form a link with the animal and make priceless memories with it. Cookouts and campfires with cowboy poetry, tall stories, singing, and marshmallow toasting are a great way to cap off a full day.
8. Circle Bar Guest Ranch, located in Hobson
The ranch, located in central Montana along the lovely Judith River, has a history dating back to the 1800s. The Little Belt Mountains and Helena-Lewis and Clark National Forest are among the scenic environs that visitors of all skill levels are welcome to explore on horseback. An option to riding are the fat-tire E-bikes and UTV guided trips.
The ranch's hub of entertainment, the iconic red barn hosts everything from basketball matches to square dance. All the typical dude ranch pursuits are available at Circle Bar, including archery and shooting. For bigger groups of visitors, the ranch offers the Ranch House in addition to nine historic cottages.
9. Guest Ranch in Hawley Mountain
Vacation at a Montana guest ranch in the great outdoors. Enjoy yourself away from the distractions of your hectic life in a million-acre expanse of pure wilderness north of Yellowstone Park.
fair "all-inclusive" pricing. A family environment and a stress-free, relaxed week filled with numerous special memory-making events are provided by small visitor numbers. A staple is riding horses. Along with a host of other activities, a tiny dude ranch offers award-winning fly fishing, a 66 jeep trip, gorgeous river rafting, and other wonderful western hospitality.
You will like living at Hawley Mountain Guest Ranch if you enjoy the outdoors. It's untamed and far away! At the end of a dirt road, we are the last dude ranch. Participate in our events, and thereafter, whether you're dining alone or with your family, you'll have meals with our employees and owner family.
Make memories at Hawley Mountain for a week. You'll leave with fresh memories and enduring friendships. Call us right now to join us on a fun, rejuvenating trip.
10. Augusta's JJJ Wilderness Ranch JJJ Wilderness Ranch
Between Yellowstone and Glacier National Parks, on the Rocky Mountain Front of Montana, is where you'll find the JJJ/Triple J Wilderness Ranch. This Montana working dude ranch has a view of both the Gibson Lake and the Sun River.
From here, you may enter the Bob Marshall Wilderness Complex by going outside. This well-known, family-run Montana dude ranch offers opportunities for spectacular outdoor adventure, including hiking, trout fishing, and horseback riding.
The ranch provides more than just the traditional Western hospitality historically associated with the area. For visitors of any age or background looking for a genuine Montana retreat, Triple J is the perfect choice. With horseback riding as its major attraction, the ranch offers a wide variety of extracurricular activities that are enjoyable for everyone, including singles, couples, and families.
A nice contrast to the hectic pace of city life is the real, western friendliness on offer here. Typically, the ranch welcomes visitors from early June through late September.
11. Wolf Creek, Blacktail Ranch
This dude ranch in Montana is perfect for you if you like riding horses and exploring new places. The history of Blacktail Ranch dates back to the late 1880s, when Gustav Rittel homesteaded the land. Everyone working on the ranch's daily operations, including the proprietors, are said to be pleasant and committed to making sure your visit is relaxing and pleasurable.
The ranch is well-known for its Continental Divide riding adventure, which is led by a pleasant and attentive guide who also happens to be the owner's grandson. The 16-mile ride gains 3000 feet in elevation and travels over the Divide Trail for 5 miles before descending through switchbacks to the valley.
Many riders, even experienced ones, frequently describe the ride as being unlike anything they have ever experienced before. Fortunately, the horses from the ranch are skilled, powerful, and sure-footed, and every minute detail is discussed before starting out on the ride.
If you choose to stay at the lodge itself or in one of the numerous cabins, you can count on the food to be delicious and sufficient. Here, visitors may enjoy breathtakingly beautiful trail riding with 360-degree vistas.
12. Sweet Grass Ranch, located in Big Timber
A genuine functioning ranch in Montana, Sweet Grass Ranch welcomes visitors who are interested in horseback riding vacations as well as other activities like working with cattle, fishing, and hiking excursions.
The varied environment around this operating cattle ranch, which is situated at the foot of the Crazy Mountain Range, is ideal for exploration on horseback as well as by many other ways. At this ranch, a 7-night stay includes 6 full days of riding, and kids under 12 may stay for a reduced fee.
Riders will like it, as well as the delicious home cooking and cozy accommodation with a hot tub to soothe any aches and pains from spending so much time in the saddle. Although the ranch is rather out of the way, visitors will find the trip well worth it. Additional activities available at Sweet Grass Ranch include day treks into the mountains or multi-day cattle drives that include overnight camping.
13. Philipsburg's The Ranch at Rock Creek
In Granite County, Montana, there is a 6,000-acre working ranch and resort. The ranch, which lies southeast of Missoula, is surrounded by untamed but beautiful scenery, giving visitors access to Montana's famed wide-open vistas and more upmarket facilities.
This incredible setting offers another genuine Montana ranch experience, spanning 10 square miles of undulating hay fields and foothills with snow-capped peaks in the background. The Ranch at Rock Creek offers a taste of the West without sacrificing comfort, as guests will discover.
Snowshoeing, cross-country skiing, sleigh rides, and many other enjoyable and difficult activities are associated with winter. Other than that, the emphasis will probably be on horseback riding, hiking, cattle drives, fishing, and maybe even a little yoga. Even indoor entertainment is available, including a spa, a theater, and a nearby bowling alley.
Final words
These are the top dude ranch vacations Montana that you can think about. Just take a look at these vacations, and you will surely enjoy the amazing experiences offered on your way by them.