You can find both freshwater lakes as well as saltwater lakes in North America. It is even possible to classify them as man-made lakes and natural lakes. The surface area and volume of these lakes are being used to determine their size. You can find a variety of marine species in these lakes as well. Let's explore the biggest lakes that you can possibly discover in North America as of now.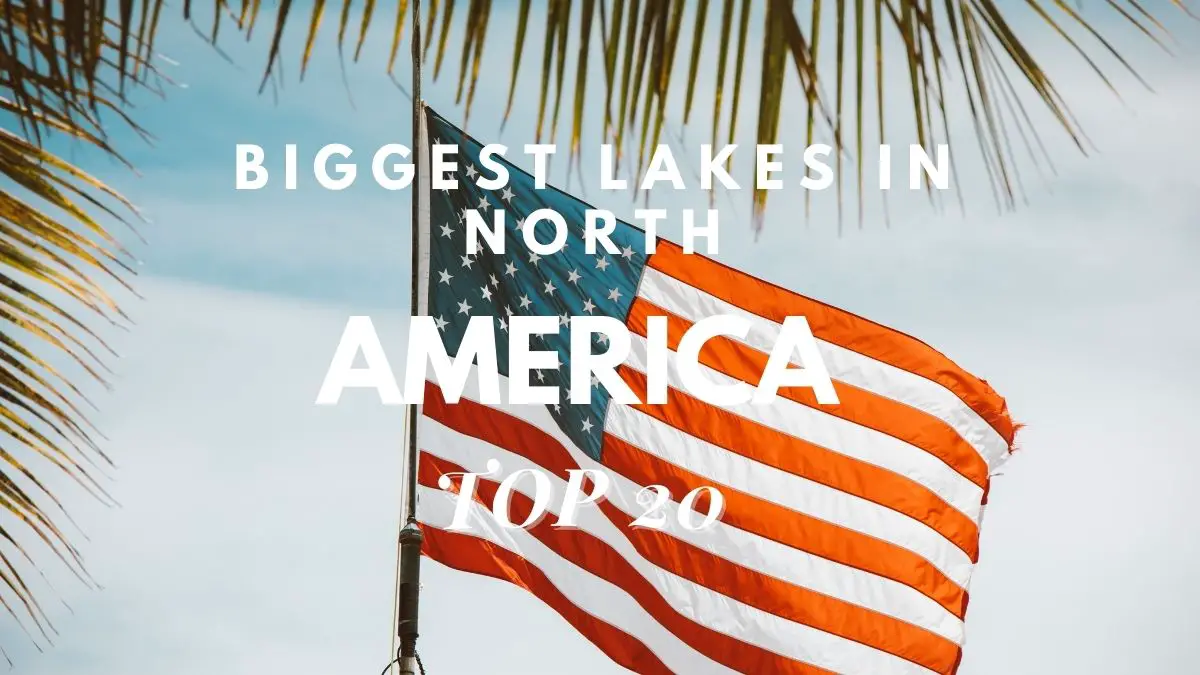 1. Lake Superior – it is the world's largest by surface area
Lake Superior is the world's biggest freshwater lake, as its name suggests (by surface area).
And every turn of its 2,700-mile magnificent shoreline offers a lifetime's worth of vistas.
Pictured Rocks National Lakeshore has 200-foot sandstone cliffs, beaches, and waterfalls that cascade into the lake; the Apostle Islands' Sea caves; and the solitary roughness of Isle Royale, which is home to wolves and moose.
To get to your desired location, you can trek, drive, kayak, or take a boat. As the intrepid surfers of North Shore will attest, this lake is so large that it may feel like an ocean.
Going fishing on Lake Superior allows you to take a deep breath of fresh air, gaze in wonder at breathtaking lake vistas, and quietly study the various creatures that come to drink at the lake's shore.
You'll have front-row access to all the lake has to offer from the comfort of your boat, and while you troll for your next catch, the calm and peace of Lake Superior will keep you amused.
When you do get a bite, the three most popular species in Lake Superior are coho salmon, king salmon, and lake trout.
Otherwise, expect to see carp, herring, whitefish, muskellunge, pike, melt, bass, walleye, or perch dangling off the hook, ready to eat.
Hiking the numerous miles of trails available to visitors is one of the finest ways for outdoor lovers to explore Lake Superior.
The Superior Hiking Trail in northern Minnesota is 205 miles long, winding through the area's vast wilderness and following the rocky shoreline of Lake Superior.
There are several paths in American and Canadian national parks, ranging in difficulty from simple to difficult, that provide vistas of beautiful woodland, waterfalls, and even indigenous pictographs.
Our United States National Parks bordering the lake — Isle Royale National Park (Michigan), Pictured Rocks National Lakeshore (Michigan), Apostle Islands National Lakeshore (Wisconsin), and Grand Portage National Monument (Minnesota) — are likely to have the path you're looking for.
Read: Biggest Lakes In The United States Of America [Top 20]Learn about the Lake Superior Largest Lake in the USA
2. Lake Huron – one of the five Great Lakes of North America
Lake Huron is one out of five Great Lakes that you can discover in North America. It contains 850 cubic miles of water.
On the other hand, it contain a massive shoreline of 3,825 miles.
The lake covers a total area of 3,825 miles as well. This lake was inhibited by native Americans back in the day.
Many types of flora and wildlife may be found on Lake Huron, and nature enthusiasts will appreciate exploring the lake's many parks and preserves.
Mackinac Island State Park is a unique experience: the island park is like stepping back in time, with no automobiles allowed but lots of horse-drawn carriages, bicycles, and pedestrians.
Before venturing off to examine nature's own wonders of unusual rock formations, stunning blue waters, and lots of birding for the keen observer, stop at a lovely small hamlet, a historic fort, and a lively harbor.
If you're thirsty for information, explore the historic villages of Cedarville and Hessel, which serve as a jumping off point for a trip out onto the lake and a tour of the 36 surrounding islands.
The islands are only accessible by boat, and there are several guided trips as well as kayak and canoe rentals available in the area.
The islands were initially inhabited by the Ojibwa Native Americans thousands of years ago and were given the name Les Cheneaux by the French.
They formed tiny towns in the 1800s after the entrance of the French and European settlement, and were home to Scandinavian, Irish, and Italian immigrants.
The Historical Museum and the Maritime Museum are both located on the Cedarville waterfront and are packed with Lake Huron history, European influences, and a variety of other nuggets that are sure to pique the interest of history buffs.
Lake Huron is recognized for fantastic fishing and is considered one of the top walleye fishing sites in the United States, in addition to its historical experiences.
If you're serious about catching walleye for dinner, go to Saginaw Bay (Michigan) during the summer.
Anglers may expect to catch salmon, bass, musky, and trout throughout the year, in addition to the abundant concentrations of walleye that have helped make Lake Huron renowned.
Read: Biggest Lakes In Texas [Top 20]

Learn about the largest natural lake in Texas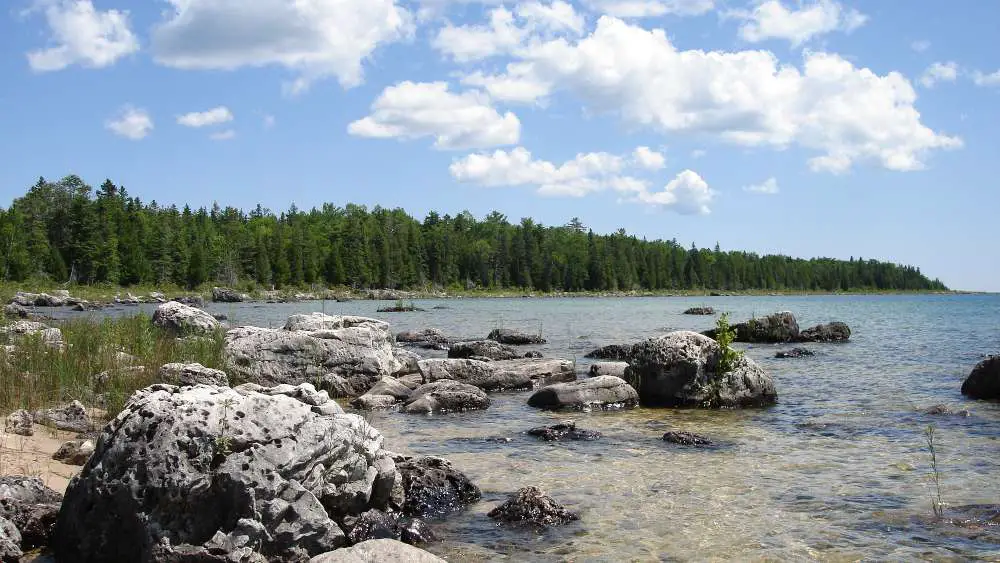 3. Lake Michigan – the second-largest of the Great Lakes by volume
With a shoreline covering four states, Lake Michigan is the third biggest of the Great Lakes and the only one that does not touch Canada.
On Lake Michigan, Chicago is a big metropolis. However, the majority of visitors come to play on the lake's section on Michigan's Lower Peninsula.
Top attractions include the Sleeping Bear Dunes National Lakeshore, which features 450-foot-high sand dunes.
The United States and Canada have the world's biggest network of linked freshwater lakes in terms of total area and second-largest in terms of total value.
This set of five lakes, known as the Great Lakes of North America, comprises 21% of the world's freshwater by surface area.
All of the lakes, which are located on or near the Canadian border, are connected to the Atlantic Ocean by the St. Lawrence River.
Lake Michigan is the pride and pleasure of Wisconsin, Illinois, Indiana, and Michigan since it is the only Great Lake entirely inside the United States' borders.
The lake spans 22,400 square miles, making it the world's biggest freshwater lake (by surface area) enclosed within a single nation.
Lake Michigan is roughly 307 miles long and 118 miles broad, with 1,640 miles of shoreline.
More than 80 lighthouses may be found along the coast and on major islands. Lake Michigan, on the other hand, is more than a lake of superlatives; it is a freshwater paradise that is home to 12 million people and attracts thousands of visitors each year.
Lake Michigan and Lake Huron are linked by the five-mile-wide Straits of Mackinac, which are both 577 feet above sea level. In terms of hydrology, this unites the two lakes, which some refer to as Lake Michigan-Huron.
Lake Michigan and Lake Huron are treated separately by LakeLubbers; however, the combined surface area and volume are considered "points of interest" by Lakelubbers.
Read: Biggest Lakes In Ohio [Top 20]Learn about the largest and deepest lake in Ohio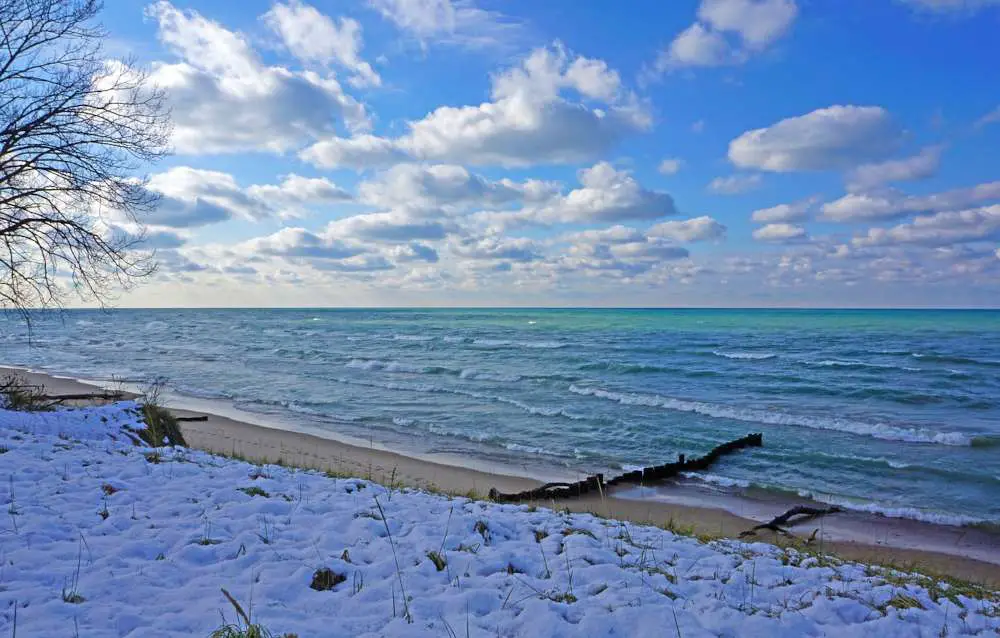 4. Lake Erie – the eleventh-largest globally lake
Lake Erie is the fourth biggest of North America's five Great Lakes. It separates Canada (Ontario) from the United States (Michigan, Ohio, Pennsylvania, and New York) to the north, west, south, and east.
The lake's primary axis stretches 241 miles (388 kilometers) from west-southwest to east-northeast, with a maximum width of 57 miles.
The lake's drainage basin covers a total area of 30,140 square miles (78,062 square kilometers), excluding the surface area of 9,910 square miles.
 The Detroit (carrying Lake Huron's outflow), Huron, and Raisin rivers of Michigan; the Maumee, Portage, Sandusky, Cuyahoga, and Grand rivers of Ohio; the Cattaraugus Creek of New York; and the Grand River of Ontario are the lake's main tributaries.
The Niagara River empties the lake at its eastern end, while the western end includes all of the islands, the largest of which is Pelee Island, Ontario.
Erie has the shortest mean depth (62 feet) among the Great Lakes, and its deepest point is 210 feet, with a mean surface height of 570 feet (170 meters) above sea level.
The lake has a relatively short water-retention duration of 2.6 years due to its tiny size and shallow nature.
Storms regularly produce short-term variations in lake level, which can reach several feet at the lake's ends. It's a vital part of the St. Lawrence Seaway.
The New York State Barge Canal has a terminus on the Niagara River in Tonawanda, New York, and one of its branches joins Lake Erie at Buffalo.
Read: Biggest Lakes In New York [Top 20]Learn about the largest clear clean water lake in New York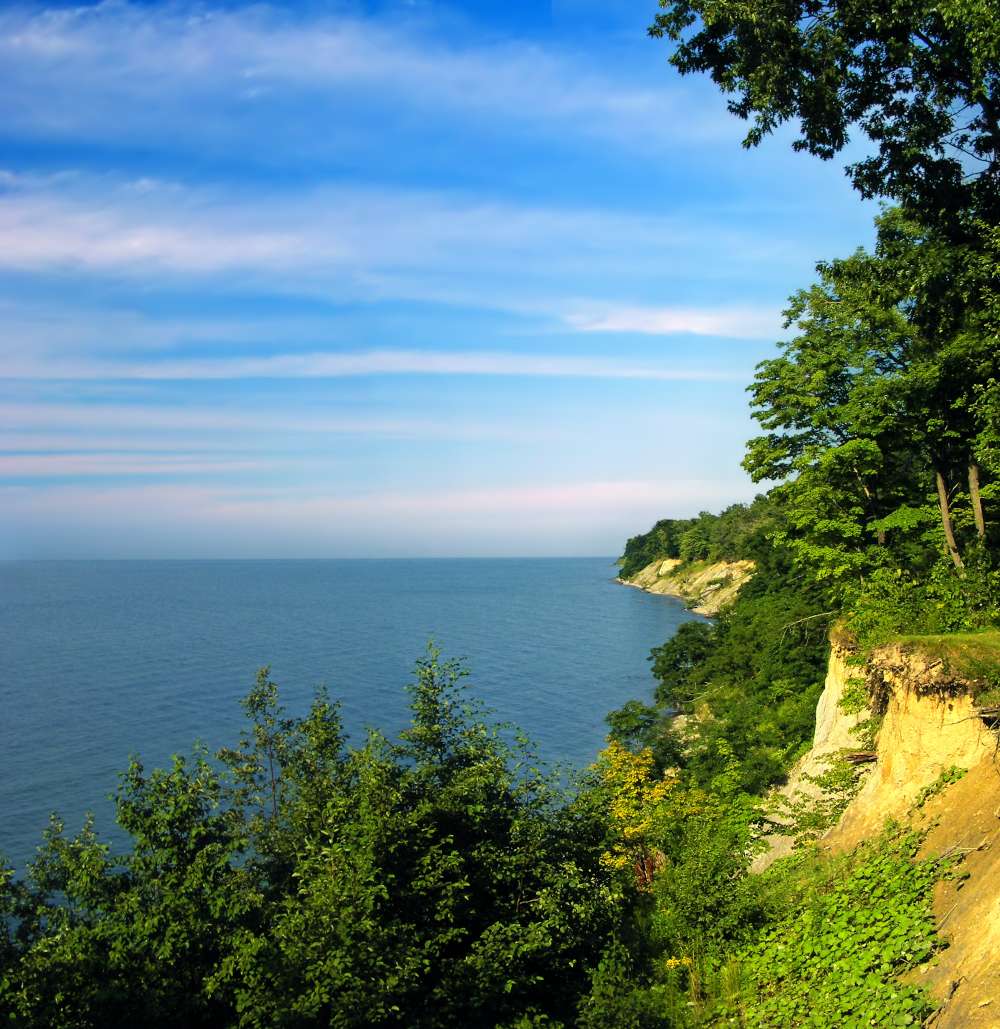 5. Lake Ontario – is one of the five Great Lakes of North America
Lake Ontario is the smallest and most easterly of North America's Great Lakes.
On the north, it is bordered by Ontario (Canada), while on the south, it is bordered by New York (U.S.).
The lake is approximately oval in shape, with a main axis that runs almost east to west and a maximum width of 53 miles (85 km).
The lake's drainage basin covers a total area of 24,720 square miles (64,025 square kilometers), excluding the lake's surface area of 7,340 square miles (19,011 square km).
The Genesee, Oswego, and Black rivers from the south, as well as the Trent River from the north, are all major feeders of the lake. The lake's eastern end, which is 30 miles wide, is spanned by a chain of five islands before it empties into the St. Lawrence River at Kingston, Ontario.
Lake Ontario has a mean depth of 283 feet (86 meters) and is 802 feet deep at its deepest point.
It has a mean surface height of 243 feet (74 meters) above sea level (244 m).
A broad surface current runs eastward at 8 miles per day, with the greatest current near the south coast.
The navigational Welland Canal and the natural Niagara River serve as links to Lake Erie to the southwest.
Lake Ontario is connected to Lake Huron's Georgian Bay through the Trent Canal in Trenton, Ont., and the New York State Barge Canal in Oswego, N.Y.
The Rideau Canal stretches from Kingston to Ottawa in northeastern Ontario.
Read: Biggest Lakes In California [Top 20]Learn about the largest natural lake in California
6. Lake of the Woods – the sixth largest freshwater lake located in the United States
The picturesque Lake of the Woods is located on the Canadian–US border, where the provinces of Ontario and Manitoba, as well as the state of Minnesota, meet.
It is 70 miles (110 kilometers) long and up to 60 miles (95 kilometers) broad, with a surface area of 1,727 square miles (4,472 square km).
The lake's shoreline is believed to be 25,000 miles (40,000 kilometers) long, with over 14,000 islands.
The Rainy River feeds the lake from the southeast, and it flows northwestward into Lake Winnipeg through the Winnipeg River.
It is at a height of 1,060 feet (323 meters) above sea level and drains a total area of 27,170 square miles (70,370 square km).
Jacques de Noyon, a French explorer, first visited the lake in 1688, and it eventually became an important fur-trading route between the Great Lakes and western Canada.
It is presently home to four provincial parks in Ontario.
The main lakefront city is Kenora, which is located near the northern end of the lake.
The Northwest Angle (Lake of the Woods County) is the northernmost point of the conterminous United States, separated from the rest of Minnesota by a portion of the lake.
Read: Biggest Lakes In Pennsylvania [Top 20]Learn about The shallowest lake in Pennsylvania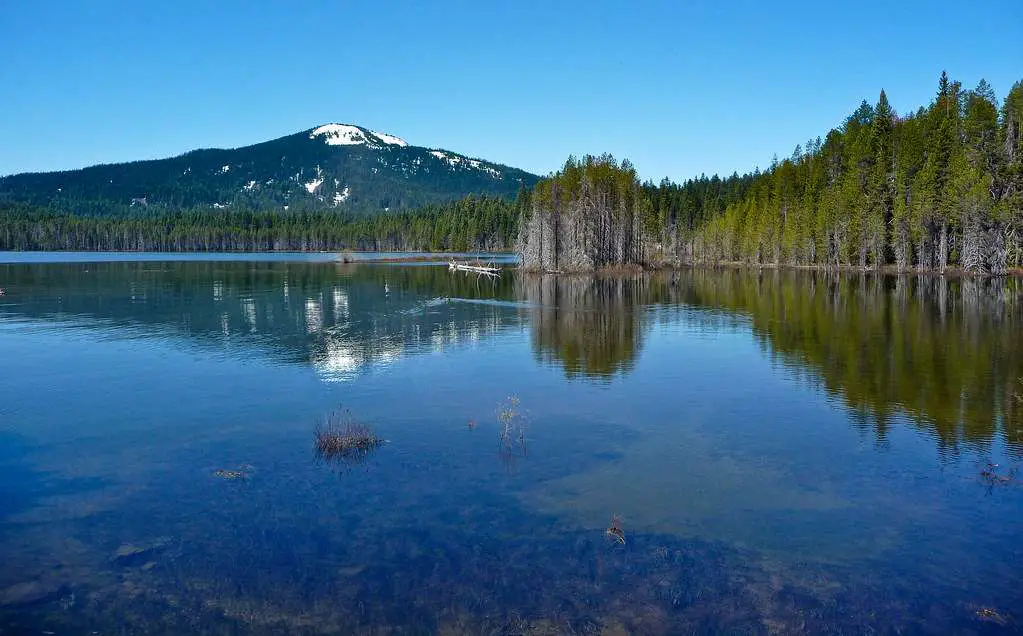 7. Lake Champlain – is a natural freshwater lake in North America
Lake Champlain is a lake in Quebec province, Canada, that stretches 107 miles (172 km) southward from Missisquoi Bay and the Richelieu River, where it empties into the St.
Lawrence River, to South Bay, near Whitehall, New York. For the most part, it serves as a border between Vermont and New York, and it sits in a large valley between the Adirondack and Green mountains.
The lake is 14 miles (23 kilometers) wide at its widest point, with a total area of 435 square miles (1,127 square kilometers) of water surface and 55 square miles (142 square kilometers) of islands (including Grand Isle and Isle La Motte, Vermont, and Valcour Island, New York).
Lake George runs along to Champlain on its narrow southern coast and drains into it via a small canal at Ticonderoga, New York.
The increased lake levels that occurred during deglaciation resulted in many terraced highland features on both sides of the lake.
Read: Biggest Lakes In Illinois [Top 20]Learn about the largest body of water wholly contained within Illinois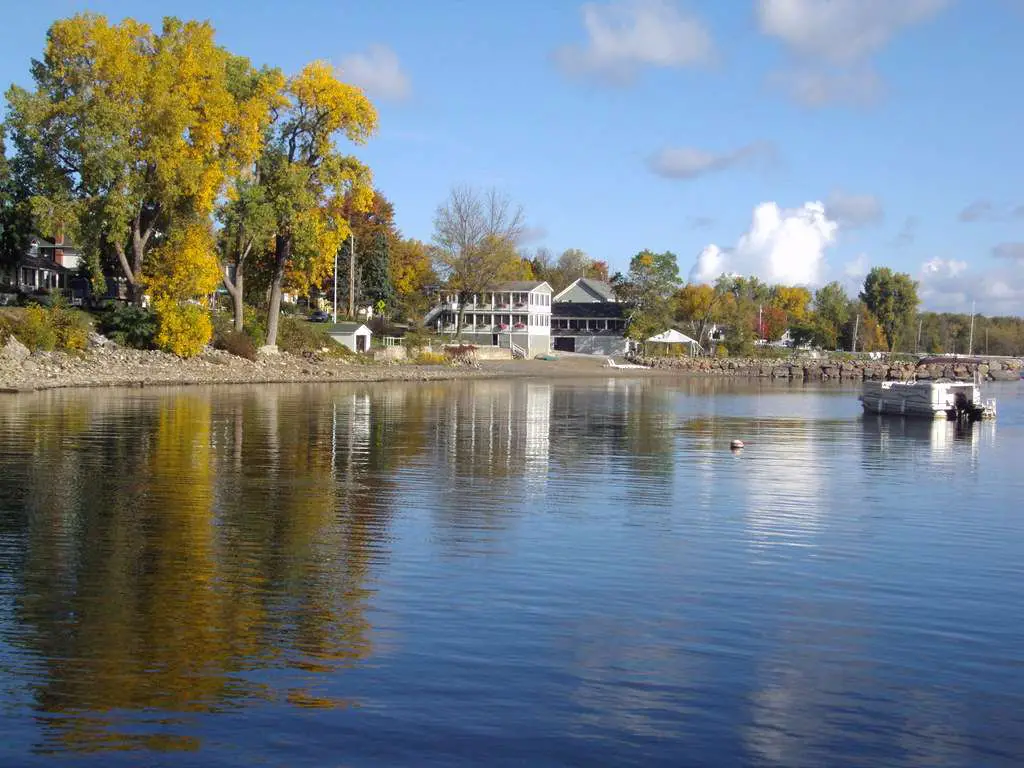 8. Lake St. Clair – is a freshwater lake
Lake Saint Clair is a large shallow basin that forms part of the border between Michigan and Ontario in Canada.
It links the St. Clair River and Lake Huron (north) with the Detroit River and Lake Erie (south) with a surface size of 467 square miles (1,210 square kilometers) (south).
It measures 26 miles (42 kilometers) long and 24 miles (39 kilometers) broad from north to south, with a mean surface altitude of 573 feet (175 m).
The lake's drainage basin is 7,420 square miles in size (19,220 square km).
The huge delta of the St. Clair River, with seven channels, runs along its northern shoreline. The St. Lawrence Seaway has a minimum channel depth of 27 feet (8 meters) for shipping, and the lake region is a popular summer vacation destination.
The western coast is home to some of Detroit's richest suburbs, although there are no major ports on the lake.
Read: Biggest Lakes In Florida [Top 20]Learn about the deepest lake in Florida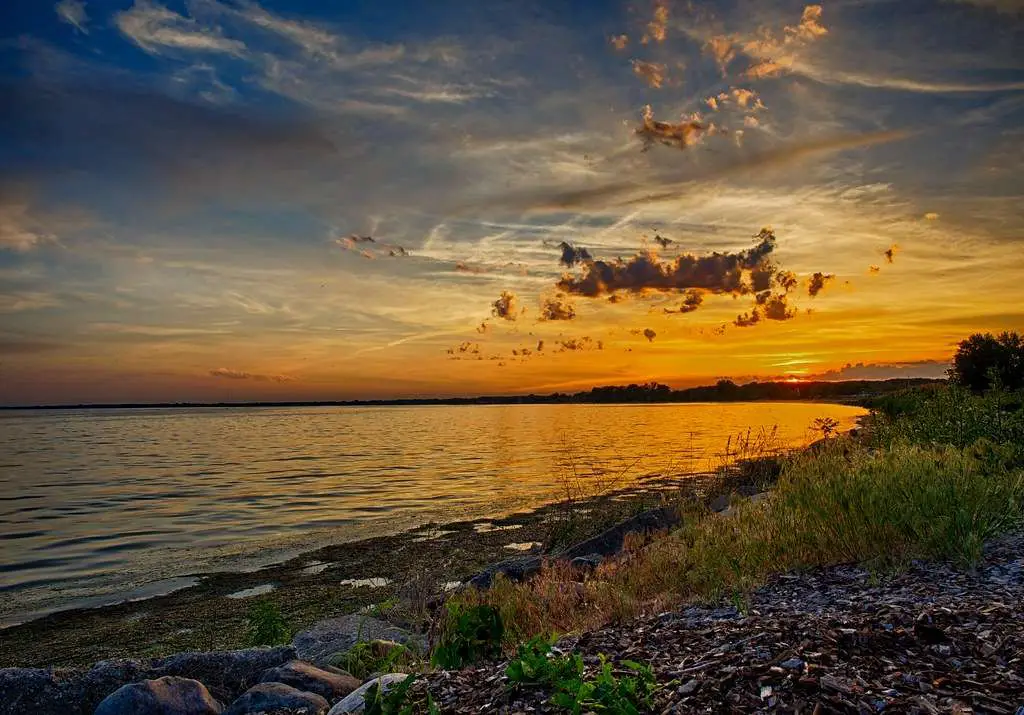 9. Red Lake – with a maximum depth of 273 feet
Red Lake is a prominent lake that you can discover in Minnesota.
In fact, it is one of the deepest lakes that you can discover in North America.
It is the 16th biggest lake in the United States and the largest natural freshwater lake wholly within Minnesota.
A peninsula on the eastern side of the lake divides it into two halves, virtually bisecting it in the center.
The peninsula is home to the village of Ponemah. Upper Red Lake and Lower Red Lake are the two portions of the lake.
The Red Lake Indian Reservation encompasses the entirety of Lower Red Lake. With a maximum depth of 273 feet, the area is 440 square miles.
The lake's height is maintained by a dam at the outflow, which is the start of the Red Lake River, which is located in the center of Lower Red Lake.
Read: Is Traveling A Hobby? The Ultimate Guide To An Exciting Way Of Life Learn about the Downsides Of Traveling As A Hobby

10. Rainy Lake – is a freshwater lake with a surface area of 360 square miles
Rainy Lake is a small lake that runs along to the Canadian-American border, between Minnesota and the Rainy River region of northeastern Ontario, Canada.
It covers 360 square miles (932 square kilometers), is roughly 50 miles (80 kilometers) long, with 35 miles (56 kilometers) of international border, and an average width of 5 miles (8 kilometers) with a maximum of 27 miles (43 km).
It has uneven and highly indented coastlines, as well as around 500 islands.
The Rainy River, which is 85 miles (137 kilometers) long, drains into Lake of the Woods.
Voyageurs National Park, Minnesota's only national park, is accessible from Rainy Lake.
Begin your journey east of International Falls at the Rainy Lake Visitor Center. Visitors who want to launch their own boat, canoe, or kayak can do so for free at the Center.
During the summer, the Center also provides guided boat trips looking for wildlife and stopping at Little American Island to learn about the 1890s Rainy Lake gold rush.
Visitors can reach Voyageurs National Park by driving on plowed lake roads or using snowmobiles, cross-country skis, or snowshoes when the waters of Rainy Lake ice.
Nature enthusiasts can pitch their tents on designated park islands once they arrive at Voyageurs National Park. Loons, eagles, otters, deer, black bear, and moose may be seen by keen observers when camping.
On the Canadian side of the lake, Sandpoint Island Provincial Park is located.
The Park, which is only accessible by boat, provides beach bathing, hiking, and animal watching, but no tourist amenities.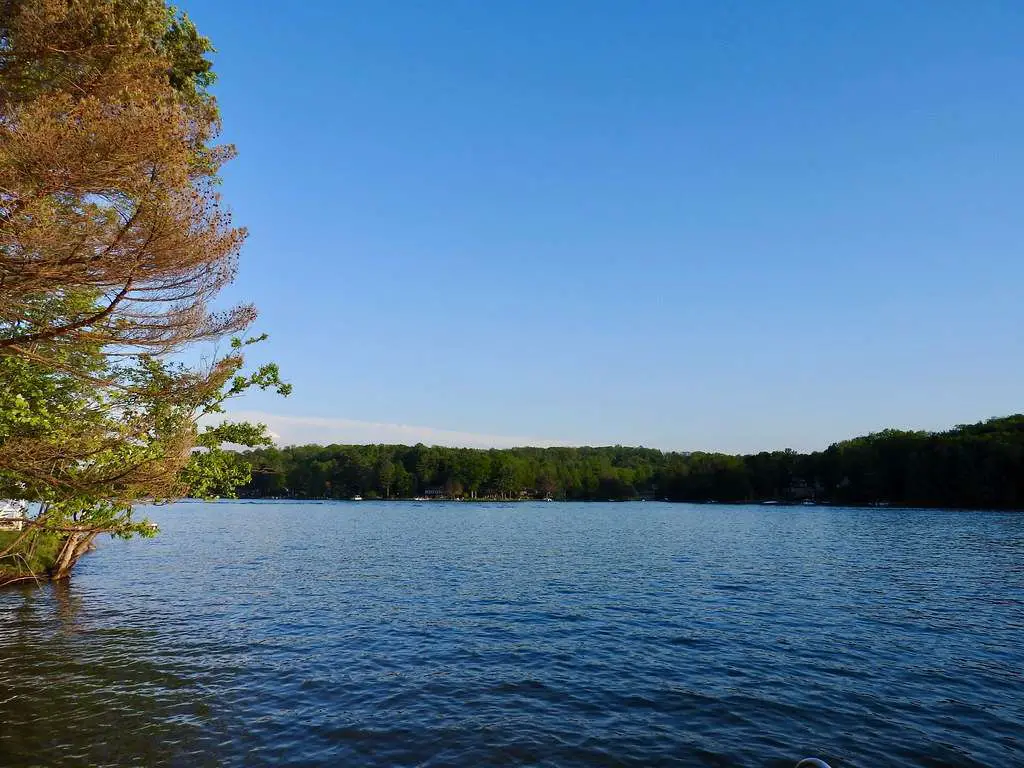 11. Mille Lacs Lake – is a large but shallow lake in the U.S
Mille Lacs Lake commands a commanding presence in Minnesota's Central Region. Lake Mille Lacs is Minnesota's second biggest inland lake, covering 132,000 acres.
The huge lake, which is rather shallow, is one of numerous glacial pothole lakes found 100 miles west of Duluth.
The Rum River, which drains into the Mississippi, is the only exit, fed by over 20 minor tributaries.
The Brainerd Lakes area was once known as the "Region of Thousand Lakes" (Pays de Mille Lacs) by early explorers.
The name persisted since it was the biggest lake in the group. According to archaeologists, the region surrounding the lake has indications of being the location of Minnesota's first human habitation.
The Dakota and subsequently the Ojibwa were the native American populations in the area when the first European explorers arrived. In the mid-1700s, Father Hennepin paid a visit to the lake, and a tiny state park is named for him on the southern coast.
The Mille Lacs Band of Ojibwa now owns 61,000 acres of reservation property that stretches from the south coast to the east.
Power boating, water skiing, tubing, pontoon boating, jet skiing, canoeing, kayaking, and swimming are just a few of the water sports available in Mille Lacs Lake.
Sailing has grown in popularity, with regattas and sailboard events hosted on a regular basis. The huge lake is ideal for windsurfing, a relatively new activity in the area.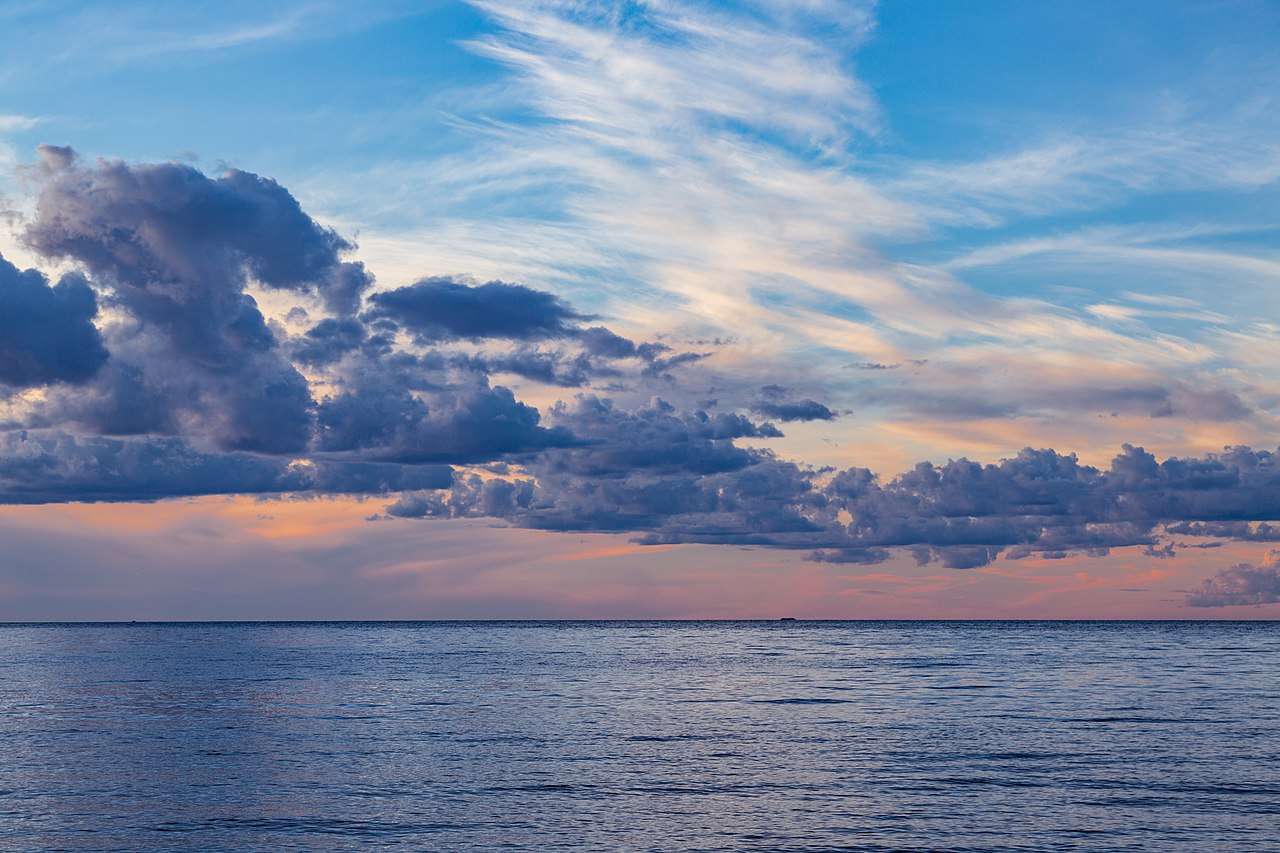 12. Leech Lake – It is used as a reservoir
Leech Lake is the third biggest lake wholly in Minnesota, the "Land of 10,000 Lakes," with approximately 120,000 acres of water and 316 miles of shoreline.
Leech Lake is located in Cass County, Minnesota, and is surrounded by the Chippewa National Forest and the Leech Lake Indian Reservation for the most part.
Leech Lake is a recreational paradise as well as a nationally known game fish lake. Leech Lake has so much to offer that tourists will want to return again and again.
The Leech Lake basin is said to have been created thousands of years ago by a melting glacier.
The Leech Lake Dam was built along the Leech Lake River by the US Army Corps of Engineers in 1882.
In 1884, the Headwater Reservoir project was finished, raising the water level of Leech Lake by four to seven feet and connecting several additional natural lakes to form what is today Leech Lake.
The dam was rebuilt in the early 1900s, with the timber abutments being replaced with concrete.
Visitors at Leech Lake Dam may see the original tender's home, which was also erected in the early 1900s.
The tender's home was moved to a new location immediately south of the recreation area in 2002.
Leech Lake is a wonderful location to rest and unwind.
On Leech Lake, there are several lakefront vacation rentals as well as real estate for sale for individuals who want to purchase their own getaway or permanent property.
On Leech Lake, camping is available at the Leech Lake Campground, which is run by the US Army Corps of Engineers.
13. Moosehead Lake – is a deep, Coldwater Lake
The biggest lake in Maine is Moosehead Lake, which is situated in the Longfellow Mountains in the Maine Highlands Region.
It is 1,023 feet above sea level, has over 300 miles of shoreline, is 120 square miles (approximately 75,000 acres) in size, and extends 40 miles long by 10 miles broad.
Sugar Island is the largest of the more than 80 islands that make up Moosehead Lake.
Moosehead Lake is a natural lake that created about 12,000 years ago as Maine's glaciers receded. Moosehead Lake is the source of the 150-mile Kennebec River.
The storage dams at the lake's East and West Outlets are owned by FPL Energy's Kennebec Water Power Company.
Hydroelectric power, flood control, recreation, and drinking water are all provided by Moosehead Lake.
The West Outlet Dam has been in operation since the 1830s.
Year-round activities for the whole family are available at Moosehead Lake.
Boating, kayaking, canoeing, white river rafting, swimming, bird viewing, camping, fishing, golf, hiking, moose watching, and horseback riding fill the long summer days.
Big Moose Mountain, on the lake's western bank, offers downhill and glade skiing in the winter.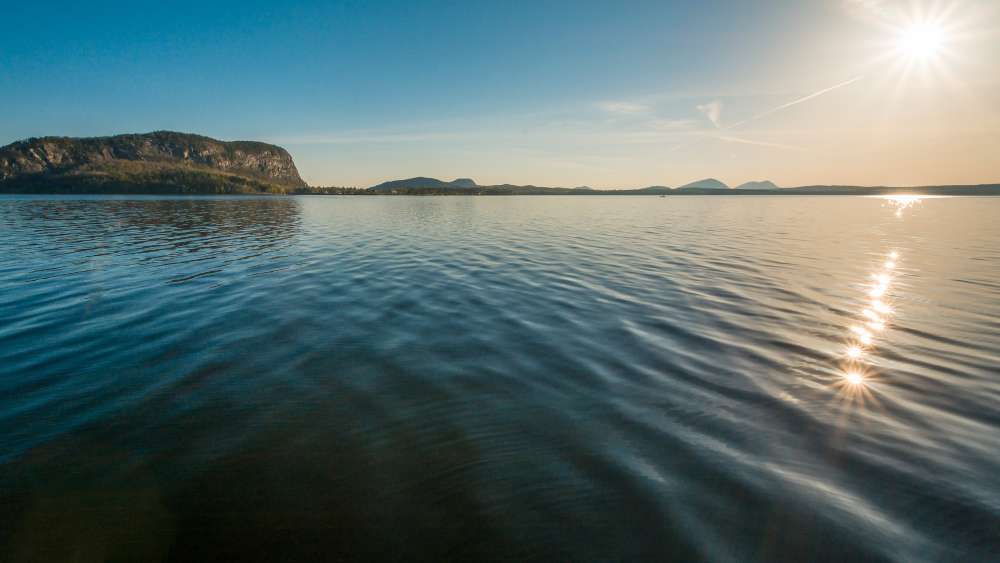 14. Lake St. Francis – is a lake which borders 3 states
Lake Francis Case is located along the Missouri River in south-central South Dakota and is one of the most popular leisure destinations in the Great Plains.
Lake Francis Case is one of four reservoirs built along the Missouri River in South Dakota: Lewis and Clark Lake, Lake Sharpe, and Lake Oahe are the other three.
Lake Francis Case stretches 107 miles from Pickstown to Big Bend Dam in Fort Thompson, South Dakota, and offers a variety of recreational opportunities including fishing, camping, swimming, boating, bird watching, water skiing, and hunting.
Lake Francis Case was formed by damming the Missouri River, as authorized by the Flood Control Act of 1944.
The Omaha District Corps of Engineers began construction on Fort Randall Dam in 1946 and finished it in 1956.
Flood control, hydroelectric generation, navigation support, irrigation, municipal water supply, fish and wildlife management, and recreation were all goals of the dam.
Fort Randall Dam is named after a former military garrison. The fort's chapel is the lone relic of the ancient Fort Randall.
Colonel Daniel W. Randall, a deputy paymaster of the Army, was named after the fort.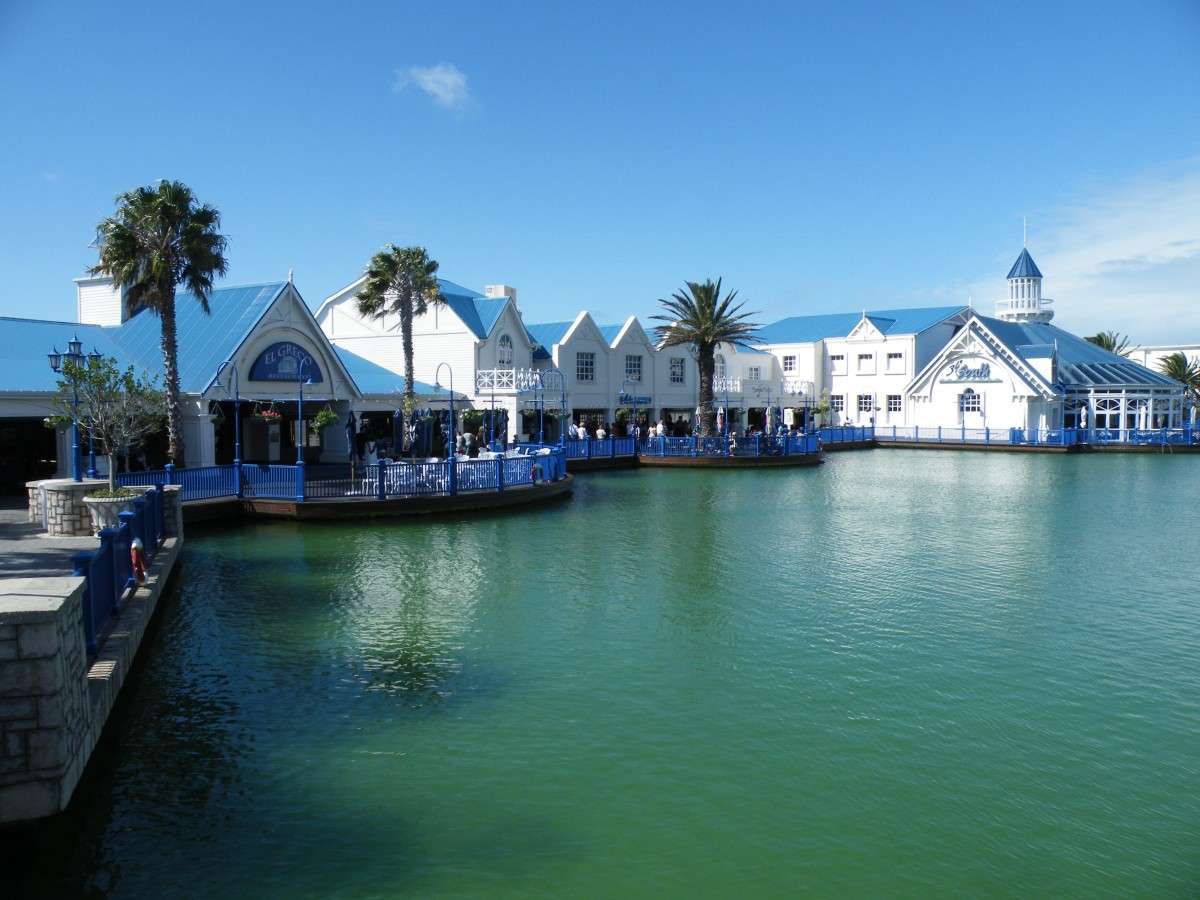 15. Lake Winnibigoshish – Its name comes from the Ojibwe language
Lake Winnibigoshish is one of Minnesota's most famous bodies of water.
The lake's massive expanse, which spans more than 58,500 acres, extends into Minnesota's Northwest and Northeast tourism districts.
Lake Winnie, as it is known, is a well-known vacation spot throughout the Midwest.
Since at least the late 1600s, Lake Winnibigoshish has been known to exist. In historical literature, the lake was also known as Lake Winnepeg, Winnipec, and Winnepeek, and its name is derived from the same origins as the famous Lake Winnebago.
The name translates ignobly into "miserable, terrible unclean water" in Ojibway.
This appears to be a frequent name given to small, muddy-bottomed lakes by area Native Americans.
Storms may rapidly turn the shallow waters into a filthy froth, according to early explorers.
For millennia, a Native American community on the lake's south side has lived by casting their nets over the shallow Mississippi River outflow as their primary source of food.
All of it altered when white explorers arrived.
16. Oneida Lake – is the largest lake entirely within New York state
Oneida Lake is the biggest lake wholly inside the state of New York, covering more than 51,000 acres.
Oneida Lake is roughly 21 miles long and more than five miles broad at its widest point and was named after the Oneida Tribe of the Iroquois Nation who inhabited in the region.
The lake is part of the Erie Canal system, which gives access to the Great Lakes from the Atlantic Ocean.
The Thousand Islands, Finger Lakes, and Central-Leatherstocking tourist regions in New York state are all bordered by the lake.
Sylvan Beach, a resort village on the eastern coast with a variety of vacation homes, is the most popular tourist destination on Oneida Lake.
Swimming, boating, sailing, fishing, and enjoying the various restaurants, souvenir shops, and the historic Erie Canal are just a few of the exciting summer activities available at Sylvan Beach.
Sylvan Beach Amusement Park, which opened in the 1800s and includes well-maintained rides do not present in today's amusement parks, is a must-see for amusement park fans.
The excitement doesn't stop when the sun sets at Sylvan Beach, as the town boasts of being a thriving hub of nightlife and entertainment on Oneida Lake.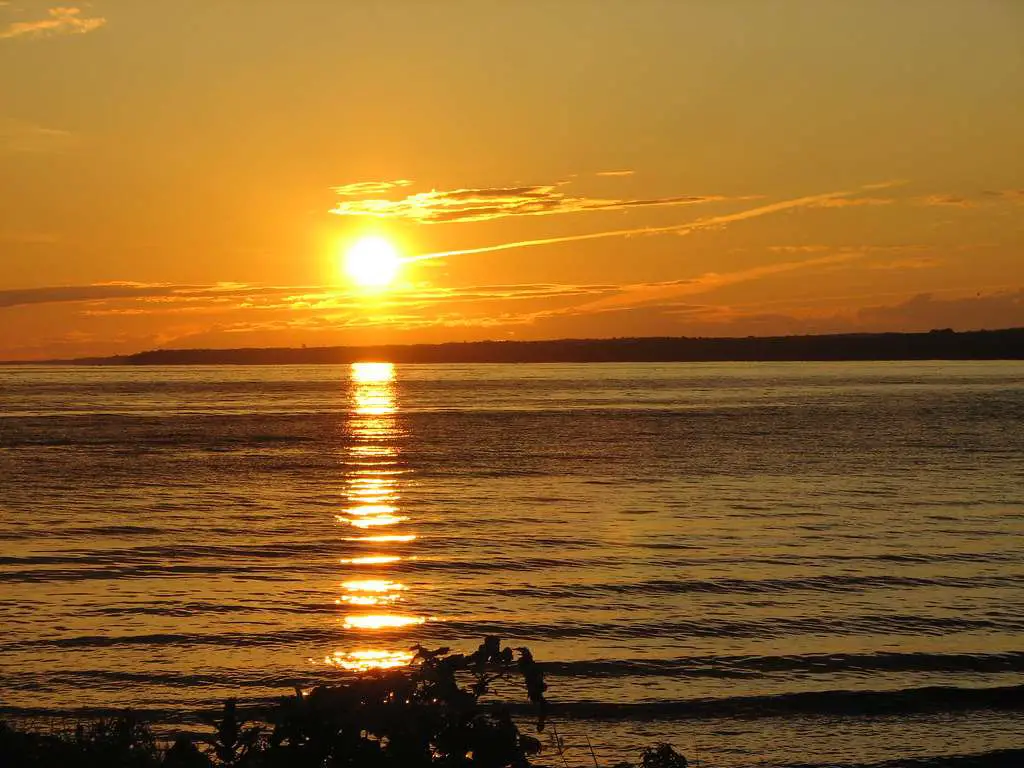 17. Lake Winnipesaukee – The lake contains 264 islands
The lake is enormous and driving around it is a 63-mile journey.
365 islands dot Lake Winnipesaukee's surface, with 274 of them really inhabitable, as if to demonstrate its vastness.
It is preferable to observe the lake by boat due to its enormous vastness and the convoluted nature of driving around circle.
You may bring your own boat or hire one when you arrive, but you'll be in for a treat if you go out into the Winnipesaukee seas.
With a lake the size of Lake Winnipesaukee, tourists might expect to discover public beaches where they may cool down on a hot summer day.
The lake's 240-mile shoreline is littered with public beaches. The most popular swimming spot, Weirs Beach, is located on the western shoreline and features a boardwalk, playground, and picnic area.
Ellacoya State Campground, which is located on the western shoreline, has a long sandy beach and an RV park.
Melvin Village Wharf, Leavitt Park, 19 Mile Bay Beach, and 20 Mile Bay Beach are all located on the northern end of Lake Winnie.
Near Wolfeboro, on the eastern shoreline, are Brewster Beach and Carry Beach. A bathing facility at Alton Bay, on the lake's southeastern end, rounds off the list.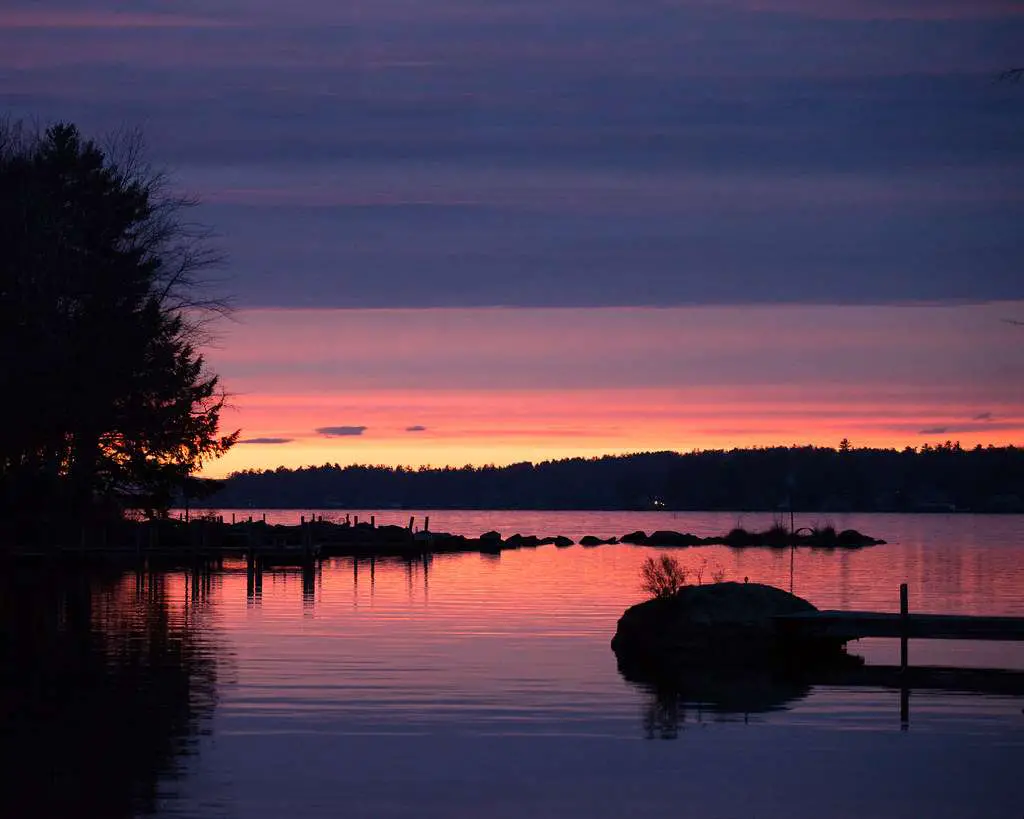 18. Seneca Lake – is the largest of the glacial Finger Lakes
Seneca Lake, one of the famed Finger Lakes in western New York, is the state's biggest lake fully contained inside its borders.
Seneca Lake is a huge 43,343-acre lake with a length of 38 miles, including Watkins Glen on the south bank and Geneva on the north.
The lake is the second deepest in New York State, with a maximum depth of 618 feet, and was used for submarine testing.
Local legend claims that a submarine is submerged in the lake's chilly depths.
Seneca Lake offers a breathtaking view of azure waters, even bluer skies, and spectacular sunsets.
It was called after the Seneca Indian Nation, which was one of the six Iroquois Confederacy tribes that lived in the region.
The name Seneca comes from the Iroquois term Assiniki, which meaning "stone place" or "stony spot."
Seneca Lake features the steepest, rockiest shoreline of all the Finger Lakes, making this a fitting name.
In reality, the lake is famed for its painted rocks, which depict an American flag, a teepee, and many Native Americans and are found on its southern shoreline.
The paintings are supposed to memorialize the Seneca tribe's heroic escape to Fort Niagara in the 1700s from General John Sullivan.
Although historians believe that the escape took place, it is unclear if the paintings were created by the Seneca tribe or by the boat trip business years later to promote tourism at the lake's more remote southern end.
19. Cayuga Lake – is the longest of central New York's glacial Finger Lakes
Cayuga Lake is the second biggest Finger Lake in terms of surface area and volume, located in western New York.
With a length of 38.2 miles, an average width of 1.7 miles, a surface area of 42,956 acres, and a maximum depth of 435 feet, this Finger Lake will provide you with plenty of space to explore.
The lake's natural beauty is preserved because to the parks and protected areas surrounding it.
At the south end of the lake sits the Allan H. Treman State Marine Park, which is home to Cornell University.
The Park has one of New York's largest inland marinas, including a marina, boat launch, pump out station, fishing pier, picnic tables, and playing fields for tourists.
The Montezuma National Wildlife Refuge, run by the US Fish and Wildlife Service, is located near the north end of the lake.
What began as a migratory bird refuge has evolved into a 7,200-acre preserve with swamps, ponds, and water channels that serve as both a temporary and permanent home for migrating birds as well as terrestrial animals and marine species in the region.
All four seasons offer plenty of opportunities to see animals in their natural environment.
Cayuga Lake State Park, the area's third park, attracts visitors with its beaches, moderate slopes to the lake, campgrounds, cottages, and numerous fishing spots.
Frontenac Island, one of only two islands in the Finger Lakes system, is proudly housed on Cayuga Lake.
If you enjoy fishing, the lake and its solitary island provide the ideal setting for your hobby.
The northern pike population on Frontenac Island is well-known, as are the excellent fishing conditions.
Lake trout, rainbow trout, brown trout, smallmouth bass, largemouth bass, perch, bullhead, bluegill, crappie, rock bass, and more species may be found in Cayuga Lake.
The lake's main attraction, though, is its world-renowned trout fishing. So, grab your poles and bait box and travel up to Cayuga for a day of fishing in the midst of lovely, clear lakes.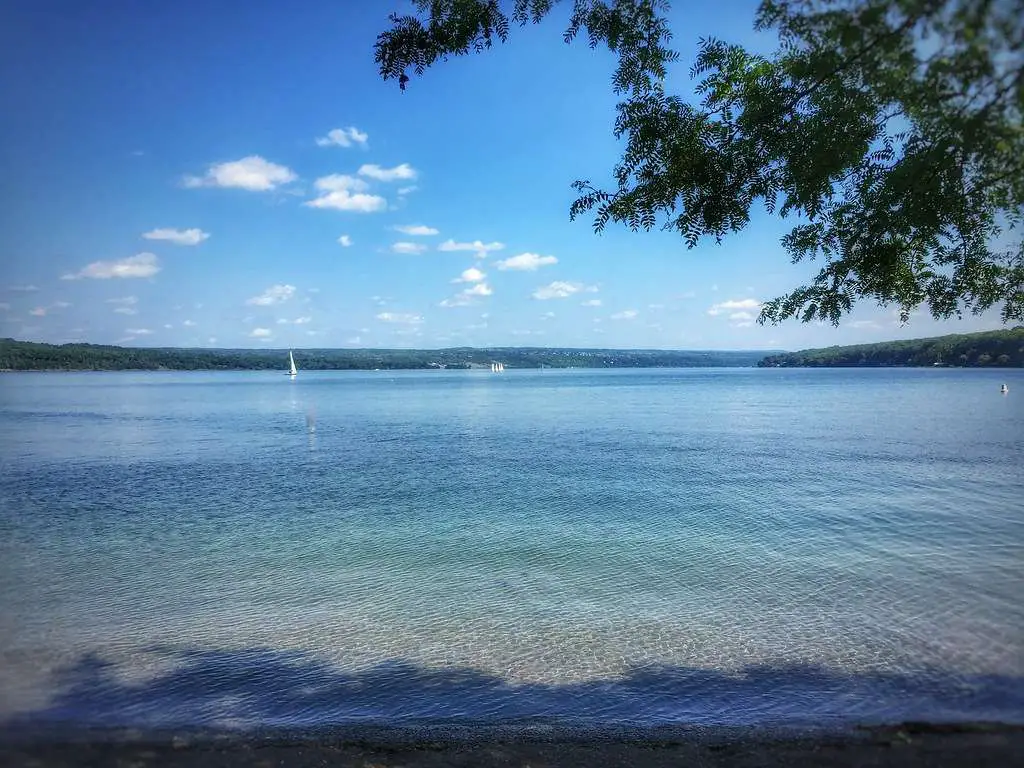 20. Lake Vermilion – is a shallow freshwater lake in northeastern Minnesota
The bright Lake Vermilion in northern Minnesota, dubbed "Lake of the Sunset Glow" by its ancient Ojibwe people, is a wonderfully perfect retreat.
With a surface size of 40,557 acres and an average depth of 76 feet, this beautiful body of water is massive.
The location is flanked by the untamed Superior National Forest, which lies smack dab in the midst of Minnesota's wildness.
It's no surprise that the natural freshwater lake is one of the most popular in the state, with its breathtaking sunsets, incredible fishing possibilities, and diverse range of water sports.
The long history of Lake Vermilion dates back to 7000 B.C., when people first began to flourish there. In order to better trade furs with the Sioux Indians, French traders built a port at Lake Vermilion in 1670.
The Chippewa tribe continues to live in the neighboring areas today.
A gold rush in 1865 proved futile just a few years later, although it did bring a large number of residents to the lake.
Soon after, iron ore reserves were found, giving a practical alternative to the newly developed gold mining sector.
Nearby communities like Soudan and the City of Tower grew and prospered. Finally, in 1890, a dam was built to sustain the growing settlements.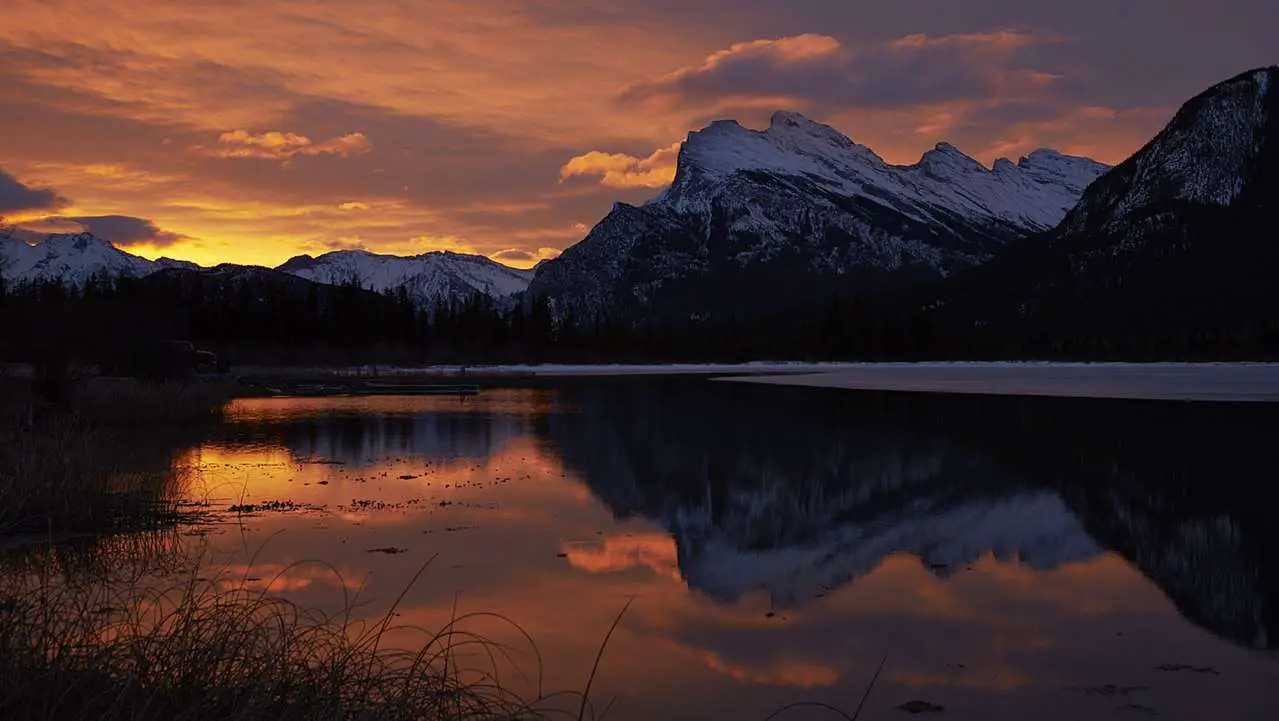 Final words
Now you are aware about the biggest lakes that are present in North America. It is up to you to visit any of these lakes and experience the natural beauty offered by them. These lakes offer something for everyone with their size. Hence, you can keep this list in mind and plan your upcoming vacation.