We had the chance to visit Mammoth Cave National Park this past season and found an amazing site to stay and trail ride – the brand-new Mammoth Cave Horse Camp, which is situated close to the park near the First Creek Trail Head. If you are interested in experiencing horseback riding Mammoth Cave, you can continue to read this. We will share all useful information that you need to be aware of.

As someone who has been at a variety of horse camps, I can confidently guarantee that you will want to pay this one a visit. You may mount your horse and ride right out of camp into the paths that run across the national park.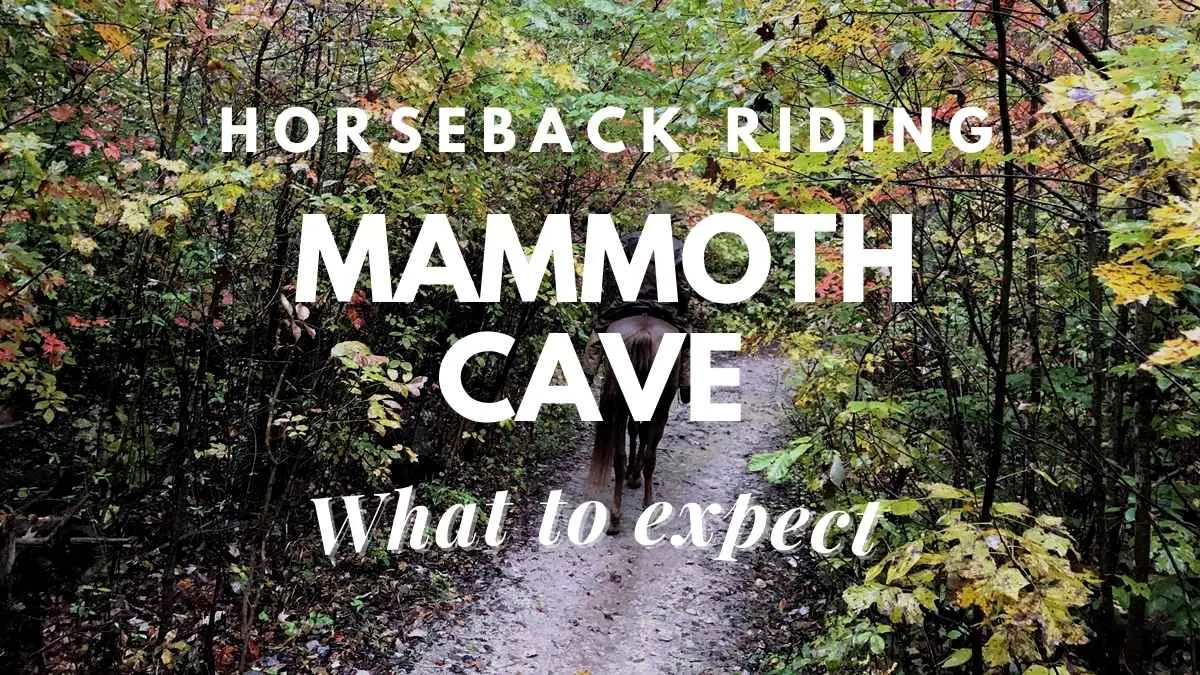 What is the Mammoth Cave National Park?
The world's longest known cave system is found at Mammoth Cave National Park. Despite the fact that more than 400 miles of the limestone labyrinth have been investigated, park authorities predict that the cave system may include another 600 miles.
The park, which is a UNESCO World Heritage Site, is also quite easy to get to. Mammoth Cave National Park, for example, is just around 100 miles between Louisville, Kentucky, and Nashville, Tennessee.
The National Park Service (NPS) wants to assist you if you're planning a journey to Mammoth Cave. In fact, as part of its "Plan Your Vacation Like a Park Ranger" series, the National Park Service just posted its "Top Ten Tips for Visiting Mammoth Cave National Park." The advice is even written by Mammoth Cave rangers, so you can be sure they'll be useful.
Read: Is Traveling A Hobby? The Ultimate Guide To An Exciting Way Of Life Learn about the Downsides Of Traveling As A Hobby

Visiting the Mammoth Cave National Park
More than 60 miles of well-marked horse paths may be found in Mammoth Cave National Park. These backcountry routes offered a wide range of experiences. You have the option of riding three abreast through dense forest or single file under stunning cliffs overlooking the Green River.
We saw something fresh and magnificent around every corner, with stream crossings, waterfalls, river vistas, steep cliffs, rock faces, and a variety of animals.
We've been to a lot of campgrounds, and this is one of the prettiest we've ever seen. In a woodland location, the campsites include flat gravel pads. After a long day, your horse may unwind in the barn's spacious 10-by-12-foot stalls. The restroom/shower facility is immaculate, with huge, private showers and dressing spaces for each person. The whole campsite is spotless and well-kept.
Camp supplies, tack, and great souvenirs are all available in the camp shop. The proprietors and personnel of the campground were full of southern friendliness, often performing bluegrass music on the store's front porch. We were there for a "special event" weekend at the camp, so we had excellent home-cooked meals, karaoke, and a live country band. Meals are served in a covered pavilion with a dance floor and a stage.
Read: Best Time To Visit Mammoth CaveLearn about When visiting, where should you stay?
Tips to visiting Mammoth Cave National Park
Here are some useful tips that you can follow in order to learn more about visiting Mammoth Cave National Park.
Make your reservations beforehand.
"Our most popular activity is cave excursions, and they often sell out," the rangers add. Purchasing cave tour tickets in advance "guarantees that you will be able to receive the tour you desire; on the day and time you prefer." It's a win-win-win situation!"
Rangers say that they know you "don't want to miss your opportunity to bake s'mores over the campfire" when you're arranging your vacation. That's why they advise making campground bookings as well.
Read: Best Mammoth Cave Tours For Families 2023 Learn about the Tour of Discovery
Select the Correct Tour
For tourists of all skills and interests, Mammoth Cave provides a range of cave excursions. "This enables you to choose the experience that best meets the demands of your group," rangers say. "There's a tour for everyone, from a 2.5-mile, 2.5-hour dirt path journey to witness a subterranean river to a 0.25-mile, 1.25-hour stroll to observe hundreds of dripstone formations."
Go to the park's "Sunny Side"
The park also offers over 85 miles of hiking, bicycling, and equestrian trails. Mammoth Cave is famed for its huge labyrinth of subterranean cave passageways, but it also contains more than 85 miles of hiking, biking, and horse trails. "Get out on the trails early in the morning to see animals, wildflowers, and the park's stunning vistas along the wooded rolling hills before the rest of the world wakes up," rangers recommend.
Hang Out with A Ranger
If you're searching for something to do other than explore a dark hole in the earth, the rangers recommend, join one of our guides for a free ranger-led session. The activities are an excellent addition to your cave trip.
Paddle on a weekday
Many visitors are unaware that Mammoth Cave National Park also has almost 30 miles of the Green and Nolin Rivers, which are ideal for kayaking and fishing, according to the rangers. Keep in mind that the river might get quite crowded on weekends. Rangers advocate canoeing, kayaking, and fishing on weekdays to avoid the crowds at river access locations.
On the Green and Nolin Rivers, you may learn more about canoeing, kayaking, and boating. If you don't have a canoe or kayak, don't worry. Within the park, there are many private canoe and kayak rental enterprises. More information about those outfitters may be found here.
Keep your jacket handy
Summers may be hot and humid, with temperatures reaching 90 degrees or more outside the cave. The temperature deep within the cave, on the other hand, is always 54 degrees. Rangers suggest taking additional clothes or a light jacket with you on your cave tour to ensure that you feel comfortable within the cave.
Take precautions.
The rangers clarify, "Mammoth Cave is a place for enjoyment, not foolishness!" "At the end of the day, we want both you and the park to be in better shape than they were when you first met."
Keeping a safe distance from animals, never feeding wildlife, remaining on boardwalks and trails, and never parking on the road or impeding traffic, according to rangers, can help you avoid the most frequent mishaps. They go on to say that adhering to the Leave No Trace Seven Principles will also help safeguard the park.
Keep track of time
Mammoth Cave National Park is located on the Central Time Zone's extreme eastern edge. Visitors traveling from the north or from the Eastern Time Zone may find this bewildering, according to the rangers. According to rangers, it's critical to keep track of local time so you don't arrive too late — or too early — for your cave tour.
Don't Get Sidetracked by Technology
When visiting Mammoth Cave, rangers advise guests not to rely on their vehicle's navigation system or GPS devices since they might offer false information. To minimize unplanned delays, rangers suggest verifying your route and reading instructions on the park's website. This is particularly vital if you need to get to the park in time for your cave tour.
Final words
While keeping these facts in mind, we encourage you to get the most experience out of horseback riding Mammoth Cave. This will be a great overall experience that you can secure, and you will not regret about.