It's hard to approach Cape Lookout National Seashore without being pulled to its famous lighthouse, which has a distinctive diamond-shaped design and stands at a height of 163 feet. The Cape Lookout National Seashore, located off the Crystal Coast (also known as the southern Outer Banks) of North Carolina, stretches 56 miles over barrier islands that are home to not only the Cape Lookout Lighthouse but also wild ponies, gorgeous beaches, and breathtaking vistas.

Are you planning a day trip to Cape Lookout, North Carolina? Here's how to get there and what you should know before going!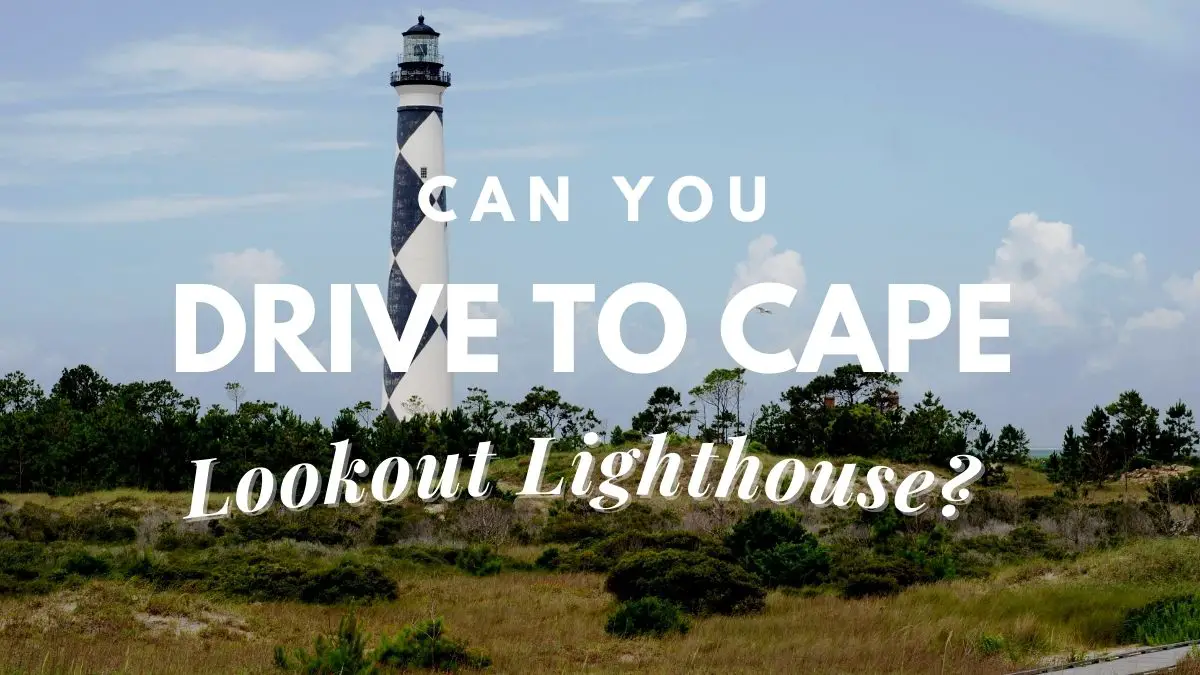 What is the best way to get to Cape Lookout?
If you're not taking a private boat to Cape Lookout, you'll have to take the ferry!
The only legal ferry service to reach the national seashore from either Beaufort or Harkers Island is Island Express Ferry Service (it's a 45-minute journey from Beaufort, although Beaufort is more accessible as a starting point for many tourists to the Crystal Coast).
The present lighthouse, which was erected in the late 1850s, is the second to stand at this remote National Seashore location.
This "new" 1859 lighthouse, which replaced an 1812 lighthouse that only stretched 96′ ft. into the sky and was therefore ineffectual for seafarers far offshore, reached 163′ ft. into the sky and was equipped with a first-order Fresnel lens that allowed the beacon to illuminate the region.
The light's subsequent 12-19 mile range was critical, as Cape Lookout is surrounded by changing sandbars and strong currents, serving as the ultimate resting place for decades of shipwrecks.
Though it was first lit in 1859, it wasn't until 1873 that it was given its characteristic diamond pattern, which set it apart from other lighthouses on the Outer Banks.
(On fact, the Bodie Island Lighthouse in the Northern Outer Banks and the Cape Lookout Lighthouse would be virtually similar if it weren't for the differing paint schemes.)
You may find additional information on the National Park Service page if you wish to explore Portsmouth Village and/or bring your car to the Cape Lookout National Seashore–but for a day trip to Cape Lookout, you'll want to start from either Beaufort or Harkers Island!
The ferry trip is a joy in and of itself: the barrier islands and gorgeous sea provide for a spectacular vista, and if you're lucky, you could even see some wild ponies on Shackleford Banks and some curious dolphins!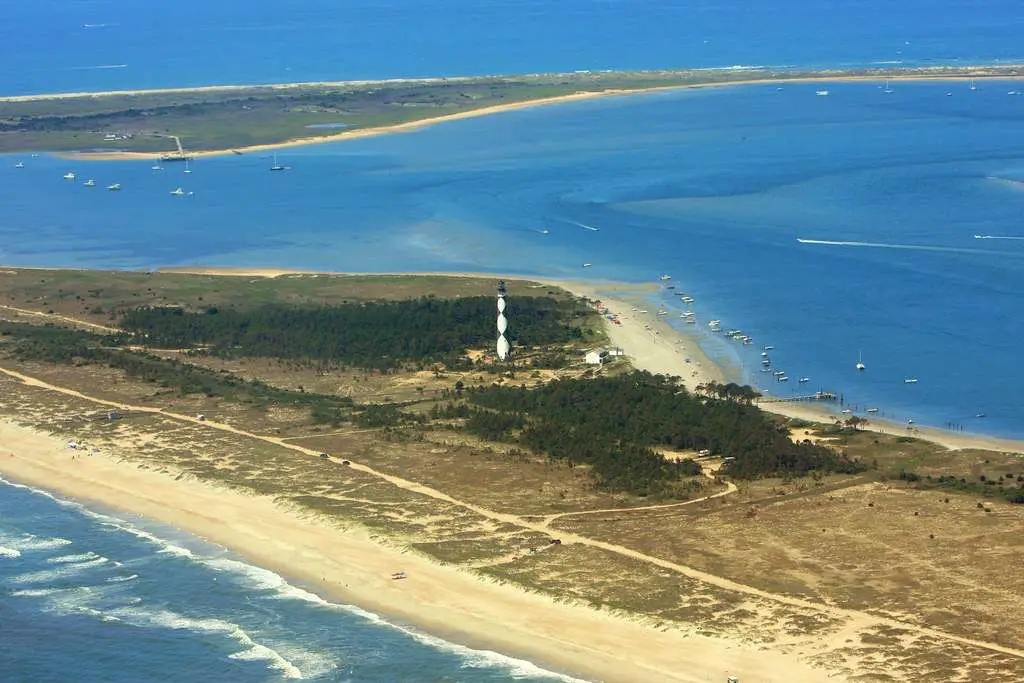 Read: Is Traveling A Hobby? The Ultimate Guide To An Exciting Way Of Life Learn about the Downsides Of Traveling As A Hobby

Can you drive to Cape Lookout Lighthouse?
Yes, it is possible for you to drive to Cape Lookout Lighthouse.
However, there are some important tips to keep in mind before you go ahead with it.
Then you will be able to stay away from frustrating situations that you may come across.
At Cape Lookout National Seashore, driving on the beach is permitted on the North and South Core Banks.
On Shackleford Banks, no cars are permitted.
Because none of the islands have bridges, you must use a car ferry, which is not inexpensive.
From Davis, North Carolina, and Atlantic, North Carolina, ferries go to South Core Banks and North Core Banks, respectively.
Because concessionaires might vary with each contract renewal, the current list of ferry operators can be found on the Cape Lookout National Seashore's List of Authorized Ferry Services web page.
If you believe you can make it through the sand in a street-legal car, I recommend nothing less than a high-clearance 4-Wheel Drive vehicle (as does the National Park Service).
The only cars that get stuck, according to a park ranger at North Core Banks, are 2-Wheel Drives, and despite being warned not to bring them across, people still try.
Keep in mind that 4-Wheel Drives get stuck as well, generally in "sugar sand," the deep and soft sand in the cabin complexes, on the beach ramps, and on the rear service road, as the locals refer to it.
A seasoned beach driver, on the other hand, informed me that he's never encountered a case when a stranded car required a tow truck because most can be pulled out with a little effort—which is why part of the mandatory safety equipment is for this purpose.
Surprisingly, he told me that larger vehicles with campsites, not lighter SUVs, are more prone to become trapped.
I would have thought that adding weight to the car would give it greater traction, but I guess it only leads the wheels to dig deeper into the sand.
The Park service suggests bringing a tow rope, jack and stand, fire extinguisher, wood boards to put under the tires for traction, and a shovel in case you get trapped in the sand.
Nobody, on the other hand, checks to see whether you have any of this gear.
All you'll need is an ORV Educational Certificate, which is a free permission you'll need to drive on the beach.
You must declare in writing that you have read and comprehended the Off Road Driving Rules, as well as provide some basic vehicle information and the reason for your beach driving.
You can acquire one when you arrive on the island at the Great Island or Long Point cabin offices, or you can get one ahead of time by contacting the National Park Service with your vehicle details.
If the cabin office is closed for whatever reason, I recommend acquiring one ahead of time. The certificate / decal that you put on your car is valid for a year.
I was first worried about driving on the beach because of the risk of becoming trapped.
I'd done a lot of "4-Wheeling" on rough roads before, but the only beach I'd drove on before was Daytona Beach in Florida, which is as hard as cement.
My fears were unfounded, because with a 4-wheel drive car and a little common sense, you can pretty much go through any sort of sand.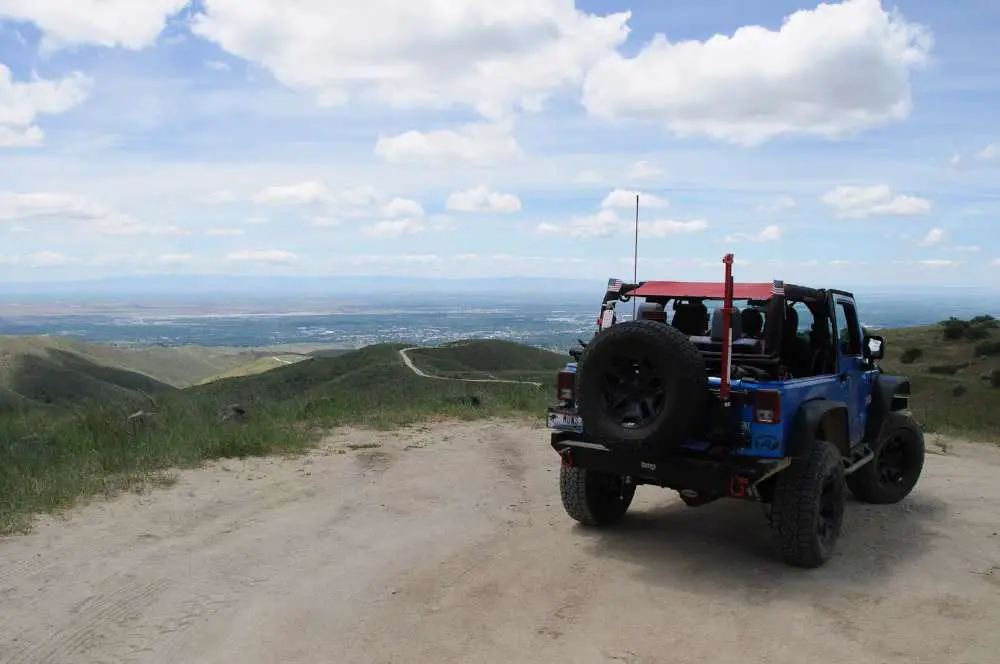 Here are some tips to keep in mind as you drive to the Cape Lookout Lighthouse
Reduce the pressure in your tires to 20 psi. Make sure you have a tire pressure gauge on hand. You may fill up your tires for free at the boat ports when you return.
If you're driving in soft sand, don't slam on the brakes because the wheels will dig into the sand. In fact, avoid stopping on the soft sand at all costs.
When driving on soft sand, drive in the tire tracks of prior cars to avoid compacting the sand.
To obtain an ORV Educational Certificate, go to http://www.orv.org/cert
You must be 16 years old and have a valid driver's license to participate.
Your car must be properly registered and equipped with a license plate.
Don't drive on closed beaches or trails designated "Authorized Vehicles Only." You may drive on it if it seems to be a road and is not closed or designated as such.
Only drive on the ocean beach, not across the sand dune or along the sound's coast.
If you park, ensure sure there is enough space between you and the water for other vehicles to pass.
Make sure you don't run anyone over.
The speed limit is marked and ranges from 15 to 25 miles per hour.
It is not a good idea to drink and drive.
All of the foregoing laws apply to ATV drivers, as well as the requirement to wear a helmet and eye protection.
Things to Do on a Cape Lookout National Seashore Day Trip
There are numerous activities to do while you are spending time at the Cape Lookout Lighthouse.
Let's explore some of the most prominent activities that you can engage with out of them.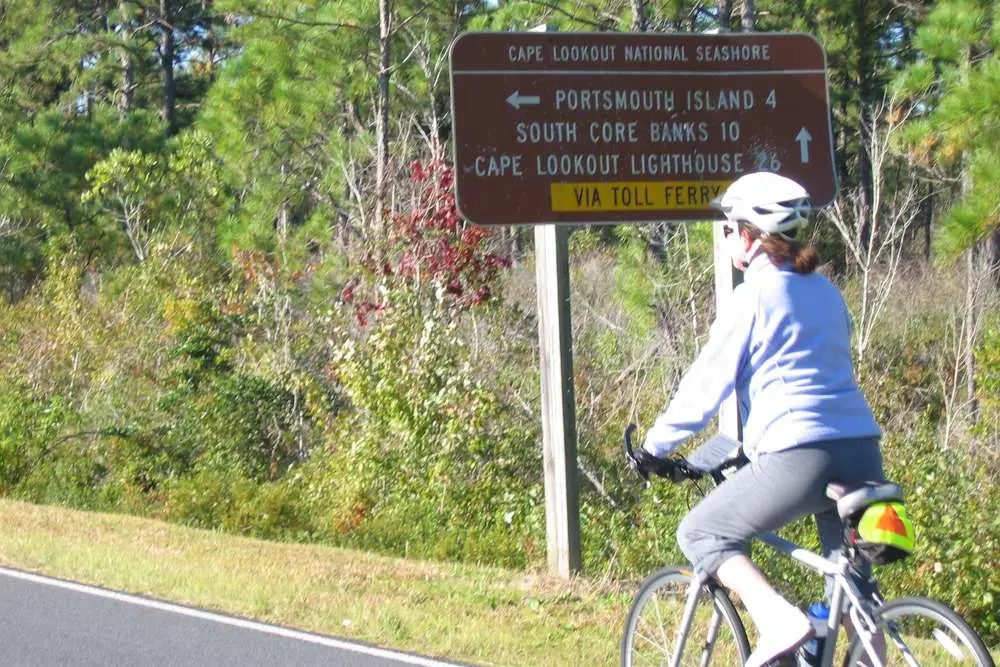 Climb to the top of the lighthouse.
If you come between May and October (the lighthouse shutters in the winter), this is without a doubt the #1 thing to do in Cape Lookout: the 207-step walk up the spiral staircase rewards visitors with extremely stunning views across the Cape Lookout National Seashore and adjacent barrier islands.
If you're planning on climbing the lighthouse, make sure to verify the opening times before going.
Check the National Park Service website for the most up-to-date pricing and hours.
Because climbing permits are limited, we recommend going to the ticket counter as soon as you get on the island, receiving an allotted climbing time, and then organizing the remainder of your Cape Lookout Day trip around it.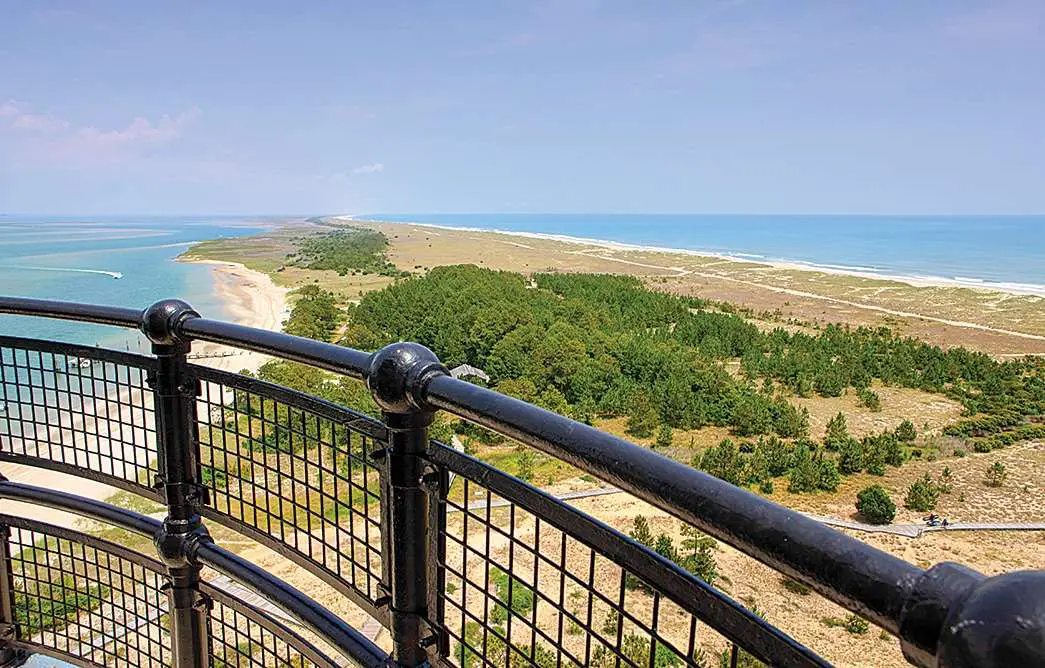 Check out the Keepers' Quarters Museum
A tiny museum next to the lighthouse details the history of the 19th-century lighthouse and people who cared for it until it was completely automated in 1950–well worth a visit on your day trip to Cape Lookout!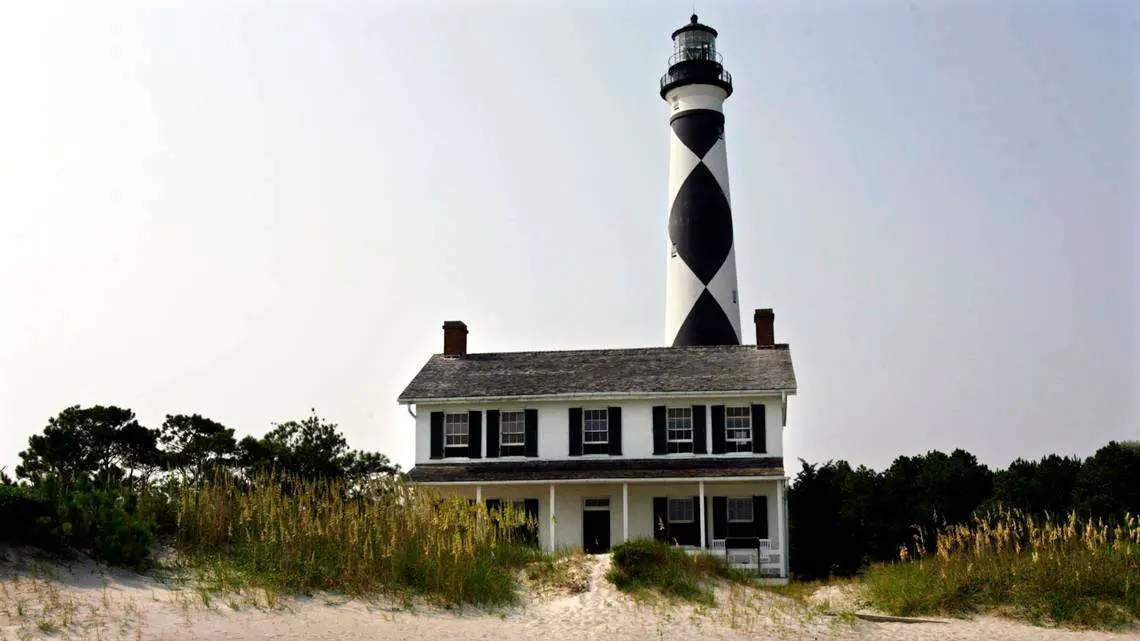 Look for the free-roaming horses.
The wild horses of Shackleford Banks and the adjacent environs are said to be descended from Mustangs who survived a 16th-century Spanish shipwreck.
That origin is a matter of discussion, but there's no denying that North Carolina's wild horses are a popular addition to family holidays in the area (they were a huge hit with me when I was a youngster)! Please keep a 50-foot gap between you and the horses for everyone's safety.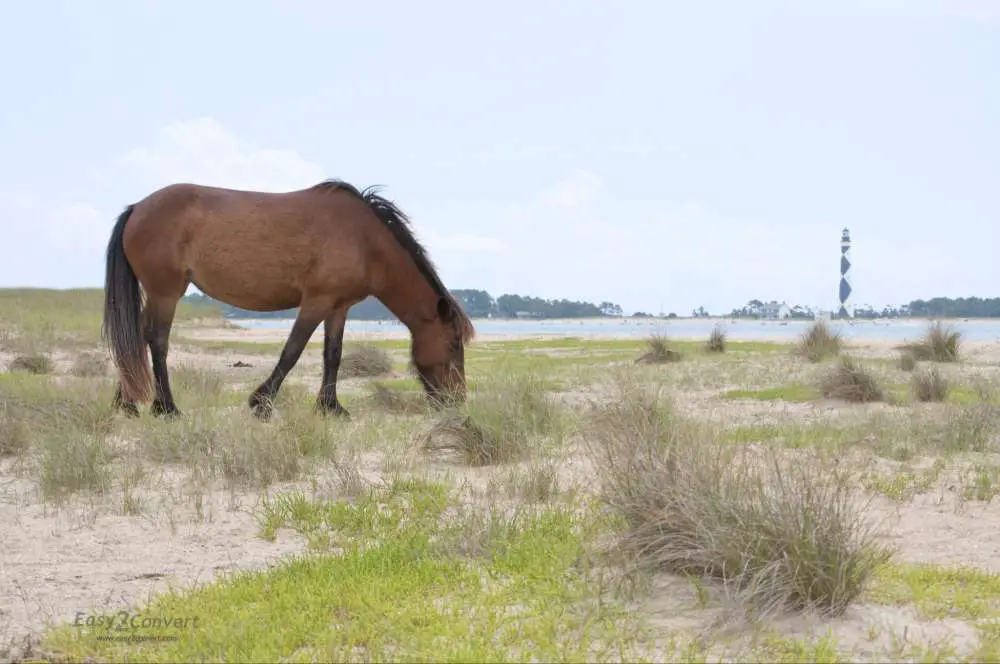 Take a trip to the beach.
Of course, no vacation to the beautiful coastline near Cape Lookout would be complete without some beach time! On one side of the barrier island, the seas are quiet and peaceful, while on the other, the Crystal Coast is famed for its rolling waves.
You'll have a wonderful day regardless of whatever beach you select!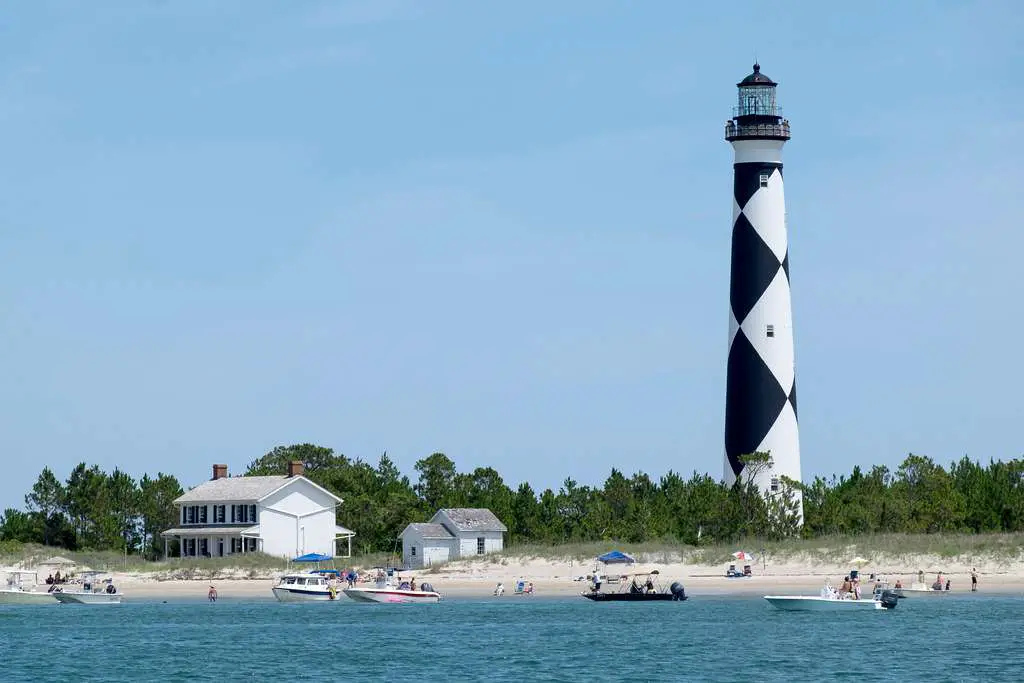 Tips to keep in mind when visiting the lighthouse
There are few important tips that you will need to keep in mind at the time of visiting the lighthouse. Let's take a look at some of the most important tips out of them.
To say the least, the amenities around the Cape Lookout National Seashore are minimal. Near the lighthouse, there are restrooms and water faucets, but not much more.
As a result, guests should pack food, sunscreen, and a large spray bottle.
If you travel, be sure to leave enough time to see the neighboring beaches! The Cape Lookout National Seashore is known for its fantastic fishing and shelling and staying a while to explore the beach is well worth it.
Once you get on the island, there is a "taxi service" that will transport you to the greatest shelling and fishing beaches (which are located around the point, or roughly a mile or two away from the passenger ferry docks).
The journey is a little more expensive, but it's a fun opportunity to get a closer look at the seaside, since it goes by ancient homes and towns as well as miles of beautiful beachfront.
Do you want to remain a little longer? Within the Cape Hatteras National Seashore, the National Park Service administers a few primitive beach houses.
These homes are a feasible alternative for guests who wish to explore the kilometers of beachfront in depth, with amenities such as air conditioning, wheelchair accessible facilities, and magnificent beach views.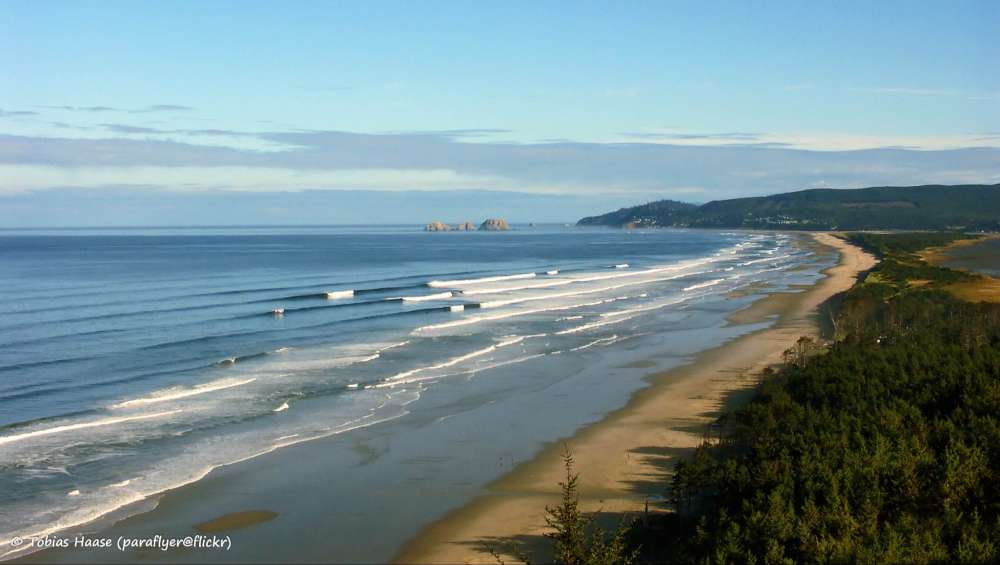 Final Words
The most difficult element of seeing the Cape Lookout Lighthouse is getting there, but there are a few choices for getting there. You may either get to the site on a privately owned boat, or the National Park Service has commissioned the Island Express Ferry Service, which is based in the towns of Beaufort and Harker's Island, to take tourists to the site. Reservations should be made well ahead of time, particularly during the peak summer season.
It's a scenic 20-45 minute cruise across the Back Sound or Core Sound to reach the Cape Lookout barrier island shoreline, and from there, visitors can easily follow the paths and boardwalks to the primary National Park Service (NPS) visitors center and the Cape Lookout Lighthouse site, depending on their preferred mode of transportation.
On the island, the old keeper's quarters have been turned into a small museum, and National Park Service rangers are usually on hand to answer inquiries about the lighthouse and the nearby beaches.