Williamsburg offers something for everyone, whether you're searching for a fun girl's weekend, an adventurous weekend vacation, or a romantic weekend away.  This is a gorgeous region with a ton of exciting things to do and fantastic restaurants. If you are planning to spend a weekend in Williamsburg VA, you should be careful to plan your itinerary carefully. This Williamsburg, Virginia itinerary will include some history, adventure, and, of course, recommendations for some of my favorite restaurants and bars. We really hope that this will assist you in organizing the ideal Williamsburg weekend if you are considering visiting.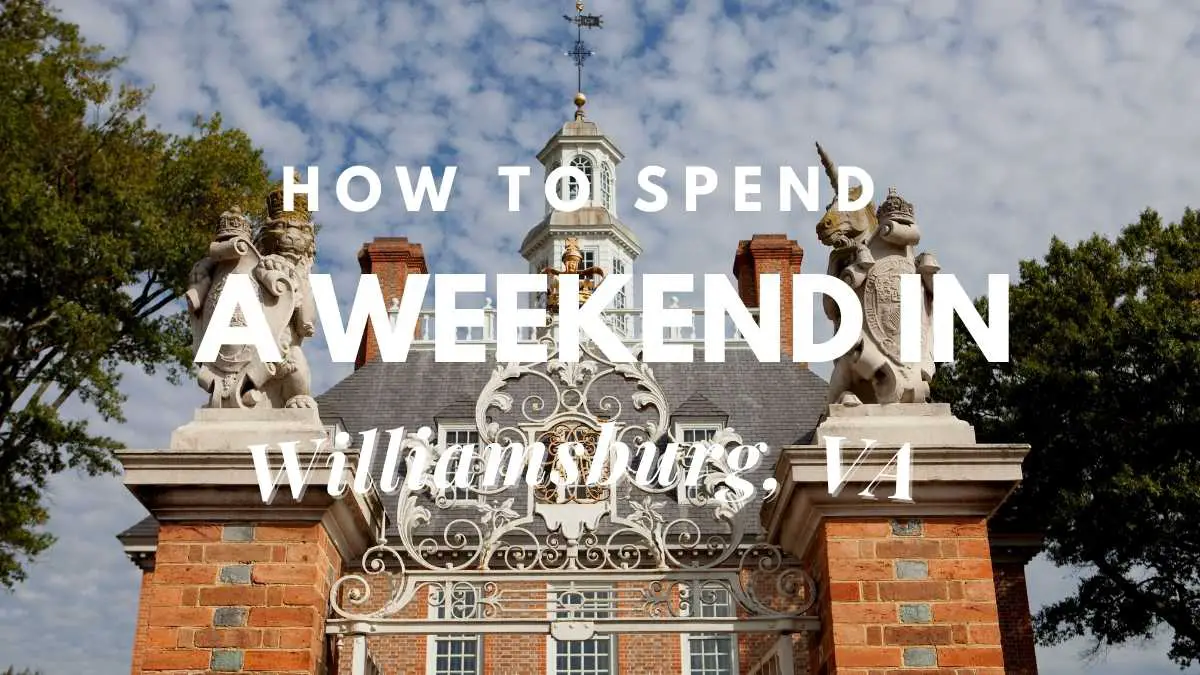 Breakfast on Day 1 at Aroma's Coffeehouse
Aroma's is a cozy coffee shop that offers fantastic breakfasts in generous amounts at a fair price. The components in my morning scramble tasted fresh, and my eggs were wonderfully fluffy. Weekends are when this location is at its busiest, so you should arrive early. When classes resume, you may see William & Mary students studying here and locals socializing. You may park at the Prince George Parking Deck, which is just behind Aroma's, if you arrive in plenty of time. After finishing breakfast, you'll be one block from Market Square and Colonial Williamsburg's historic district.
So parking is the first step. The Prince George Parking Garage, which is located at 230 N Henry St., has previously been discussed. You may not be able to get a place in this parking deck since it is tiny, but it just costs $12 for the whole day.
There is free parking at the Colonial Williamsburg Visitor's Center, and it takes around 8 minutes to walk or take one of the free shuttles to get to the historic district. We gave both a try, but the ease of having our car close by was too much to pass up. To park in the garage, I would happily pay the $12 fee. We were able to leave our baggage at the vehicle, and when we needed a nap in the afternoon, we even rushed back to the hotel. However, after you've sorted out parking, proceed inside the old center and begin exploring.
For admission to the numerous structures and gardens, you need purchase a Colonial Williamsburg ticket. If not, your only option is to stroll along Duke of Gloucester Street. I would make sure to go to the Colonial Williamsburg Courthouse, George Wythe House, and the Governor's Palace first. Make sure to attend any performances that are taking place in the Playhouse, which is close to the Governor's Palace. Visit the lovely Colonial Gardens as well. If you want to witness them fire an 18th-century musket, check out the Magazine. Go by and ask the interpreter since they only do this at certain times. Back toward Market Square now that lunch should be served!
Read: Is Traveling A Hobby? The Ultimate Guide To An Exciting Way Of Life Learn about the Downsides Of Traveling As A Hobby

Electric Circus Taqueria for lunch
If you like specialized tacos, go here. Tacos are their major draw; however, they also sell nachos and burritos. It's positioned in the rear of Precarious Beer Project and is virtually set up like a permanent food truck. They provide you a buzzer to grasp onto once you approach their window and place your order.
Before getting in line for your dinner, you may get a beer, or you can wait until after. The Circus Shrimp Taco was fantastic. I had a satisfying supper of two tacos. While you wait for your dinner on a sunny day, you may sit outdoors and people-watch. They also accept pets!
It's time to go back outside and continue your exploration of Colonial Williamsburg when lunch is over. This time, you'll be facing the Capitol Building at the far end of Duke of Gloucester Street. After seeing the Peyton Randolph House, you should go to the Blacksmith. After seeing the Silversmith, which is also extremely cool, you may get a food at the Raleigh Bakery. They are famous for their gingerbread, but I'm not a big fan, so I chose a chocolate-chip brownie instead, which was ooey and delicious.
Visit the pharmacy to learn about the many medications that were available then. Catch a concert at the Charlton Stage next door if you schedule your visit well. Lastly, you may take a tour of the Capitol Building to witness where many significant Revolutionary War figures began their political careers. You may either have an early supper or relax at your hotel before going out to dine as you'll probably be exhausted by this time.
Dinner at Amber Ox Public House or Sal's by Victor
Depending on your mood, there are two alternatives for supper here. A fantastic Italian restaurant called Sal's by Victor may be found within a mall. The Amber Ox Public House, which offers farm-to-table New American cuisine, is located just outside Colonial Williamsburg's historic district. The dough is flawless, and the red sauce is unbeatable on Sal's pizza. Their ravioli was also excellent.
Purchase the Southern Ham Board or the Biscuit Board at Amber Ox. Their biscuits are deliciously buttery and fluffy. Even though their menu varies periodically, you can never go wrong with shrimp & grits.
Breakfast on Day 2 – The Tipsy Beans
The Tipsy Beans' breakfast is unbeatable. They offer delicious smoothie bowls and chicken & waffles, and my husband really enjoyed their shrimp & grits. Locals frequent this location often, yet there has never been a line while I've been. They have a little terrace where you can relax and enjoy your meal during the beautiful summer months.
This is unquestionably one of my top restaurants in Williamsburg, Virginia. Do yourself a favor and get one… or two… of the Speciality lattes they have listed on one whole page. During your weekend in Williamsburg, you must go there!
Parks at Busch 
Visit Busch Gardens while you're in Williamsburg if you like theme parks. One of the top US theme parks, it has received the title of "World's Most Beautiful Theme Park" for 29 years running as of 2019. The roller coasters in this park are my favorite feature. It's special since I rode my first large coaster there because I spent my whole childhood visiting this park every summer for roughly five years straight.
You truly can't match the quality of the rides at Busch Gardens for the size of the park, especially after seeing Disney, Universal Studios, and Carowinds (I could go on). I really like the park's concept, where each area is based on a different European nation! When I was younger, this park possibly unconsciously ignited my passion for travel.
I've included all of my advice for visiting Busch Gardens Williamsburg, but if you just have a day to spend there, be sure you get there early and stay until closing time. The rides Griffon, Apollo's Chariot, Verbolten, and Loch Ness Monster are must-ride attractions. But that's just the beginning! Check out their event schedule since there is generally something going on at all times. They also provide entertainment that has won awards if you like watching programs.
You should also be careful to wear the nicest sneakers possible at theme parks. You'll be doing a lot of walking, so wear comfortable shoes!
Day 3 Breakfast at Blue Talon Bistro
You will be completely surprised by this French-inspired bistro that is close to Colonial Williamsburg, I believe. After being turned away from Aroma's the first time, we came here and fell in love with it. I can't suggest their breakfast sampler plate enough. The ham biscuit that was served with it hasn't stopped my sister from talking about it. We also loved the vibe. You may choose to sit inside or outdoors, and I found that the outside space strongly reminded me of French cafés. They offer excellent mimosas on their beverage menu, which is another advantage.
First choice: Jamestown
Okay, so today you have two possibilities for expanding your Historic Triangle exploration. The remnants of the earliest permanent English colony may be seen at Jamestown, a historic town. The Jamestown Settlement and Historic Jamestowne are the two main attractions in this area. Both have an admission cost, however Historic Jamestowne has a lower one if you have an America the Beautiful Pass.
The Commonwealth of Virginia oversees both the American Revolution Museum in Yorktown and the Jamestown Settlement. A Powhatan Indian village, model ships, and recreations of what the colony would have looked like may all be seen in the Settlement. You may view what is left of the 1607 village at Historic Jamestowne, which is a National Park. The Glasshouse is also located here.
You may witness ruins of the old Glasshouse, which was a component of Jamestowne's first business, as well as see glassblowers create a variety of objects at the Glasshouse. The Glasshouse is totally free! Before you depart Jamestown, be sure to visit Billsburg Brewery. Oh, and while going to and from this adorable tiny town, take the Colonial Parkway!
Alternative 2: Yorktown
The ideal day excursion from Williamsburg is to Yorktown. The Colonial Parkway's stretch that runs beside the York River is quite stunning, and it's just about 20 minutes away. Start your day by learning about the reasons of the Revolution as well as the state of the colonies and England at the time at the American Revolution Museum. Outside, you may visit replicas of a camp used by the Continental Army and a Colonial farm. Eat lunch at the Water Street Grille and enjoy the view of the George P. Coleman bridge from the terrace.
Visit a couple of the businesses on Riverwalk Landing before grabbing a coffee from the nearby Mobjack Bay Coffee Roasters. The Yorktown Battlefield, another National Park Service site, is the last option. This is where the Revolutionary War's last combat was fought.
Final words
Now you have a clear idea on how to spend a weekend in Williamsburg VA with your loved ones. It offers something for everyone, and you will be able to find a large number of things to enjoy. All you have to do is to immerse yourself in the activities offered and make sure that you have a quality time all throughout.
In Williamsburg, a week is not difficult to spend. We used to visit Busch Gardens for three days and really enjoyed ourselves. It may take at least two days to explore Colonial Williamsburg. It's simple to fill an entire week with all the excellent Williamsburg wineries you can visit, a day excursion to one (or both) of the nearby towns, and other activities. But even if all you have is a weekend, I strongly urge you to check it out! You'll only be able to visit Williamsburg for a weekend before feeling as if you want to stay longer.