Twila Reid Park is between Anaheim and Buena Park, but it might as well be the latter. It's located at the far corner of Anaheim. You pass by a small amusement park called Adventure Park and it's not too far from Knott's Berry Farm. As far as Twila Reid goes, it is a local park that has quite a diverse clientele.

Twila Reid is found between a neighborhood of large, nice houses, not too far off highway 39, the main drag of Huntington Beach that goes through Anaheim and Buena Park. There is also an elementary school and a fire station connected to it. It appears like a pillar of the community.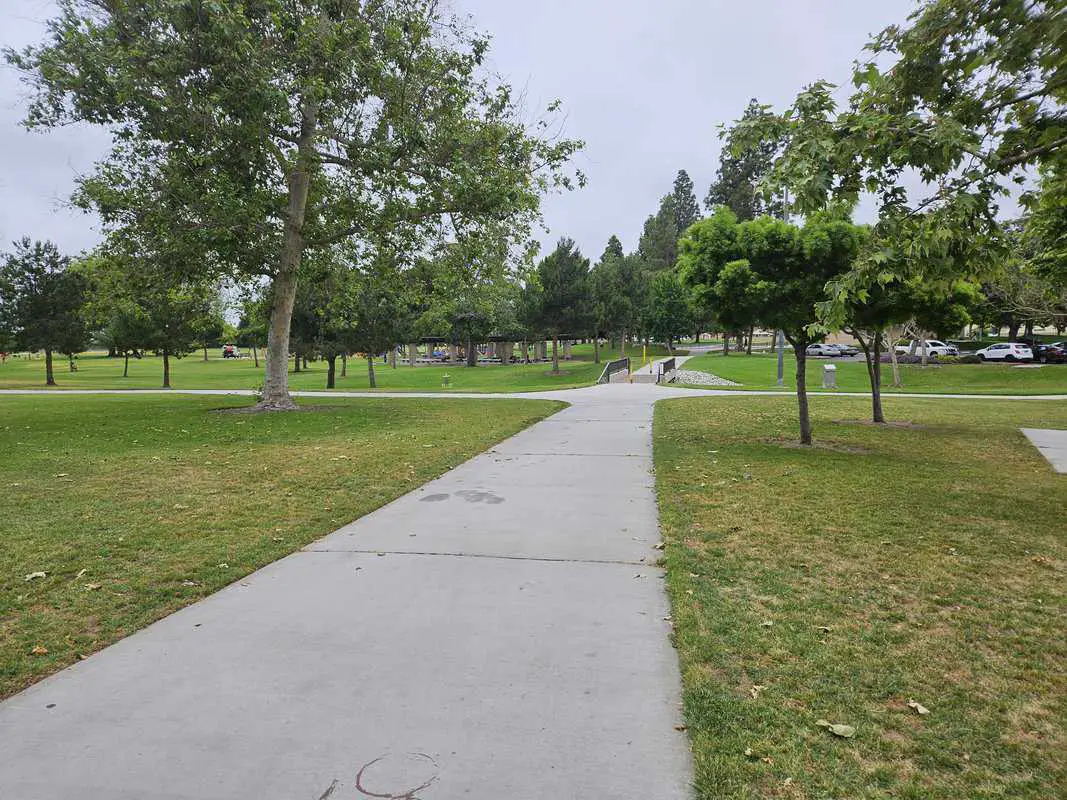 Facilities and Recreational Activities at Twila Reid Park
When I arrived at Twila Reid, there is a lot of parking but as soon as I see how large the area is I'm surprised there's not more.
I immediately hear music and the sounds of people having a good time.
The park has more energy than a lot of other parks in the area.
On the main benches, a half a dozen men sit and talk.
It's unclear what they are doing or why they're free to sit in the park on a Monday afternoon.
Next to them are three small tennis courts with players passionately immersed in a game.
A large playground doesn't have children playing on it, but adults. I begin to wonder if today holiday is.
If not, they're clearly ditching school.
They laugh and holler, fooling around on the intricate playground. Other young adults walk through the park.
The Local Impact of Disc Golf
Two separate groups of disc golfers play on the nine holes that the park has.
Disc golf, or frisbee golf, has become a very popular sport in California.
Many parks are installing baskets for locals to play.
Like many of the other parks in the area, there is a baseball field, but no one is using it.
There is a homeless man with a grocery cart and a thick covering over it, creating a makeshift place to sleep.
Homeless people have become an all-too-common trait of the parks in Anaheim and the surrounding area.
The Lively Atmosphere at Twila Reid
However, the atmosphere of the park doesn't suffer.
For a Monday afternoon, it is one of the livelier parks that I have encountered.
It has a lot more going on than La Palma Park.
It doesn't have as much infrastructure or wildlife as Pearson Park or as many trails as Ronald Reagan Park and Oak Canyon Nature Center, but it has a unique vibe.
It is a city park, but one of the best aspects of this one is that it has plenty of green to utilize.
If you're interested in how Twila Reid stacks up against other parks in the area, you might want to check out our blogpost on the 15 Best Parks in Anaheim (Ranked Best to Worst).
An Abundance of Green Spaces and Leisure Facilities at Twila Reid
It has a very large field in the middle of the area, but other smaller fields are intersected by a concrete sidewalk.
You can take a pleasant stroll, come for a picnic, play with your dog, allow your children to run without losing them, and play a round or two of disc golf.
The vibe is certainly influenced by the disc golf baskets.
Tennis Facilities and Educational Street Art at Twila Reid
When the tennis match finishes, new people come to the court and start playing.
Near it are educational paintings on the sidewalk including a map of the United States and hopscotch.
There are bathrooms on each side of the park.
In addition to the lavatories, there are water fountains, sinks, and barbecues.
Some of the barbecues, however, are dirty.
They need to be cleaned before you throw some meat on them.
Picnic tables and benches to sit on are readily available.
Some of them are oddly placed.
There is even a picnic table in the middle of the field that I sit on and admire the trees around it.
Just walking across the field takes a while.
It is a large area.
I walk through the grass and then on the sidewalk. I take in the blowing wind and the squirrels running up the trees.
There are bridges that don't seem to have any purpose beyond aesthetics.
Whether you are coming to the park for a game of disc golf or to sit in the grass, there are a lot of ways to enjoy Twila Reid.
You could read a book or watch the passionate tennis games.
You could bring your children and their friends for a game of baseball.
Exploring the Community Feel at Twila Reid
More than a lot of the parks I have encountered in the area, Twila Reid feels like a community park.
Children and old men are both found at the park, but it doesn't feel like anyone is bothering one another.
There is enough space for everyone to do their thing.
Teenage girls walk through the park.
Teenage boys fool around.
Older men talk at the benches.
Young men play throws discs and holler when someone makes a shot.
If you live in the area, Twila Reid would be a great place to enjoy your friends and family.
It's a park to unwind and take in the surroundings and atmosphere.
You probably wouldn't come here if you are from out of town, but when you live nearby it's worth checking out.
Beginner disc golfers can start building their skills.
Amateur tennis players can find themselves passionate about a game.
Kids can climb the intricate playground.
Twila Reid Park – a Unique Blend of Unusual and Pleasant Experiences
Twila Reid is a pleasant park, but it is also kind of strange.
Why were there so many teenagers and middle-aged men hanging around the area on a Monday?
Is it a park where people go when they have nothing to do?
Is it a place known for being safe to ditch school?
I had plenty of questions about the culture of the park, but I chose to leave the people alone and let them enjoy their day.
Why Twila Reid Park is the Go-To Local Park for Anaheim Residents
So, if you are in the area and need a nice park to get out of the house, enjoy some baseball, tennis, and disc golf, or just take your kids to a nice playground, Twila Reid has what you need.
Don't settle for a park like La Palma where there is nothing going on. Try this one instead.

Hello! My name is Ryan Beitler and I am a professional copywriter and blogger. I graduated with a degree in Literary Journalism, which basically means I double majored in English and Journalism. I also have a travel blog and am finishing my first novel.
Born and raised in the sunny city of Anaheim, California, Ryan Beitler has always been an explorer at heart. his passion for adventure and discovering the beauty of the world around him has been the driving force behind his successful career as a travel blogger. With an insatiable curiosity for uncovering hidden gems and connecting with diverse cultures, Ryan has transformed his love for travel into a lifestyle that has inspired countless others.