As I pull up to the Oak Canyon Nature Center—the remote wilderness area between Anaheim, Yorba Linda, and Corona, California—the trees begin to shade the end of the road.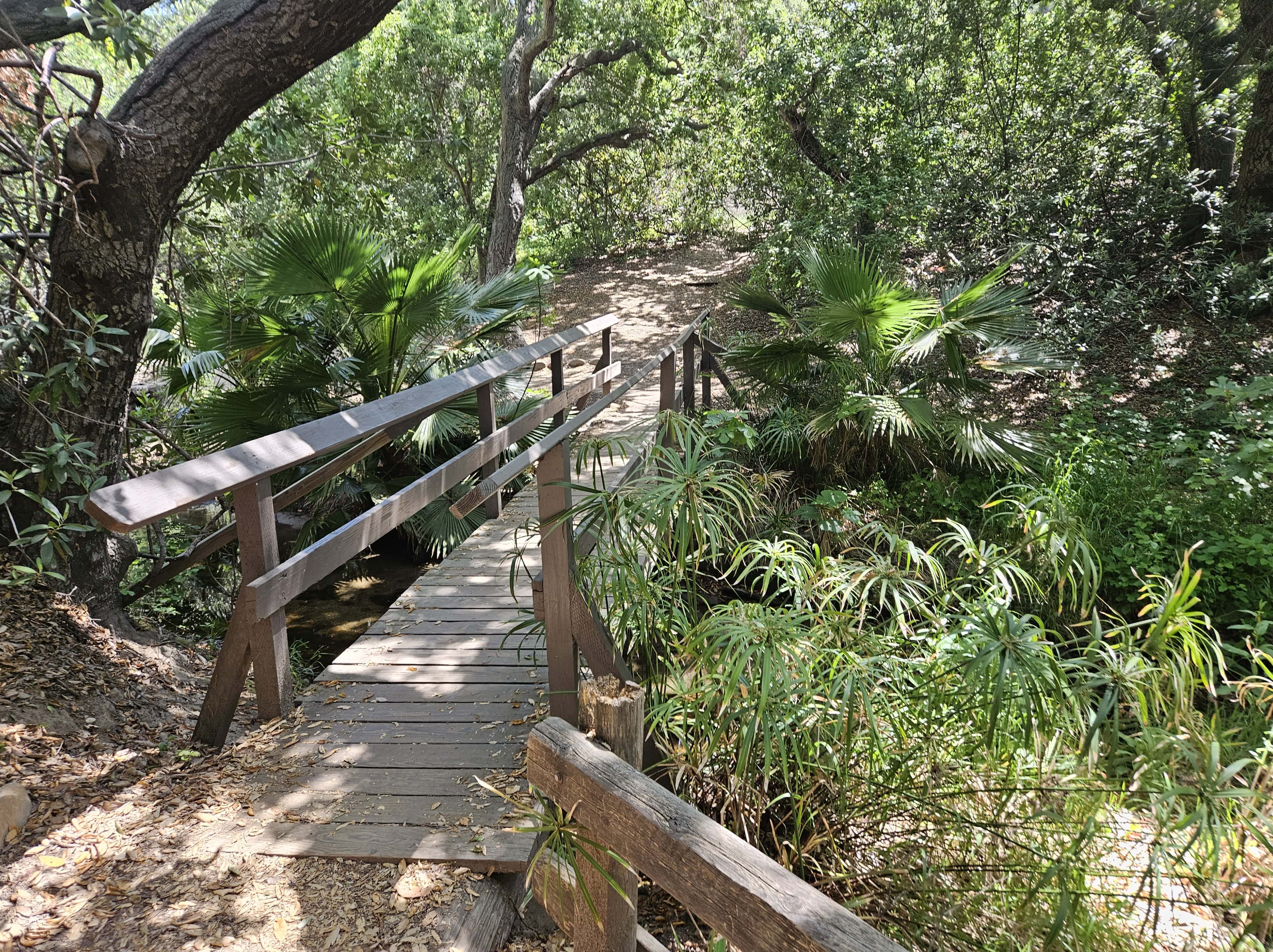 There's nowhere else to drive here, save for a gated road for city regulators that is locked. There are options to park in the lot or on the street.
Exploring Oak Canyon Nature Center: A Southern California Gem
I finish the rest of my coffee before entering the remote but accessible park. This entrance connects to a tributary of trails that are easy to moderate yet deep.
There is a visitor's center that I disregard— for now. Later it will become my favorite part of the park.
Eight trails enable hikers to go on as long of a trek as they want. I set foot on five trails but there simply wasn't enough time to see each one.
Setting Foot on the Heritage Trail
I start at the Heritage Trail, which winds around the park like one of the king snakes that the trail quickly warns you about.
It also informs you about the snakes' importance to the area. They are natives, and they are the only other snakes keeping rattlesnakes at bay. They are even immune to their poison.
Around the large rendering of a king snake are children and their mothers. I begin the hike as their voices fade away. It doesn't take long to realize that there are more animals than just king snakes. There are diagrams describing them.
Dancing with Butterflies and Birds in Oak Canyon
Butterflies dance around your heads and insects buzz in your ears.
Signs alert you of the many bird species in the area. There are hawks and eagles and owls and house finches. Crows soar above the trees, which provide contrasting slivers of light around the park.
At the Oak Canyon Nature Center, the shade and sunlight are constantly entwined, providing moments of darkness interrupted by darkness. While it is a great place to find some shade on one of the many benches along the trails, you should still think about bringing a head covering for the moments when the sun beats down heard on your head, neck, and face.
Observing the Effects of Urban Encroachment
It is a wild, natural area, but signs at the beginning of the Heritage Trail bring your attention to urban encroachment. The people who work at this park have done a good job protecting it, but still, you can see houses on higher hills, power cables and fences contrasting the natural environment, and even the drones of airplanes flying above. I think about how beautiful this whole area beyond the park once was.
I reach a narrowing part of the trail where all kinds of plants and foliage, including some poison oak covers the trail. It is high up, with no rails and the warning of king snakes, so I decide to head back and see what the rest of the trails have to offer.
Pausing to Admire the Views from Roadrunner Ridge
But first, I make sure to look at Roadrunner Ridge, which provides nice views and a different perspective of the park.
Exploring the Diverse Trails and Wildlife at Oak Canyon
After returning to the entrance area, I am excited to see what other trails the park has to offer. Stopping to look at more signage, I learn that there are lizards and other reptiles in the area.
There is a bird observation section with food for the many different species. Behind it are some mining tools and information about the mining trade in Silverado Canyon, which I know from personal experience feels like you're going back in time. Silverado Canyon is in stark contrast to the suburbs around it.
Delving into Silverado Canyon's Rich History
There is also a small Roman-style theatre where staff likely give talks and children act in plays.
Beginning the Stream Trail, I find out fast there is much more ahead.
Falling in Love with the Stream Trail
This is probably my favorite trail in the area.
The Stream Trail consists of small rivers, tiny waterfalls, mini oases, and all kinds of water.
The color of some of this liquid reminds me that a sign near the entrance talked about the perpetual drought and water potability issues in California. Some of the water doesn't look so clean, yet there are ducks, crows, and other birds in it and around it.
There are also squirrels running up trees and all kinds of birds flying above them.
This trail goes deep, so deep with multiple channels that I'm concerned I could get lost.
In the interest of seeing the rest of the trails, I turn around and take in the oases and sounds of running water one last time.
Lizards run across the trail, and as fewer people are around more animals show themselves. It becomes clear that this area is teeming with wildlife.
Finding Peace on the Tranquility Trail
The Tranquility Trail is just about the opposite. It is very quiet, with few animals or people around.
The people I do see respect the calm silence. We simply nod at each other. The Tranquility Trail wraps around, suddenly, I lose myself in my thoughts. It spits me out near the entrance. Before I left, I decided to see what the visitor's center all is about. I'm glad I did.
The Informative and Fascinating Visitor's Center
Not only is the visitor's center informative, but there are also at least a dozen snakes, toads, lizards, and other reptiles.
There is a tarantula and some incredible geckos. It is the perfect way to end a visit to the Oak Canyon Nature Center.
I had a great time on the trails of this park, but I feel like I barely scratched the surface of what the area has.
I've lived in Southern California most of my life, love nature, and had never been here before. I couldn't believe how in-depth and immersive it was. There are trails I never even saw and other pathways I want to go further down.
It's not a place you can cover in a few hours. Spend the day or repeat trips here. If you happen to live in the area or are visiting, the Oak Canyon Nature Center is a great place to bring your kids or just your thoughts. I know I will be returning sooner than later.
A Step Back in Time: The Uniqueness of Silverado Canyon
When it comes to Silverado Canyon, you are going back in time. You can see what it used to be like to live here. It was a different life, full of hard work, wildlife, and a lifetime spent under the cover of trees. As far as Southern California goes, there is no place more unique.
The Oak Canyon Nature Center is more than just a nature park. It's a voyage into Southern California's rich history, a haven for countless species, and a serene escape from urban life. The area's immersive, wildlife-rich trails provide an intimate encounter with nature that remains etched in memory. In fact, its uniqueness might even compare to other amazing parks in the region. Find out more in our comprehensive guide to the 15 Best Parks in Anaheim (Ranked Best to Worst). Don't miss out on exploring these local gems.

Hello! My name is Ryan Beitler and I am a professional copywriter and blogger. I graduated with a degree in Literary Journalism, which basically means I double majored in English and Journalism. I also have a travel blog and am finishing my first novel.
Born and raised in the sunny city of Anaheim, California, Ryan Beitler has always been an explorer at heart. his passion for adventure and discovering the beauty of the world around him has been the driving force behind his successful career as a travel blogger. With an insatiable curiosity for uncovering hidden gems and connecting with diverse cultures, Ryan has transformed his love for travel into a lifestyle that has inspired countless others.