Nestled in the heart of Anaheim, Pearson Park is a charming urban oasis that offers a wide array of activities and attractions for visitors of all ages. From lush green landscapes to diverse recreational facilities, this quintessential Californian park is the perfect getaway from the hustle and bustle of daily life. Whether you're seeking relaxation, entertainment, or family fun, Pearson Park promises to deliver an unforgettable experience. So, come and explore the park's hidden gems, such as the picturesque cactus garden, the majestic Helena Modjeska statue, and the tranquil duck pond. Let us guide you through this captivating park and show you why Pearson Park is the ideal destination for your next family outing or leisurely weekend escape.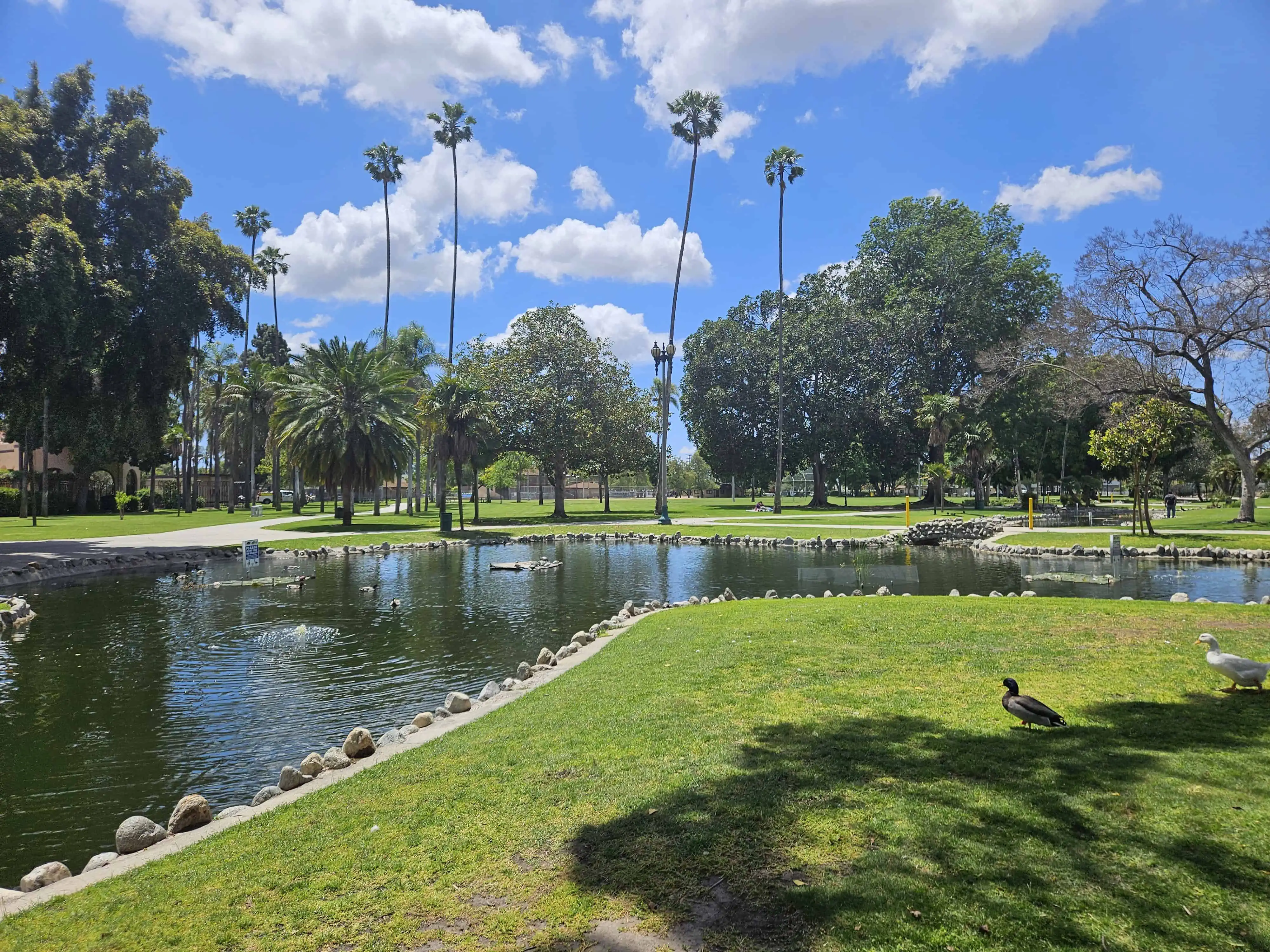 Discovering Anaheim's Gem: Pearson Park
Pearson Park is in the heart of Anaheim.
Nearby is Thank You Coffee, so I stop by for a cup before exploring the lush and manicured area.
When I park, the first thing I see is a towering American flag.
It isn't as tall as the many palm trees in the area, but it is above just about everything else in the park.
Top Amenities at Pearson Park: Tennis Courts, Theatre, and More
At Pearson, amenities are king.
There are a couple of tennis courts by the flag.
A man stretches for his game on a picnic table.
Next to it is the Pearson Park Theatre, where they do plays, ballet, and concerts outdoors.
There are hundreds of seats, a fountain out front, and a box office.
It's a surprising sight to see at this park.
Fun for Kids: Pearson Park's Playgrounds and Sports Facilities
A playground where children play is between the tennis courts and the theatre.
Traveling further down the path there is a baseball field, a basketball court, and a pool.
There are many barbecues, but homeless people have taken over some of the nicer ones.
A family cooks hot dogs on the others.
There is pretty much everything you could want from a city park here.
Young people are walking dogs, riding bikes, skateboarding, and rollerblading.
One older man strolls along the wide path on a beach cruiser.
The path continues and winds around the park, where more natural sights await.
The Cactus Garden and Duck Pond: Pearson Park's Unique Attractions
I particularly enjoy the cactus garden and the pond where ducks float across the water.
The ponds have manmade lily pads, making me think there are some frogs or toads in the water although I never see any.
Some people sleep on the grass while others listen to music on a Bluetooth speaker.
Though it says not to feed the animals, I see a father and son throwing breadcrumbs at the ducks.
There are some tiny waterfalls here too. Laborers tends to the grass and land.
It is immaculately manicured.
The pond travels under small bridges, leading towards a statue.
A Nod to History: Helena Modjeska Statue at Pearson Park
There is a beautiful statue that depicts Helena Modjeska, a Polish actress who was a pioneering Orange County resident.
The sculpture was made by Eugen Maier-Krieg in September 1933.
It is a very nice piece of artwork, but I can't seem to figure out why it is here.
As I look around the area, some of the surrounding houses in the neighborhood look vaguely European.
So do some of the benches.
Comfort and Convenience: Seating and Facilities at Pearson Park
There is no shortage of places to sit at Pearson Park.
There are wood benches, plastic benches, picnic tables, some metal tables, and more.
Public bathrooms are available with water fountains and places to fill up a water bottle.
Like many of the parks in the area, it is both dog and child friendly.
Multiple signs discourage drug use and drinking alcohol in the park.
Other signs warn against gang activity, but I do see some gang graffiti in the bathroom.
Pearson Park: A Family-Friendly Destination in the Heart of Anaheim
Today is windy and sunny, making it a beautiful day at the park.
People of all ages and tax brackets are here.
Pearson Park is a great place to bring a book, a picnic basket, and the family.
Children can run freely despite a few homeless people, aggressive ducks, and graffiti.
It is a family-friendly park, but since it is in the city of Anaheim it is difficult to always keep the riffraff out.
It is quintessentially Californian.
I'd like to come to Pearson Park on a day over the weekend when there is a baseball game, people swimming in the pool, and a play on the surprisingly big stage of the theatre.
It is surely a nice play to go on any day, but I have a feeling it would be a lot more vibrant on a Sunday.
So, if you are looking for a great place to go on a Sunday afternoon, check out Pearson Park.
Bring some snacks, grab a coffee, and enjoy yourself with your family.
Comparing Pearson Park to Yorba Linda Regional Park and Oak Canyon Nature Center
Compared to some of the recent parks I've been to, there are some similarities and differences.
It reminds me a lot of Yorba Linda Regional Park, although it is quite a bit smaller.
It's like a miniature version, with a smaller pond, less ducks, and in an overall smaller space.
You can find a similar vibe to the Yorba Linda Regional Park.
If you have been to that one and want to try something a bit smaller, try Pearson.
It is very different than the Oak Canyon Nature Center.
There is no hiking, no trails, and no visitor's center.
It is more of a picnic park, whereas Oak Canyon is a network of trails with a lot more wildlife.
Oak Canyon is wilder overall.
If you are looking for a place for a hike or even a long walk, Pearson isn't the place for that.
Instead, Pearson is where you go to play sports, see a show, hang out with your children, and enjoy the day.
It is for people who want to relax while Oak Canyon is for people who want to get active.
Pearson Park isn't remote.
It isn't wild or rugged.
When you are looking for a place to relax and enjoy the sunshine, Pearson Park is where you should go.
It has a family feel that anyone can enjoy.
It is well-kept, pretty, and pleasant.
It has an older feel, as if it was designed long ago.
Not only does it have a particular atmosphere, but it's also as though the park was designed as the center of the city.
Pearson Park: A Relaxing Urban Retreat for Anaheim Residents and Visitors
It is no longer significant in the grand scheme of Anaheim, but it is a great place to visit, nonetheless.
Whether you are visiting and are looking for a place to get away from the bustle of Disneyland or live here and want to spend a day at a nice local park, Pearson won't disappoint.
Don't expect a hiking trail, a visitors' center, or a lot of wildlife, but the grass, the ponds, the ducks, and the squirrels provide nice sights to see and an environment to take in.
Pearson Park in the heart of Anaheim is more than just an urban oasis. This quintessential Californian park, with its lush landscapes, recreational facilities, and local historical monuments, serves as a charming retreat from the busy city life. Whether you're seeking a leisurely weekend escape or a fun-filled family outing, Pearson Park guarantees an unforgettable experience. The park's hidden gems like the picturesque cactus garden, the serene duck pond, and the majestic Helena Modjeska statue make it a unique destination. But don't just take our word for it, find out how Pearson Park compares with other local parks like the Yorba Linda Regional Park and Oak Canyon Nature Center in our guide to the 15 Best Parks in Anaheim (Ranked Best to Worst). Enjoy a sunny, wind-filled day at this wonderful park and create cherished memories with your loved ones.

Hello! My name is Ryan Beitler and I am a professional copywriter and blogger. I graduated with a degree in Literary Journalism, which basically means I double majored in English and Journalism. I also have a travel blog and am finishing my first novel.
Born and raised in the sunny city of Anaheim, California, Ryan Beitler has always been an explorer at heart. his passion for adventure and discovering the beauty of the world around him has been the driving force behind his successful career as a travel blogger. With an insatiable curiosity for uncovering hidden gems and connecting with diverse cultures, Ryan has transformed his love for travel into a lifestyle that has inspired countless others.