On the way to La Palma Park, I pass Pearson Park. This park, in fact, is featured in our comprehensive list of the 15 Best Parks in Anaheim (Ranked Best to Worst) It's only a few blocks away from it through the quaint, traditional Anaheim neighborhood. Later I see a sign that says Welcome to Anaheim in both English and German, a nod to the area's German roots. Now, the area is mostly Mexican and Central American. There are shops and small restaurants around the park that indicate the demographics who live around here. The park is in no way insulated from the quasi-urban area around it. This makes it a city park that doesn't immerse you as much in nature as one would like.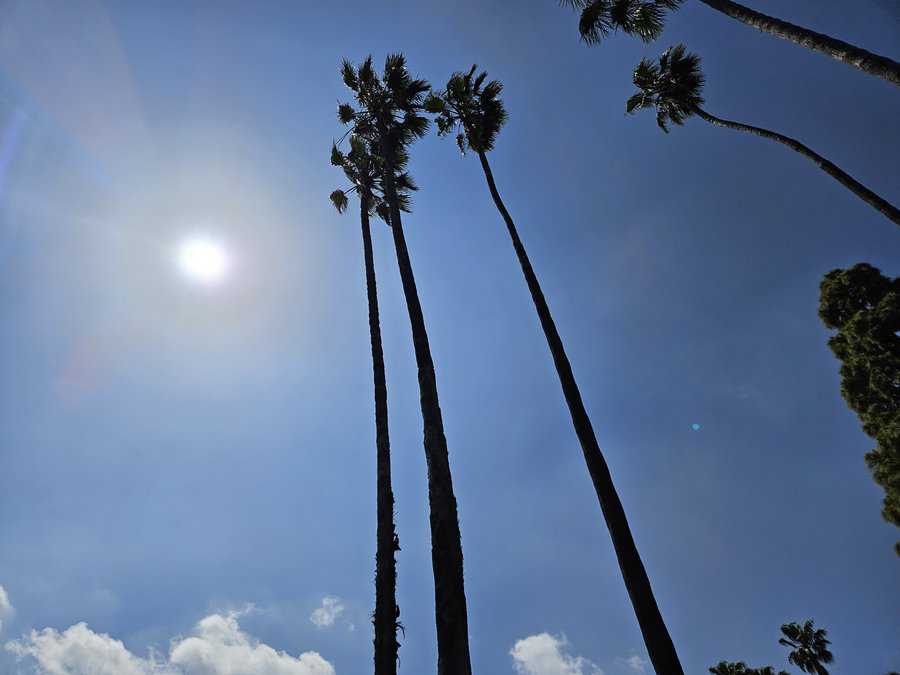 The Verdant Tranquility of La Palma Park
La Palma is basically one large field intersected by a strip of sidewalk.
The best part of the park is the gargantuan trees towering high above the landscape.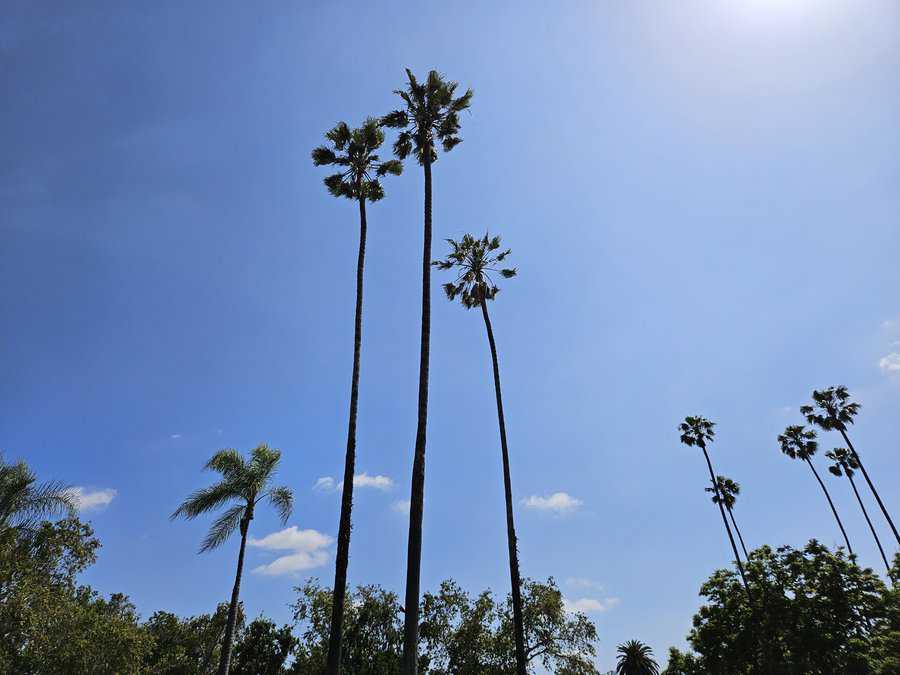 These trees are impressive.
They are massive palm trees characteristic of both the park's name and California in general.
However, palm trees are not native and use up way too much water for a drought-ridden place like California.
You can see evidence of that in the thirsty grass and foliage at La Palma.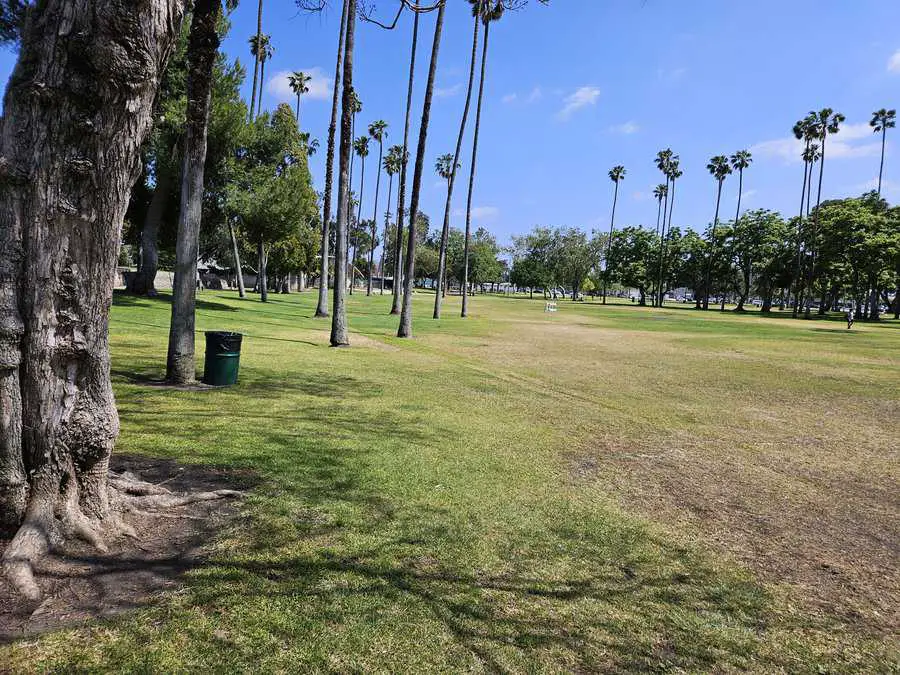 The Serene Activities at La Palma Park
As I exit my car to walk around the park, I see a family flying kites.
It becomes clear that it is by far the best activity to do here.
There's not much else.
Some people run or walk on the sidewalk while others sleep on the grass.
It's difficult to tell if the people sleeping on the field are homeless or not.
Like a lot of parks in Anaheim, there are people who use this space as their home.
Facilities and Amenities at La Palma Park
There is a swing set, plenty of trash cans, and some picnic tables.
The picnic tables are flimsy, but you can still sit and enjoy your lunch or a snack on them.
It might be nicer to sit on one of the many rock blocks covered in shade.
In general, La Palma doesn't entice you to come and sit for a while.
It's more of a walk-through type of park.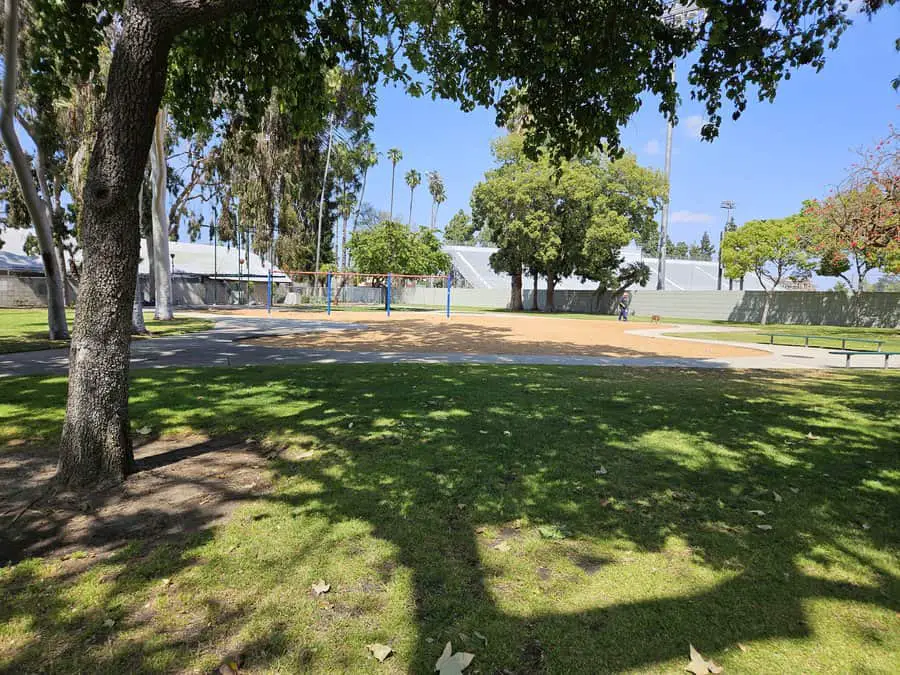 The Cleanliness and Wildlife at La Palma Park
The park, however, is clean.
I can tell that there is a routine cleaning crew that comes in and makes sure the field is free of litter.
Compared to Pearson Park nearby, there is no wildlife except for some squirrels running up trees.
Without any litter, there should be more wildlife but since it is in no way closed off from the urban landscape, animals probably stay away from it.
There are a few other elements that probably keep animals out.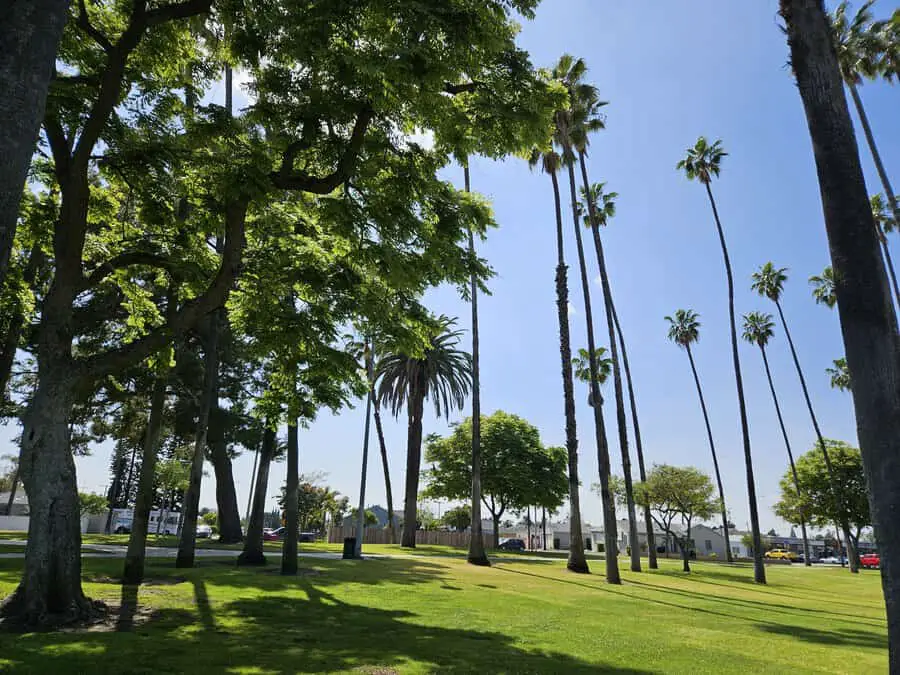 The Hidden Hazards of La Palma Park
There are also, strangely enough, power boxes that spot the field.
It seems like they could be a hazard for children running carefree in the grass, but they are likely protected enough by the exterior.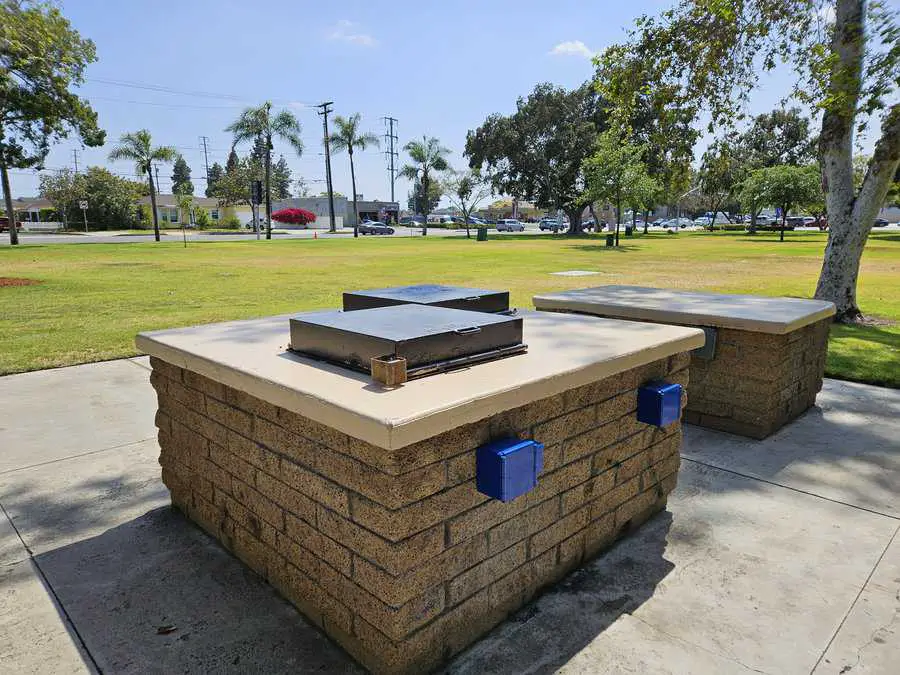 The grass is dry and there is no body of water around for animals to drink from.
A few vagabonds here and there are seated around the park.
In the center of the park, there's a recreation center fenced off.
It's not only the central part of the park physically, but also the central metaphor of the park's present.
The Impressive Baseball Field of La Palma Park
The defining thing at the park is almost separate to it—there is a very large baseball field.
It's clearly regulation size, there are even soccer nets in the outfield.
This baseball field is a lot bigger than some of the others I've seen.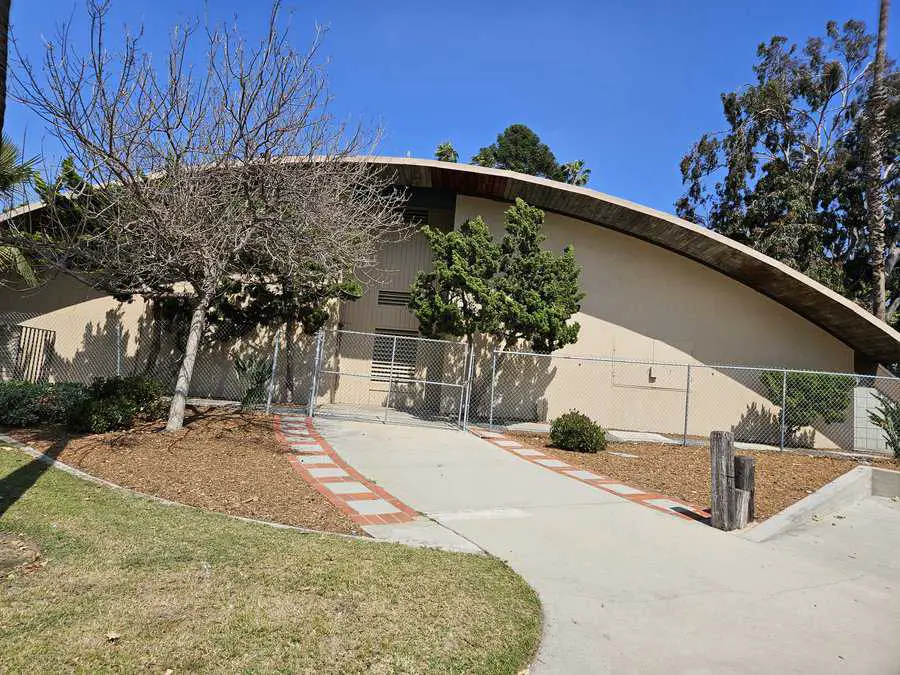 It's clearly for higher level baseball than just kids striking up a game.
I'm guessing it's for high school or college games.
I can't even go into the field to really see it.
The door is locked.
Beyond the baseball field, which is also fenced off, there's not much else that this park has to offer.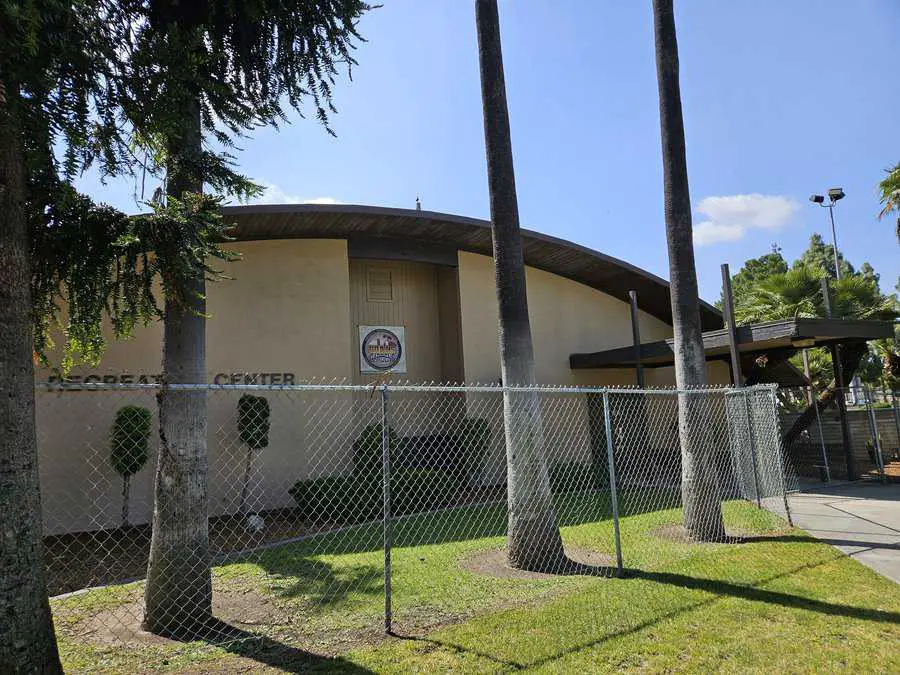 The Minimalist Charm of La Palma Park
La Palma is a basic park, but there's not many recreational options.
It's great for relaxing on the grass, running with a dog, allowing your children to roam free, and maybe packing some snacks.
However, there are constantly cars passing by on the street.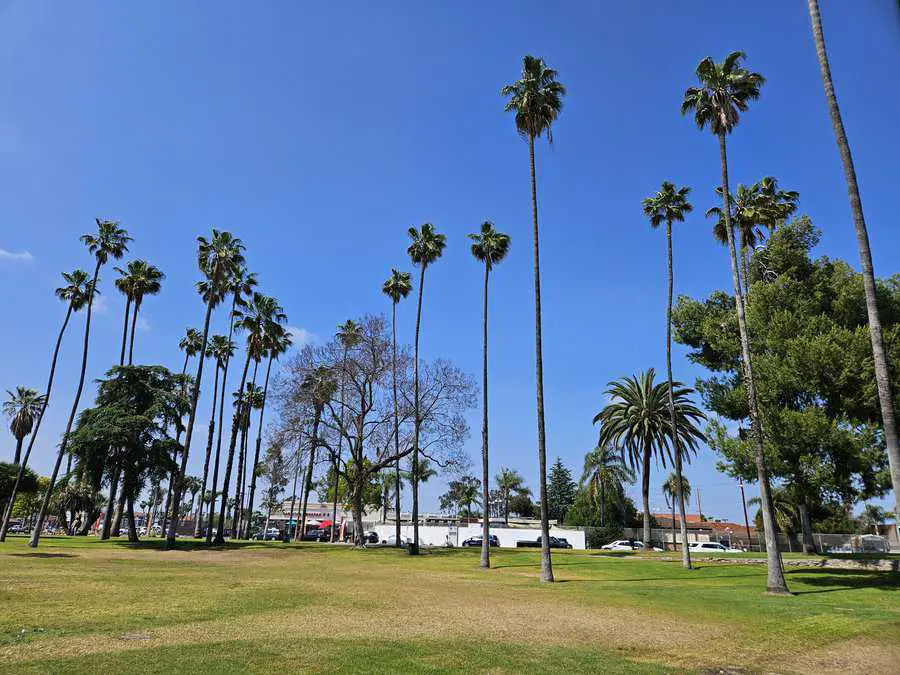 It can be loud or meditative depending on the flow of traffic.
You can still hear the birds chirping in the trees though.
Safety Concerns and Daytime Charm at La Palma Park
A sign says "Drug Free Zone" alluding to the fact that people have probably used drugs here in the past.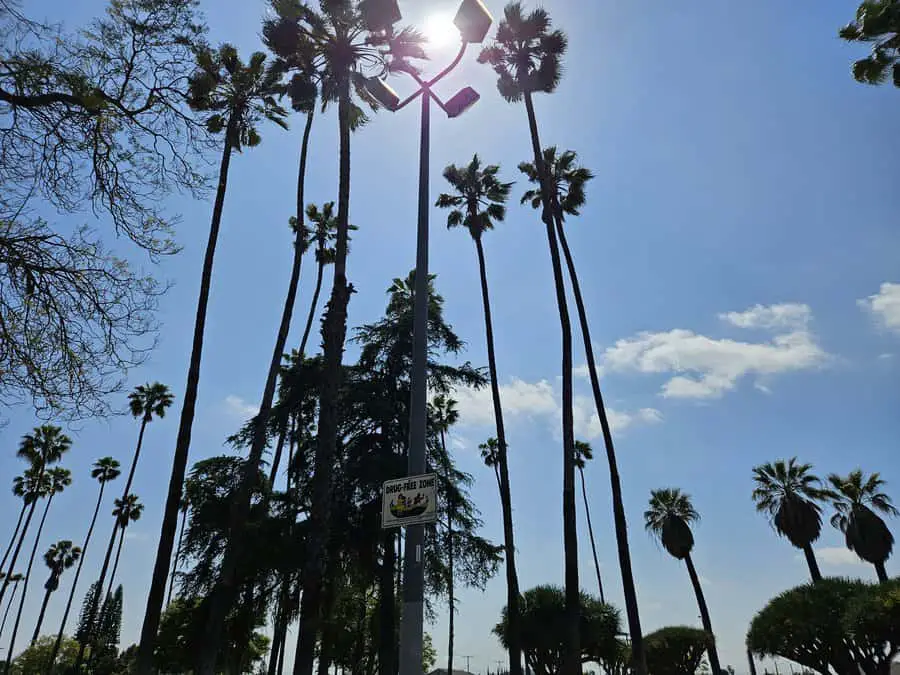 Luckily, most of the shenanigans aren't found on this weekday.
La Palma does, however, give me the vibe that you might want to avoid at night.
There are no barriers to keep out people looking for trouble.
During the day, though, it's a great place to pass through or enjoy a sit.
The Maintenance Challenges of La Palma Park
The trees provide shade for resting, reading a book, or sitting with your thoughts.
The grass is under-watered and is yellow in patches of the field.
The sun beats down on it incessantly.
In general, La Palma Park could be maintained better.
Children can swing, run, and eat a snack, but there are just better parks in the area.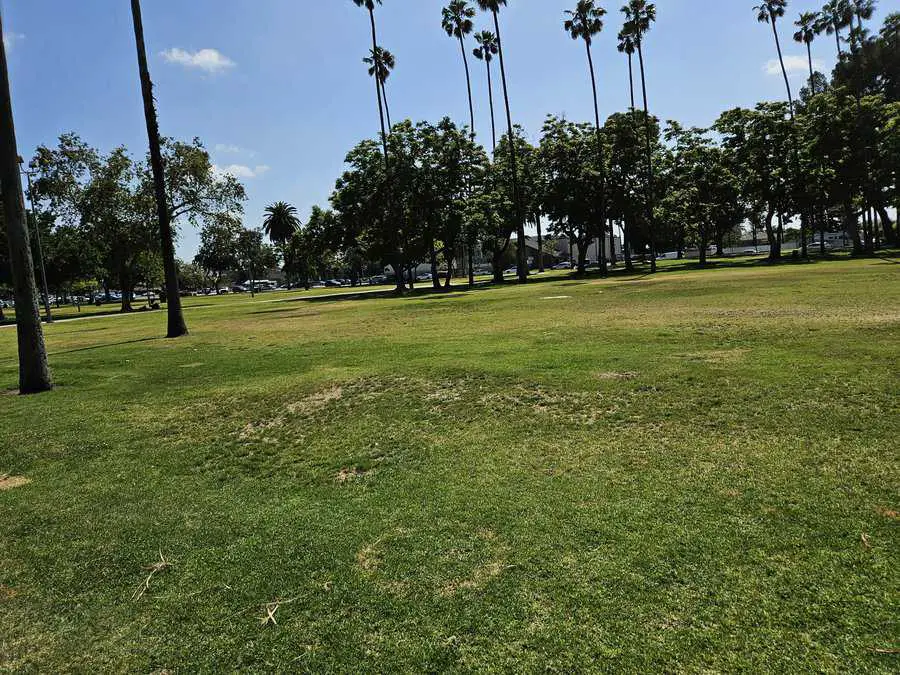 There's no trash but if La Palma's flora was maintained better and had more to offer, the space would be nice enough to be a great park.
This one just doesn't deliver the way that you want it to.
Comparing La Palma Park to Other Local Parks
When you are looking for parks in the area, there are plenty of better ones to choose from.
Whether you are headed to Ronald Reagan Park, Pearson Park, or the Oak Canyon Nature Center, each of these options are better than La Palma.
La Palma doesn't have the nature, the recreation, the people, the animals, or just the atmosphere that some of these other parks have.
There's nothing there but some large trees to admire and a grassy field to bask in.
My Final Thoughts on La Palma Park
With so many amazing parks that I've been seeing lately, I probably won't be back to La Palma anytime soon.
If you find yourself in this area looking for a nice park to go to, you don't have to settle for La Palma.
There are plenty of other options in Anaheim.
Instead, you should skip it and choose Pearson.
It's walking distance from La Palma and has a whole lot more to offer!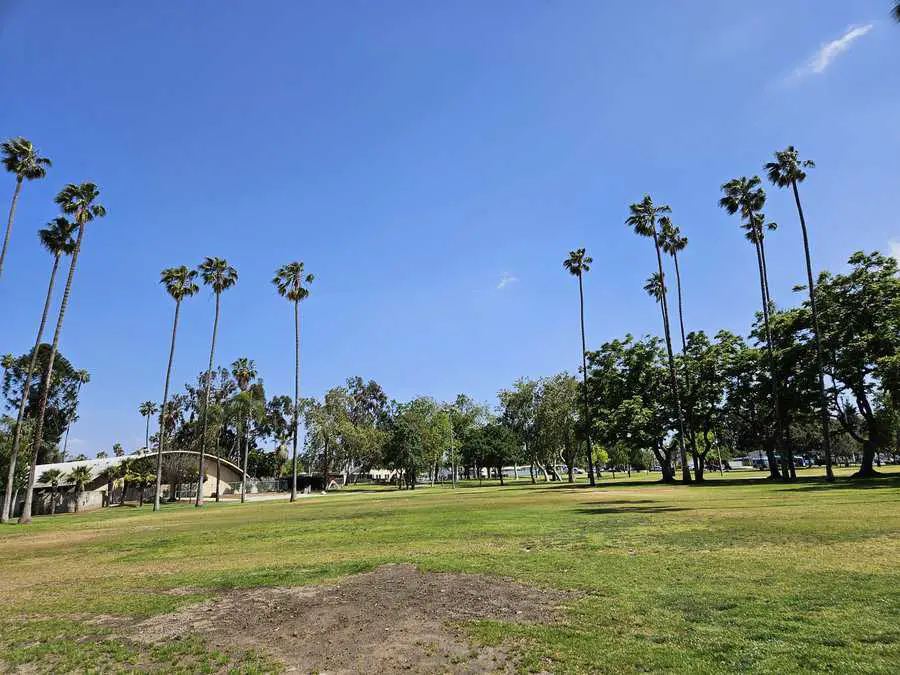 Hello! My name is Ryan Beitler and I am a professional copywriter and blogger. I graduated with a degree in Literary Journalism, which basically means I double majored in English and Journalism. I also have a travel blog and am finishing my first novel.
Born and raised in the sunny city of Anaheim, California, Ryan Beitler has always been an explorer at heart. his passion for adventure and discovering the beauty of the world around him has been the driving force behind his successful career as a travel blogger. With an insatiable curiosity for uncovering hidden gems and connecting with diverse cultures, Ryan has transformed his love for travel into a lifestyle that has inspired countless others.