It's a hot day in Southern California as I head to Juarez Park. The air conditioning in my vehicle takes a few minutes to cool down the car. As I pull onto the street called Sunkist, I think it aptly named. It is very sunny, and there isn't much shade at the park. Juarez is simple. Situated between a school and the Anaheim Public Library Sunkist Branch, the park itself consists of a baseball field that extends out into a large patch of grass, a playground for children, and picnic tables with barbecues.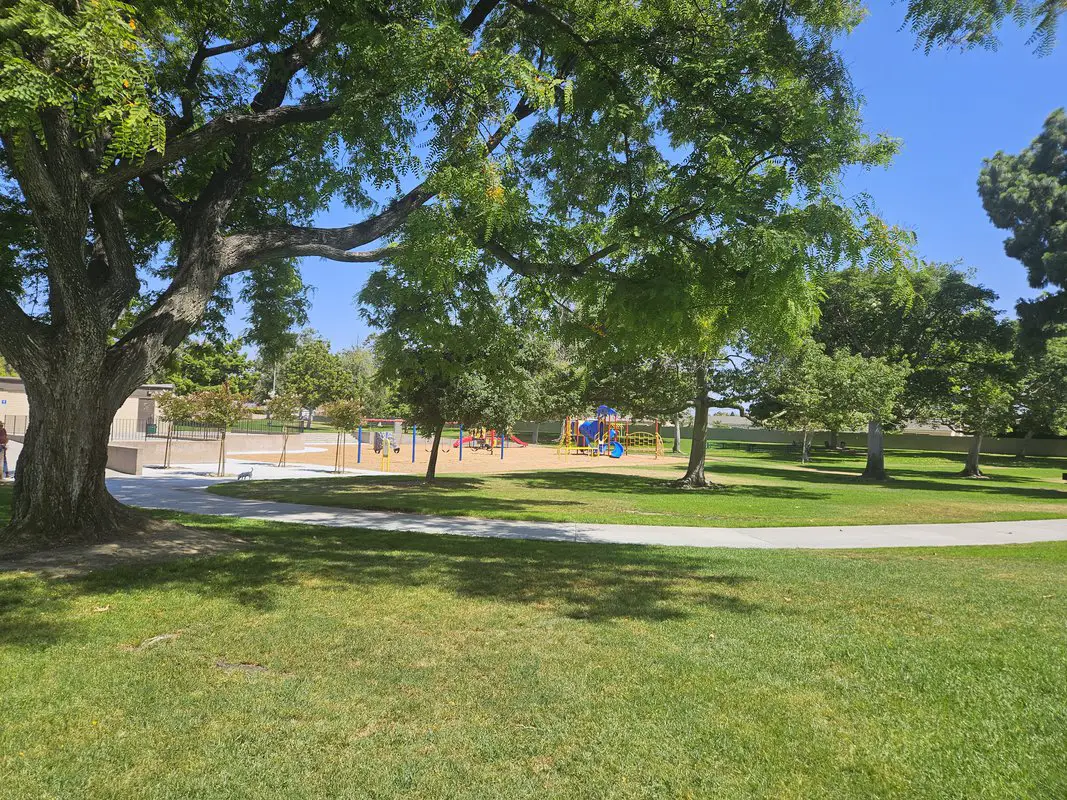 The school next to Juarez has two baseball fields of its own, but the one in the park is clearly sequestered from the school. The field is perfect for dogs and children to run around, but it's too hot this Tuesday for many people to bring their children.
The Variety of Visitors at Juarez Park
However, there are some people at the park.
An old man walks a tiny dog.
A father and son relax beneath the scarce shade of a park tree.
Landscapers relax in their cars.
A few homeless people lounge around their encampment.
A teenage girl walks through the park to get home.
The Weather and Surroundings at Juarez Park
Today, the sun beats down on the green grass.
There is evidence of wilting from the sun.
As I leave my car to document the area, I decide to put on sunscreen.
Even though I won't be here all day, the sun could burn me.
I lather up and walk around the pleasant area.
The neighborhood around is an old, pleasant, and quiet Anaheim suburb.
Like many of the parks I've been to, the surrounding neighborhood seems like it's from another time.
Anaheim appears to be an older city than I once realized.
Exploring the Wildlife and Leisure Activities at Juarez Park
There isn't much wildlife at Juarez Park like there was at the Oak Canyon Nature Center, but I see a lizard scurry by.
There are a few small energetic birds. Beyond that, there isn't much going on.
The father and son relaxing under the shade have the right idea.
Juarez Park is best for locals who live in the close houses.
They can come enjoy nice days like this one by sitting under a tree and eating snacks with their family.
The Persistent Homelessness Problem in Anaheim
Still, like a lot of Anaheim parks I've been to, including Pearson, Ronald Reagan, and Yorba Linda Regional, there are a few homeless people that call the park home.
Fortunately, most of them don't seem to be causing trouble.
They are merely finding a place to set up camp and live how they can.
This isn't true for everyone, but the pervasive problem of houselessness in California persists.
It has become clear that the amount of homeless people in the United States is not bound by bad by people.
There are simply too many for that to be true.
The Comfortable Atmosphere of Juarez Park
However, Juarez Park does not suffer from the few homeless people, who are situated behind the public library and out of site.
I see one walk into the library, likely for shade or to use the restroom.
There are also public restrooms near the playground, where I hear children call out to their dad who returns with a grocery bag.
The old man with the small dog sits at a picnic table and takes in the scene.
He says hello to me.
While there aren't many things to do here at Juarez Park, it has a pleasant atmosphere that is enhanced by the vibrant sunlight.
Comparing Juarez Park with Other Anaheim Parks
Compared to Founder's Park, there is nothing really to look at.
Unlike Oak Canyon Nature Center, there are no trails or wildlife.
It doesn't have as many tall palm trees as La Palma.
There aren't any hidden gems like there are in Ronald Reagan Park. It isn't as quaint as Twila Reid.
However, I can imagine that Juarez Park is a nice place to go if you want to grill some meat on the barbecue, let the kids play on the playground, and let the dogs frolic on the field.
You can strike up a baseball game or go to the library to rent a book you can read in the shade.
It remains a nice place to go, even though there isn't much to offer.
The Simplicity and Appeal of Juarez Park
You might not be able to spend all day in Juarez, but if you are looking for that you should head to another park.
When you want to spend an hour or two in the sun or under the shade of the few trees in the area, Juarez has what you are looking for.
Few people will travel to the park when there are others around, but that's what it seems like it's doing on purpose.
It is a community park for the locals.
It is a place where they can bring their children, enjoy the day, and take a breather from daily life.
Juarez Park: A Local Neighborhood Gem
There's no arguing that Juarez is even close to one of the best parks in the area, but it's not trying to be.
It's a park that invites the people who live in the neighborhoods around it to walk over.
Parents with children at school can spend an hour at the park with their kids before going home.
When you don't have a barbecue at home, you can bring your steaks, hot dogs, or hamburgers to grill over charcoal.
Kids can play on the swings and go down the slide.
The bottom line is you don't need much at a local park for it to be enjoyable.
Final Thoughts: Juarez Park - A Beloved Local Sanctuary
There are plenty of themes when it comes to Anaheim parks.
There is nearly always a baseball field. Does that have anything to do with Anaheim being a baseball town, the home of the Angels?
They usually have playgrounds for children. They have fields for them and dogs to run across.
These parks have picnic tables and barbecues, but beyond these basics Juarez doesn't have much.
It is barebones.
It is no-frills.
It is, as it seems, for the local families to enjoy.
My experience there was evident of that.
So, if you live in the area go check it out.

Hello! My name is Ryan Beitler and I am a professional copywriter and blogger. I graduated with a degree in Literary Journalism, which basically means I double majored in English and Journalism. I also have a travel blog and am finishing my first novel.
Born and raised in the sunny city of Anaheim, California, Ryan Beitler has always been an explorer at heart. his passion for adventure and discovering the beauty of the world around him has been the driving force behind his successful career as a travel blogger. With an insatiable curiosity for uncovering hidden gems and connecting with diverse cultures, Ryan has transformed his love for travel into a lifestyle that has inspired countless others.