The moment I pull up to Pioneer Park in my car, I see a man sleeping next to the sign—presumably homeless. I feel like it's a sign—an indication—that this is a representation of the whole park, but I quickly realize that isn't the case.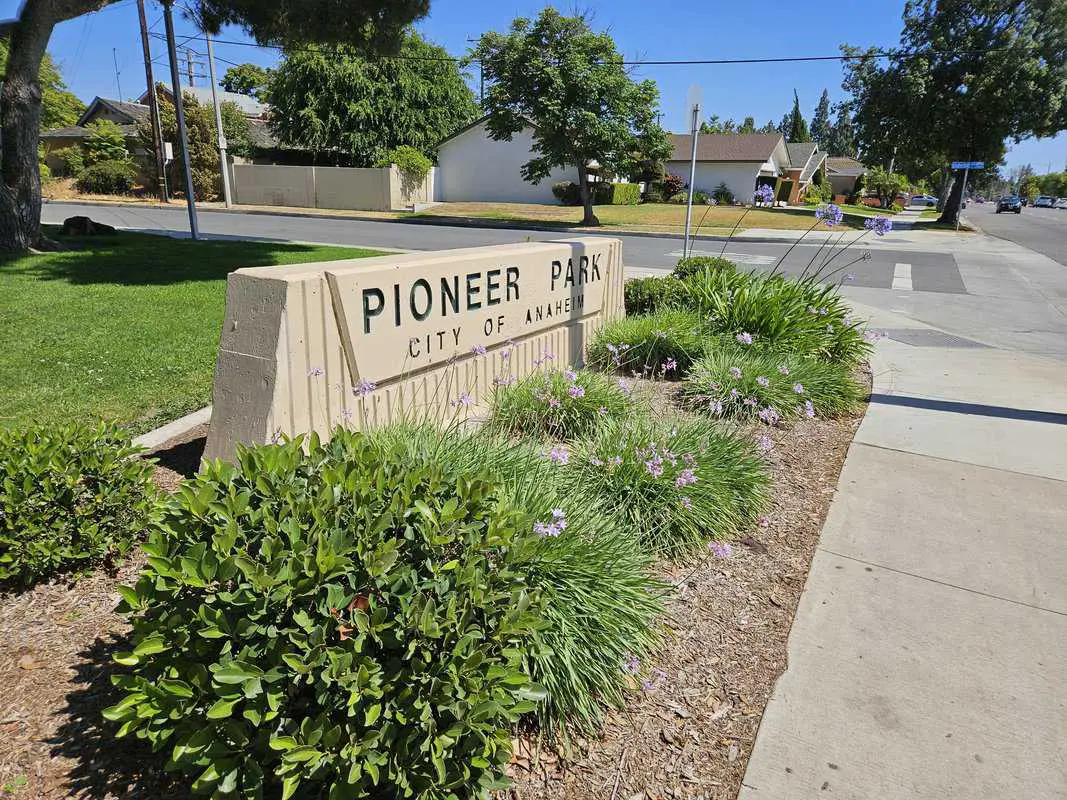 Family-Friendly Amenities in Pioneer Park
Pioneer Park is a lovely family-friendly park with everything that you would expect Anaheim parks to have.
The parking lot greets a large grass lawn.
Common for this time of year, some of the grass is dead and some of it is lively.
I can even see that some of the shade from the trees has persevered the grass.
There are white lines painted on it for soccer, but there are no nets.
I assume that there are nets brought to the field when there is a soccer game played here.
Maybe it's off season, or maybe they've had problems with leaving the nets out in the open before.
Beyond the grassy field is a playground.
There are no children playing on this one.
The Gravel Trail and Park Occupants
On the perimeters of the park, there is a rocky gravel trail where I see one man running and another walking his dog.
Of course, there are picnic tables around the park.
It's one of the only times I see a few of them filled with large parties.
I don't know what one big group is doing, but it appears they are deep in conversation.
Another man sits alone at a picnic able talking on the phone.
As I continue walking past the first playground.
The first thing I see is an assortment of rocks and boulders where a child climbs.
I wonder why it's even there.
It doesn't seem functional even though the little girl is using it to play.
I chock it up to aesthetics.
There aren't that many things in Anaheim parks that are only for aesthetic purposes, but it appears I found one.
Everything else has utility.
There are more picnic tables, the classic barbecues that no one seems to use, and public restrooms.
A homeless woman walks a cart of her stuff around the gravel trail, seemingly going nowhere.
A few parents watch over their kids at the playground.
There are a few wanderers, but the families don't seem perturbed by their presence.
As I walk, I see a few more homeless people.
Compared to the initial first impression and a lot of the other parks in Anaheim, it isn't so bad.
The atmosphere here stays intact.
There aren't any bad vibes, and I don't get the feeling that this park gets worse after dark.
Unlike some of the parks I've been to in Anaheim, it feels tame even though there are vagabonds around.
Off the in the distance, I see a bridge with a staircase that enables people to walk down into the park easily.
I'm not sure where it goes, but it makes it clear to me that it's the reason there are a few homeless people around the park.
The Baseball Diamonds: A Touch of Professionalism
At the end of the park's confines are two baseball diamonds.
These diamonds are not like others I've seen.
They look a lot more professional.
There is even a scoreboard.
Some of the baseball diamonds at Anaheim parks are makeshift fields, with a suggestion of a diamond and an outfield that goes on forever.
Not these baseball fields.
They are clearly defined and professional.
I begin to wonder why but then I see the large baseball sculpture between them.
It has the Anaheim Angels logo.
It appears these fields are used for training for up-and-coming baseball players sponsored by the Angels.
Of course, the Anaheim Angels don't play here but the team has something to be with the diamonds being there.
It is clearly the Angels' money that went into these fields at least.
It's a stark contrast to the rest of the park, which is basic by comparison.
I admire the baseball fields for a while for the more legitimate feel and continue walking down the gravel trail.
I turn back towards the car and stroll as I think and take in the beautiful day.
It's a gorgeous day in Southern California.
This time of year, most days are gorgeous.
Not only is it a great day to spend at the park, but it's also simply a nice day to be outside.
This is a tragic aspect of California.
Few people take full advantage of the nice weather.
It's good to see people having fun with their families and dogs.
Even on a weekday, there are some people here at Pioneer Park enjoying themselves.
Reflections on Pioneer Park: A Great Local Option
While Pioneer Park isn't the end-all-be-all that local Anaheim parks have to offer, as seen in our review of the 15 Best Parks in Anaheim (Ranked Best to Worst), it is nonetheless a great option for locals to feel the breeze, sit under a tree, bring their kids to play, walk a dog, or run the trail.
You can sit on one of the boulders and read a book.
You can come play some baseball or, I imagine, watch a legitimate game on special nights.
It doesn't feel like a seedy park despite the couple of homeless people around.
It feels family-friendly, and the atmosphere is pleasant.
You might choose another park before you come to Pioneer, but if you are in the area there is no reason not to come for an afternoon.
Pioneer Park: Beyond the Average Anaheim Park
Beyond the nice baseball diamonds, there isn't that much special about Pioneer Park.
It is located off a main street near a suburban neighborhood and connected to other areas through a bridge, but it doesn't have as much unsavory business as some of the other parks in the area.
These days, a park with a good vibe should be cherished.
It should be respected.
Whether you're a family, a single parent with children, a pet parent, or just an individual looking for a place to sit under a tree with a book, Pioneer Park won't disappoint.
Just don't expect the best park in the world.
It's a perfectly average Anaheim park that should also be appreciated for what it is.  

Hello! My name is Ryan Beitler and I am a professional copywriter and blogger. I graduated with a degree in Literary Journalism, which basically means I double majored in English and Journalism. I also have a travel blog and am finishing my first novel.
Born and raised in the sunny city of Anaheim, California, Ryan Beitler has always been an explorer at heart. his passion for adventure and discovering the beauty of the world around him has been the driving force behind his successful career as a travel blogger. With an insatiable curiosity for uncovering hidden gems and connecting with diverse cultures, Ryan has transformed his love for travel into a lifestyle that has inspired countless others.