When I first tried to go to Deer Canyon Park, otherwise known as the Deer Canyon Preserve, I didn't know how to get there. I turned onto the gravel road, passed signs that said, "NO TRESPASSING: VIOLATORS WILL BE PROSECUTED," and to a gate that was locked. I figured it was private property or that I didn't have the right address for the park. I turned around and went home, sitting through traffic on the 91 freeway at rush hour.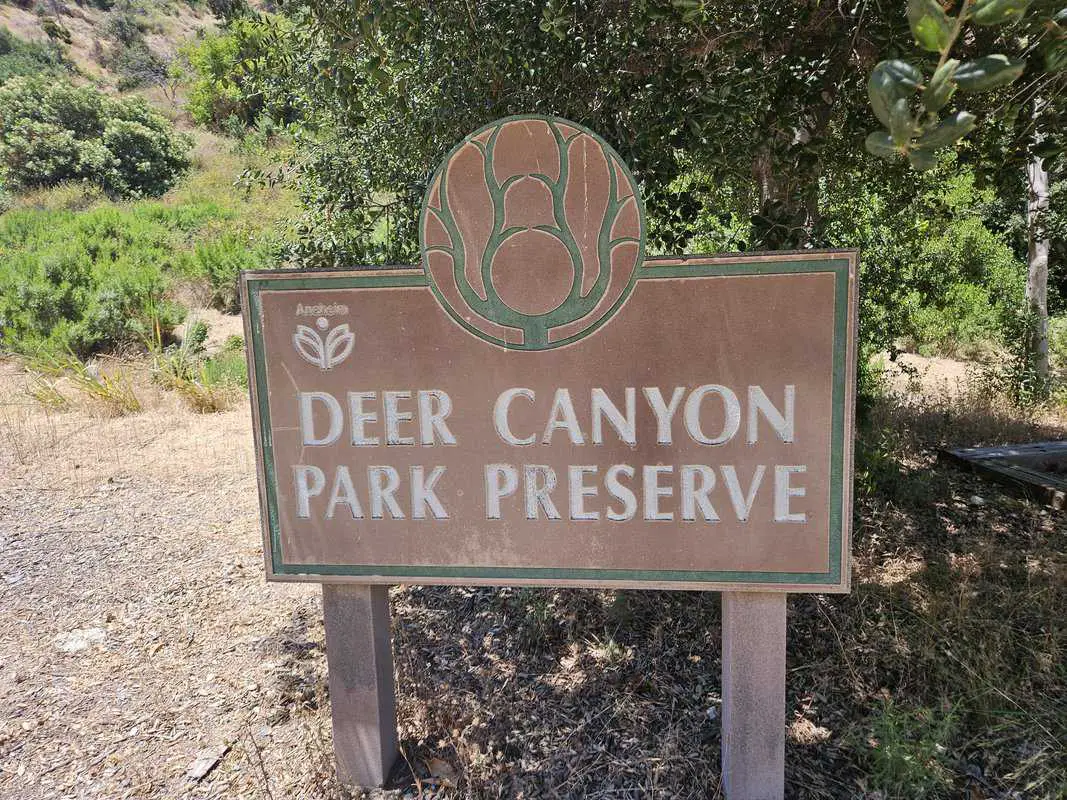 A Second Attempt: Discovering the Trail
A few days later, I wanted to try again.
I gave myself enough time and went earlier in the day before traffic.
I told myself I would start at the gate and if I couldn't find it, I'd try to map to what looked like another entrance on the other side of the park.
As it turned out, I didn't need to.
Arriving back at the gate, this time I park my car.
I get out and look.
I see some facilities beyond the gate.
Though the gate is locked, there is a side entrance for pedestrians.
While I don't feel all that comfortable leaving my car there, it feels okay because no one is around.
I don't see a single person the entire time I'm there.
Embracing the Wilderness: The Unkept Trail
As I walk past the gate, it becomes clear that this is the parking lot for the park.
I realize that it isn't much of a park at all, but a single trail.
At the beginning of the trail, there are bathrooms and a water fountain.
The road continues, but the trail forks upwards and goes into the wilderness.
Immediately I discovered that there isn't much shade on the trail, so I apply sunscreen.
It is a scorching hot California day.
It doesn't take long for me to sweat profusely.
I hear the buzz of the power lines nearly the entire time I'm on the trail.
Unusual Terrain: A Blend of Nature and Suburbia
This represents a lot of the area.
It is a mix between rugged landscape and suburbia, which is not far away.
The trail is unkempt.
There are no signs indicating where to go in a fork on the trail.
There is feces from dogs and horses along a lot of the trail.
I must be careful to avoid spiky plants on the ground, insects, and all kinds of risky things.
I hear something that I think is a power line, but then I determine it's something else.
I never see it, but the sound was that of a rattlesnake.
I push onward on the trail.
An Arduous Journey: The Heat and the Hike
It's extremely hot.
There is one moment of shade, so I stand and cool down a bit before continuing the hike.
All around the area are houses.
You can see shopping centers at a distance too.
It's a strange mix.
The trail is rugged—wild—and uncontained and you are surrounded by immaculate houses and manicured shops from a distance.
One thing I will say is that the scenery isn't that great.
You get some good views from high up, but they are never purely of nature.
They are nearly always views of manmade objects.
The power lines are omnipresent, always buzzing in your ears.
However, the trail and the flora around it are left to the forces of nature.
It can be pretty at times, but there is usually something in the way from being immersed completely in nature.
As I continue the trail, I sweat bullets.
It is very hot, and the sun beats down on me.
A Rewarding Workout amidst Nature: The Unique Appeal of Deer Canyon
If the Deer Canyon Park is best for one thing, it's to get some good exercise.
A hike here really gets the heart pumping.
It isn't long before I'm tired.
Still, I push on—curious where the trail leads.
Unfortunately, it doesn't seem to lead anywhere all that interesting.
I continue for a while but it ends up being more of the same.
I get to a high point in elevation where there is a panorama of the surrounding neighborhoods.
I mistakenly go up to a dead end, and the other pathway is down into the neighborhood.
Since it is hot, I am out of water, and my phone is low on battery, I decide to turn back.
I probably do about half of the 6.6 miles on this trail.
The hike at Deer Canyon is great exercise.
It is rugged and wild.
It feels more like urban exploring in a natural setting than it does hiking at a preserve.
I see no one the entire time.
If you are looking for rugged exploration, solitude, and a good work out, Deer Canyon Park is for you.
However, I can't say it is good for children or dogs.
The trail is tough for a dog, and it's not the best environment for children.
The Return Trip: Lessons Learned from Deer Canyon
I head back, getting thirstier and thirstier as I walk.
The hike back is easier, mostly downhill, but by the end of it I am gassed.
It's a hot day in California, and I didn't bring enough water with me.
If you plan on doing the hike at Deer Canyon, you should make sure to bring plenty of water.
A Final Verdict: Who Should Visit Deer Canyon Park
If you don't, you might need to turn back like I did.
Although I don't have the chance to do the full hike, I have a good grasp on it.
It would be great to live in one of the houses and be able to hit the trail from your backyard, but as far as hiking in Orange County goes, there are certainly better trails.
For a more comprehensive look at local parks, check out our article on the 15 Best Parks in Anaheim (Ranked Best to Worst).
It isn't very scenic.
It's rugged and uncared for.
There are no signs and only bathrooms at the beginning of the trail.
Still, I enjoyed the hike and my time here.
I'd recommend it to anyone curious about this strange plot of land in Northeast Anaheim.
Be sure to avoid traffic and bring plenty of sunscreen and water.
Or you will be like me guzzling water from the gas station in traffic on the way home.
Overall, Deer Canyon—while no deer in sight—is a strange, interesting place.

Hello! My name is Ryan Beitler and I am a professional copywriter and blogger. I graduated with a degree in Literary Journalism, which basically means I double majored in English and Journalism. I also have a travel blog and am finishing my first novel.
Born and raised in the sunny city of Anaheim, California, Ryan Beitler has always been an explorer at heart. his passion for adventure and discovering the beauty of the world around him has been the driving force behind his successful career as a travel blogger. With an insatiable curiosity for uncovering hidden gems and connecting with diverse cultures, Ryan has transformed his love for travel into a lifestyle that has inspired countless others.